Please note: As a courtesy, please do not reproduce these comments to newsgroups, forums or other online places. Links only please.
24
The panel's description: "It's been off the air since May, 2007 but Comic-Con fans will get the first look at the exciting prequel shot in South Africa and the upcoming 7th season of the Emmy winning Fox series, as well as chat with the executive producers and stars Kiefer Sutherland and Carlos Bernard."
5:29 PM: Yikes, quite a packed house is here to see Kiefer and company!
5:32 PM: You guessed it - they're running a little late. Based on the name cards, it looks like we'll be seeing David Fury, Evan Katz, Carols Bernard, Howard Gordon, Kiefer Sutherland, Manny Cotto and three others I can't make out because of the glare (laminated name cards - how dare they!).
5:34 PM: I wonder when the electric fence gets installed to keep people from mobbing Wentworth Miller in the next panel.
5:39 PM: Hey it looks like we're finally about to start. Supposedly we're about to see an exclusive preview of the prequel movie.
5:44 PM: It's a short scene in which Jack gets into a gun battle in Africa protecting a bunch of children, ending with a standoff in which another young boy holds a gun up to Jack.
5:45 PM: And they're here: Brannon Braga, Carlos Cotto, Manny Cotto, Jon Cassar, Kiefer, Howard Gordon, Carlos Bernard, Evan Katz and David Fury.
5:46 PM: Howard reveals that the prequel movie was originally supposed to be something short for cell phones, webisodes, etc. but it quickly snowballed into a two-hour movie.
5:48 PM: Kiefer declares the prequel one of the best scripts he ever read. The movie also marks the first on location filming in the show's history. He adds that the young actor he's protecting in the scene in one of the best he's ever worked with.
5:51 PM: Manny says the WGA strike was something of a mixed blessing - sure they were off but it also gave them the extra time to make season seven "really deeper" than previous seasons.
5:52 PM: The moderator (sorry, missed the name) confirms the obvious - Brannon Braga and Carlos Cotto (brother of Manny) have joined the staff as co-executive producers.
5:54 PM: "We know when this is done it's never going to happen again," Carlos Bernard says about the show's success. "And I got a little taste of that," he jokes.
5:56 PM: "It really could be a measure of our desperation that he's back," Howard jokes about Carlos's return. He later adds, "We really didn't like the way he 'died.'" Carlos eventually dishes out some bribe money to Howard.
5:58 PM: Kiefer says the way Carlos comes back is "very '24.'" "I think [the writers] did an amazing job."
5:59 PM: The moderator asks for more hints about the new season. "Carlos is gonna die," Kiefer quips, once again forcing Carlos to dish out more money.
6:00 PM: "We're not trying to reinvent the show," Kiefer says about the new season, noting that they've always try to keep what's working and respond to what's not. Just "make it better, tight and smarter and that's hopefully what you'll see in the seventh season."
6:01 PM: Time for audience Q&A.
6:02 PM: "A lot of people ask us where we get this phone that never dies," Kiefer says about the show's gadgetry. But other than that, they use real - but modified - guns.
6:03 PM: A fan asks about when Jack ever goes to the bathroom. Kiefer admits they actually shot something in which he comes out of the bathroom but it was eventually cut.
6:04 PM: Someone asks how much input Kiefer has on who lives and dies so to speak. "To be honest with you I really don't," he responds. They trust the writers to write, actors to act, directors to direct, etc. He goes on to say he initially objected to Teri's death in season one but was eventually proven wrong. "Which is another reason why I stay out of the way," he adds.
6:06 PM: When asked about the show's torture fetish, David notes this season will see Jack answer for what he's done. "It's kind of necessary for people to get hurt," he says about its context in the show.
6:07 PM: A fan asks what are their favorite episodes. Kiefer diplomatically notes they haven't made his favorite episode yet but adds that in addition to the prequel he's also proud of episode 8-11 of the upcoming season. As for Carlos his favorite is in the upcoming season.
6:10 PM: Howard on if we'll see a "24" feature film - he's resigned to the fact that while the show proper is still on the air, it's too difficult to make a full-fledged film.
6:11 PM: Carlos is asked about his character's evolution. In terms of season one, he notes that the actors only really know about six episodes in advance. They also knew there would be some sort of mole but weren't told who it was.
6:13 PM: Howard on why Africa - "We had run out of geographical areas," he quips, later adding that the writers became intrigued by the concept of child soldiers.
6:15 PM: A fan asks Kiefer about his frequent use of the word "damn it!" He goes on to give us an example. Twice. Too funny.
6:17 PM: "He's just trying to be better," Kiefer says about his arc for the new season. That being said, his self-described coolest moment - "When I chopped off that guy's head off in season two."
6:19 PM: Kiefer on the show's lack of traffic issues, like going from downtown to Van Nuys in 10 minutes. "Our 24 day is a really light traffic day." he notes.
6:20 PM: Evan plugs the show's new characters, all of which were previously announced.
6:21 PM: Kiefer gives everyone a heartfelt thank you for supporting the show. "You all rock," he closes.
6:22 PM: A final treat - the full trailer for "The Exile" prequel. I feel like this is online already but if not - Peter MacNichol! Powers Boothe! Jack getting tortured! Looks fun.
6:26 PM: That's it folks! Only one more to go!
Note: My apologies for the lackluster picture quality - the lighting in room 6CDEF makes it impossible to get a decent shot without moving directly in front of the panel.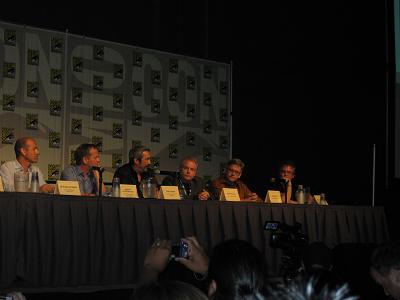 Howard Gordon, Kiefer, Jon Cassar, Manny Cotto, Carlos Cotto, Brannon Braga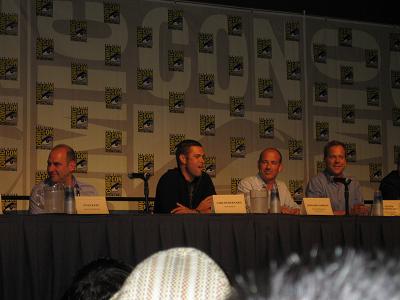 Evan Katz, Carlos Bernard, Howard Gordon, Kiefer

Carlos Bernard, Howard Gordon, Kiefer, Jon Cassar, Manny Cotto