Please note: As a courtesy, please do not reproduce these comments to newsgroups, forums or other online places. Links only please.
Battlestar Galactica
The panel's description: "Last year, Battlestar Galactica took San Diego by storm. Now the best show on television returns to Comic-Con for a panel filled with excitement, laughter, and a sneak peek into the final revelation. Focusing on the character relationships that give this hit series its power, this exclusive panel sheds new light on the ties between Humans and Cylons and provides valuable insight into the adventure ahead. Panelists include cast members Tricia Helfer, James Callis, Michael Trucco, and Katee Sackhoff and executive producers Ronald D. Moore and David Eick, along with moderator Kevin Smith."
2:26 PM: As you've undoubtedly guessed, "Dollhouse" was impossible to get into at such late notice. Anyway, I managed to slide into "Battlestar" as it started.
2:27 PM: Moderator Kevin Smith asks if we'll ever see the Caprican equivalent of "cocksucker." Maybe in "Caprica" everyone jokes.
2:31 PM: Kevin jokingly asks what's up with the "giant fuck you at the end of" the last episode. Ron explains that things will continues in unexpected ways, there's tremendous amount of unheaval and things aren't pretty on "Battlestar" for a while. Sorry I can't type fast enough.
2:33 PM: Kevin asks what was Apollo's weight loss secret.
2:35 PM: James on being Baltar - the bad guys get more tail. Even as a religious leader he's quite a nympho.
2:37 PM: I should note that the panel includes Jamie Bamber, Michael Trucco, Katee Sackhoff, Tricia Helfer, James Callis, Ron Moore and David Eick.
2:38 PM: Kevin calls Starbuck the "best female role model in the history of entertainment." He adds that she's also taken over for Lucy Lawless/Xena as the current lesbian icon. This leaves Katee speechless for what she says is the first time ever.
2:41 PM: Best potentially out of context line so far at the con: "I look forward to cupping your gentials later," Michael tells Kevin.
2:42 PM: Michael says it was a dream job to get invited back to "Battlestar" after guesting on for a few episodes. His reaction on learning he's a Cylon: "Fucking wow, I guess I'll be around for a while."
2:43 PM: David jokes that it was a toss up between Gaeta and Anders as to who would be one of the final five.
2:44 PM: Kevin brings up that Tricia has played "like 96 characters" on the show. She says it's an actor's dream to be able to play that many different roles, let alone in the same show.
2:47 PM: Tricia reveals that Richard Hatch had a hard time concentrating during the scene in which she sat in his lap.
2:48 PM: Kevin asks about the coolest moments of "Battlestar" to date. His favorite: the New Caprica rescue ("I think I came," he adds). Jamie: the pull back reveal of Earth. Katee: when Galactica fires its cannons or when the director told Tahmoh once to stop acting like a girl during a gunfight (it was a mix of Blue Steel and Xanadu, she notes). James: the "paper shortage" scene between Adama and Tigh. Ron's: the Baltar scene when they jump ahead a year. David: when Tricia and Katee "pounded the ever loving shit out of each other for an entire act." Adding, "They wouldn't kiss though no matter how much I begged them."
2:53 PM: Tricia says she's excited about an upcoming scene in which she gets to shoot a gun. So is James, who adds the finale was like filming "Apocalypse Now" with all of its directing units. "It was frakking awesome."
2:59 PM: A fan (via an online question) asks if Katee wishes she was the final Cylon. "Tell us, what are they going to do fire us at this point?" Kevin jokes. Katee says she really didn't, mostly due to the difficulty of filming with the mechanical Cylons.
3:01 PM: Michael says he found out he was a Cylon at the end of season 3. He adds that Aaron Douglas is the most plugged in of the cast members in terms of what was going to happen in the scripts. "They don't even know my first name on the set," Michael says was his reaction when Aaron told him.
3:03 PM: "Being punched by Starbuck and then hitting her back," Jamie says was a character defining moment for him. Tricia's: the Gina/Pegasus stuff. James: "If I was invited back to the set on the second day I considered that a triumph." He adds that guilt - being responsible for the death of millions - plays an enormous part in building Baltar's character.
3:06 PM: Hey it's Tahmoh! Kevin wonders if he's here to defend the Blue Steel/Xanadu comment. Tahmoh says he was just having too much fun shooting guns and the director wanted him to calm down.
3:08 PM: A fan shamelessly asks about who's the final Cylon. "I can tell you it's someone you've seen," Ron democratically responds.
3:10 PM: "Kara found peace, that's what I wanted," Katee says when asked about how her character arc closes. Michael: "I can't say shit about my character." Jamie: "It is a perfect way to finish the show." Tahmoh: "Honestly, the last two episodes are perfect. Everyone was on the same page... there's still some questions left but that's the way it should end."
3:13 PM: Tahmoh says everyone has an impersonation of Michael Hogan's laugh. Very har, har, har-ish.
3:16 PM: And that's it... or not, there's a clip! "Thank you for not putting lasers on the show," Kevin closes with.
3:17 PM: Everyone gives the panel a standing ovation!
3:20 PM: Last but not least they screen the trailer for "Caprica." See you in a few.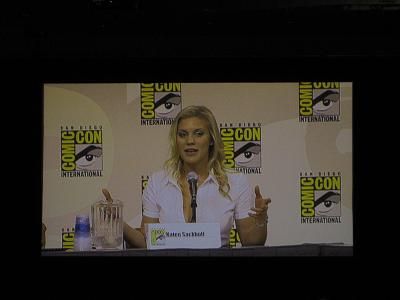 Katee Sackhoff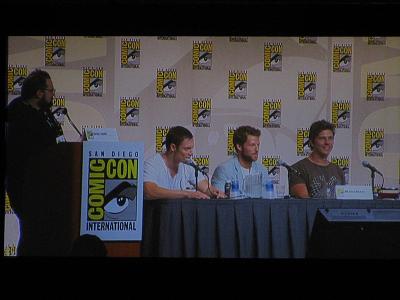 Kevin Smith, Tahmoh Penikett, Jamie Bamber, Michael Trucco