[04/29/10 - 01:51 PM]
Conan O'Brien Says He Would Not Have Done What Jay Leno Did to Him - "60 Minutes"
CBS further details Sunday's episode, including quotes from O'Brien.
---
[via press release from CBS]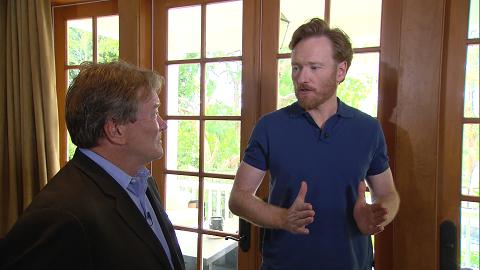 CONAN O'BRIEN SAYS HE WOULD NOT HAVE DONE WHAT JAY LENO DID TO HIM - "60 MINUTES"
In His First Post-Tonight Show Interview, He Tells Steve Kroft He wasn't Even Sure NBC Really Wanted Him to Stay
Conan O'Brien says he would have left NBC rather than do what Jay Leno did to him, in his first interview since being forced off the Tonight Show. O'Brien's interview with Steve Kroft will be broadcast on 60 MINUTES, Sunday, May 2 (7:00-8:00PM, ET/PT) on the CBS Television Network.
"He went and took that show back and I think in a similar situation, if roles had been reversed, I know -- I know me, I wouldn't have done that," O'Brien says. "If I had surrendered The Tonight Show and handed it over to somebody publicly and wished them well-- and then... six months later. But that's me, you know. Everyone's got their own, you know, way of doing things," he tells Kroft.
Asked by Kroft what he would have done, O'Brien says, "Done something else, go someplace else. I mean, that's just me."
O'Brien eventually left NBC, deciding not to play second-fiddle to Leno. He says he didn't see the point in giving his all in a relationship that seemed to have no future. "I think this relationship is going be toxic and maybe we just need to go our separate ways," he says. "That's really how it felt to me... and I started to feel that I'm not sure these people even really want me here... .I can't do it [anymore].




[07/25/14 - 10:20 AM]
TLC Jumps Back Into the Competitive Spirit with a New Season of "Four Weddings"
The new season - premiering Friday, August 15 at 9:00/8:00c - kicks off with the show's 100th episode.


[07/25/14 - 10:10 AM]
Demi Lovato to Perform "Really Don't Care" with Cher Lloyd and Rita Ora to Perform "I Will Never Let You Down" on "Teen Choice 2014" Sunday, August 10, Live on FOX
Hilary Duff, Megan Fox, Fifth Harmony, Kevin Hart, Colton Haynes, Josh Hutcherson, Sarah Hyland, Kendall Jenner, Kim Kardashian, Lea Michele, The Band Perry and Nat Wolff are now slated to appear.


[07/25/14 - 09:38 AM]
Great American Country to Go "Off the Map with Shannen & Holly"
Slated to premiere in 2015, the six-episode series follows actresses, former co-stars and real-life friends Shannen Doherty and Holly Marie Combs on a girls' road trip through the southeastern United States.


[07/25/14 - 08:40 AM]
Thursday's Broadcast Ratings: "Big Brother" Continues Win Streak for CBS
The Eye has taken home top adults 18-49 honors for five straight weeks.


[07/25/14 - 08:23 AM]
"Last Comic Standing" Wins Its Timeslot in 18-49 and Most Key Demos
NBC spins the numbers for Thursday, July 24.


[07/25/14 - 08:16 AM]
ABC's "Black Box" Finale Is Up and "NY Med" Tops Its Slot for the 5th Straight Week
ABC spins the numbers for Thursday, July 24.


[07/25/14 - 07:47 AM]
Lucy Hale's Webisode Series, "The Road Between with Lucy Hale," Premieres Exclusively on LucyHale.CMT.com Today
The exclusive world broadcast and online premiere of Hale's video for "Lie A Little Better" hits CMT and MTV Tuesday, July 29.


[07/25/14 - 06:07 AM]
Amazon's Third Original Kids Series "Annedroids" Now Available on Prime Instant Video
Created by Emmy-nominated J.J. Johnson and Sinking Ship Entertainment, the series is aimed at children aged four through seven.


[07/24/14 - 07:32 PM]
Video: FOX Brings "Sleepy Hollow" to San Diego!
Fans can lose their heads at the "Sleepy Hollow" virtual reality experience at the Petco Interactive Zone.


[07/24/14 - 07:21 PM]
Video: FOX's "Gotham" Takes Over San Diego Comic-Con!
Fans can ride the "Gotham" Zip Line located between the Convention Center and the Hilton Bayfront Hotel Thursday through Sunday, from 10:00 AM-6:00 PM.


[07/24/14 - 04:20 PM]
Mayim Bialik to Host TV Land's "Candid Camera" Reboot, Premiering August 11th
Original episodes will also air Tuesday, August 12th; Wednesday, August 13th; and Thursday, August 14th at 8:00/7:00c.


[07/24/14 - 03:45 PM]
MTV Announces "Teen Wolf" Will Return for a 20-Episode Fifth Season
Additionally, the room was given a first-look at the mid-season trailer which is currently available to view on iPhone/iPad or Android via the MTV App.


[07/24/14 - 03:17 PM]
Video: Comic-Con First Look - "Moonbeam City" Comedy Central's Newest Animated Series
The series, debuting in 2015, is an absurdist take on the gritty, sex-drenched crime dramas from the 1980s.


[07/24/14 - 02:01 PM]
NBC to Wrap "Crossbones" Run on Saturday, August 2
The show's planned installments for Friday, August 1 and Friday, August 8 will now air on Saturday, August 2 starting at 8:00/7:00c.


[07/24/14 - 01:42 PM]
FOX Sports Delivers 23 Hours of Live Coverage from "Hot August Nights" Auction Presented by Barrett-Jackson
Bob Varsha leads a seven-member broadcast team, which includes Mike Joy, Steve Magnante, Ralph Sheheen, April Rose, Justin Bell and Tom Jensen.