[04/29/10 - 01:51 PM]
Conan O'Brien Says He Would Not Have Done What Jay Leno Did to Him - "60 Minutes"
CBS further details Sunday's episode, including quotes from O'Brien.
---
[via press release from CBS]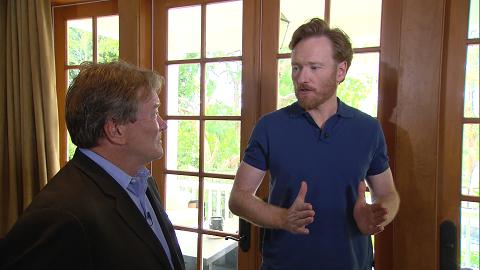 CONAN O'BRIEN SAYS HE WOULD NOT HAVE DONE WHAT JAY LENO DID TO HIM - "60 MINUTES"
In His First Post-Tonight Show Interview, He Tells Steve Kroft He wasn't Even Sure NBC Really Wanted Him to Stay
Conan O'Brien says he would have left NBC rather than do what Jay Leno did to him, in his first interview since being forced off the Tonight Show. O'Brien's interview with Steve Kroft will be broadcast on 60 MINUTES, Sunday, May 2 (7:00-8:00PM, ET/PT) on the CBS Television Network.
"He went and took that show back and I think in a similar situation, if roles had been reversed, I know -- I know me, I wouldn't have done that," O'Brien says. "If I had surrendered The Tonight Show and handed it over to somebody publicly and wished them well-- and then... six months later. But that's me, you know. Everyone's got their own, you know, way of doing things," he tells Kroft.
Asked by Kroft what he would have done, O'Brien says, "Done something else, go someplace else. I mean, that's just me."
O'Brien eventually left NBC, deciding not to play second-fiddle to Leno. He says he didn't see the point in giving his all in a relationship that seemed to have no future. "I think this relationship is going be toxic and maybe we just need to go our separate ways," he says. "That's really how it felt to me... and I started to feel that I'm not sure these people even really want me here... .I can't do it [anymore].




[12/01/15 - 05:40 PM]
ABC's "Marvel's Agent Carter" Season Premiere Moves to January 19
Due to the scheduling of the State of the Union Address on January 12, "Marvel's Agent Carter" will return for a second season of adventure and intrigue on a new date.


[12/01/15 - 12:13 PM]
Hollywood's A-List Heads to Ovation TV for No-Holds-Barred Interview Show, "Los Angeles Times' The Envelope"
The series is hosted by Rebecca Keegan and Mark Olsen who sit down with the year's critically acclaimed directors and actors for an in-depth discussion of their awards-worthy films and the filmmaking process.


[12/01/15 - 12:10 PM]
truTV Expands Scripted Slate with Pre-Launch Renewal of "Those Who Can't," And Begins Development on Three New Scripted Projects
"Those Who Can't" centers on a trio of trouble-making high school teachers played by show creators and executive producers Adam Cayton-Holland, Andrew Orvedahl and Ben Roy.


[12/01/15 - 11:46 AM]
"War & Peace" Reimagined for a New Generation Premieres on Lifetime, A&E and History January 18
The epic features an award-winning cast including Paul Dano, Lily James, James Norton, Jim Broadbent, Gillian Anderson and others.


[12/01/15 - 10:49 AM]
TV One Celebrates Eddie Murphy in PBS' "18th Annual Mark Twain Prize for American Humor" Special This Friday, December 4 at 8 P.M. ET
Originally broadcast on PBS stations nationwide, the special taped at The John F. Kennedy Center for the Performing Arts and features star-studded appearances by leading entertainers and comedians.


[12/01/15 - 10:13 AM]
Video: Starz Releases First Look at "Outlander" Season Two
The Season Two teaser is the first release for Starz' 25 Days of #OutlanderOfferings.


[12/01/15 - 10:07 AM]
"Behind the Magic: Snow White and the Seven Dwarfs" to Air on ABC, Sunday, December 13
Ginnifer Goodwin narrates the one-hour special, which explores the moment where folklore met filmmaking.


[12/01/15 - 09:46 AM]
An All-New "The Biggest Loser" Returns January 4 with a New Host, Theme, Logo, Gym and Format and Eight Compelling Contestant Teams of Two
Dolvett Quince and Jen Widerstrom return to train eight contestant teams of two, all with compelling stories.


[12/01/15 - 08:35 AM]
Monday's Broadcast Ratings: NBC Tops Charts with "The Voice," "Superstore"
The Peacock wins the night in both total viewers and adults 18-49 by wide margins.


[12/01/15 - 08:06 AM]
Video: Netflix Presents "A Very Murray Christmas"
In just 4 days, Bill Murray and his celebrity friends will bring joy and laughter to people all around the world with the Netflix original holiday special.


[12/01/15 - 07:41 AM]
"Bolshoi Babylon," An Unprecedented Inside Look at the Famed Russian Ballet Company in the Wake of Scandal, Debuts Dec. 21 on HBO
The film was previously slated to debut the week prior on Monday, December 14.


[12/01/15 - 07:35 AM]
Nickelodeon Presents Series Finale of Landmark "Nick News with Linda Ellerbee," Commemorating 25 Years on Air, Tuesday, Dec. 15, at 8PM (ET/PT)
Ellerbee, who has announced her retirement, will highlight some of Nick News' most poignant episodes and discussions, while presenting the story and philosophy behind the award-winning series.


[12/01/15 - 07:30 AM]
Juanes, Seth MacFarlane and Trisha Yearwood Added to Lineup for "Sinatra 100 - An All-Star Grammy Concert," Sunday, Dec. 6 on CBS
They join previously announced performers Tony Bennett, Garth Brooks, Zac Brown, Harry Connick, Jr., Celine Dion, Alicia Keys, Lady Gaga, John Legend, Adam Levine, Carrie Underwood and Usher.


[12/01/15 - 07:03 AM]
Luke Bryan, Wiz Khalifa featuring Charlie Puth, and Demi Lovato to Perform in Times Square During "Dick Clark's New Year's Rockin' Eve with Ryan Seacrest 2016"
They join previously announced performers One Direction, who will headline the Billboard Hollywood Party in Los Angeles.


[12/01/15 - 06:51 AM]
Video: MTV Reveals Stunning Opening Title Sequence for "The Shannara Chronicles"
The show open features powerful and stunning visuals of the post-apocalyptic world of "Shannara," harmonized with artist Ruelle's haunting hit song, "Until We Go Down."