[06/14/11 - 09:34 AM]
"Boss" Starring Kelsey Grammer: Teaser & Poster Art Revealed
Connie Nielsen, Kathleen Robertson and Hannah Ware also star in the series, premiering in October.
---
[via press release from Starz]
Boss -- Premieres October 2011
Mayor Tom Kane (Kelsey Grammer) sits like a spider at the center of Chicago's web of power; a web built on a covenant with the people. They want to be led; they want disputes settled, jobs dispensed, and loyalties rewarded. If he achieves through deception and troubling morality, so be it. As long as he gets the job done, they look the other way.
Yet despite being the most effective mayor in recent history, a degenerative brain disorder is ripping everything away from him. He can't trust his memory, his closest allies, or even himself.
Kane's wife Meredith (Connie Nielsen) knows nothing. Theirs is a marriage of convenience. Kitty O'Neil (Kathleen Robertson), Kane's advisor, has her suspicions but stays silent. And Kane's political advisor Ira Stone (actor), a Yale graduate with a rough edge, remains question-less. Only Alice (Hannah Ware), Kane's estranged daughter, has a chance of learning his secret. This is going to be the toughest term yet for the Boss.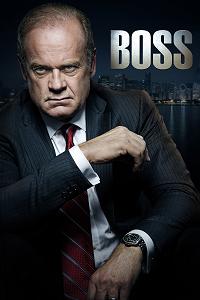 [04/29/17 - 08:25 AM]
Friday's Broadcast Ratings: CBS Tops Viewers, Splits Demos with NBC
The Eye's "Hawaii Five-0" wins the night among adults 18-49.


[04/28/17 - 02:00 PM]
Video: Watch a Behind-the-Scenes First Look at FOX's New Dating Show, "Love Connection," Hosted by Andy Cohen
The unscripted series will now premiere at 9:00/8:00c on Thursday, May 25 following "Beat Shazam."


[04/28/17 - 12:39 PM]
"The President Show" Inaugural Episode Draws Huge Crowd Topping Trump's Actual Inauguration
Comedy Central spins the numbers for Thursday, April 27.


[04/28/17 - 11:25 AM]
WE tv's New Series "Growing Up Hip Hop Atlanta" Premieres Thursday, May 25 at 10pm ET/CT
"Growing Up Hip Hop Atlanta" features a tight-knit crew of friends who reveal the perks and perils of being born into Hip Hop royalty.


[04/28/17 - 10:43 AM]
Netflix Unveils "FYSee" - A Month-Long Celebration Highlighting the Best of Netflix Series
For the first time, Netflix's FYSee will feature a full month of programming designed to connect industry with the shows, creators and talent they love in wholly new and unusual ways.


[04/28/17 - 10:02 AM]
Paramount Television and Anonymous Content Option Rights to Anne Rice's Best-Selling Series, "The Vampire Chronicles"
Christopher Rice, four-time New York Times Bestselling(R) author and recipient of the Lambda Literary Award, will pen the series and serve as executive producer alongside Anne Rice, and Anonymous Content's David Kanter and Steve Golin.


[04/28/17 - 10:02 AM]
"Star Trek: Discovery" Adds to Its Ranks
Shazad Latif, Rekha Sharma, Kenneth Mitchell, Clare McConnell and Damon Runyan are among the latest additions.


[04/28/17 - 09:55 AM]
British Comedic Legend Tommy Maitland Has Been Announced to Host ABC's Irreverent Talent Competition Show "The Gong Show"
A revolving panel of judges featuring Hollywood's hottest stars praise, critique and gong contestants in one of TV's all-time great variety shows.


[04/28/17 - 09:47 AM]
Showtime(R) Sets Summer Premiere Dates for Hit Series "Ray Donovan" and "Episodes"
Look for the new seasons on August 6 and August 20, respectively, with "Twin Peaks" moving to the 8:00/7:00c slot on August 6.


[04/28/17 - 09:40 AM]
Her Story Continues - "Z: The Beginning of Everything" Is Returning for a Second Season
The streaming service formally announced said renewal this morning.


[04/28/17 - 08:30 AM]
Thursday's Broadcast Ratings: ABC Inches Past CBS Among Adults 18-49
The Alphabet wins the night in demos while the Eye is the most-watched broadcaster.


[04/28/17 - 07:56 AM]
ESPN's Round 1 NFL Draft Telecast Delivers 4.8 Overnight Rating
ESPN spins the numbers for Thursday, April 27.


[04/28/17 - 07:32 AM]
Universal Pictures' "Fast & Furious" Franchise to Receive Generation Award at the "2017 MTV Movie & TV Awards"
"We are thrilled to celebrate the 'Fast & Furious' franchise and its global contribution to pop culture," said Amy Doyle, General Manager, MTV, VH1 and Logo.


[04/28/17 - 06:00 AM]
"Ellen"'s Coming-Out Episode, "The Puppy Episode: Parts 1 and 2," Streaming Now on the ABC App
This Sunday, April 30, is the 20th anniversary of the historic coming-out episode of the "Ellen" sitcom on ABC.


[04/27/17 - 03:01 PM]
BET Networks Says YES to Comedy Superstars and Music Legends with Original New Scripted, Late Night and Mini-Series
VH1 imports "Hit the Floor" and "The Breaks" will join fellow returning drama "The Quad."