[06/14/11 - 09:34 AM]
"Boss" Starring Kelsey Grammer: Teaser & Poster Art Revealed
Connie Nielsen, Kathleen Robertson and Hannah Ware also star in the series, premiering in October.
---
[via press release from Starz]
Boss -- Premieres October 2011
Mayor Tom Kane (Kelsey Grammer) sits like a spider at the center of Chicago's web of power; a web built on a covenant with the people. They want to be led; they want disputes settled, jobs dispensed, and loyalties rewarded. If he achieves through deception and troubling morality, so be it. As long as he gets the job done, they look the other way.
Yet despite being the most effective mayor in recent history, a degenerative brain disorder is ripping everything away from him. He can't trust his memory, his closest allies, or even himself.
Kane's wife Meredith (Connie Nielsen) knows nothing. Theirs is a marriage of convenience. Kitty O'Neil (Kathleen Robertson), Kane's advisor, has her suspicions but stays silent. And Kane's political advisor Ira Stone (actor), a Yale graduate with a rough edge, remains question-less. Only Alice (Hannah Ware), Kane's estranged daughter, has a chance of learning his secret. This is going to be the toughest term yet for the Boss.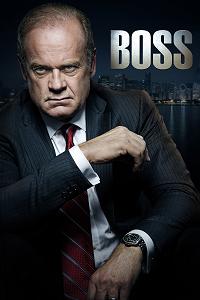 [10/17/17 - 08:25 AM]
Monday's Broadcast Ratings: NBC Tops Demos Once Again
Plus: second place ABC sees week-to-week growth from "Dancing with the Stars" and "The Good Doctor" among adults 18-49.


[10/16/17 - 12:21 PM]
Investigation Discovery and Time Inc. Productions Announce Premiere of New Season of "People Magazine Investigates"
Season two debuts Monday, November 6 at 10:00/7:00c.


[10/16/17 - 11:35 AM]
Comedian and Writer Wyatt Cenac to Star in Comedic Docu-Series Examining Hot-Button Issues, Debuting on HBO in Spring 2018
The half-hour late-night docu-series will take a satirical look at social and cultural issues from Cenac's unique perspective.


[10/16/17 - 11:00 AM]
History Honors Veterans Day with New Episodes of "The Warfighters" from Executive Producer Peter Berg on Nov. 11
"The Warfighters" premieres with four back-to-back new episodes on Saturday, November 11 beginning at 8:00/7:00c.


[10/16/17 - 10:02 AM]
TNT Launches New Psychological Thriller "The Alienist" Jan. 22
Set in 1896 amidst a backdrop of vast wealth, extreme poverty and technological innovation, this psychological thriller stars Daniel Brühl, Luke Evans, Dakota Fanning and Brian Geraghty.


[10/16/17 - 09:35 AM]
Guest Line-Up Announced for "The Daily Show Undesked Chicago 2017: Let's Do This Before It Gets Too Damn Cold" Including Common, Arne Duncan and Curtis Toler, Lena Waithe and Vic Mensa
As previously announced, "The Daily Show Presents: The Donald J. Trump Presidential Twitter Library," which made its debut in New York City in June, will open in Chicago this weekend.


[10/16/17 - 09:15 AM]
A&E Network to Premiere Six-Part Limited Series "Who Killed Tupac?" on Tuesday, November 21 at 9PM ET/PT
The series follows famed civil rights attorney Benjamin Crump as he conducts, for the first time ever, a no-stone-unturned investigation twenty years after the death of the dynamic and influential rapper and actor.


[10/16/17 - 09:07 AM]
National Geographic Acquires Cable Syndication Rights of NBCUniversal's "Running Wild with Bear Grylls"
The network also has the first option to air additional seasons of the series produced by Bear Grylls Ventures and Electus, should they be greenlit by NBC.


[10/16/17 - 09:06 AM]
Hotel Expert Anthony Melchiorri Checks-in to the World's Most "Extreme Hotels"
In Travel Channel's new series "Extreme Hotels," premiering Sunday, November 19, Melchiorri explores unique and breathtaking accommodations in bucket-list locales.


[10/16/17 - 08:59 AM]
Hallmark Channel's 7th Annual Hero Dog Awards Premieres October 25
The "Oscars for Dogs" features a veritable galaxy of two-legged stars, including hosts James Denton and Beth Stern.


[10/16/17 - 08:20 AM]
Best of HBO International Series to Arrive on U.S. Service in December
Beginning in December, two series from each of the regions will arrive on the U.S. streaming services HBO GO and HBO NOW as well as HBO On Demand.


[10/16/17 - 08:16 AM]
Sunday's Broadcast Ratings: "Sunday Night Football" Powers Another NBC Victory
Plus: CBS gets a boost to its lineup with a primetime NFL overrun.


[10/16/17 - 07:21 AM]
HGTV's "Property Brothers at Home: Drew's Honeymoon House" Premieres on Wednesday, Nov. 22, at 9 p.m. ET/PT
The five-episode series will follow the Scott brothers as they complete a massive renovation of the couple's first home together in Los Angeles.


[10/15/17 - 09:02 AM]
Saturday's Broadcast Ratings: ABC, College Football Top Demos
The Alphabet wins the night among adults 18-49 while CBS is the most-watched network.


[10/15/17 - 08:56 AM]
"Saturday Night Live" Generates Season Highs & the Show's 2nd Strongest Week 3 Metered-Market Rating in 6 Years
NBC spins the numbers for Saturday, October 14.