[08/06/11 - 09:31 AM]
Landgraf: "It's Always Sunny in Philadelphia," "Louie," "Wilfred" to All Return
By Brian Ford Sullivan (TFC)
---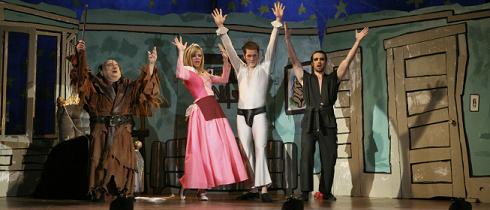 LOS ANGELES (thefutoncritic.com) -- FX president and general manager John Landgraf kicked off the network's day at the TCA Summer Press Tour by announcing the renewals of "It's Always Sunny in Philadelphia," "Louie" and "Wilfred."
"Wilfred" will be back for a second season while "Louie" is a go for season three. The former has averaged 1.753 million viewers and a 0.8 rating among adults 18-49 in its six airings to date while "Louie" is delivering 1.119 million viewers and a 0.6 rating in said demo. Both series wrap their seasons on Thursday, September 8.
As for "Sunny," the veteran comedy has been picked up for two more seasons - eight (due in 2012) and nine (2013) - making it the longest-running comedy series in basic-cable history. Last season "Sunny" averaged 1.525 million viewers and a 0.9 rating among adults 18-49. Season seven launches Thursday, September 15.




[09/04/15 - 12:00 PM]
Disney Channel Orders Family Comedy Series "Stuck in the Middle"
Jenna Ortega stars as Harley Diaz, an engineering whiz who uses her inventions to navigate life as the middle child in a family of seven kids.


[09/04/15 - 09:56 AM]
Every Major CBS News Broadcasts Posts Year-to-Year Viewer Growth and Strong Deliveries of Adults 25-54
CBS News further spins the numbers for the week of August 24-30.


[09/04/15 - 09:43 AM]
ESPNU Extends College Football Weekend, Debuts "College Football Sunday" Program
ESPNU will extend the college football weekend with the debut of "College Football Sunday" starting this week, September 6, and continuing throughout the college football season.


[09/04/15 - 08:31 AM]
Thursday's Broadcast Ratings: CBS Rides "Big Brother," "Big Bang" to Another Victory
Said duo are the night's top draws among total viewers and adults 18-49.


[09/04/15 - 08:01 AM]
Fall Into Music with CMT in September as Network Launches New Original Specials, Documentaries, Artist Collaborations, Live Performances, Album Premieres and More
The music-filled month kicks off Labor Day Weekend on September 5 live from Charleston as Darius Rucker performs a surprise pop-up show before his hometown in a brand new installment of "CMT Instant Jam."


[09/04/15 - 07:31 AM]
Beasts of No Nation - Main Trailer and Key Art Debut
The powerful new Netflix film starring Idris Elba recently had its world premiere at the Venice Film Festival and will screen at the Telluride Film Festival, Toronto Film Festival, and London Film Festival.


[09/04/15 - 06:07 AM]
ESPN's 2015 Thursday Night Doubleheader Sees Significant Ratings Increases Over 2014 Thursday Night Opener
ESPN spins the numbers for Thursday, September 3.


[09/04/15 - 04:03 AM]
truTV and "Impractical Jokers" Take Over New York's South Street Seaport in Epic, First-Ever Live Event Celebrating Hit Series 100th Episode
The network recaps last night's special event, hosted by Howie Mandel.


[09/03/15 - 08:23 PM]
Video: "Billy on the Street" - New Season: Sneak Peek
Get your first look at the show's truTV incarnation, premiering Thursday, October 8.


[09/03/15 - 02:37 PM]
"The Late Late Show With James Corden" To Host Top Entertainment Celebs, Sept. 8 - Sept. 10
Corden will welcome Alison Brie, Bradley Cooper, Fall Out Boy, Andrew Garfield, Wiz Khalifa, Jeremy Renner and Jason Sudeikis in the course of just three days.


[09/03/15 - 02:16 PM]
Check Out John Diggle's New Costume on "Arrow!"
David Ramsey's character will be donning this gear in the premiere episode of "Arrow" on Wednesday, October 7.


[09/03/15 - 02:13 PM]
Darius Rucker's Surprise "CMT Instant Jam" from Charleston, SC Premieres Saturday, September 5 at 10 P.M., ET/PT
The one-hour show features Rucker performing on the beach at local venue The Windjammer to hits including "Homegrown Honey," "Don't Think I Don't Think About It," "Alright," Hootie and the Blowfish favorite "Only Wanna Be With You" and more.


[09/03/15 - 02:10 PM]
"Grandfathered" Celebrates Grandparents Day with 1-800-Flowers Promotion
Starting today, use promo code "Grandfathered" to receive 20% off an exclusive collection of flowers and treats.


[09/03/15 - 01:22 PM]
"In The Cut" Viewership Explodes in Week Two, Second Episode & Series Become Most-Watched Original in Bounce TV's History
Bounce TV spins the numbers for Tuesday, September 1.


[09/03/15 - 12:58 PM]
"The Chew" Is All About You! Season Five Kicks Off Tuesday, September 8 on ABC
Hosts Mario Batali, Michael Symon, Carla Hall, Clinton Kelly and Daphne Oz return for a fun-filled season as your ultimate guides in entertaining from help with a quick fix fabulous meal to aide in a kitchen calamity.