[08/06/11 - 09:31 AM]
Landgraf: "It's Always Sunny in Philadelphia," "Louie," "Wilfred" to All Return
By Brian Ford Sullivan (TFC)
---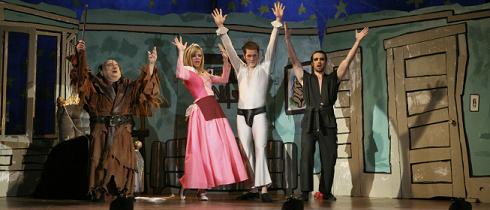 LOS ANGELES (thefutoncritic.com) -- FX president and general manager John Landgraf kicked off the network's day at the TCA Summer Press Tour by announcing the renewals of "It's Always Sunny in Philadelphia," "Louie" and "Wilfred."
"Wilfred" will be back for a second season while "Louie" is a go for season three. The former has averaged 1.753 million viewers and a 0.8 rating among adults 18-49 in its six airings to date while "Louie" is delivering 1.119 million viewers and a 0.6 rating in said demo. Both series wrap their seasons on Thursday, September 8.
As for "Sunny," the veteran comedy has been picked up for two more seasons - eight (due in 2012) and nine (2013) - making it the longest-running comedy series in basic-cable history. Last season "Sunny" averaged 1.525 million viewers and a 0.9 rating among adults 18-49. Season seven launches Thursday, September 15.




[04/25/15 - 08:42 AM]
"Grimm" Is Steady Week to Week in Adults 18-49, Grows in Men and Women 18-49, Adults, Men and Women 25-54 and Total Viewers
NBC spins the numbers for Friday, April 24.


[04/25/15 - 08:40 AM]
"20/20: Bruce Jenner - The Interview" Draws 16.9 Million on Friday - Biggest "20/20" in 15 Years
ABC spins the numbers for Friday, April 24.


[04/25/15 - 08:33 AM]
Friday's Broadcast Ratings: "Bruce Jenner - The Interview" Posts Big Numbers for ABC
Nearly 17 million viewers on average tune into the two-hour special.


[04/24/15 - 07:43 PM]
E! Announces New Documentary Series Following Bruce Jenner's Life as a Transgender Woman
The eight-part, one-hour series will premiere Sunday, July 26 at 9:00pm on E! and will also air on the E! channels internationally.


[04/24/15 - 04:25 PM]
Oscar(R) Nominee and Multiple Tony(R) Winner Frank Langella to Return to FX's Peabody Award-Winning Drama "The Americans"
Langella will reprise his role as "Gabriel," Philip and Elizabeth's mysterious KGB handler.


[04/24/15 - 03:05 PM]
Whipclip Teams Up with Pop to Offer Fans Easy Access to Create and Share Video Clips from Network's Original Programming Line-Up
Using Whipclip, viewers can create customized clips of their favorite moments and share them instantly on Facebook, Twitter, Tumblr, Pinterest and via email and SMS.


[04/24/15 - 12:48 PM]
Discovery Channel Renews Hit-Series "Deadliest Catch" for Twelfth Season
From Original Productions, the 13-time Emmy Award-winning series follows the real-life adventures of Alaskan fisherman with one of the most dangerous jobs in the world - crab fishing on the unpredictable Bering Sea.


[04/24/15 - 12:43 PM]
FOX Sports 1 Presents First Ever "U.S. Open Media Day Special"
Originating from the United States Golf Association's Media Day at Chambers Bay, the program, recorded earlier in the day, airs in primetime Monday, April 27, (9:30 PM ET) on FOX Sports 1.


[04/24/15 - 12:32 PM]
Discovery Channel Grabs #1 in Both Persons 25-54 and Persons 18-49 on Cable for the Week
Discovery spins the numbers for the week of April 13-19.


[04/24/15 - 11:17 AM]
"Garbage Time with Katie Nolan" Attracts Largest Audience Ever with Total Viewership Over 1.6 Million
FOX Sports further spins the numbers for Sunday, April 19.


[04/24/15 - 10:35 AM]
Meet the New Class of Students on "Are You Smarter Than a 5th Grader?"
Following a nationwide search, these six kids were chosen to help the grown-ups graduate toward the top prize of $1 million.


[04/24/15 - 10:31 AM]
Live + 3 Day Ratings: ABC's "Once Upon a Time" Emerges at Sunday's Top Broadcast Series
ABC further spins the numbers for Sunday, April 19.


[04/24/15 - 10:26 AM]
Evan Peters the Latest "American Horror Story" Veteran to Join "Hotel"
Lady Gaga, Kathy Bates, Sarah Paulson, Matt Bomer, Cheyenne Jackson, Wes Bentley and Chloë Sevigny also star in the latest installment, due in October.


[04/24/15 - 10:11 AM]
"Thought Crimes: The Case of the Cannibal Cop," Featuring Exclusive Access to Former NYPD Officer Gilberto Valle, Explores Issues of Crime in the Internet Age When It Debuts May 11 on HBO
Dubbed "The Cannibal Cop," former NYPD officer Gilberto Valle was convicted of conspiring to kidnap and eat women in March 2013.


[04/24/15 - 10:08 AM]
Video: "Nightingale" - Tease (HBO Films)
The David Oyelowo-led project premieres Friday, May 29 at 9:00/8:00c on the pay channel.