[08/06/11 - 09:31 AM]
Landgraf: "It's Always Sunny in Philadelphia," "Louie," "Wilfred" to All Return
By Brian Ford Sullivan (TFC)
---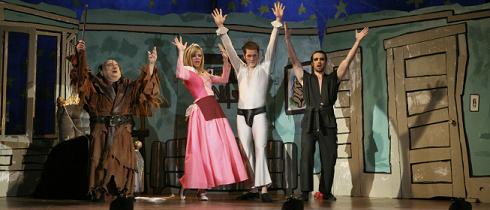 LOS ANGELES (thefutoncritic.com) -- FX president and general manager John Landgraf kicked off the network's day at the TCA Summer Press Tour by announcing the renewals of "It's Always Sunny in Philadelphia," "Louie" and "Wilfred."
"Wilfred" will be back for a second season while "Louie" is a go for season three. The former has averaged 1.753 million viewers and a 0.8 rating among adults 18-49 in its six airings to date while "Louie" is delivering 1.119 million viewers and a 0.6 rating in said demo. Both series wrap their seasons on Thursday, September 8.
As for "Sunny," the veteran comedy has been picked up for two more seasons - eight (due in 2012) and nine (2013) - making it the longest-running comedy series in basic-cable history. Last season "Sunny" averaged 1.525 million viewers and a 0.9 rating among adults 18-49. Season seven launches Thursday, September 15.




[10/22/14 - 04:00 PM]
New Primetime Special "Sofia the First: The Curse of Princess Ivy" to Premiere Sunday, November 23 on Disney Channel
The high-stakes adventure features a special appearance by Rapunzel, voiced by Mandy Moore, who reprises her role from Disney's "Tangled."


[10/22/14 - 03:19 PM]
Bravo Media Renews "Below Deck" for Third Season as Finale Earns Highest-Rated Episode of the Season with Over 1.4 Million Total Viewers
Plus: look for "The Crew Tells All" next Tuesday, October 28 and a reunion special the following Tuesday, November 4.


[10/22/14 - 01:40 PM]
World Series Game 1 Drives FOX to Prime Time Ratings Win
FOX Sports spins the numbers for Tuesday, October 21.


[10/22/14 - 01:37 PM]
Lifetime Greenlights Limited Series "Lizzie Borden: The Fall River Chronicles"
Christina Ricci will reprise her haunting role as the notorious murder suspect she portrayed in the network's hit original movie "Lizzie Borden Took An Ax."


[10/22/14 - 01:14 PM]
Sneak Play of "Becoming," from LeBron James' Springhill Production Company and ESPN Films, Added at 5:30 P.M. Sunday, October 26 on Disney XD
It will also be presented in the previously announced 8:00 p.m. timeslot on Disney XD and on Friday, November 7 (7:00 p.m., ET/4:00 p.m., PT) on ESPN.


[10/22/14 - 12:44 PM]
Animal Planet's "Finding Bigfoot" Returns with Search for World's Largest Sasquatch
On Sunday, November 9, the series returns with a special two-hour episode that takes Bigfoot Field Research Organization (BFRO) president Matt Moneymaker, researchers James "Bobo" Fay and Cliff Barackman and skeptical scientist Ranae Holland off to the wilds of Alaska.


[10/22/14 - 11:31 AM]
Syfy's Hit Competition Series "Face Off" to Return for Eighth Season January 13 at 9PM
In a twist on the show's traditional format, three former champions, Rayce Bird (Season 2), Anthony Kosar (Season 4) and Laura Tyler (Season 5), will return in the premiere and select teams of five new artists who they will coach throughout the season.


[10/22/14 - 11:14 AM]
ABC Grows Year to Year in Total Viewers and Holds Steady in Adults 18-49
ABC spins the numbers for the weeks of September 22-October 19.


[10/22/14 - 11:05 AM]
Comedy Icon Steve Coogan to Star in "Happyish" on Showtime(R)
He'll succeed the late Philip Seymour Hoffman in the project, a comedic, soul-searching examination of our pursuit of happiness, a pursuit that might just be the very thing causing our unhappiness in the first place.


[10/22/14 - 11:04 AM]
Discovery Family Channel to Premiere the Third Season of Hasbro Studios' Popular Animated Series "Transformers Rescue Bots," November 1
The season three premiere of "Transformers Rescue Bots" returns with the episode "Land Before Prime," where Optimus Prime is forced to embrace his primal side when the Rescue Bots discover a mysterious island filled with dinosaurs.


[10/22/14 - 10:58 AM]
"NCIS: New Orleans" Delivers Its Highest Adults 18-49 Rating Since Its Series Premiere
CBS spins the numbers for Tuesday, October 21.


[10/22/14 - 10:49 AM]
First-Ever LEGO(R) Batman Television Special, "LEGO DC Comics: Batman: Be-Leaguered," Premieres October 27 on Cartoon Network
Produced by Warner Bros. Animation, this powerhouse partnership between the LEGO Group and DC Entertainment is a funny, lighthearted tale new to the DC Comics universe.


[10/22/14 - 10:42 AM]
"CMA Country Christmas" Adds Performances by Alan Jackson, and Brad Paisley with Rock Legend Steven Tyler
Artists previously announced include Dan + Shay, Brett Eldredge, Sara Evans, Lucy Hale, Hunter Hayes, Little Big Town, Idina Menzel, Nettles, LeAnn Rimes, Michael W. Smith, and Carrie Underwood.


[10/22/14 - 10:41 AM]
Inspired by the Success of "Shark Tank" ABC Announces the Launch of "Beyond the Tank"
"Beyond the Tank" will feature a look back at past "Shark Tank" pitches and deals to examine the highs and lows that can come from an appearance in the tank.


[10/22/14 - 10:31 AM]
TNT Greenlights "Cold Justice" Spinoff
Rather than tackling homicides, however, the new series will focus on sex crimes.