[08/06/11 - 09:31 AM]
Landgraf: "It's Always Sunny in Philadelphia," "Louie," "Wilfred" to All Return
By Brian Ford Sullivan (TFC)
---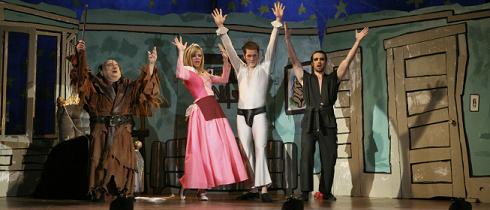 LOS ANGELES (thefutoncritic.com) -- FX president and general manager John Landgraf kicked off the network's day at the TCA Summer Press Tour by announcing the renewals of "It's Always Sunny in Philadelphia," "Louie" and "Wilfred."
"Wilfred" will be back for a second season while "Louie" is a go for season three. The former has averaged 1.753 million viewers and a 0.8 rating among adults 18-49 in its six airings to date while "Louie" is delivering 1.119 million viewers and a 0.6 rating in said demo. Both series wrap their seasons on Thursday, September 8.
As for "Sunny," the veteran comedy has been picked up for two more seasons - eight (due in 2012) and nine (2013) - making it the longest-running comedy series in basic-cable history. Last season "Sunny" averaged 1.525 million viewers and a 0.9 rating among adults 18-49. Season seven launches Thursday, September 15.




[12/06/13 - 04:10 PM]
FOX Cuts "Dads" Order to 19 Episodes
The three-episode cut follows last month's news that FOX will place the series on hiatus following its February 11 telecast.


[12/06/13 - 03:33 PM]
"The Tonight Show," "Late Night" Dominate 2013 November Sweep
NBC spins the late-night numbers for the week of November 25-29 plus the November sweeps period to date.


[12/06/13 - 03:23 PM]
NBC's "Macy's Thanksgiving Day Parade" Delivers Its Biggest Audience in People Meter History
NBC further spins the numbers for Thursday, November 28.


[12/06/13 - 03:05 PM]
Thursday's Cable Ratings & Broadcast Finals: "Sound of Music," "Big Bang Theory" Top Charts
Plus: numbers for Bravo's "Courtney Loves Dallas," truTV's "Panic Button" and VH1's "Mob Wives."


[12/06/13 - 02:28 PM]
AMC Pulls the Plug on "Low Winter Sun"
The news marks the first scripted drama at the network not to get a second season since 2010's "Rubicon."


[12/06/13 - 02:15 PM]
"Sleepy Hollow" to End First Season with Spine-Tingling Double (No)-Header Monday, January 20, on FOX
"The Following" will still open its season on Sunday, January 19 before formally rolling out on Monday, January 27.


[12/06/13 - 02:10 PM]
"Live with Kelly and Michael" Gets Into the Holiday Spirit
The week of December 9-13 marks the return of "Live's Holiday Gift Guide," a week-long series dedicated to great gift suggestions for almost every type of person, in every price range.


[12/06/13 - 01:10 PM]
Young Olympic Hopefuls Chase Their Dreams in Nick News with Linda Ellerbee "Going for Cold Gold," Premiering Tuesday, Dec. 10, at 8PM (ET/PT) on Nickelodeon
The special explores the daily sacrifices they make in order to be successful in their sport.


[12/06/13 - 01:01 PM]
"Braxton Family Values" Stars Towanda, Trina and Traci Braxton Infuse Their Sassy Style Into "Who Wants to Be a Millionaire"
Towanda, Trina and Traci also brought along cameras from "Braxton Family Values," and the exclusive behind-the-scenes footage will air on January 30.


[12/06/13 - 12:08 PM]
Video: New Promo for FX's Acclaimed Original Drama Series "Justified"
The series returns to the cable channel on Tuesday, January 7 at 10:00/9:00c.


[12/06/13 - 12:02 PM]
Season Three of Hit Disney Junior Series, "Jake and the Never Land Pirates," Featuring New Villains, Special Action-Packed Extended Episodes and Revamped Pirate Rock Theme Song, to Debut Friday, January 3, on Disney Channel
Guest stars this season include Jack McBrayer, Mark Hamill, Carl Reiner, Rico Rodriguez, Estelle Harris and Jo Frost.


[12/06/13 - 12:00 PM]
ABC Extends Classic "Peanuts" Holiday Specials Until 2020
The "Peanuts" animated holiday specials include "A Charlie Brown Thanksgiving," "It's the Great Pumpkin, Charlie Brown," and the iconic "A Charlie Brown Christmas."


[12/06/13 - 11:05 AM]
Video: Watch a Sneak Peek at "The Itchem & Scratchem Show," Featured on This Week's Episode of "The Simpsons"
The all-new episode premieres this Sunday, December 8 at 8:00/7:00c on FOX.


[12/06/13 - 10:40 AM]
ABC Reduces "Scandal" Season to 18 Episodes
Just nine episodes are left to air this season of the network's Thursday drama.


[12/06/13 - 10:22 AM]
TV Land's Merrython Event: Get a Head Start on the Holidays!
As previously announced, TV Land is airing Christmas episodes of its original sitcoms, "Kirstie" and "The Exes" for the first time.