[08/06/11 - 09:31 AM]
Landgraf: "It's Always Sunny in Philadelphia," "Louie," "Wilfred" to All Return
By Brian Ford Sullivan (TFC)
---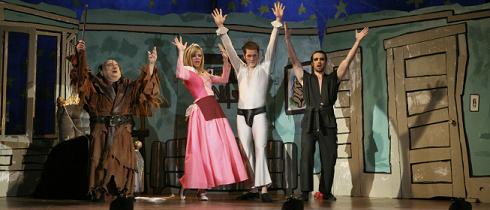 LOS ANGELES (thefutoncritic.com) -- FX president and general manager John Landgraf kicked off the network's day at the TCA Summer Press Tour by announcing the renewals of "It's Always Sunny in Philadelphia," "Louie" and "Wilfred."
"Wilfred" will be back for a second season while "Louie" is a go for season three. The former has averaged 1.753 million viewers and a 0.8 rating among adults 18-49 in its six airings to date while "Louie" is delivering 1.119 million viewers and a 0.6 rating in said demo. Both series wrap their seasons on Thursday, September 8.
As for "Sunny," the veteran comedy has been picked up for two more seasons - eight (due in 2012) and nine (2013) - making it the longest-running comedy series in basic-cable history. Last season "Sunny" averaged 1.525 million viewers and a 0.9 rating among adults 18-49. Season seven launches Thursday, September 15.




[04/18/14 - 12:09 PM]
First Lady Michelle Obama and Kellie Pickler Guest Star on "Nashville"
Said installment revolves around a charity concert at Fort Campbell.


[04/18/14 - 11:25 AM]
"Saturday Night Live" to Celebrate 40th Anniversary on Feb. 15, 2015
Past and present cast members, as well as special and musical guests from the show's incredible five-decade run, will appear on the telecast, with the specific lineup of guests to be determined in the coming months.


[04/18/14 - 10:56 AM]
New truTV Series "The Carbonaro Effect," Starring Comic Magician Michael Carbonaro, Set To Premiere Thursday, May 15th at 10pm ET/PT
The new 12-episode and hilarious series follows Carbonaro as he tricks, amazes and amuses the unsuspecting public.


[04/18/14 - 10:21 AM]
TLC Stitches Up Season Two, And Says I Do to More "Something Borrowed, Something New"
Season three, currently scheduled to premiere in November, promises to deliver more tears shed over old shredded threads.


[04/18/14 - 10:13 AM]
Video: "The Normal Heart" - Trailer (HBO Films)
The trailer will air this Sunday, April 20 just before "Game of Thrones" at 9:00/8:00c.


[04/18/14 - 10:02 AM]
Ariana Grande, Austin Mahone, Becky G, Zendaya, R5 and Fifth Harmony to Perform at the 2014 Radio Disney Music Awards
"Disney Channel Presents The Radio Disney Music Awards," a television special originating from the event, will be presented Sunday, April 27 on Disney Channel.


[04/18/14 - 09:32 AM]
Syfy's Hit Competition Series "Face Off" to Return for 7th Season in July
Season 7 will also introduce new judge, Lois Burwell, a renowned Academy-Award winning makeup artist known for her work on Lincoln, Braveheart, Saving Private Ryan, War Horse and War of the Worlds.


[04/18/14 - 09:30 AM]
Shakira to Sing "Empire" from New Self-Titled Album on Live Tuesday, April 22 Telecast of "The Voice"
In addition to the Grammy Award-winning Shakira, "The Voice" coaches Adam Levine and Blake Shelton will perform a song with their respective teams on the April 22 telecast.


[04/18/14 - 08:43 AM]
"Jimmy Kimmel Live" Scores Its Best-Ever Numbers at 11:35 p.m.
ABC spins the late-night numbers for Thursday, April 17.


[04/18/14 - 08:42 AM]
"Parenthood" Jumps 18% Versus Last Week in 18-49, Making It Its Top Episode in Three Weeks
NBC spins the numbers for Thursday, April 17.


[04/18/14 - 08:22 AM]
Thursday's Broadcast Ratings: "Scandal" Finale Powers ABC Into the Top Spot
The Alphabet takes home the adults 18-49 crown but falls just short as the most-watched network.


[04/18/14 - 08:17 AM]
ABC Wins Thursday with "Scandal" Posting Best-Ever Season Finale Numbers
ABC spins the numbers for Thursday, April 17.


[04/18/14 - 08:06 AM]
Celebrities, Renovating Families and Fixer-Uppers Take Center Stage in Nine New Series on HGTV
Among the network's latest additions: "Genevieve's Renovation," "Sold on the Spot" and "The Brothers Big Reno Project."


[04/18/14 - 07:45 AM]
Ed Stafford Returns to Discovery in All-New Epic Series, "Marooned" Premiering Wednesday, April 23 at 10PM ET/PT
Ed strive to prove to himself that he can tackle the challenges of any environment, once again with nothing except his camera - and find everything he needs to not just survive, but thrive in some of the world's toughest environments.


[04/17/14 - 09:31 PM]
"American Idol" Voting Results for April 17
Next week, on Wednesday, April 23, the Top Six get a little bit country and a little bit rock and roll as they perform two songs each - one country and one rock!