[03/23/12 - 11:03 AM]
"The Carrie Diaries" First Image Released
AnnaSophia Robb stars as a young Carrie Bradshaw in the "Sex and the City" prequel.
---
[via press release from Warner Bros. Television]
THE CARRIE DIARIES First Image Released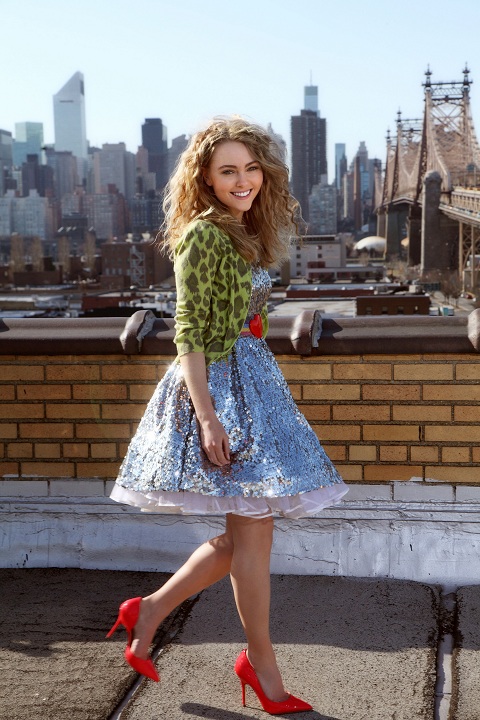 Please find attached the first image from The CW's new pilot THE CARRIE DIARIES, starring AnnaSophia Robb as a young Carrie Bradshaw coming of age in the 1980s, asking her first questions about love, sex, friendship and family while exploring the worlds of high school and Manhattan.
· THE CARRIE DIARIES writer/executive producer Amy B. Harris said: "The search for Carrie Bradshaw was an exciting adventure. Having been a part of the Sex and the City series, I felt such an honor and responsibility to the fans of the show to find someone who embodied the spirit of Manhattan's favorite 'It' girl. When AnnaSophia Robb walked into the room, we knew we had found her. Her grace, intelligence, sense of fun and her empathetic nature make her the perfect girl to bring our young Carrie to life. The fact that she loves a gorgeous pair of heels doesn't hurt either."
· Emmy(R)-winning costume designer Eric Daman (Sex and the City, Gossip Girl) said: "It's a rare invitation to dress a character whose reputation truly precedes her. Having played a hand in designing for the Carrie we know and love, I am honored to be chosen to carry the torch - to illuminate the woman we know by discovering the young lady she was."
THE CARRIE DIARIES pilot is executive produced by Amy B. Harris, Josh Schwartz, Stephanie Savage, Len Goldstein, Candace Bushnell and Miguel Arteta. Harris wrote the pilot, which is directed by Arteta.
Based upon The Carrie Diaries novel written by Bushnell, THE CARRIE DIARIES is produced by Fake Empire in association with Warner Bros. Television.
(C) 2012 Warner Bros. Entertainment Inc. All Rights Reserved. Photo Credit: Eric Liebowitz




[02/24/17 - 09:30 AM]
Tracy Morgan Comes to Netflix with All-New Stand-Up Comedy Special Launching Tuesday, May 16th
Tracy Morgan's "Staying Alive" finds the comedy icon exploring his fresh take on life, career and mortality in the wake of surviving a devastating near-fatal traffic collision in 2014.


[02/24/17 - 09:30 AM]
BBC America's London East End Drama, "Ripper Street," Returns for Its Final Season on March 8
The powerful closing chapter picks up mere days after the grisly death of Detective Inspector Bennet Drake, which reunites his old friends, Detective Inspector Edmund Reid, surgeon Captain Homer Jackson and "Long" Susan Hart, to bring his murderer to justice.


[02/24/17 - 08:42 AM]
Thursday's Broadcast Ratings: ABC Hangs Onto Demo Crown
A new "Grey's Anatomy" sparks another victory for the Alphabet among adults 18-49.


[02/24/17 - 08:30 AM]
Showtime(R) Celebrates "Twin Peaks" Day, Unveiling Dual Key Art
One poster depicts Laura Palmer (Sheryl Lee), whose mysterious death sparked the "Twin Peaks" saga, while the other showcases series star Kyle MacLachlan as Special Agent Dale Cooper.


[02/24/17 - 07:03 AM]
Bravo Media Partners with Lay's for First-Ever Live "Top Chef" Quickfire Challenge
Fans can watch the delicious drama unfold through a Facebook Live special presentation on the official Top Chef page and on bravotv.com's "The Feast," the network's food-focused digital destination.


[02/24/17 - 07:01 AM]
The Guardians and the Avengers Team Up for an Epic One-Hour "Marvel's Guardians of the Galaxy" Season Two Premiere on Saturday, March 11, on Disney XD
Disney XD will also release six shorts following the adventures of the five main characters daily, beginning February 27 on the Disney XD app, VOD and Disney XD's YouTube.


[02/23/17 - 03:05 PM]
Disney-ABC Television Group Wins Two Humanitas Prizes
ABC won the 30 Minute award for "black-ish" "Hope" episode, written by Kenya Barris.


[02/23/17 - 02:47 PM]
Video: New Trailer - Burning Sands - on Netflix March 10
The film was selected for the 2017 Sundance Film Festival US Dramatic Competition and will be available to Netflix members worldwide on Friday, March 10.


[02/23/17 - 02:34 PM]
Kirsten Dunst, Jon Hamm, Taraji P. Henson, Samuel L. Jackson, David Oyelowo, Kerry Washington and More to Present at the 2017 Film Independent Spirit Awards
Online streaming service Sundance Now (www.sundancenow.com) will live-stream the Spirit Awards concurrently with the telecast, with an archived version available to Sundance Now members shortly after the telecast concludes.


[02/23/17 - 02:15 PM]
History's "The Curse of Oak Island" Delivers Series High 3.8 Million Viewers in Season Four Finale
History spins the numbers for Tuesday, February 21.


[02/23/17 - 01:40 PM]
"The Oscars(R): All Access" Live Stream Locks Hosts and Facebook Live Integration
"The Oscars: All Access" features footage from over 20 cameras strategically placed along the red carpet, backstage and in the audience, providing fans with insider views into the most memorable moments of the night.


[02/23/17 - 01:03 PM]
Sara Bareilles to Deliver "In Memoriam" Performance During the 89th Oscars(R)
"Sara's unique artistry will honor those we've lost in our community, including familiar faces and those behind the scenes who have enriched the art of moviemaking," Michael De Luca and Jennifer Todd said.


[02/23/17 - 01:02 PM]
Showtime(R) Brings the World of "Twin Peaks" to SXSW(R)
Performers will include Neko Case, Real Estate, M. Ward, Agnes Obel, Holly Macve, Julie Byrne, Alex Cameron, Aldous Harding, Alexandra Savior, Cameron Avery and Annie Hart (of Au Revoir Simone), Tim Darcy, L.A. Salami and Let's Eat Grandma.


[02/23/17 - 12:27 PM]
E! Goes "Live from the Red Carpet" with Hosts Ryan Seacrest and Giuliana Rancic at the Oscars Sunday, February 26th Starting at 1:30P ET and 10:30A PT
The network's second screen live coverage will include a live, immersive 360 experience utilizing the latest state-of-the-art technology enabling fans to enjoy the red carpet like never before.


[02/23/17 - 12:00 PM]
Matthew Broderick Cast in "Katrina: American Crime Story"
Broderick will portray Federal Emergency Management Agency (FEMA) Director Michael D. Brown, who was in charge of the federal disaster response to Hurricane Katrina.