[03/23/12 - 11:03 AM]
"The Carrie Diaries" First Image Released
AnnaSophia Robb stars as a young Carrie Bradshaw in the "Sex and the City" prequel.
---
[via press release from Warner Bros. Television]
THE CARRIE DIARIES First Image Released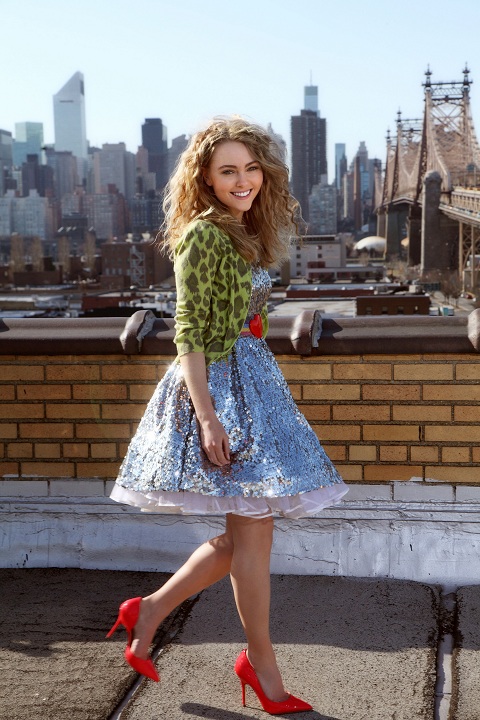 Please find attached the first image from The CW's new pilot THE CARRIE DIARIES, starring AnnaSophia Robb as a young Carrie Bradshaw coming of age in the 1980s, asking her first questions about love, sex, friendship and family while exploring the worlds of high school and Manhattan.
· THE CARRIE DIARIES writer/executive producer Amy B. Harris said: "The search for Carrie Bradshaw was an exciting adventure. Having been a part of the Sex and the City series, I felt such an honor and responsibility to the fans of the show to find someone who embodied the spirit of Manhattan's favorite 'It' girl. When AnnaSophia Robb walked into the room, we knew we had found her. Her grace, intelligence, sense of fun and her empathetic nature make her the perfect girl to bring our young Carrie to life. The fact that she loves a gorgeous pair of heels doesn't hurt either."
· Emmy(R)-winning costume designer Eric Daman (Sex and the City, Gossip Girl) said: "It's a rare invitation to dress a character whose reputation truly precedes her. Having played a hand in designing for the Carrie we know and love, I am honored to be chosen to carry the torch - to illuminate the woman we know by discovering the young lady she was."
THE CARRIE DIARIES pilot is executive produced by Amy B. Harris, Josh Schwartz, Stephanie Savage, Len Goldstein, Candace Bushnell and Miguel Arteta. Harris wrote the pilot, which is directed by Arteta.
Based upon The Carrie Diaries novel written by Bushnell, THE CARRIE DIARIES is produced by Fake Empire in association with Warner Bros. Television.
(C) 2012 Warner Bros. Entertainment Inc. All Rights Reserved. Photo Credit: Eric Liebowitz




[04/26/18 - 02:01 PM]
CBS Announces the First Season of "Undercover Boss: Celebrity Edition," Premiering Friday, May 11
Gabby Douglas, Idina Menzel, Bethany Mota and Deion Sanders are among those featured.


[04/26/18 - 01:45 PM]
Oxygen Media Presents Three-Night Special Event "The Case of: Caylee Anthony" Beginning Saturday, May 19 at 8PM ET/PT
From Emmy Award-winning executive producer Tom Forman, the three-part limited series delves into the tragic disappearance and death of toddler Caylee Anthony.


[04/26/18 - 10:03 AM]
Showtime(R) Orders Fourth Season of "Billions"
The show's current third season will move to 9:00/8:00c starting next Sunday, May 6 to anchor the night.


[04/26/18 - 10:02 AM]
"Succession" Debuts June 3 on HBO
Brian Cox, Jeremy Strong, Hiam Abbass, Sarah Snook, Kieran Culkin, Alan Ruck, Nicholas Braun, Matthew Macfadyen, Natalie Gold, Peter Friedman and Rob Yang star.


[04/26/18 - 10:01 AM]
Thrusters on Full - "Star Trek: Discovery" Begins Production on Season 2
Production officially began last week on the second season with Alex Kurtzman directing the premiere episode.


[04/26/18 - 09:33 AM]
"Saturday Night Live's" Colin Jost and Michael Che to Host 70th Primetime Emmy(R) Awards
The telecast will be executive produced by "SNL" creator and executive producer Lorne Michaels.


[04/26/18 - 09:07 AM]
Video: Paramount Network's "Yellowstone" Official Trailer - Premieres Wednesday, June 20 at 9:00pm ET/PT
Kevin Costner as John Dutton, who controls the largest contiguous ranch in the United States, under constant attack by those it borders - land developers, an Indian reservation, and America's first National Park.


[04/26/18 - 09:02 AM]
Ocean Explorers Philippe and Ashlan Cousteau Plunge Into a New Season of "Caribbean Pirate Treasure"
Dive into exhilarating deep-sea adventures with underwater explorers Philippe Cousteau, grandson of legendary explorer Jacques Cousteau, and his journalist wife, Ashlan, as they investigate incredible stories of pirates' plunder and lost loot.


[04/26/18 - 09:01 AM]
A&E Network to Premiere Biography Special "Mary Kay Letourneau: Autobiography" on Tuesday, May 29
The raw two-hour documentary follows former teacher Mary Kay Letourneau as she recounts her tumultuous past in her most in-depth confessional to date.


[04/26/18 - 08:25 AM]
Comedy Central Launches The Creators Program and Taps Five Emerging Creators/Writers/Performers to Develop Daily Topical Digital Content
The inaugural creators are Ryan Beck, Chris Cotton, Hanna Dickinson, Jordan Mendoza and Natasha Vaynblat.


[04/26/18 - 08:15 AM]
Wednesday's Broadcast Ratings: FOX Dramas Hold Onto Demo Crown
"Empire," "Star" help lead the night among adults 18-49.


[04/26/18 - 08:08 AM]
"Star Wars Resistance," A High-Flying Anime-Inspired Series That Explores an Uncharted Timeframe Prior to the Events of "The Force Awakens," Ordered by Disney Channels
"Star Wars Resistance" will feature the beloved droid BB-8 alongside ace pilots, colorful new characters and appearances by fan favorites, including Poe Dameron and Captain Phasma, voiced by actors Oscar Isaac and Gwendoline Christie, respectively.


[04/26/18 - 08:03 AM]
CNBC's "Warren Buffett: Investor. Teacher. Icon." to Premiere Friday, May 4 at 10PM ET/PT
The program premieres the night before the Annual Shareholders Meeting of Berkshire Hathaway, the company that Buffett has led for more than 50 years and turned into a behemoth now worth almost half a trillion dollars.


[04/26/18 - 08:02 AM]
Netflix Orders Three New Projects from Comedy Powerhouse Gabriel "Fluffy" Iglesias
In the multi-cam comedy series, "Mr. Iglesias," Iglesias plays a good-natured public high school teacher who works at his alma mater.


[04/26/18 - 07:47 AM]
The Return of Cooking Channel's "Beach Bites with Katie Lee" Makes Waves with New Destinations
Each of the six half-hour long episodes are full of sun, sand and surf, as Katie beach hops in search of the finest fare served up on shores near and far.