[05/10/12 - 01:01 PM]
"Spartacus" Boot Camp Gets Cast Lean and Mean
Check out Liam McIntyre, Manu Bennett, Ellen Hollman and Simon Merrells as they prepare for season three of the Starz drama.
---

[via press release from Starz]
"SPARTACUS" BOOT CAMP GETS CAST LEAN AND MEAN
INTENSIVE FOUR WEEK TRAINING BULKS UP SEASON 3
Each year, the cast and stunt performers of the STARZ original series "Spartacus" convene a month before production to go through vigorous training to get into Gladiator shape and prepare for the extensive action sequences featured in every episode.
"Meticulous choreographing is necessary to ensure the safety of the actors performing the stunts," says stunt coordinator Allan Poppleton, who has overseen each of the "Spartacus" boot camps. "For four weeks, we work the cast to the point of exhaustion, combining cross training elements - everything from cardio, basic gymnastics, foot and movement work, unarmed combat, body awareness, reactions, weaponry, and functional cross fit circuits."
While this is one of the most difficult processes for an actor to go through, the results are incredibly satisfying, as bodies are literally transformed into machines. "Lean and mean is the result required" says Poppleton, "but it also helps form an amazing bond between myself, the actors and stunt performers."
"Spartacus Boot Camps are famous now for pushing you to your absolute limits," says star Liam McIntyre. "This year they found a new level with military inspired training. I've never been so fit in my whole life. This boot camp will kick your ass. This year it kicked it twice."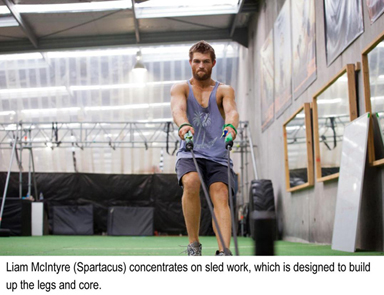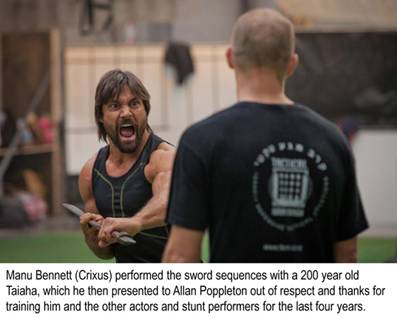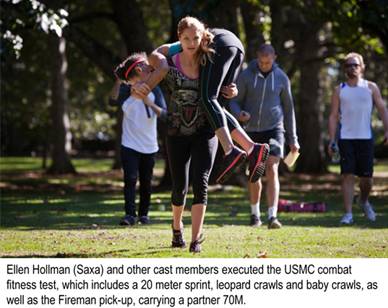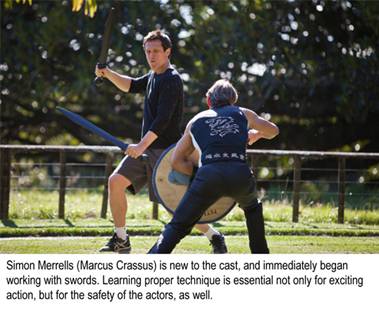 [06/29/15 - 01:11 PM]
FOX Sports Announces Broadcast Teams for FIFA Women's World Cup 2015 Semifinals, Final and Third-Place Match
Coverage of the semifinals begins this Tuesday, June 30.


[06/29/15 - 01:09 PM]
Comedy Central Is Coming to San Diego Comic-Con!
Comedy Central's no-badge-required, free and open to the public event, #ComedyCentralCon will take place from 11:00 a.m.-8:00 p.m. on Friday, July 10 and Saturday, July 11 at The San Diego Wine & Culinary Center directly across from the Convention Center.


[06/29/15 - 11:54 AM]
Great American Country Hits the Road Again with New Original Series, "Going RV"
The series returns to the network with 12 new half-hour episodes beginning Wednesday, July 8.


[06/29/15 - 11:39 AM]
Video: WGN America Releases First Promo for the "Prime Crime" Line-Up Featuring Coveted Acquistions "Elementary" and "Person of Interest" Airing This Fall
The two popular procedurals, which will join fan-favorite "Blue Bloods" on weekdays in prime, will give viewers a binge-worthy opportunity to watch these series from the very beginning, diving into the cases and capers that unfold.


[06/29/15 - 11:34 AM]
Twentieth Century Fox Television Signs "Empire" Co-Creator Lee Daniels to Multiyear Overall Deal
Under the extensive pact, he will develop, write, direct and supervise new projects for the studio under his Lee Daniels Entertainment banner.


[06/29/15 - 11:32 AM]
Discovery Channel Drives Back in Time with "Cuban Chrome"
Produced by Pilgrim Studios, the project is the first American television series to be produced entirely on location in Cuba.


[06/29/15 - 11:31 AM]
USA Network's Award-Winning "Mr. Robot" Debuts to Strong Ratings in Key Demos and Total Viewers
USA further spins the numbers for Wednesday, June 24.


[06/29/15 - 11:30 AM]
"Conan" at Comic-Con to Feature Casts of "Hunger Games," "Game of Thrones" and The Walking Dead"
In addition, the show will welcome a special surprise cast from an upcoming film to be unveiled in San Diego.


[06/29/15 - 11:04 AM]
NBC Ending Its Business Relationship with Donald Trump
The annual Miss USA and Miss Universe Pageants, which are part of a joint venture between NBC and Trump, will no longer air on NBC.


[06/29/15 - 10:56 AM]
Discovery Family Acquires "Dream Defenders" from Tiny Island Productions
The series follows 14-year-old twins Zoey and Zane Mercer through their dual dimension adventures - in both the 'Realworld' of Meridian, and the fantastical universes of the 'Dreamworld'.


[06/29/15 - 10:49 AM]
Hit Series "Total Divas" Moves to Tuesdays at 9PM ET/PT When Season 4 Premieres July 7th on E!
The Bella Twins(TM) (Nikki and Brie Bella), Natalya(TM) (Nattie), Eva Marie(TM), Paige(TM), Alicia Fox(TM), and Naomi(TM) (Trinity) are back and ready to heat up the summer.


[06/29/15 - 10:33 AM]
Oxygen Media "Tippy Toes" Into Miami's Most Stylish Salon with the Series Premiere of "Boss Nails" Tuesday August 11 at 9PM ET/PT
The series follows 26-year-old Dana Cody, the glamorous and sassy owner of Tippie Toes Beauty Lounge in Miami.


[06/29/15 - 10:20 AM]
Warner Bros. & Comic-Con Unveil Official Bags for SDCC 2015
"The 100," "Arrow," "The Flash," "Gotham," "Lucifer," "The Originals," "Supergirl," "Supernatural" and "The Vampire Diaries" are among the featured properties.


[06/29/15 - 10:00 AM]
Ed Sheeran Joins All-Star Lineup of Performers for NBC's Annual "Macy's 4th of July Fireworks Spectacular"
The six time Grammy nominated singer joins Dierks Bentley, Kelly Clarkson, Brad Paisley, Flo Rida and Meghan Trainor.


[06/29/15 - 09:39 AM]
Video: "Tig" - Main Trailer - Netflix
Comedian Tig Notaro finds life in the face of death in the Netflix original documentary "Tig," premiering Friday, July 17 only on Netflix.