[05/10/12 - 01:01 PM]
"Spartacus" Boot Camp Gets Cast Lean and Mean
Check out Liam McIntyre, Manu Bennett, Ellen Hollman and Simon Merrells as they prepare for season three of the Starz drama.
---

[via press release from Starz]
"SPARTACUS" BOOT CAMP GETS CAST LEAN AND MEAN
INTENSIVE FOUR WEEK TRAINING BULKS UP SEASON 3
Each year, the cast and stunt performers of the STARZ original series "Spartacus" convene a month before production to go through vigorous training to get into Gladiator shape and prepare for the extensive action sequences featured in every episode.
"Meticulous choreographing is necessary to ensure the safety of the actors performing the stunts," says stunt coordinator Allan Poppleton, who has overseen each of the "Spartacus" boot camps. "For four weeks, we work the cast to the point of exhaustion, combining cross training elements - everything from cardio, basic gymnastics, foot and movement work, unarmed combat, body awareness, reactions, weaponry, and functional cross fit circuits."
While this is one of the most difficult processes for an actor to go through, the results are incredibly satisfying, as bodies are literally transformed into machines. "Lean and mean is the result required" says Poppleton, "but it also helps form an amazing bond between myself, the actors and stunt performers."
"Spartacus Boot Camps are famous now for pushing you to your absolute limits," says star Liam McIntyre. "This year they found a new level with military inspired training. I've never been so fit in my whole life. This boot camp will kick your ass. This year it kicked it twice."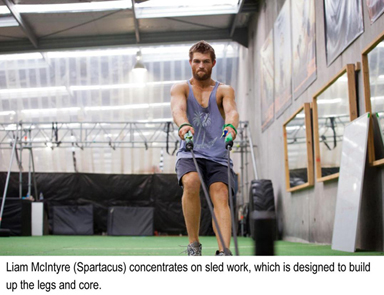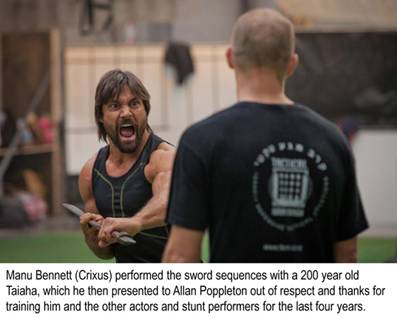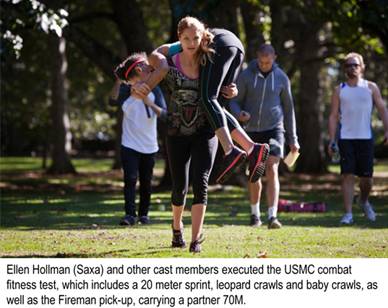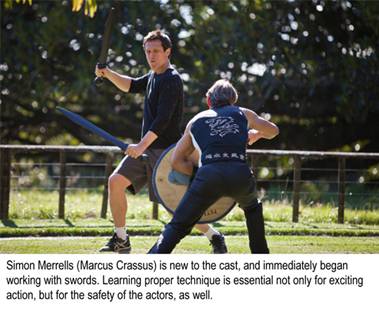 [01/18/18 - 06:31 PM]
Freeform Sends Zoey Off to Sophomore Year with a Season 2 Order of "grown-ish"
The premiere boasted Freeform's highest debut for a comedy in nearly six years.


[01/18/18 - 05:01 PM]
Breaking News from Freeform's First-Ever Freeform Summit
The network reveals premiere dates for "Marvel's Cloak & Dagger," "The Bold Type" and "Famous in Love" and more!


[01/18/18 - 12:21 PM]
Video: "Brockmire" Returns to the Booth in the Big Easy - First Season 2 Teaser Released
In a first look, Jim Brockmire (Hank Azaria) arrives in New Orleans, seeking redemption while wallowing in excess and looking to get his once-legendary baseball broadcast career back on track.


[01/18/18 - 11:52 AM]
Video: A Series Inspired by the Greatest Corruption Scandal of All Time - "The Mechanism" Will Be Revealed on March 23
Get ready to join a small group of dogged investigators on the hunt to discover the inner workings of the biggest corruption scheme of all time and the impact their pursuit will have on everyone involved - including themselves.


[01/18/18 - 11:06 AM]
"Party of Five" Reboot from Sony Pictures Television, with Original Creators Chris Keyser and Amy Lippman, Lands Put Pilot Commitment at Freeform
The reboot will follow the five Buendias children as they navigate daily life struggles to survive as a family unit after their parents are suddenly deported back to Mexico.


[01/18/18 - 10:32 AM]
Video: Starz Releases "Ash vs Evil Dead" Season 3 Key Art and Trailer
The third season finds Ash, having gone from murderous urban legend to humanity-saving hometown hero, discovering that he has a long lost daughter who's been entrusted in his care.


[01/18/18 - 10:12 AM]
Video: Hard Work. Dedication. Teamwork. "Coach Snoop" Coming to Netflix February 2
"Coach Snoop" follows the legendary rapper outside the studio and on the field, as he coaches a team of teenagers in the Snoop Youth Football League.


[01/18/18 - 10:00 AM]
"Conan Without Borders: Haiti" to Air Saturday, January 27
After hearing President Trump's disparaging remarks about Haiti, O'Brien immediately decided to announce his intentions to visit the island nation.


[01/18/18 - 09:37 AM]
Nickelodeon Introduces Kids to the Wild World of Animals with Brand-New Series "Zoofari," Premiering Monday, Feb. 5, at 2 P.M. (ET/PT)
Made up of hilarious live-action footage, Zoofari (20 half-hour episodes) showcases the most adorable and incredible animals from around the world -from furry to feathered, scaly and more.


[01/18/18 - 09:07 AM]
"Ugly Delicious" - A Netflix Original Documentary Series Launches Globally February 23
From James Beard Award-Winning Chef David Chang and Academy Award-Winning Director Morgan Neville comes "Ugly Delicious," a Netflix original documentary series that challenges both our taste buds and minds.


[01/18/18 - 08:18 AM]
Wednesday's Broadcast Ratings: FOX, "9-1-1" Edge Demo Race
The network's new drama helps lead the night among adults 18-49.


[01/18/18 - 07:00 AM]
Season Three of E!'s Hit Series "Hollywood Medium with Tyler Henry" Returns Wednesday, February 28 at 9PM ET/PT
Chrissy Metz, Jim Parsons, Lucy Hale, Titus Burgess, Megan Fox and La Toya Jackson are among those featured in the new season.


[01/18/18 - 07:00 AM]
CBS Announces the NFL Players Competing on "MVP: Most Valuable Performer," A New Live One-Hour Special, Airing Thursday, Jan. 25
After a nationwide vote, Brandon Williams, Jonathan Stewart, Justin Tucker, Alex Collins, Cody and Jacob Hollister, and Kevin Zeitler have been named the finalists who will compete in the talent show to find the current NFL player with the best off-the-field talent.


[01/18/18 - 06:30 AM]
Brothers Osborne, Eric Church and Maren Morris to Perform at the "60th Annual Grammy Awards(R)" in a Tribute to Victims of Tragedies That Occurred at Live Music Events
"Live music events have always provided a safe space for fans to gather in a shared celebration of music. Sadly, that wasn't always the case this past year," said Neil Portnow, President/CEO of the Recording Academy.


[01/17/18 - 04:01 PM]
PBS and WGBH Announce the Launch of An All-New Series from "Nova" That Probes the Biggest, Most Provocative Questions in Science
"Nova Wonders," a six-episode, hour-long, primetime series, hosted by three engaging young scientists, is slated to launch on PBS in spring 2018.