[05/10/12 - 01:01 PM]
"Spartacus" Boot Camp Gets Cast Lean and Mean
Check out Liam McIntyre, Manu Bennett, Ellen Hollman and Simon Merrells as they prepare for season three of the Starz drama.
---

[via press release from Starz]
"SPARTACUS" BOOT CAMP GETS CAST LEAN AND MEAN
INTENSIVE FOUR WEEK TRAINING BULKS UP SEASON 3
Each year, the cast and stunt performers of the STARZ original series "Spartacus" convene a month before production to go through vigorous training to get into Gladiator shape and prepare for the extensive action sequences featured in every episode.
"Meticulous choreographing is necessary to ensure the safety of the actors performing the stunts," says stunt coordinator Allan Poppleton, who has overseen each of the "Spartacus" boot camps. "For four weeks, we work the cast to the point of exhaustion, combining cross training elements - everything from cardio, basic gymnastics, foot and movement work, unarmed combat, body awareness, reactions, weaponry, and functional cross fit circuits."
While this is one of the most difficult processes for an actor to go through, the results are incredibly satisfying, as bodies are literally transformed into machines. "Lean and mean is the result required" says Poppleton, "but it also helps form an amazing bond between myself, the actors and stunt performers."
"Spartacus Boot Camps are famous now for pushing you to your absolute limits," says star Liam McIntyre. "This year they found a new level with military inspired training. I've never been so fit in my whole life. This boot camp will kick your ass. This year it kicked it twice."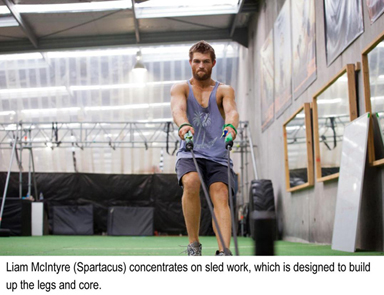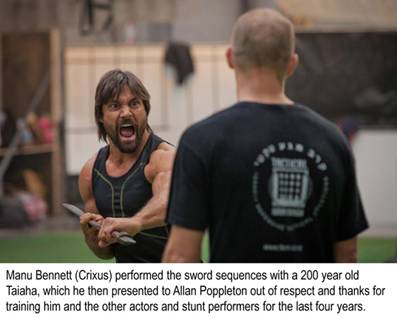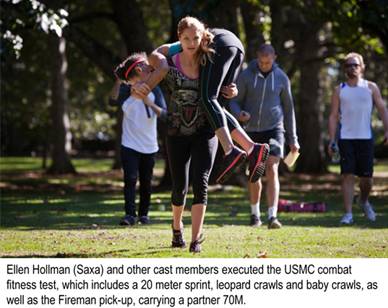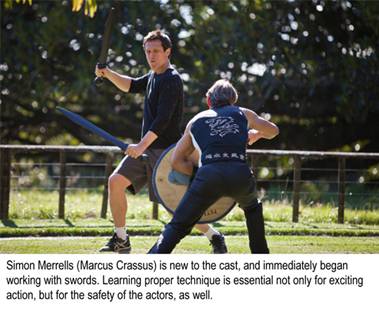 [02/25/17 - 08:43 AM]
ABC Wins Friday with "Shark Tank" as the #1 Show for the 6th Week Running
ABC spins the numbers for Friday, February 24.


[02/25/17 - 08:30 AM]
Friday's Broadcast Ratings: ABC Edges Out Competition in Adults 18-49
"Shark Tank" sparks another demo victory for the Alphabet.


[02/25/17 - 08:26 AM]
"Grimm" Matches Its 18-49 High Since the Show's Season Premiere
NBC spins the numbers for Friday, February 24.


[02/25/17 - 07:04 AM]
Video: BBC America Releases "Doctor Who" New Companion Trailer
Peter Capaldi (the Doctor) will be joined this season by Pearl Mackie (new companion Bill) and Matt Lucas (assistant Nardole), with guest appearances from David Suchet and Michelle Gomez.


[02/24/17 - 11:46 PM]
Development Update: Friday, February 24
Updates include: Freddie Highmore is ABC's "Good Doctor"; Cress Williams to play title role in The CW's "Black Lightning"; and Matt Czuchry cast in FOX's "The Resident."


[02/24/17 - 04:46 PM]
The Second Season of "Criminal Minds: Beyond Borders" Will Premiere Wednesday, March 8
The series will replace newcomer "Doubt" in the 10:00/9:00c hour.


[02/24/17 - 03:13 PM]
Jennifer Aniston, Jason Bateman, Warren Beatty, Sofia Boutella, Matt Damon and More Announced as Final Slate of 89th Oscars(R) Presenters
Also on tap: Faye Dunaway, Michael J. Fox, Ryan Gosling, Salma Hayek, Taraji P. Henson, Dev Patel, Seth Rogen, Octavia Spencer, Meryl Streep and Vince Vaughn.


[02/24/17 - 01:09 PM]
E! Exclusive Premiere of "Fifty Shades of Grey" to Air Sunday, March 5 at 7:30 PM ET/PT
The telecast will be followed by the debut of the network's second scripted series "The Arrangement."


[02/24/17 - 11:38 AM]
Platinum-Selling Artists Machine Gun Kelly and Camila Cabello to Perform at "Nickelodeon's 2017 Kids' Choice Awards"
Hosted by WWE Superstar John Cena, the show will air live on Saturday, March 11 from USC's Galen Center in Los Angeles.


[02/24/17 - 10:11 AM]
Animated Adult Television Series "Animals.," Created by Phil Matarese & Mike Luciano, from Duplass Brothers Productions, Returns for Its Second Season March 17, Exclusively on HBO
The series is also available on HBO NOW, HBO GO, HBO On Demand and affiliate portals.


[02/24/17 - 10:04 AM]
Video: The Story of "The Handmaid's Tale"
The 10-episode first season premieres Wednesday, April 26 on Hulu.


[02/24/17 - 09:30 AM]
Tracy Morgan Comes to Netflix with All-New Stand-Up Comedy Special Launching Tuesday, May 16th
Tracy Morgan's "Staying Alive" finds the comedy icon exploring his fresh take on life, career and mortality in the wake of surviving a devastating near-fatal traffic collision in 2014.


[02/24/17 - 09:30 AM]
BBC America's London East End Drama, "Ripper Street," Returns for Its Final Season on March 8
The powerful closing chapter picks up mere days after the grisly death of Detective Inspector Bennet Drake, which reunites his old friends, Detective Inspector Edmund Reid, surgeon Captain Homer Jackson and "Long" Susan Hart, to bring his murderer to justice.


[02/24/17 - 08:42 AM]
Thursday's Broadcast Ratings: ABC Hangs Onto Demo Crown
A new "Grey's Anatomy" sparks another victory for the Alphabet among adults 18-49.


[02/24/17 - 08:30 AM]
Showtime(R) Celebrates "Twin Peaks" Day, Unveiling Dual Key Art
One poster depicts Laura Palmer (Sheryl Lee), whose mysterious death sparked the "Twin Peaks" saga, while the other showcases series star Kyle MacLachlan as Special Agent Dale Cooper.