[05/10/12 - 01:01 PM]
"Spartacus" Boot Camp Gets Cast Lean and Mean
Check out Liam McIntyre, Manu Bennett, Ellen Hollman and Simon Merrells as they prepare for season three of the Starz drama.
---

[via press release from Starz]
"SPARTACUS" BOOT CAMP GETS CAST LEAN AND MEAN
INTENSIVE FOUR WEEK TRAINING BULKS UP SEASON 3
Each year, the cast and stunt performers of the STARZ original series "Spartacus" convene a month before production to go through vigorous training to get into Gladiator shape and prepare for the extensive action sequences featured in every episode.
"Meticulous choreographing is necessary to ensure the safety of the actors performing the stunts," says stunt coordinator Allan Poppleton, who has overseen each of the "Spartacus" boot camps. "For four weeks, we work the cast to the point of exhaustion, combining cross training elements - everything from cardio, basic gymnastics, foot and movement work, unarmed combat, body awareness, reactions, weaponry, and functional cross fit circuits."
While this is one of the most difficult processes for an actor to go through, the results are incredibly satisfying, as bodies are literally transformed into machines. "Lean and mean is the result required" says Poppleton, "but it also helps form an amazing bond between myself, the actors and stunt performers."
"Spartacus Boot Camps are famous now for pushing you to your absolute limits," says star Liam McIntyre. "This year they found a new level with military inspired training. I've never been so fit in my whole life. This boot camp will kick your ass. This year it kicked it twice."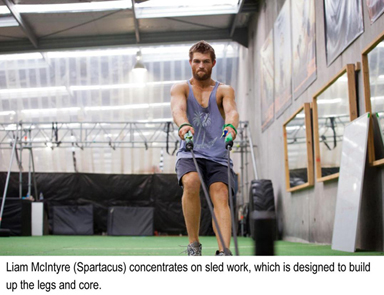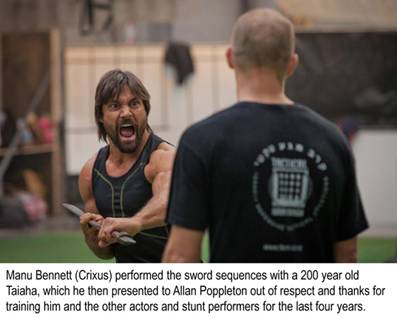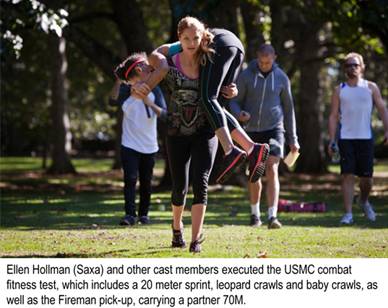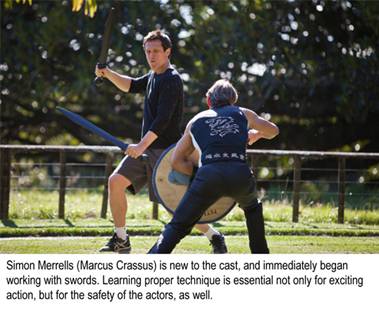 [12/15/17 - 12:44 PM]
Final Season of Netflix Original Series "Love" to Premiere March 9, 2018
"I am really excited about the third season of 'Love.' I think it is our sweetest, funniest season and ends our story in a beautiful way," said series co-creator and executive producer Judd Apatow.


[12/15/17 - 12:21 PM]
TLC's Beloved Series "Say Yes to the Dress" Returns for Its Sixteenth Season, Airing on Saturday Nights Beginning January 6 at 8/7c!
The Saturday night celebration will culminate in a new, two-hour special event featuring TLC's "Four Weddings," airing at 9:00/8:00c.


[12/15/17 - 12:18 PM]
USA Locks February 27 10/9c Premiere Date for "Unsolved: The Murders of Tupac and The Notorious B.I.G."
The anthology series chronicles the dual police investigations of Greg Kading (Josh Duhamel) and Russell Poole (Jimmi Simpson) into the controversial murders of Tupac Shakur (Marcc Rose) and The Notorious B.I.G. (Wavyy Jonez).


[12/15/17 - 10:57 AM]
Performers and Co-Host Announced for "FOX's New Year's Eve with Steve Harvey: Live from Times Square," Airing Sunday, Dec. 31 on FOX!
The celebration will air live from iconic Times Square in New York with an epic countdown to 2018, featuring views of the Times Square Ball as it drops to ring in the New Year.


[12/15/17 - 10:54 AM]
"Titans" Releases First Image of Hawk & Dove
The Hawk and Dove suits were designed by renowned costume designer Laura Jean Shannon.


[12/15/17 - 09:03 AM]
Video: Showtime(R) Releases New Drama "The Chi" for Early Sampling
The pay channel is releasing the pilot today, ahead of its on-air debut Sunday, January 7 at 10:00/9:00c.


[12/15/17 - 09:02 AM]
ABC Sets "Once Upon a Time" Premiere Date Following Winter Break
Following tonight's fall finale, look for new episodes beginning Friday, March 2.


[12/15/17 - 08:35 AM]
Thursday's Broadcast Ratings: NBC, "Thursday Night Football" Keep Demo Crown
The Peacock tops the night among adults 18-49 while CBS is the most-watched broadcaster.


[12/15/17 - 07:12 AM]
Go Behind the Scenes of Sean "Diddy" Combs' Bad Boy Entertainment on the Two-Hour Special "Apple Music's Can't Stop Won't Stop: A Bad Boy Story," Thursday, December 28, on FOX
Originally released on iTunes earlier this year, the film explores the passion and personalities behind Bad Boy Entertainment.


[12/15/17 - 06:30 AM]
CBS Announces "Elton John: I'm Still Standing - A Grammy(R) Salute" Concert
The special will be broadcast later in 2018 on the CBS Television Network.


[12/15/17 - 05:36 AM]
"Roseanne" Returns to ABC with All-New Episodes in a Special Hour-Long Premiere, Tuesday, March 27
"Roseanne" will air in its regular time slot, 8:00-8:30 p.m., beginning Tuesday, April 3, followed by "The Middle," which will move to 8:30 p.m.


[12/14/17 - 01:11 PM]
Warner Bros. and DC Entertainment Announce "DC in D.C."
Events will take place Friday, January 12, and Saturday, January 13, at the Newseum, and will culminate with the world premiere screening of the upcoming DC series "Black Lightning."


[12/14/17 - 12:57 PM]
Nat Geo WILD Celebrates the Pol-Idays with "The 12 Days of Dr. Pol" Marathon
The marathon continues through the new season, which premieres Saturday, January 6 at 9:00/8:00c.


[12/14/17 - 12:30 PM]
Nickelodeon's New Original Animated Series, "The Adventures of Kid Danger," to Debut Friday, Jan. 19, at 6:30 P.M. (ET/PT)
The original "Henry Danger" live-action cast will continue their roles, now as voice talent, on the brand-new animated series.


[12/14/17 - 11:43 AM]
TLC Welcomes New Series "Seeking Sister Wife" and Fan Favorite "Sister Wives" Returns
The newcomer follows three families - the Alldredges, the Brineys and the Snowdens - all of whom are in various phases of seeking, dating or transitioning a new sister wife into their lives.