HALLMARK CHANNEL CAPTURES "THE HEART OF TV" WITH NEW TAGLINE AND BRAND IMAGE
Brand Redesign Launches October 1 as Network Embarks On the Next Phase in Its Evolution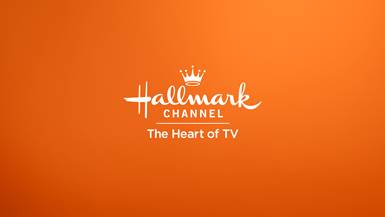 Hallmark Channel announced today that it will debut across all platforms a new tagline and brand image that ushers the network into an exciting new phase in its evolution while embodying its 11-year legacy of inspirational, emotionally resonant storytelling. The tagline, "The Heart of TV", celebrates Hallmark Channel's core values and reinforces the network's position as a leading destination for life-affirming, celebratory, and quality programming that families come together to watch again and again.
Paired with the traditional Hallmark Channel logo, the new tagline will come to life with a vibrant palette of colors that will change to reflect the broad spectrum of human emotion, as well as represent key holidays like Christmas, Halloween, Thanksgiving, and Valentine's Day. On-air promotional packages will be animated as key words or "emotional sparks", such as elated, or surprised, or inspired, appear on screen and then morph into the logo and tagline treatment. Hallmark Channel's refreshed brand campaign launches on-air on October 1, with sneak peeks on social media beginning September 17.
"In creating a new tagline and reimagining our brand presentation, we captured the essence of what Hallmark Channel stands for and what it does best - heartfelt, aspirational programming that evokes a wide range of emotions and responses," said Susanne McAvoy, executive vice president of marketing and creative services for Crown Media Family Networks. "'The Heart of TV' is an organic extension of who we are and it appeals directly to our viewers and the lens of emotional associations through which they see us."
Hallmark Channel's brand redesign coincides with a pivotal new era for the network as it expands its programming footprint with a foray into original scripted series for primetime and the launch of a new daytime block of lifestyle programming. Building on its rich history of storytelling through original movies, the network is bringing its first scripted series to viewers in early 2013 with "Cedar Cove", a serial drama based on the best-selling book series of the same name by author Debbie Macomber. On October 1, the network is also launching a brand new block of daytime programming, which will consist of "Marie", a daily one-hour talk show hosted by iconic performer Marie Osmond and "Home & Family" a two-hour program hosted by Mark Steines and Paige Davis, which will be shot in and throughout a functional 2,800 sq. ft. house on the Universal Studios lot in Los Angeles. Hallmark Channel will own its new daytime programming, a first for the network.
ABOUT HALLMARK CHANNEL
Hallmark Channel, owned and operated by Crown Media Holdings, Inc., is a 24-hour basic cable network that provides a diverse slate of high-quality entertainment programming available in high definition (HD) and standard definition (SD) to a national audience of over 87 million subscribers. The top-tier program service is distributed through approximately 5,500 cable systems and communities as well as direct-to-home satellite services across the country. Hallmark Channel is the nation's leading destination for quality family programming with an ambitious slate of original TV movies and specials, as well as some of television's most beloved sitcoms and series, including The Golden Girls, Frasier, Little House on the Prairie, and The Waltons. Since 2010, Hallmark Channel has also been home to original daytime lifestyle programming and is debuting two new daily series, Home & Family and Marie, on October 1, 2012. Hallmark Channel's sibling network is Hallmark Movie Channel, also available in HD and SD, which focuses on family-friendly movies with a mix of classic theatrical films, presentations from the acclaimed Hallmark Hall of Fame library, original Hallmark Channel movies and special events.