[11/28/12 - 08:06 AM]
Starz Reveals "Spartacus: War of the Damned" Key Art!
As previously announced, the show's final season is scheduled to premiere on Friday, January 25 at 9:00/8:00c.
---
[via press release from Starz]
STARZ REVEALS "SPARTACUS: WAR OF THE DAMNED" KEY ART!
FINAL SEASON OF GLOBAL SMASH HIT TO PREMIERE FRIDAY, JANUARY 25TH AT 9PM ET/PT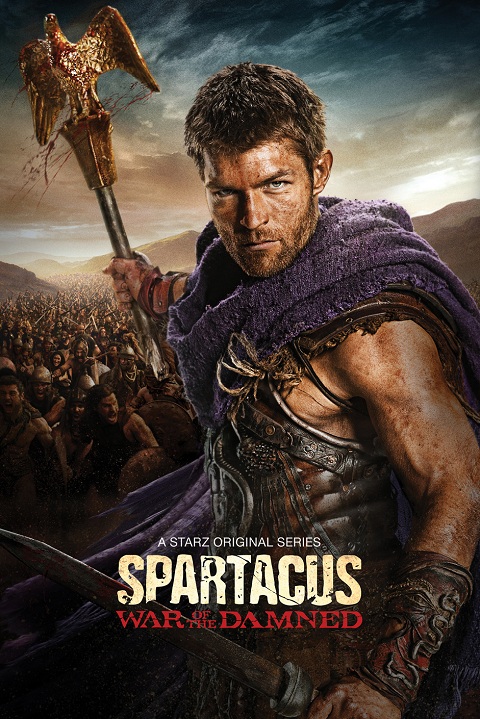 Beverly Hills, CA. - November 28, 2012 - - STARZ has released the final key art for "Spartacus: War of the Damned," which is scheduled to premiere on Friday, January 25th at 9pm ET/PT. This is the final season for the international hit, which was recently nominated for a People's Choice Award and selected as one of TV Guide's Fan Favorites.
"Spartacus: War of the Damned" features a stunning cast headed by Liam McIntyre (The Pacific, "Neighbours") as the title character. Joining McIntyre are Manu Bennett (Lantana, "Xena: Warrior Princess") starring as the iconic Crixus, Dustin Clare ("McLeod's Daughters", "Satisfaction") as the skilled Gannicus, and Dan Feuerriegel ("McLeod's Daughters," Winners & Losers") as the loyal Agron. A now fierce Naevia is played by Cynthia Addai-Robinson (Colombiana, "CSI") and wild Saxa is Ellen Hollman (Skateland). Joining the cast this year are Simon Merrells as Marcus Crassus and Todd Lasance as the legendary Julius Caesar.
The season opens and Gaius Claudius Glaber is dead. Many months have passed since his defeat, and the rebel army, led by Spartacus and his generals Crixus, Gannicus and Agron continue to amass victories over Rome. With the rebel numbers swelling to thousands of freed slaves, and Spartacus more determined than ever to bring down the entire Roman Republic, the horde become a force that challenges even the mighty armies of Rome. Together, the rebels engage in one bloody skirmish after another and prepare for the inevitable: a full out war.
With a production style completely unique to television, the franchise has amassed both critical and popular acclaim to become not only the most successful on the network, but one of the highest rated programs in all of cable television. More than six million viewers have seen each episode of the series, which has amassed more than 2.5 million Facebook fans.
Airing in more than 150 countries, the series has been translated into more than 15 languages and is considered an unqualified smash everywhere it runs, which includes: Brazil, England, France, Germany, Italy, Korea, Mexico, Portugal, Russia, Spain, Turkey, and more. The enormous international success has led to global licensing for a variety of rights, including: authentic prop replicas, publishing, soundtracks, motion comic books, trading cards, and a few more major deals soon to be announced. Here in the US and abroad, the DVDs continue to be one of the most popular titles sold at all major retailers, appearing in the Top 10 of all TV titles sold.




[05/25/18 - 08:01 AM]
Alyson Hannigan, Connie Ray, Todd Stashwick, Taylor Ortega, Ciara Wilson And Erika Tham Join The Cast Of The Live-Action "Kim Possible" Disney Channel Original Movie
Hannigan will play the role of brain surgeon Dr. Ann Possible (aka Mom Possible) and Ray will play grandmother Nana Possible.


[05/25/18 - 07:40 AM]
Keith Olbermann to Expand Multi-Faceted ESPN Role
Olbermann will combine select studio assignments with on-site opportunities, including calling the radio play-by-play with analyst Jim Bowden for Astros at Yankees on Memorial Day, Monday, May 28, at 1 p.m. ET on ESPN Radio.


[05/25/18 - 05:51 AM]
Red Nose Day Raises Over $42 Million to End Child Poverty, Top Talent Turns It on for NBC's Night of Themed Programming & Live Special
The campaign has now raised over $42 million for children who need it most in America and around the world - totaling more than $145 million in the campaign's first four years in the U.S.


[05/24/18 - 03:42 PM]
MTV Heats Up Summer with the Return of "Floribama Shore"
The 14-episode run will feature original cast members Jeremiah Buoni, Codi Butts, Kortni Gilson, Aimee Hall, Kirk Medas, Nilsa Prowant, Candace Rice and Gus Smyrnios.


[05/24/18 - 02:40 PM]
ABC Moves Up to No. 2 in 2017-18 for Its Most Competitive Season in 10 Years
ABC further spins the numbers for the season to date.


[05/24/18 - 02:36 PM]
Shining, Gleaming, Streaming, Flaxen, Waxen "Hair Live!" Is NBC's Next Musical Event
Craig Zadan and Neil Meron, who have executive produced each of NBC's live musicals since "The Sound of Music" revived this innovative programming genre, will executive produce the telecast.


[05/24/18 - 01:12 PM]
Netflix Re-Teaming with Dee Rees for "The Last Thing He Wanted"
The story is based on the 1996 novel by Joan Didion and centers on hardscrabble journalist Elena McMahon who finds herself on dangerous ground as the Iran Contra Affair's arms for drugs plot reaches its tipping point.


[05/24/18 - 12:31 PM]
NBC Entertainment Podcast Network Debuts with Fan Favorites "American Ninja Warrior" and "The Good Place"
Hosted by "The Good Place" guest-star Marc Evan Jackson, "The Good Place - The Podcast" debuts Friday, June 1.


[05/24/18 - 12:30 PM]
"Young & Hungry" Returns for "The Last Bite" with a Two Episode Season Premiere, on Wednesday, June 20
The final season sees Gabi and Josh happily together and in love, but now navigating their new status as a full-fledged couple.


[05/24/18 - 11:54 AM]
CBS Is America's Most-Watched Network in 2017-2018 Across Primetime, Daytime and Late Night
CBS further spins the numbers for the season to date.


[05/24/18 - 10:30 AM]
"Baskets" Renewed for a Fourth Season on FX
"'Baskets' continues to deliver thanks to the dream creative team led by Jonathan Krisel and Zach Galifianakis, and we couldn't be happier to order a fourth season to air next year," Eric Schrier said.


[05/24/18 - 10:03 AM]
Showtime(R) to Air Uninterrupted "Twin Peaks" Emmy(R) FYC Marathon on Saturday, June 2
In addition, all parts are also available to subscribers on multiple television and streaming providers' devices, websites and applications and their free On Demand channels.


[05/24/18 - 10:00 AM]
Ben Stiller, Lauren Graham, Anne Hathaway, Connie Britton, Minnie Driver, Olivia Munn and Retta Join "The Red Nose Day Special"
As previously announced, Jack Black, Jennifer Garner, Kristen Bell, Kelly Clarkson, Julia Roberts, Ed Sheeran, Marlon Wayans, Sean Hayes, Zooey Deschanel, Tony Hale, Sasheer Zamata, Jane Lynch, Akbar Gbajabiamila, Matt Iseman and Jack McBrayer will also participate in the special.


[05/24/18 - 09:29 AM]
CMT Reveals New Summer Programming Slate
"Bachelorette Weekend," premiering Thursday, August 2, follows the staff of Bach Weekend, a Nashville-based company specializing in creating once-in-a-lifetime bachelor/bachelorette experiences for would-be brides and grooms celebrating their final fling before the ring.


[05/24/18 - 09:05 AM]
Pop Superstar Meghan Trainor to Perform on The 2018 Radio Disney Music Awards
Trainor joins the RDMA line-up of previously announced performers Charlie Puth and Maddie Poppe.