[07/24/13 - 11:00 AM]
CBS Presents a First Look at the Key Art for Its Four New Fall Comedy Series
Check out the key art designs for "The Crazy Ones," "Mom," "The Millers" and "We Are Men."
---
[via press release from CBS]
CBS PRESENTS A FIRST LOOK AT THE KEY ART FOR ITS FOUR NEW FALL COMEDY SERIES: "THE CRAZY ONES," "THE MILLERS," "MOM" AND "WE ARE MEN"
The Ad/Billboard Designs Will Debut Outdoor, in Print And Online Later This Summer
CBS has released a first look of the key art designs for the Network's four new comedy series, THE CRAZY ONES, THE MILLERS, MOM and WE ARE MEN, to begin appearing in print, online and outdoor later this summer.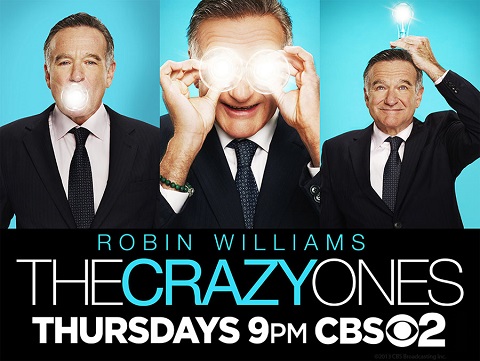 THE CRAZY ONES stars Academy Award winner Robin Williams, who returns to series television as larger-than-life advertising genius Simon Roberts whose unorthodox methods and unpredictable behavior would get him fired... if he wasn't the boss. The print design features Williams, playfully posing with illuminated light bulbs.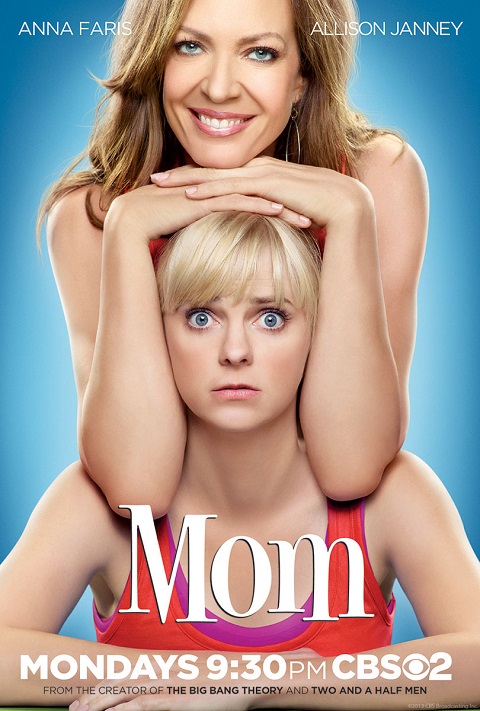 MOM stars Anna Faris as Christy, a newly sober single mom and waitress raising two children in a world full of temptations and pitfalls, and multiple Emmy Award winner Allison Janney as Bonnie, Christy's critical, estranged mother. Christy's sobriety is tested when her recovering alcoholic mom Bonnie reappears, chock-full of passive-aggressive insights into Christy's many mistakes. The key art features Janney striking a pose on top of Faris' head and shoulders.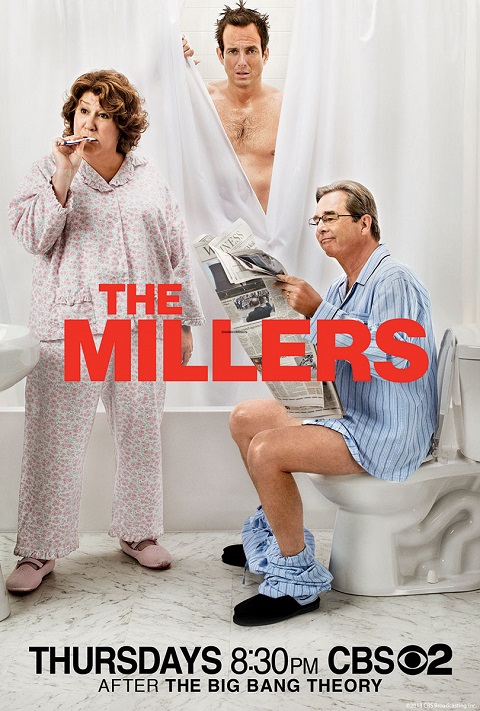 THE MILLERS stars Will Arnett as Nathan Miller, a recently divorced local roving news reporter looking forward to living the singles life until the unexpected marital troubles of his parents (Emmy Award winner Margo Martindale and Emmy Award winner Beau Bridges) suddenly derail his plans. The key art is set in a bathroom, with Arnett pulling back the shower curtain from inside the bathtub - and Martindale and Bridges in the foreground.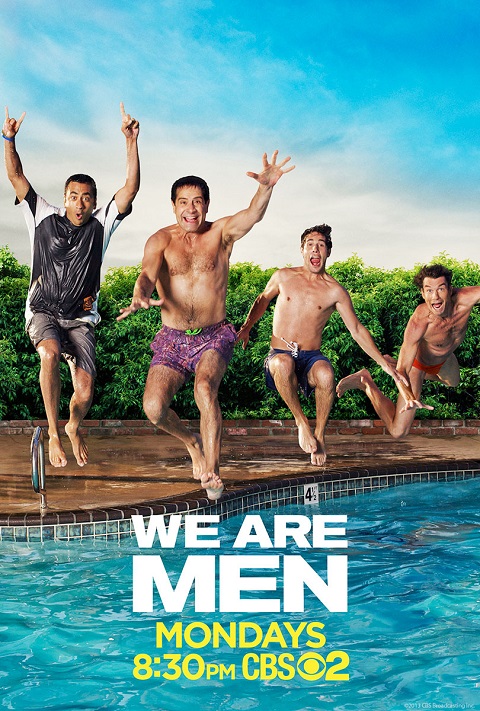 WE ARE MEN is about four single guys living in a short-term apartment complex who unexpectedly find camaraderie over their many missteps in love. Carter (Chris Smith), the youngest and most recent addition to the group, moved in after being ditched at the altar mid-ceremony, and is now eager to re-enter the dating scene and get on with his life with some guidance from his "band of brothers": Frank Russo, a middle-aged clothing manufacturer and four-time divorcée who still fancies himself a ladies man (Golden Globe and multiple Emmy Award winner Tony Shalhoub); Gil Bartis, a small business owner who was caught having the world's worst affair (Kal Penn); and Stuart Weber, a speedo-wearing OB/GYN who's hiding his assets until his second divorce is settled (Jerry O'Connell). The key art features (from left to right) Penn, Shalhoub, Smith and O'Connell enthusiastically jumping into a swimming pool.




[03/22/17 - 04:38 PM]
Outdoor Lifestyles Drive Double-Digit Ratings Growth on Great American Country
To build on that success in 2017, the network will deliver 254 hours of programming that focus on road trips, RV living and cool cabins.


[03/22/17 - 04:18 PM]
Jackson Galaxy Returns in Animal Planet's "My Cat from Hell" on Saturday, April 29
Between working with a cat named after him and saving the lives of 50 kittens, Jackson delves into his personal evolution exploring his past, present and future as he connects with remarkable felines in some of the most extreme circumstances.


[03/22/17 - 04:15 PM]
Travel Channel Programming Takes Off with Awesome Adventures in 2017
The network has commissioned more than 390 new hours of programming this year, including several freshman series and more than 18 pilots.


[03/22/17 - 04:11 PM]
NBC Bumps "Powerless" for Another "Trial & Error" Encore on Thursday
Look for a rebroadcast of the "A Wrench in the Case" episode at 8:30/7:30c.


[03/22/17 - 03:45 PM]
FOX Announces Summer Premiere Dates
This summer, Thursdays are all about match-making and music, with the debuts of "Love Connection" and "Beat Shazam" on May 25.


[03/22/17 - 03:18 PM]
HGTV Programming Primed and Ready for More Ratings Success in 2017
The cable channel is amplifying its 2017 programming lineup with an impressive 567 hours of original programming, including nine new series and fresh episodes of 28 popular titles.


[03/22/17 - 03:03 PM]
"Archer, P.I." Augmented Reality App Lets Fans Solve Cases Like Detective Sterling Archer
The multiplatform augmented reality app encourages fans to interact with "Archer: Dreamland" on screen and with real world objects to win prizes and solve cases.


[03/22/17 - 02:02 PM]
Dynamic Renovations of Vintage Properties, Beachfront Homes, Backyard Buildings and Swimming Pools Enhance DIY Network Programming Roster in 2017
The network is loading in 301 hours of new original programming in 2017, including 12 new series, 27 returning favorites and 22 one-hour specials.


[03/22/17 - 01:15 PM]
John Cho Joins "Difficult People" Season Three
Cho has been cast for a multi-episode arc in the third season.


[03/22/17 - 01:13 PM]
USA Network Pilot "Unsolved: The Murders of Biggie and Tupac" (WT) Announces Additional Casting Including the Role of Sean "Puffy" Combs
Luke James is set to play Sean "Puffy" Combs, the young and wildly successful founder of Bad Boy Records, the label of Christopher Wallace, aka Biggie Smalls.


[03/22/17 - 12:43 PM]
Bravo Media Delivers Top Shelf Drama on the Three-Part Reunion of "Vanderpump Rules" Beginning Monday, April 3 at 8 PM ET/PT
Jax Taylor, Stassi Schroeder, Scheana Shay, Tom Sandoval, Ariana Madix, James Kennedy, Katie Maloney, Tom Schwartz, Kristen Doute and Brittany Catwright hold nothing back as they answer the tough questions.


[03/22/17 - 11:09 AM]
Smithsonian Channel(TM) Recounts the Chaotic Days Following the Rodney King Verdict in "The Lost Tapes: LA Riots"
This latest installment of Smithsonian Channel's chilling series "The Lost Tapes" recaptures the chaotic days following the Rodney King verdict with powerful media coverage, home videos, gripping photographs and LAPD recordings.


[03/22/17 - 10:07 AM]
Diane Sawyer Interviews Caitlyn Jenner Two Years After Groundbreaking ABC News Special, Friday, April 21
ABC News Anchor Diane Sawyer will interview Caitlyn Jenner two years after the first exclusive one-on-one with the former Olympian.


[03/22/17 - 10:00 AM]
Additional Performers Announced for the "52nd ACM Awards"
Lauren Daigle, Faith Hill, Sam Hunt, Tim McGraw, Rascal Flatts, Reba McEntire, Thomas Rhett, Chris Stapleton, Cole Swindell, Carrie Underwood and Keith Urban have been added to the stellar lineup of performers.


[03/22/17 - 09:19 AM]
Tuesday's Broadcast Ratings: NBC, "The Voice" Stay on Top
ABC, CBS, FOX and The CW split the silver among adults 18-49.