[08/22/13 - 12:48 PM]
Showtime(R) Releases Official Posters for the Third Season of Its Emmy(R) and Golden Globe(R)-Winning Series "Homeland"
Plus: watch the new "Haunted" trailer for the upcoming season, due Sunday, September 29.
---
[via press release from Showtime]
SHOWTIME(R) RELEASES OFFICIAL POSTERS FOR THE THIRD SEASON OF ITS EMMY(R) AND GOLDEN GLOBE(R)-WINNING SERIES "HOMELAND"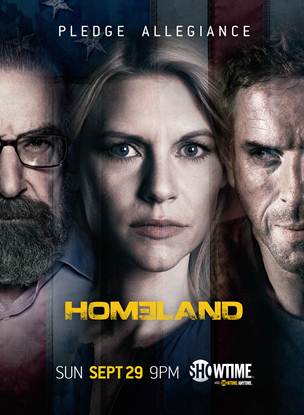 NEW YORK, NY - (August 22, 2013) - Today, SHOWTIME unveiled the official posters for the highly-anticipated third season of its Emmy and Golden Globe Award-winning hit series HOMELAND. As allegiances continue to shift on the series, each environment of the four key art images is designed to capture the emotional state of the characters. Additionally, the network has just released a new spot for the upcoming season that will debut on air this Sunday. For the new "Haunted" trailer, go to: http://s.sho.com/176u6nu. HOMELAND stars Emmy and Golden Globe Award winner Claire Danes, Emmy winner Damian Lewis, and Emmy and Tony(R) Award winner Mandy Patinkin, and premieres on September 29 at 9 p.m. ET/PT only on SHOWTIME.
HOMELAND tells the story of Carrie Mathison (Danes), a CIA officer battling her own demons, who becomes convinced that the intelligence that led to the rescue of U.S. soldier, then Congressman, now fugitive, Nicholas Brody (Lewis) was a setup and may be connected to an Al Qaeda plot to be carried out on American soil. Season three opens during the aftermath of the horrific terror attack that decimated the U.S. intelligence apparatus, and prompted a global manhunt for the world's most wanted terrorist, Nick Brody. As Carrie and Saul (Patinkin) begin to pick up the pieces of their shattered professional and personal lives, they are swept up in the political and media firestorm surrounding the terror attack and the subsequent search for Brody's whereabouts. Developed for American television by Alex Gansa and Howard Gordon, and based on the original Israeli series "Prisoners of War" by Gideon Raff, the series also stars Morena Baccarin, Rupert Friend, Sarita Choudhoury, Tracy Letts, Jackson Pace, Morgan Saylor and F. Murray Abraham. HOMELAND has been honored with a number of major awards for the series and its stars across a variety of categories in its first two seasons including Emmy and Golden Globe Awards for Best Television Drama, as well as a prestigious Peabody Award. The series is currently nominated for 11 Emmy Awards - with nominations in virtually every major category, and the most nominations ever for a SHOWTIME series. Tied as the network's No. 1 rated series, HOMELAND had a record-breaking sophomore season with unprecedented growth, watched by 6.2 million weekly viewers across platforms, up 43 percent versus its freshman season. Along with Gansa and Gordon, the executive producers for season three are Gideon Raff, Chip Johannessen, Alexander Cary, Henry Bromell,AviNir and Ran Telem. The series is produced by FOX 21.




[05/25/18 - 12:57 PM]
E!'s "Total Bellas" Delivers Series High in P18-34 and W18-34 for Season Three Premiere
E! further spins the numbers for Sunday, May 20.


[05/25/18 - 08:24 AM]
Thursday's Broadcast Ratings: ABC Tops Demos with "The Last Days of Michael Jackson" Special
The two-hour special powers the Alphabet to an adults 18-49 victory last night.


[05/25/18 - 08:01 AM]
Alyson Hannigan, Connie Ray, Todd Stashwick, Taylor Ortega, Ciara Wilson And Erika Tham Join The Cast Of The Live-Action "Kim Possible" Disney Channel Original Movie
Hannigan will play the role of brain surgeon Dr. Ann Possible (aka Mom Possible) and Ray will play grandmother Nana Possible.


[05/25/18 - 07:40 AM]
Keith Olbermann to Expand Multi-Faceted ESPN Role
Olbermann will combine select studio assignments with on-site opportunities, including calling the radio play-by-play with analyst Jim Bowden for Astros at Yankees on Memorial Day, Monday, May 28, at 1 p.m. ET on ESPN Radio.


[05/25/18 - 05:51 AM]
Red Nose Day Raises Over $42 Million to End Child Poverty, Top Talent Turns It on for NBC's Night of Themed Programming & Live Special
The campaign has now raised over $42 million for children who need it most in America and around the world - totaling more than $145 million in the campaign's first four years in the U.S.


[05/24/18 - 11:08 PM]
Development Update: Thursday, May 24
Updates include: Lesley Ann Warren, Max Ehrich cast in Lifetime's "American Princess"; P.J. Byrne books return trip to "Big Little Lies"; and Janine Sherman Barrois, Michelle Nader ink overall deals with Warner Bros. Television.


[05/24/18 - 03:42 PM]
MTV Heats Up Summer with the Return of "Floribama Shore"
The 14-episode run will feature original cast members Jeremiah Buoni, Codi Butts, Kortni Gilson, Aimee Hall, Kirk Medas, Nilsa Prowant, Candace Rice and Gus Smyrnios.


[05/24/18 - 02:40 PM]
ABC Moves Up to No. 2 in 2017-18 for Its Most Competitive Season in 10 Years
ABC further spins the numbers for the season to date.


[05/24/18 - 02:36 PM]
Shining, Gleaming, Streaming, Flaxen, Waxen "Hair Live!" Is NBC's Next Musical Event
Craig Zadan and Neil Meron, who have executive produced each of NBC's live musicals since "The Sound of Music" revived this innovative programming genre, will executive produce the telecast.


[05/24/18 - 01:12 PM]
Netflix Re-Teaming with Dee Rees for "The Last Thing He Wanted"
The story is based on the 1996 novel by Joan Didion and centers on hardscrabble journalist Elena McMahon who finds herself on dangerous ground as the Iran Contra Affair's arms for drugs plot reaches its tipping point.


[05/24/18 - 12:31 PM]
NBC Entertainment Podcast Network Debuts with Fan Favorites "American Ninja Warrior" and "The Good Place"
Hosted by "The Good Place" guest-star Marc Evan Jackson, "The Good Place - The Podcast" debuts Friday, June 1.


[05/24/18 - 12:30 PM]
"Young & Hungry" Returns for "The Last Bite" with a Two Episode Season Premiere, on Wednesday, June 20
The final season sees Gabi and Josh happily together and in love, but now navigating their new status as a full-fledged couple.


[05/24/18 - 11:54 AM]
CBS Is America's Most-Watched Network in 2017-2018 Across Primetime, Daytime and Late Night
CBS further spins the numbers for the season to date.


[05/24/18 - 10:30 AM]
"Baskets" Renewed for a Fourth Season on FX
"'Baskets' continues to deliver thanks to the dream creative team led by Jonathan Krisel and Zach Galifianakis, and we couldn't be happier to order a fourth season to air next year," Eric Schrier said.


[05/24/18 - 10:03 AM]
Showtime(R) to Air Uninterrupted "Twin Peaks" Emmy(R) FYC Marathon on Saturday, June 2
In addition, all parts are also available to subscribers on multiple television and streaming providers' devices, websites and applications and their free On Demand channels.