[08/22/13 - 12:48 PM]
Showtime(R) Releases Official Posters for the Third Season of Its Emmy(R) and Golden Globe(R)-Winning Series "Homeland"
Plus: watch the new "Haunted" trailer for the upcoming season, due Sunday, September 29.
---
[via press release from Showtime]
SHOWTIME(R) RELEASES OFFICIAL POSTERS FOR THE THIRD SEASON OF ITS EMMY(R) AND GOLDEN GLOBE(R)-WINNING SERIES "HOMELAND"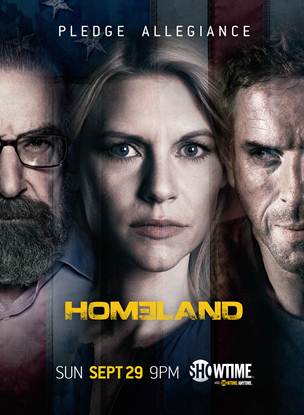 NEW YORK, NY - (August 22, 2013) - Today, SHOWTIME unveiled the official posters for the highly-anticipated third season of its Emmy and Golden Globe Award-winning hit series HOMELAND. As allegiances continue to shift on the series, each environment of the four key art images is designed to capture the emotional state of the characters. Additionally, the network has just released a new spot for the upcoming season that will debut on air this Sunday. For the new "Haunted" trailer, go to: http://s.sho.com/176u6nu. HOMELAND stars Emmy and Golden Globe Award winner Claire Danes, Emmy winner Damian Lewis, and Emmy and Tony(R) Award winner Mandy Patinkin, and premieres on September 29 at 9 p.m. ET/PT only on SHOWTIME.
HOMELAND tells the story of Carrie Mathison (Danes), a CIA officer battling her own demons, who becomes convinced that the intelligence that led to the rescue of U.S. soldier, then Congressman, now fugitive, Nicholas Brody (Lewis) was a setup and may be connected to an Al Qaeda plot to be carried out on American soil. Season three opens during the aftermath of the horrific terror attack that decimated the U.S. intelligence apparatus, and prompted a global manhunt for the world's most wanted terrorist, Nick Brody. As Carrie and Saul (Patinkin) begin to pick up the pieces of their shattered professional and personal lives, they are swept up in the political and media firestorm surrounding the terror attack and the subsequent search for Brody's whereabouts. Developed for American television by Alex Gansa and Howard Gordon, and based on the original Israeli series "Prisoners of War" by Gideon Raff, the series also stars Morena Baccarin, Rupert Friend, Sarita Choudhoury, Tracy Letts, Jackson Pace, Morgan Saylor and F. Murray Abraham. HOMELAND has been honored with a number of major awards for the series and its stars across a variety of categories in its first two seasons including Emmy and Golden Globe Awards for Best Television Drama, as well as a prestigious Peabody Award. The series is currently nominated for 11 Emmy Awards - with nominations in virtually every major category, and the most nominations ever for a SHOWTIME series. Tied as the network's No. 1 rated series, HOMELAND had a record-breaking sophomore season with unprecedented growth, watched by 6.2 million weekly viewers across platforms, up 43 percent versus its freshman season. Along with Gansa and Gordon, the executive producers for season three are Gideon Raff, Chip Johannessen, Alexander Cary, Henry Bromell,AviNir and Ran Telem. The series is produced by FOX 21.




[06/28/16 - 12:31 PM]
Double the Episodes, Double the Surprises on the Second Season of "Cooks vs. Cons"
New episodes begin Sunday, July 10 at 10:00/9:00c on Food Network.


[06/28/16 - 12:16 PM]
Hallmark Channel's Most Recent Original Premiere Marks 4th Consecutive Week with Top HH-Rated Movie of the Week
The Hallmark Channel spins the numbers for the week of June 20-26.


[06/28/16 - 11:18 AM]
All Eyes Were on the 2016 "BET Awards" as 7.2mm Total Viewers Tuned in Across 12 Viacom Networks for the Premiere Telecast on Sunday, June 26
BET spins the numbers for Sunday, June 26.


[06/28/16 - 11:09 AM]
Bravo Media's Lavish Ladies from Down Under Return for a New Season of "The Real Housewives of Melbourne" on Friday, July 22 at 9 PM ET/PT
Newcomer Susie McLean will join returning cast members Chyka Keebaugh, Gamble Breaux, Gina Liano, Jackie Gillies, Janet Roach, Lydia Schiavello and Pettifleur Berenger.


[06/28/16 - 10:54 AM]
"ER Week" Is Back on Discovery Life with Unpredicatble Moments Leading Up to the Premiere of "Trauma Doctors"
These elite doctors take the emergency room to the streets providing on-site medical treatments that are normally only done in hospitals, transforming a patient's chance of survival.


[06/28/16 - 10:50 AM]
ESPN Remembers Legendary Coach Pat Summitt
ESPN Classic will be the home of Tennessee's National Championship title games, where Summitt led the Lady Vols to national titles in 1996, 1997, 1998, 2007 and 2008.


[06/28/16 - 10:35 AM]
U.S. Army Sgt. Elizabeth Marks to Receive Pat Tillman Award for Service at The 2016 ESPYS
Marks is also a member of the 2016 U.S. Paralympics Swimming National Team and is training for the 2016 Paralympic Games taking place in Rio de Janeiro in September.


[06/28/16 - 10:28 AM]
Heartwarming Documentary "Open Your Eyes," Following Nepalese Spouses on a Remarkable Odyssey to Restore Their Sight, Debuts July 18, Exclusively on HBO
The film follows Manisara and Durga, an aging couple from the remote Himalayan Mountains of Nepal, as they embark on a transformative odyssey to regain the sight they lost over the years by undergoing this life-changing procedure.


[06/28/16 - 10:21 AM]
Diane Sawyer Holds Exclusive Interview with Jaycee Dugard, on ABC News' "20/20," Friday, July 8
Sawyer interviewed Dugard in 2011 when she talked about her horrendous experience in captivity for the first time on the eve of the release of her first memoir "A Stolen Life."


[06/28/16 - 09:24 AM]
SundanceTV Greenlights Original Scripted Series "Hap and Leonard" for a Second Season
Plus: John Wirth will join as showrunner and executive producer.


[06/28/16 - 09:06 AM]
Monday's Broadcast Ratings: NBC, "American Ninja Warrior" Hold Onto Top Spot
The Peacock leads the night among total viewers and adults 18-49.


[06/28/16 - 09:05 AM]
Fans Can Now Share Adult Swim Themed Images, GIFs, Sounds, and Custom Bumps With New App
The new Adult Swim Keyboard also features sharable soundboards and animated GIFs from the network's colorful show characters.


[06/28/16 - 09:00 AM]
ABC Announces Fall Series Premiere Dates for 2016-17 Season
"Dancing with the Stars" will once again kick off the Alphabet's lineup on Monday, September 12.


[06/28/16 - 08:30 AM]
"Entertainment Tonight's" Emmy Award-Winning Journalist Nancy O'Dell to Host "Boston Pops Fireworks Spectacular," To Be Broadcast Live for Two Hours, Monday, July 4, on CBS
Previously announced artists for the special include Demi Lovato, Nick Jonas and Little Big Town.


[06/28/16 - 08:09 AM]
NBCUniversal to Present Unprecedented 6,755 Hours of Rio Olympic Programming
NBC will broadcast 260.5 hours of Olympic programming, including coverage of the Opening and Closing Ceremonies, swimming, gymnastics, track and field, and many more of the Games' most popular sports.