[08/22/13 - 12:48 PM]
Showtime(R) Releases Official Posters for the Third Season of Its Emmy(R) and Golden Globe(R)-Winning Series "Homeland"
Plus: watch the new "Haunted" trailer for the upcoming season, due Sunday, September 29.
---
[via press release from Showtime]
SHOWTIME(R) RELEASES OFFICIAL POSTERS FOR THE THIRD SEASON OF ITS EMMY(R) AND GOLDEN GLOBE(R)-WINNING SERIES "HOMELAND"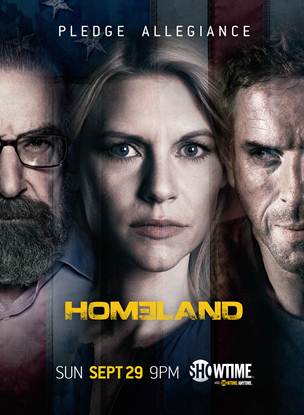 NEW YORK, NY - (August 22, 2013) - Today, SHOWTIME unveiled the official posters for the highly-anticipated third season of its Emmy and Golden Globe Award-winning hit series HOMELAND. As allegiances continue to shift on the series, each environment of the four key art images is designed to capture the emotional state of the characters. Additionally, the network has just released a new spot for the upcoming season that will debut on air this Sunday. For the new "Haunted" trailer, go to: http://s.sho.com/176u6nu. HOMELAND stars Emmy and Golden Globe Award winner Claire Danes, Emmy winner Damian Lewis, and Emmy and Tony(R) Award winner Mandy Patinkin, and premieres on September 29 at 9 p.m. ET/PT only on SHOWTIME.
HOMELAND tells the story of Carrie Mathison (Danes), a CIA officer battling her own demons, who becomes convinced that the intelligence that led to the rescue of U.S. soldier, then Congressman, now fugitive, Nicholas Brody (Lewis) was a setup and may be connected to an Al Qaeda plot to be carried out on American soil. Season three opens during the aftermath of the horrific terror attack that decimated the U.S. intelligence apparatus, and prompted a global manhunt for the world's most wanted terrorist, Nick Brody. As Carrie and Saul (Patinkin) begin to pick up the pieces of their shattered professional and personal lives, they are swept up in the political and media firestorm surrounding the terror attack and the subsequent search for Brody's whereabouts. Developed for American television by Alex Gansa and Howard Gordon, and based on the original Israeli series "Prisoners of War" by Gideon Raff, the series also stars Morena Baccarin, Rupert Friend, Sarita Choudhoury, Tracy Letts, Jackson Pace, Morgan Saylor and F. Murray Abraham. HOMELAND has been honored with a number of major awards for the series and its stars across a variety of categories in its first two seasons including Emmy and Golden Globe Awards for Best Television Drama, as well as a prestigious Peabody Award. The series is currently nominated for 11 Emmy Awards - with nominations in virtually every major category, and the most nominations ever for a SHOWTIME series. Tied as the network's No. 1 rated series, HOMELAND had a record-breaking sophomore season with unprecedented growth, watched by 6.2 million weekly viewers across platforms, up 43 percent versus its freshman season. Along with Gansa and Gordon, the executive producers for season three are Gideon Raff, Chip Johannessen, Alexander Cary, Henry Bromell,AviNir and Ran Telem. The series is produced by FOX 21.




[12/06/16 - 08:41 AM]
Bask in the Summer Heat with Bravo Media's New Series "Summer House" Premiering Monday, January 16 at 10PM ET/PT
"Summer House" brings together a group of nine friends who work hard during the week, but on the weekends between Memorial Day and Labor Day, they share a summer house to let loose in a big way that speaks to their exclusive, high-end lifestyle.


[12/06/16 - 08:11 AM]
Ring in the New Year with Marathons of Award-Winning Series "Breaking Bad" and "The Walking Dead" on AMC
Also look for binge opportunities from "Humans" and "Into the Badlands."


[12/05/16 - 06:18 PM]
Jimmy Kimmel Talks Oscars(R) Host Gig on "Jimmy Kimmel Live!"
"Mike [De Luca] and Jennifer [Todd] have an excellent plan and their enthusiasm is infectious," said Kimmel. "I am honored to have been chosen to host the 89th and final Oscars."


[12/05/16 - 05:29 PM]
For the First Time, "This Is Us" Beats "Empire" in L+3 18-49 Ratings for the Primetime Week
NBC further spins the numbers for Tuesday, November 29 and Wednesday, November 30.


[12/05/16 - 03:28 PM]
OWN's "Queen Sugar" Season Finale Ranks as #1 Cable Telecast for Women Wednesday Night Delivering 2.76 Million Total Viewers
OWN further spins the numbers for the series to date.


[12/05/16 - 01:30 PM]
"Every Brilliant Thing," The Innovative Off-Broadway Show Adapted for the Screen by Award-Winning Filmmakers Fenton Bailey and Randy Barbato, Offers a List for Life; Documentary Debuts Dec. 26
Starring British comedian Jonny Donahoe, this deeply poignant film recounts a life lived in the shadow of suicide.


[12/05/16 - 01:18 PM]
Valerie Bertinelli and Duff Goldman Are Back with a New Batch of Young Bakers on "Kids Baking Championship"
The 10-week competition kicks off Monday, January 2 at 8:00/7:00c on Food Network.


[12/05/16 - 01:04 PM]
Netflix Announces Slate of Original Films, Documentaries and Series at the 2017 Sundance Film Festival
Morgan Neville, Jason Segel, Rooney Mara, Robert Redford, Elijah Wood, Rashida Jones, Melanie Lynskey, Riley Keough, Jesse Plemons, and Alfre Woodard are among the featured auspices.


[12/05/16 - 12:22 PM]
Season Finale of Freeform's "Ben & Lauren: Happily Ever After?" Soars to 5-Week Highs Across Key Target Demographics
Freeform further spins the numbers for the series to date.


[12/05/16 - 12:08 PM]
Limited Drama Series "The Young Pope," Starring Jude Law and Diane Keaton and Directed by Paolo Sorrentino, Debuts Jan. 15 on HBO
Young and charming, Lenny Belardo, aka Pius XIII, is the first American Pope in history.


[12/05/16 - 11:19 AM]
Investigation Discovery Greenlights Scripted True-Crime Movie "Final Vision" Starring Scott Foley and Dave Annable
The film is the story of Jeffrey MacDonald (Foley), a handsome, Ivy League-educated Green Beret Army Doctor, who was convicted of brutally murdering his pregnant wife and two young daughters in the middle of the night.


[12/05/16 - 11:11 AM]
"Star Glam Tour" - Free Glam Services On-the-Go Beginning Today
FOX brings Miss Carlotta's mobile salon - with free manicures, blowouts and braids services - to Nashville, Atlanta, New Orleans, Houston, Dallas, Los Angeles and Oakland.


[12/05/16 - 11:01 AM]
Freeform's "Moments to Celebrate" Programming Event, Begins Monday, December 26, and Continues Through Sunday, January 1
Look for a special sneak preview of the first episode of Freeform's upcoming new sci-fi saga, "Beyond."


[12/05/16 - 10:40 AM]
Video: Crackle's "SuperMansion: War on Christmas" Releases First Look Clip Featuring Jim Parsons
The original special premieres this coming Thursday, December 8.


[12/05/16 - 10:03 AM]
AMC Announces the Premiere of Its Critically-Acclaimed Scripted Drama Series, "Humans," Returning for Its Sophomore Season on Monday, February, 13th
Carrie-Anne Moss joins the cast as Dr. Athena Morrow, a pre-eminent Artificial Intelligence expert who is driven by her own motives to create a new kind of machine consciousness.