SHOWTIME(R) RELEASES OFFICIAL POSTERS FOR THE THIRD SEASON OF ITS EMMY(R) AND GOLDEN GLOBE(R)-WINNING SERIES "HOMELAND"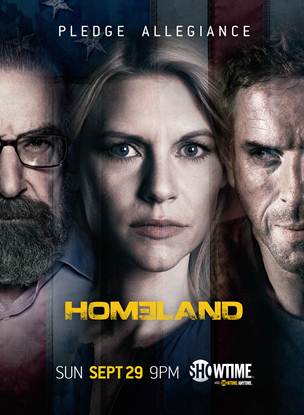 NEW YORK, NY - (August 22, 2013) - Today, SHOWTIME unveiled the official posters for the highly-anticipated third season of its Emmy and Golden Globe Award-winning hit series HOMELAND. As allegiances continue to shift on the series, each environment of the four key art images is designed to capture the emotional state of the characters. Additionally, the network has just released a new spot for the upcoming season that will debut on air this Sunday. For the new "Haunted" trailer, go to: http://s.sho.com/176u6nu. HOMELAND stars Emmy and Golden Globe Award winner Claire Danes, Emmy winner Damian Lewis, and Emmy and Tony(R) Award winner Mandy Patinkin, and premieres on September 29 at 9 p.m. ET/PT only on SHOWTIME.
HOMELAND tells the story of Carrie Mathison (Danes), a CIA officer battling her own demons, who becomes convinced that the intelligence that led to the rescue of U.S. soldier, then Congressman, now fugitive, Nicholas Brody (Lewis) was a setup and may be connected to an Al Qaeda plot to be carried out on American soil. Season three opens during the aftermath of the horrific terror attack that decimated the U.S. intelligence apparatus, and prompted a global manhunt for the world's most wanted terrorist, Nick Brody. As Carrie and Saul (Patinkin) begin to pick up the pieces of their shattered professional and personal lives, they are swept up in the political and media firestorm surrounding the terror attack and the subsequent search for Brody's whereabouts. Developed for American television by Alex Gansa and Howard Gordon, and based on the original Israeli series "Prisoners of War" by Gideon Raff, the series also stars Morena Baccarin, Rupert Friend, Sarita Choudhoury, Tracy Letts, Jackson Pace, Morgan Saylor and F. Murray Abraham. HOMELAND has been honored with a number of major awards for the series and its stars across a variety of categories in its first two seasons including Emmy and Golden Globe Awards for Best Television Drama, as well as a prestigious Peabody Award. The series is currently nominated for 11 Emmy Awards - with nominations in virtually every major category, and the most nominations ever for a SHOWTIME series. Tied as the network's No. 1 rated series, HOMELAND had a record-breaking sophomore season with unprecedented growth, watched by 6.2 million weekly viewers across platforms, up 43 percent versus its freshman season. Along with Gansa and Gordon, the executive producers for season three are Gideon Raff, Chip Johannessen, Alexander Cary, Henry Bromell,AviNir and Ran Telem. The series is produced by FOX 21.