[09/09/13 - 11:33 AM]
TNT's "Mob City" - First Look at Key Art
The Frank Darabont-produced hour launches Wednesday, December 4 at 10:00/9:00c on the network.
---
[via press release from TNT]
TNT'S MOB CITY: FIRST LOOK AT KEY ART
TNT Unveils Key Art for Eagerly Anticipated Drama MOB CITY, from Writer-Director-Producer Frank Darabont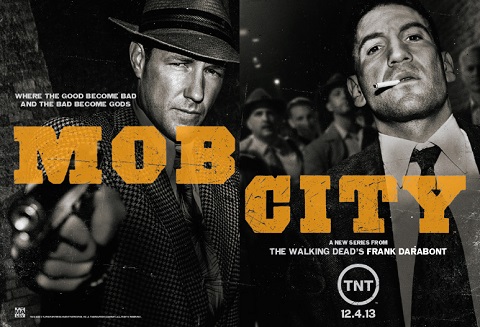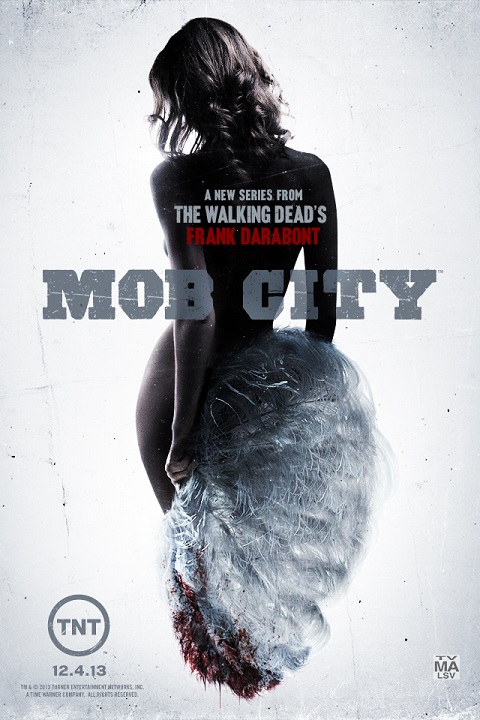 TNT has released the initial key art for its eagerly anticipated television event Mob City, the powerful drama from Frank Darabont (The Walking Dead), who wrote and directed the pilot and serves as executive producer on the series. The two images capture different aspects of the 1940s-set dama, with one featuring Mob City stars Jon Bernthal (The Walking Dead) and Ed Burns (Entourage) in a composite reminiscent of newspaper crime photos of the era. The second image shows a fan dancer from the one of the nightspots featured in the series. Mob City is set to premiere Wednesday, Dec. 4, at 10 p.m. (ET/PT).
TNT's Mob City depicts the epic battle between a determined police chief and a dangerous mobster in 1940s Los Angeles. In addition to Bernthal and Burns, the series' extraordinary ensemble cast includes Jeffrey DeMunn (The Walking Dead, The Shawshank Redemption), Neal McDonough (Captain America, Desperate Housewives), Gregory Itzin (24), Robert Knepper (Prison Break), Milo Ventimiglia (Heroes), Alexa Davalos (Clash of the Titans, The Mist) and Jeremy Luke (Don Jon). Based on the critically acclaimed book L.A. Noir: The Struggle for the Soul of America's Most Seductive City, by John Buntin, Mob City centers on Det. Joe Teague (Bernthal), an ex-Marine who holds his cards close to his chest. Teague has been assigned to a new mob task force headed by Det. Hal Morrison (DeMunn). The task force is part of a crusade by Los Angeles Police Chief William Parker (McDonough) to free the city of criminals like Ben "Bugsy" Siegel (Burns) and Mickey Cohen (Luke), the ruthless king of the Los Angeles underworld. Parker also won't hesitate to go after anyone from his own police force who sells out honor and duty for the sake of a big payout. Mob City is produced by TNT Originals. Also serving as executive producers on the series are Michael De Luca (The Social Network) and Elliot Webb (Alpha House). Alissa Phillips and Dana Renee Ashmore serve as co-executive producers, with Paul Bernard as producer.




[12/19/14 - 03:15 PM]
David Schwimmer Cast as Attorney Robert Kardashian in "American Crime Story: The People v. O.J. Simpson"
He'll join the previously announced Cuba Gooding Jr. as O.J. Simpson and Sarah Paulson as Marcia Clark.


[12/19/14 - 12:47 PM]
"Whale Wars" Returns to Animal Planet January 2 with a World Premiere Three-Hour Event
Under legal siege, Captain Paul Watson is forced to hand the mission over to youthful veteran Peter Hammarstedt following a ruling from the United States Court of Appeals for the Ninth Circuit.


[12/19/14 - 11:58 AM]
Velocity and Discovery Channel Announce the On Air Team for Barrett-Jackson Live
Coverage begins Tuesday, January 13 from 6-8 PM ET on Discovery Channel and continues through Sunday, January 18 from 2-7 PM ET on Velocity.


[12/19/14 - 10:12 AM]
"Night Will Fall," Revealing the Untold Story of a 1945 Film Detailing Concentration-Camp Atrocities, Debuts Jan. 26, Exclusively on HBO
The film juxtaposes horrific raw footage and scenes from the 1945 documentary with insights from the survivors, the soldiers who liberated them and the filmmakers who recorded these appalling images.


[12/19/14 - 10:02 AM]
USA Network Announces Series Pick-Up for New Drama "Mr. Robot"
The series stars Rami Malek, Christian Slater, Portia Doubleday, Carly Chaikin and Martin Wallstrom.


[12/19/14 - 10:02 AM]
Starz Releases New Video and Image from "Outlander"
The release is part of Starz's 25 Days of #OutlanderOfferings that has been giving fans something extra special for the holidays to get them through the #Droughtlander.


[12/19/14 - 10:00 AM]
AMC Casts International Film Star Daniel Wu as Lead of "Badlands" (WT)
The series tells the story of a ruthless, well-trained warrior named Sunny (Wu) and a young boy who embark on a journey across a dangerous land to find enlightenment.


[12/19/14 - 09:20 AM]
"@midnight" Moves to 11:30 p.m. for Two Weeks Only; Comedy Central Premieres "Ari Shaffir: Paid Regular" and "This Is Not Happening" in January
The premiere episode of "This Is Not Happening" will be available on Amazon Instant Video on January 12 and in the Comedy Central App on January 13.


[12/19/14 - 08:41 AM]
"The People Magazine Awards" Generates NBC's Biggest Audience in Its Slot, Excluding "Peter Pan Live!" and NFL, Since October 23
NBC spins the numbers for Thursday, December 18.


[12/19/14 - 08:39 AM]
Emmy(R)-Winning Series "Banshee" Returns for Third Season Jan. 9, Exclusively on Cinemax
New guest stars this season include Denis O'Hare, Chaske Spencer, Tom Pelphrey and Meaghan Rath.


[12/19/14 - 08:25 AM]
Thursday's Broadcast Ratings: Comedies Power CBS to Top Spot
A repeat "The Big Bang Theory" and a new "Mom" lead the night among adults 18-49.


[12/19/14 - 08:08 AM]
Season Two of "My Big Redneck Family" Premieres Saturday, January 17 at 9 P.M., ET/PT
Tom Arnold is back to host the 13-episode second season as this lovable gang faces more parenting problems, marital misadventures and questionable career moves than ever before.


[12/19/14 - 08:03 AM]
First-Time People's Choice Award Nominee Iggy Azalea and Last Year's People's Choice Award Winner Fall Out Boy to Perform at "People's Choice Awards 2015"
They will join the lineup with recently announced performers Lady Antebellum.


[12/19/14 - 08:00 AM]
FOX's TV Everywhere Content Now Available to More Than 20 Million DirecTV Customers Nationwide
In addition, DirecTV will make the feeds of FX, FXX, FS1, FS2, National Geographic Channel and Nat Geo WILD available for out-of-home streaming on the DirecTV Everywhere platform.


[12/19/14 - 07:28 AM]
Travel Channel's Andrew Zimmern Gives Viewers a Tasty Look at Foods That Define Global Locations on New Series "Bizarre Foods: Delicious Destinations"
The 13-episode series, an extension of the popular "Bizarre Foods" franchise, takes viewers on an international journey to iconic cities around the world for a taste of their quintessential, not-to-be missed dishes.