[09/09/13 - 11:33 AM]
TNT's "Mob City" - First Look at Key Art
The Frank Darabont-produced hour launches Wednesday, December 4 at 10:00/9:00c on the network.
---
[via press release from TNT]
TNT'S MOB CITY: FIRST LOOK AT KEY ART
TNT Unveils Key Art for Eagerly Anticipated Drama MOB CITY, from Writer-Director-Producer Frank Darabont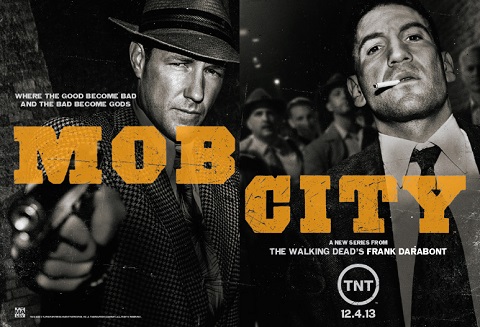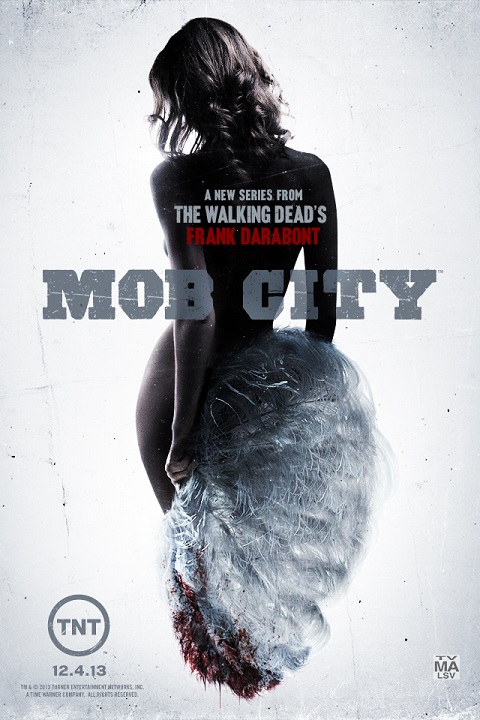 TNT has released the initial key art for its eagerly anticipated television event Mob City, the powerful drama from Frank Darabont (The Walking Dead), who wrote and directed the pilot and serves as executive producer on the series. The two images capture different aspects of the 1940s-set dama, with one featuring Mob City stars Jon Bernthal (The Walking Dead) and Ed Burns (Entourage) in a composite reminiscent of newspaper crime photos of the era. The second image shows a fan dancer from the one of the nightspots featured in the series. Mob City is set to premiere Wednesday, Dec. 4, at 10 p.m. (ET/PT).
TNT's Mob City depicts the epic battle between a determined police chief and a dangerous mobster in 1940s Los Angeles. In addition to Bernthal and Burns, the series' extraordinary ensemble cast includes Jeffrey DeMunn (The Walking Dead, The Shawshank Redemption), Neal McDonough (Captain America, Desperate Housewives), Gregory Itzin (24), Robert Knepper (Prison Break), Milo Ventimiglia (Heroes), Alexa Davalos (Clash of the Titans, The Mist) and Jeremy Luke (Don Jon). Based on the critically acclaimed book L.A. Noir: The Struggle for the Soul of America's Most Seductive City, by John Buntin, Mob City centers on Det. Joe Teague (Bernthal), an ex-Marine who holds his cards close to his chest. Teague has been assigned to a new mob task force headed by Det. Hal Morrison (DeMunn). The task force is part of a crusade by Los Angeles Police Chief William Parker (McDonough) to free the city of criminals like Ben "Bugsy" Siegel (Burns) and Mickey Cohen (Luke), the ruthless king of the Los Angeles underworld. Parker also won't hesitate to go after anyone from his own police force who sells out honor and duty for the sake of a big payout. Mob City is produced by TNT Originals. Also serving as executive producers on the series are Michael De Luca (The Social Network) and Elliot Webb (Alpha House). Alissa Phillips and Dana Renee Ashmore serve as co-executive producers, with Paul Bernard as producer.




[08/18/17 - 12:05 PM]
Walkers Are Invading AMC for "The Walking Dead" Multi-Weekend Marathon Event Beginning Sunday, August 20 at 9:00 A.M. ET/PT
Plus: look for "The Walking Dead: Season 8 Preview Special" on Sunday, September 10.


[08/18/17 - 11:29 AM]
MTV Announces New Host Terrence J. and Cast for Its Hit Matchmaking Series "Are You the One?" Premiering Wednesday, September 20th at 10:00 P.M. ET/PT
Before the premiere, audiences can get a sneak peek at the new cast in an audition tape casting special, airing Wednesday, September 13.


[08/18/17 - 09:54 AM]
Viceland Announces Fall Line-Up with New Shows & Returning Favorites
Returning are network staples "Bong Appétit" with Abdullah Saeed, Vanessa Lavorato and Ry Pritchard, "Weediquette" with Krishna Andavolu, "Cyberwar" with Ben Makuch, and "Hamilton's Pharmacopeia" with Hamilton Morris.


[08/18/17 - 09:01 AM]
Viola Davis and Julius Tennon to Executive-Produce One-Hour Telecast "EIF Presents: XQ Super School Live" to Inspire the Public to Rethink High School and Explore Ways to Prepare Students for Careers of the Future
The one-hour special will air across ABC, CBS, FOX and NBC on Friday, September 8 at 8:00/7:00c.


[08/18/17 - 09:00 AM]
Season Two of Original Scripted Series "Chesapeake Shores" Catapults Hallmark Channel as Top-Rated and Most-Watched Cable Network
The Hallmark Channel further spins the numbers for the week of August 7-13.


[08/18/17 - 08:20 AM]
Video: WE tv Releases Cast & Sneak Peek for Season 9 of Hit Series "Marriage Boot Camp Reality Stars"
The season will feature a brand new house of dysfunctional couples including Kailyn Lowry and Javi Marroquin, Bobby Panahi and Asifa Mirza, Juelia Kinney and JJ Lane, Peter Gunz and Amina Buddafly & Mehgan James and DeAndre Perry.


[08/18/17 - 08:12 AM]
Thursday's Broadcast Ratings: CBS, "Big Brother" Hold Onto Top Spot
The Eye wins the evening in both total viewers and adults 18-49.


[08/18/17 - 07:49 AM]
Car Pros Make Room for the Under "Dogs" in Discovery's All-New Series "Gear Dogs (WT)"
The series, formerly known as "House of Cars," premieres Monday, September 4 at 10:00/9:00c on the cable channel.


[08/17/17 - 11:43 PM]
Development Update: Thursday, August 17
Updates include: ABC lands live-action take on "The Jetsons"; Frances O'Connor to star in Hulu's "Locke & Key"; and Paul Scheer to pen the "Galaxy Quest" TV series for Amazon.


[08/17/17 - 03:30 PM]
AXS TV Greenlights Season Three of the Popular Original Music Series "Rock & Roll Road Trip with Sammy Hagar Presented by Mercury Insurance"
Production on the 12-episode season began this month and is scheduled for air in early 2018.


[08/17/17 - 02:47 PM]
MTV's Iconic "Unplugged" Franchise Returns This Fall
The new season will feature an eclectic, superstar lineup of global pop culture artists and will kick off with multi-platinum, award-winning singer/songwriter and "2017 Video Music Awards" nominee and performer, Shawn Mendes.


[08/17/17 - 12:55 PM]
Buddy and His Team of Skilled Bakers Return to TLC's "Cake Boss," with Early Premieres on the Network's TV Everywhere Platform, TLC GO
Look for five new episodes becoming available on TLC GO this Friday, August 18 and an additional five episodes on Friday, August 25.


[08/17/17 - 12:45 PM]
Freeform Gets Its Wings with First Original Christmas Movie, "Angry Angel," from Sony Pictures Television
From Golden Globe-nominated director and writer Will Gluck, the two-hour special holiday feature stars Jason Biggs, Brenda Song, Ricky Mabe, Andrew Bachelor and Andy Favreau.


[08/17/17 - 12:34 PM]
TBS's "Conan" Heads to Israel for a Special Primetime Episode to Air September 19
O'Brien plans to visit Tel Aviv and Jerusalem among other locales to be announced in the coming weeks.


[08/17/17 - 12:26 PM]
National Geographic Goes Inside ISIS in Powerful New Drama, "The State"
A compelling fictional story based on extensive research, "The State" follows the experiences of four young British men and women who have left their lives behind to join ISIS in Raqqah, Syria.