[09/09/13 - 11:33 AM]
TNT's "Mob City" - First Look at Key Art
The Frank Darabont-produced hour launches Wednesday, December 4 at 10:00/9:00c on the network.
---
[via press release from TNT]
TNT'S MOB CITY: FIRST LOOK AT KEY ART
TNT Unveils Key Art for Eagerly Anticipated Drama MOB CITY, from Writer-Director-Producer Frank Darabont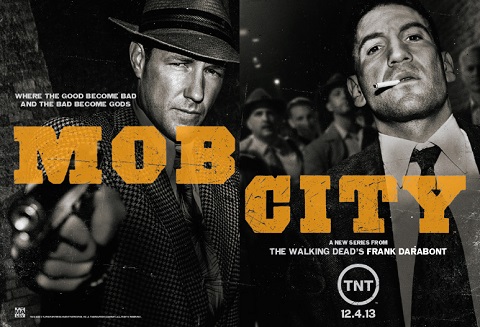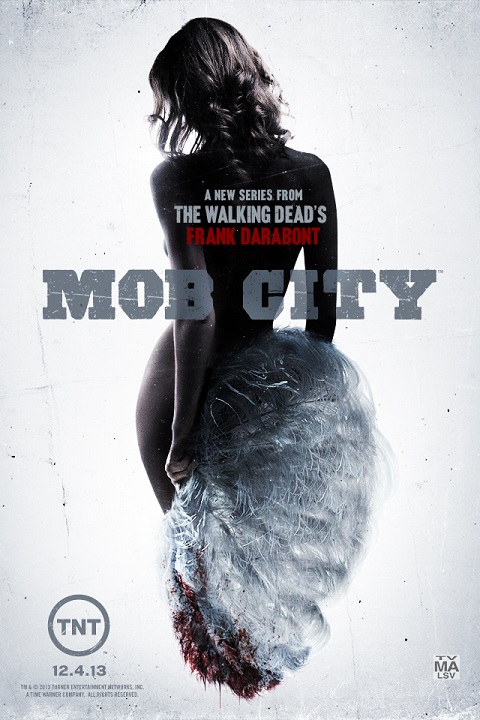 TNT has released the initial key art for its eagerly anticipated television event Mob City, the powerful drama from Frank Darabont (The Walking Dead), who wrote and directed the pilot and serves as executive producer on the series. The two images capture different aspects of the 1940s-set dama, with one featuring Mob City stars Jon Bernthal (The Walking Dead) and Ed Burns (Entourage) in a composite reminiscent of newspaper crime photos of the era. The second image shows a fan dancer from the one of the nightspots featured in the series. Mob City is set to premiere Wednesday, Dec. 4, at 10 p.m. (ET/PT).
TNT's Mob City depicts the epic battle between a determined police chief and a dangerous mobster in 1940s Los Angeles. In addition to Bernthal and Burns, the series' extraordinary ensemble cast includes Jeffrey DeMunn (The Walking Dead, The Shawshank Redemption), Neal McDonough (Captain America, Desperate Housewives), Gregory Itzin (24), Robert Knepper (Prison Break), Milo Ventimiglia (Heroes), Alexa Davalos (Clash of the Titans, The Mist) and Jeremy Luke (Don Jon). Based on the critically acclaimed book L.A. Noir: The Struggle for the Soul of America's Most Seductive City, by John Buntin, Mob City centers on Det. Joe Teague (Bernthal), an ex-Marine who holds his cards close to his chest. Teague has been assigned to a new mob task force headed by Det. Hal Morrison (DeMunn). The task force is part of a crusade by Los Angeles Police Chief William Parker (McDonough) to free the city of criminals like Ben "Bugsy" Siegel (Burns) and Mickey Cohen (Luke), the ruthless king of the Los Angeles underworld. Parker also won't hesitate to go after anyone from his own police force who sells out honor and duty for the sake of a big payout. Mob City is produced by TNT Originals. Also serving as executive producers on the series are Michael De Luca (The Social Network) and Elliot Webb (Alpha House). Alissa Phillips and Dana Renee Ashmore serve as co-executive producers, with Paul Bernard as producer.




[06/22/18 - 12:59 PM]
E!'s "Total Bellas" Hits Another Series High Pulling in Over 1.2 Million Total Viewers and 11% Increase Among W18-49
E! further spins the numbers for Sunday, June 17.


[06/22/18 - 11:56 AM]
Snoop Dogg, Ledisi, Marsha Ambrosius, Sly Pyper, Tye Tribbett to Perform and John Legend, Tyra Banks, Terry Crews, Anderson.Paak, Lakeith Stanfield to Present at "BET Awards" 2018 with Appearances by DJ Khaled, Wale and More
Hosted by Jamie Foxx, the "BET Awards" 2018 will air live on Sunday, June 24 at 8 pm ET from the Microsoft Theatre in Los Angeles, CA on BET.


[06/22/18 - 11:00 AM]
All-New Special "iHeartCountry Festival," Celebrating the Best in Country Music, To Air Sunday, August 5, on FOX
Filmed at the Frank Erwin Center in Austin, the event will feature performances by Luke Bryan, Keith Urban, Sugarland, Dustin Lynch, Cole Swindell, Maren Morris, Luke Combs, Billy Currington, Dan + Shay and Mason Ramsey, among others.


[06/22/18 - 10:08 AM]
Carlos Saldanha and Netflix Will Unveil "Invisible Cities," New Brazilian Original Series
In the series, there is an underground world inhabited by mythical creatures evolved from a deep lineage of Brazilian folklore.


[06/22/18 - 08:25 AM]
Thursday's Broadcast Ratings: CBS Repeats Top Original Competition
The Eye wins the night in total viewers, shares the adults 18-49 crown with FOX.


[06/22/18 - 08:14 AM]
NBC Cancels "Timeless," Eyes Wrap Up Movie
Executive producer Shawn Ryan confirmed both developments this morning.


[06/22/18 - 08:00 AM]
Video: Trailer for Netflix Film "How It Ends" - Starring Theo James, Forest Whitaker and Kat Graham
As a mysterious apocalypse causes the spread of misinformation and violence, a man and his estranged father-in-law race across a chaotic and fractured country to save his pregnant wife.


[06/22/18 - 06:08 AM]
"The Terror," AMC's First Anthology Series, Renewed for a Second Season
The next iteration of "The Terror" anthology will be set during World War II and center on an uncanny specter that menaces a Japanese-American community from its home in Southern California to the internment camps to the war in the Pacific.


[06/21/18 - 06:03 PM]
A Message from The Order of X - "Dear White People" Vol. 3 Renewal
"Dear White People" is a send-up of the now post "post-racial" America that weaves together a universal story of finding one's own identity and forging a wholly unique path.


[06/21/18 - 05:30 PM]
ABC Picks Up "The Conners" (Working Title) Straight to Series to Premiere This Fall
The series, featuring John Goodman, Laurie Metcalf, Sara Gilbert, Lecy Goranson and Michael Fishman as their beloved Conner characters, is set to air Tuesdays (8:00-8:30 p.m.).


[06/21/18 - 03:04 PM]
Marco Pigossi Comes to Netflix
Pigossi joins the main cast of "Tidelands," a supernatural crime drama, and the first Australian Netflix original series.


[06/21/18 - 02:49 PM]
Felicity Huffman Joins Angela Bassett and Patricia Arquette in "Otherhood" for Netflix
Cindy Chupack is directing the film, which is based on William Sutcliffe's novel "Whatever Makes You Happy."


[06/21/18 - 02:09 PM]
Netflix Makes Overall Deal with Steven S. DeKnight
Most recently, he was the writer and director on his first feature film "Pacific Rim Uprising."


[06/21/18 - 02:02 PM]
New Season of Travel Channel's "Ghost Adventures" Kicks Off with Record-Setting Ratings
Travel Channel further spins the numbers for Saturday, June 16.


[06/21/18 - 11:31 AM]
Lifetime Greenlights Trio of Movies from Global Best-Selling Author Jane Green for 2019 Movie Event
The first film in the series, "Tempting Fate," will star Alyssa Milano and begins production today in Vancouver.