[09/09/13 - 11:33 AM]
TNT's "Mob City" - First Look at Key Art
The Frank Darabont-produced hour launches Wednesday, December 4 at 10:00/9:00c on the network.
---
[via press release from TNT]
TNT'S MOB CITY: FIRST LOOK AT KEY ART
TNT Unveils Key Art for Eagerly Anticipated Drama MOB CITY, from Writer-Director-Producer Frank Darabont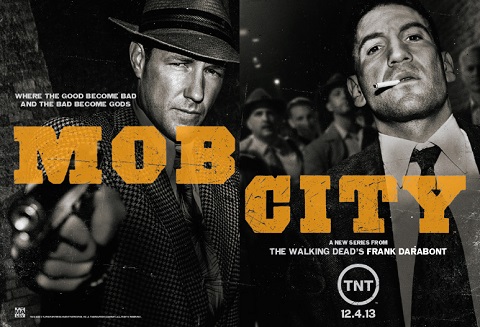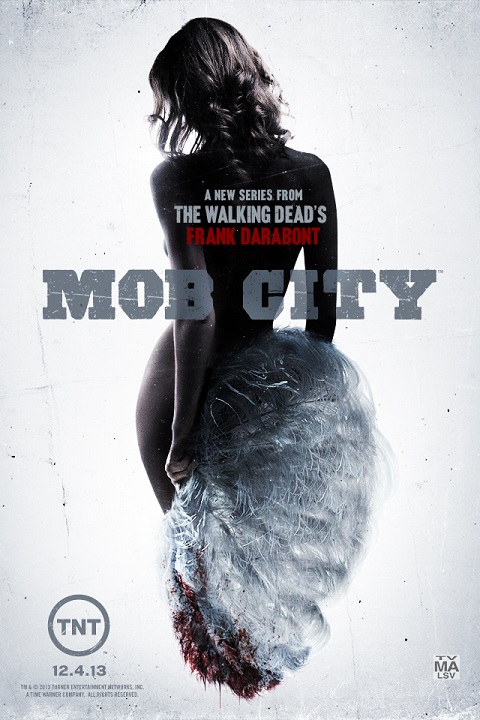 TNT has released the initial key art for its eagerly anticipated television event Mob City, the powerful drama from Frank Darabont (The Walking Dead), who wrote and directed the pilot and serves as executive producer on the series. The two images capture different aspects of the 1940s-set dama, with one featuring Mob City stars Jon Bernthal (The Walking Dead) and Ed Burns (Entourage) in a composite reminiscent of newspaper crime photos of the era. The second image shows a fan dancer from the one of the nightspots featured in the series. Mob City is set to premiere Wednesday, Dec. 4, at 10 p.m. (ET/PT).
TNT's Mob City depicts the epic battle between a determined police chief and a dangerous mobster in 1940s Los Angeles. In addition to Bernthal and Burns, the series' extraordinary ensemble cast includes Jeffrey DeMunn (The Walking Dead, The Shawshank Redemption), Neal McDonough (Captain America, Desperate Housewives), Gregory Itzin (24), Robert Knepper (Prison Break), Milo Ventimiglia (Heroes), Alexa Davalos (Clash of the Titans, The Mist) and Jeremy Luke (Don Jon). Based on the critically acclaimed book L.A. Noir: The Struggle for the Soul of America's Most Seductive City, by John Buntin, Mob City centers on Det. Joe Teague (Bernthal), an ex-Marine who holds his cards close to his chest. Teague has been assigned to a new mob task force headed by Det. Hal Morrison (DeMunn). The task force is part of a crusade by Los Angeles Police Chief William Parker (McDonough) to free the city of criminals like Ben "Bugsy" Siegel (Burns) and Mickey Cohen (Luke), the ruthless king of the Los Angeles underworld. Parker also won't hesitate to go after anyone from his own police force who sells out honor and duty for the sake of a big payout. Mob City is produced by TNT Originals. Also serving as executive producers on the series are Michael De Luca (The Social Network) and Elliot Webb (Alpha House). Alissa Phillips and Dana Renee Ashmore serve as co-executive producers, with Paul Bernard as producer.




[03/03/15 - 11:07 PM]
Development Update: Tuesday, March 3
Updates include: IFC cancels "Garfunkel & Oates"; Jon Foo set as lead in "Rush Hour" at CBS; and Jack Gore is the "Problem Child" at NBC.


[03/03/15 - 04:07 PM]
Idris Elba Steps Onto Set for "Luther" Two-Part Special
Rose Leslie, Laura Haddock, Darren Boyd, John Heffernan and Patrick Malahide also star alongside the returning Michael Smiley and Dermot Crowley.


[03/03/15 - 03:18 PM]
Spike TV Partners with Dwayne Johnson for Event Programming Development Deal
Johnson and Dany Garcia will executive produce shows ranging from big live events, specials, sports and initiatives surrounding our troops and veterans.


[03/03/15 - 03:12 PM]
"Ellen's Design Challenge" Among Highest-Rated Series in HGTV History
HGTV spins the numbers for Monday, March 2.


[03/03/15 - 02:39 PM]
"Live with Kelly and Michael" Announces Its Sixth Annual "Top Teacher Week"
From May 4-8, "Live" will honor teachers who go above and beyond for their schools, communities and students.


[03/03/15 - 02:22 PM]
Social Media Powerhouse ABC Family Delivers During February 2015 Driven by "Pretty Little Liars" and "The Fosters"
ABC Family spins the digital numbers for the month of February.


[03/03/15 - 02:21 PM]
Spike: The Ones to Watch - Network Launches New Logo and Tagline
The tagline encompasses the network's strategic shift to a general entertainment network delivering compelling original entertainment with an edge and a distinctive point of view.


[03/03/15 - 12:56 PM]
TNT Ranks as Basic Cable's #1 Network in Primetime Live + 7 Delivery of Total Viewers, Adults 18-34 and Adults 18-49
Turner further spins the numbers for the week of February 9-15.


[03/03/15 - 12:54 PM]
"48 Hours: Blaming Melissa" Is Saturday's #1 Program with Viewers and Adults 25-54
CBS spins the numbers for Saturday, February 28.


[03/03/15 - 12:37 PM]
Science Channel Skyrockets in February, Charts Best Month Ever
Science Channel spins the numbers for the month of February.


[03/03/15 - 12:31 PM]
Sarah Michelle Gellar to Star in Season 2 of "Star Wars Rebels"
Gellar will join the talented voice cast that includes her husband Freddie Prinze Jr., Vanessa Marshall, Steve Blum, Tiya Sircar, Taylor Gray and David Oyelowo.


[03/03/15 - 11:52 AM]
Nickelodeon Brings Ultimate "Kids' Choice Awards" Interactive Experiences to Kids and Families Nationwide
Beginning Saturday, March 7, Nickelodeon will launch the Kids' Choice Awards Experience, a six-city tour featuring meet and greets with Nick stars and one of-a-kind interactive elements.


[03/03/15 - 11:45 AM]
Ovation TV Greenlights Production on Original Documentary Film, "Ford's Theatre: America's Playhouse"
The project is being co-produced by Ovation Studios and 1895 Films and is set to premiere on April 14 at 10:00/9:00c.


[03/03/15 - 11:13 AM]
truTV Says Yes They Can to The Grawlix's "Those Who Can't," As Network Greenlights Its First-Ever Full-Length Scripted Comedy
The comedy about a trio of frustrated high school teachers stars show creators Adam Cayton-Holland, Andrew Orvedahl and Ben Roy, members of the Denver-based comedy troupe The Grawlix.


[03/03/15 - 11:11 AM]
Spike TV Orders Eight More Episodes of "Lip Sync Battle"
The featured performers for the new eight episodes include Emily Blunt, Anne Hathaway, Terrence Howard, Taraji P. Henson, Justin Bieber, Queen Latifah, Will Arnett, Alison Brie, Mike Tyson and Terry Crews.