[09/09/13 - 11:33 AM]
TNT's "Mob City" - First Look at Key Art
The Frank Darabont-produced hour launches Wednesday, December 4 at 10:00/9:00c on the network.
---
[via press release from TNT]
TNT'S MOB CITY: FIRST LOOK AT KEY ART
TNT Unveils Key Art for Eagerly Anticipated Drama MOB CITY, from Writer-Director-Producer Frank Darabont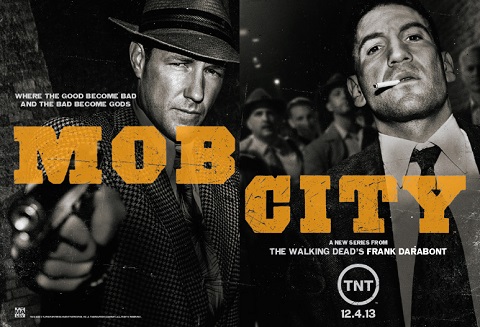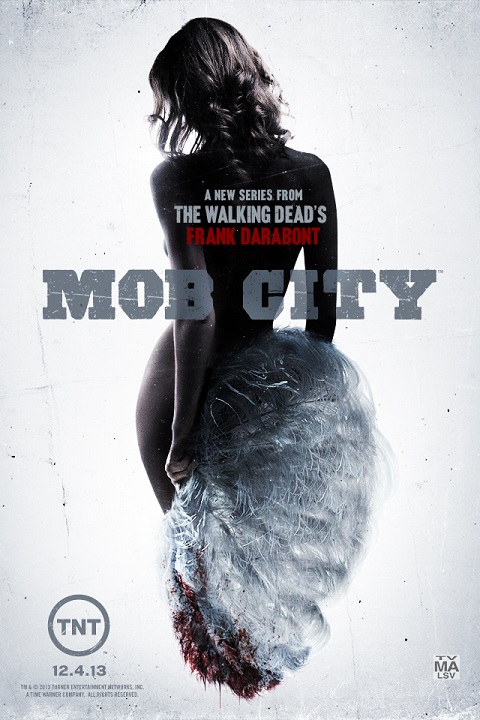 TNT has released the initial key art for its eagerly anticipated television event Mob City, the powerful drama from Frank Darabont (The Walking Dead), who wrote and directed the pilot and serves as executive producer on the series. The two images capture different aspects of the 1940s-set dama, with one featuring Mob City stars Jon Bernthal (The Walking Dead) and Ed Burns (Entourage) in a composite reminiscent of newspaper crime photos of the era. The second image shows a fan dancer from the one of the nightspots featured in the series. Mob City is set to premiere Wednesday, Dec. 4, at 10 p.m. (ET/PT).
TNT's Mob City depicts the epic battle between a determined police chief and a dangerous mobster in 1940s Los Angeles. In addition to Bernthal and Burns, the series' extraordinary ensemble cast includes Jeffrey DeMunn (The Walking Dead, The Shawshank Redemption), Neal McDonough (Captain America, Desperate Housewives), Gregory Itzin (24), Robert Knepper (Prison Break), Milo Ventimiglia (Heroes), Alexa Davalos (Clash of the Titans, The Mist) and Jeremy Luke (Don Jon). Based on the critically acclaimed book L.A. Noir: The Struggle for the Soul of America's Most Seductive City, by John Buntin, Mob City centers on Det. Joe Teague (Bernthal), an ex-Marine who holds his cards close to his chest. Teague has been assigned to a new mob task force headed by Det. Hal Morrison (DeMunn). The task force is part of a crusade by Los Angeles Police Chief William Parker (McDonough) to free the city of criminals like Ben "Bugsy" Siegel (Burns) and Mickey Cohen (Luke), the ruthless king of the Los Angeles underworld. Parker also won't hesitate to go after anyone from his own police force who sells out honor and duty for the sake of a big payout. Mob City is produced by TNT Originals. Also serving as executive producers on the series are Michael De Luca (The Social Network) and Elliot Webb (Alpha House). Alissa Phillips and Dana Renee Ashmore serve as co-executive producers, with Paul Bernard as producer.




[08/04/15 - 04:40 PM]
David Alan Grier Gives Paws to the Cowardly Lion in NBC's "The Wiz Live!"
Grier will play the Cowardly Lion, who asks Dorothy if he can join her in her journey down the Yellow Brick Road and ask the Wiz for some courage, which he is severely lacking.


[08/04/15 - 03:22 PM]
Floyd Mayweather to Face Andre Berto Saturday, Sept. 12 at MGM Grand Garden Arena Live on Showtime PPV(R)
If triumphant, Mayweather would match the record of the late heavyweight champion Rocky Marciano, who retired in April 1956 with a record of 49-0.


[08/04/15 - 02:08 PM]
Rousey Wave Swells Numbers for FOX Sports 1
FOX Sports spins the numbers for Saturday, August 1.


[08/04/15 - 12:54 PM]
Syfy and Universal Cable Productions' "The Magicians" Begins Season One Production in Vancouver
The 13 episode season will air in early 2016 on Syfy.


[08/04/15 - 12:07 PM]
Disney's "Descendants" Powers Disney Channel to Primetime Sweep and Over 1-Year Highs
Disney Channel spins the numbers for the week of July 27-August 2.


[08/04/15 - 12:02 PM]
Casting News: "DC's Legends of Tomorrow" Gets Savage
Danish actor Casper Crump has been cast as the immortal Vandal Savage.


[08/04/15 - 11:26 AM]
Animal Planet Runs 12-Hour Marathon of Lion Programming, Dedicated to Cecil the Lion, On August 10 -- World Lion Day
Animal Planet's roaring about World Lion Day to honor the majestic lion - one of the most revered species on the planet - whose numbers are in decline.


[08/04/15 - 11:20 AM]
ABC Announces Kristen Bell Will Host "It's Your 50th Christmas, Charlie Brown" Special, Airing November 30
The anniversary special will celebrate 50 years of the iconic classic that has brought joy and a television watching tradition at the holidays for generations of fans.


[08/04/15 - 11:07 AM]
"48 Hours: Fall from Grace" Is Saturday's #1 Program with Adults 25-54 and Viewers
CBS spins the numbers for Saturday, August 1.


[08/04/15 - 10:37 AM]
Showtime(R) Sets World Television Premiere Date for "Prophet's Prey"
The film, due on Saturday, October 10, focuses on the tyrannical cult leader Warren Jeffs.


[08/04/15 - 10:37 AM]
FOX Sports Telecasts Premier Boxing Champions Under Multi-Year Media Rights Deal
FOX Sports 1 premieres "Toe-to-Toe Tuesdays," a new, live primetime boxing series on Tuesday, Sept. 8 (9:00 PM ET), which continues for a total of 21 shows through the end of June.


[08/04/15 - 10:32 AM]
The Jackson Family Legacy Lives on in New Series, "The Jacksons: Next Generation," Premiering October 2nd on Lifetime
The series focuses on the third generation of the famed Jackson family - Taj, Taryll and TJ - Tito Jackson's sons and nephews of the famed Jackson 5.


[08/04/15 - 10:26 AM]
Video: "Sneaky Pete" Trailer Starring Giovanni Ribisi and Guest Starring Bryan Cranston!
The pilot is executive produced by David Shore, Bryan Cranston and Seth Gordon and will be available on Amazon for free for only 30 days beginning this Friday, August 7.


[08/04/15 - 10:11 AM]
Video: El Rey Network and Miramax(R) Release Robert Rodriguez Featurette from Season Two of the Supernatural Crime Saga "From Dusk Till Dawn: The Series"
Rodriguez gives viewers an exclusive glimpse at the new season.


[08/04/15 - 10:04 AM]
"Drunk History" Season 3 Premieres Tuesday, September 1 at 10:30 p.m. on Comedy Central
Tony Hale, Greg Kinnear, Justin Long, Christopher Meloni, Stephen Merchant and Jason Ritter guest star in the season opener.