[09/09/13 - 11:33 AM]
TNT's "Mob City" - First Look at Key Art
The Frank Darabont-produced hour launches Wednesday, December 4 at 10:00/9:00c on the network.
---
[via press release from TNT]
TNT'S MOB CITY: FIRST LOOK AT KEY ART
TNT Unveils Key Art for Eagerly Anticipated Drama MOB CITY, from Writer-Director-Producer Frank Darabont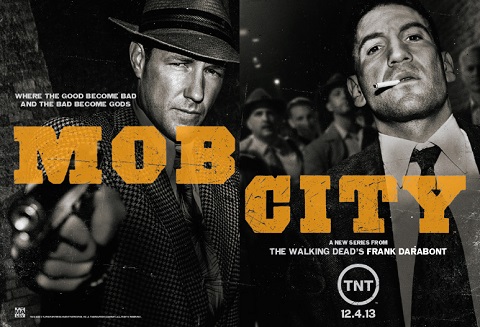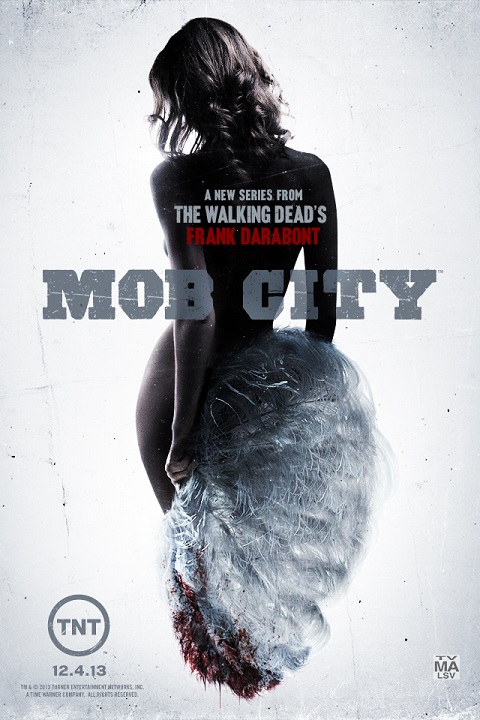 TNT has released the initial key art for its eagerly anticipated television event Mob City, the powerful drama from Frank Darabont (The Walking Dead), who wrote and directed the pilot and serves as executive producer on the series. The two images capture different aspects of the 1940s-set dama, with one featuring Mob City stars Jon Bernthal (The Walking Dead) and Ed Burns (Entourage) in a composite reminiscent of newspaper crime photos of the era. The second image shows a fan dancer from the one of the nightspots featured in the series. Mob City is set to premiere Wednesday, Dec. 4, at 10 p.m. (ET/PT).
TNT's Mob City depicts the epic battle between a determined police chief and a dangerous mobster in 1940s Los Angeles. In addition to Bernthal and Burns, the series' extraordinary ensemble cast includes Jeffrey DeMunn (The Walking Dead, The Shawshank Redemption), Neal McDonough (Captain America, Desperate Housewives), Gregory Itzin (24), Robert Knepper (Prison Break), Milo Ventimiglia (Heroes), Alexa Davalos (Clash of the Titans, The Mist) and Jeremy Luke (Don Jon). Based on the critically acclaimed book L.A. Noir: The Struggle for the Soul of America's Most Seductive City, by John Buntin, Mob City centers on Det. Joe Teague (Bernthal), an ex-Marine who holds his cards close to his chest. Teague has been assigned to a new mob task force headed by Det. Hal Morrison (DeMunn). The task force is part of a crusade by Los Angeles Police Chief William Parker (McDonough) to free the city of criminals like Ben "Bugsy" Siegel (Burns) and Mickey Cohen (Luke), the ruthless king of the Los Angeles underworld. Parker also won't hesitate to go after anyone from his own police force who sells out honor and duty for the sake of a big payout. Mob City is produced by TNT Originals. Also serving as executive producers on the series are Michael De Luca (The Social Network) and Elliot Webb (Alpha House). Alissa Phillips and Dana Renee Ashmore serve as co-executive producers, with Paul Bernard as producer.




[10/26/16 - 12:45 PM]
New Comedy "The Mick," Starring Kaitlin Olson, to Premiere Sunday, January 1, After NFL Doubleheader, on FOX
The series will then regularly air Tuesday nights following "New Girl."


[10/26/16 - 11:42 AM]
Samantha Bee Interviews Her First Male President, Barack Obama
Said installment of "Full Frontal with Samantha Bee" airs Monday, October 31 at 10:30/9:30c on TBS.


[10/26/16 - 11:00 AM]
Starz Adds Michael Nyqvist, Nazanin Boniadi, Nicholas Pinnock and Sara Serraiocco to Spy Thriller "Counterpart"
The espionage thriller with a metaphysical twist also stars Oscar(R) winner J.K. Simmons, Olivia Williams and Harry Lloyd.


[10/26/16 - 10:32 AM]
Weinstein Television's Epic Scripted Event Series "Waco," Lands on Spike TV
Previously announced in August, the six-part event series is based on the harrowing true story of the 1993 FBI siege of a religious sect in Waco, Texas that resulted in the deadly shoot out and fire.


[10/26/16 - 10:32 AM]
"Broad City" Original Series Soundtrack Available Friday, October 28 via Milan Records in Association with Comedy Central Records
The album artwork and packaging is designed by artist Mike Perry, who is also the creator of the animated show opener for "Broad City," and features an insert with spliff-rolling instructions.


[10/26/16 - 10:23 AM]
The CW Gets Into the Spirit with Its Schedule of Upcoming Holiday Specials
New this holiday season, The CW will broadcast an original holiday special, "Terry Crews Saves Christmas," for five hour-long episodes across four consecutive nights, starting Tuesday, December 20.


[10/26/16 - 10:09 AM]
WGN America's Hit Supernatural Thriller "Salem" Returns Halloween Week Wednesday, November 2 at 9:00 PM ET/PT
In advance of the premiere, the network released a riveting new trailer featuring a gruesome twist on "Cats Cradle."


[10/26/16 - 09:26 AM]
Tuesday's Broadcast Ratings: World Series Opens on Top for FOX
The network's coverage is up more than 17% among adults 18-49 from last year.


[10/26/16 - 09:01 AM]
Disney Begins Production on New "Muppet Babies" Series, Slated to Debut in Early 2018
Geared towards kids 4-7, each episode will feature two 11-minute stories that follow the Muppet Babies on various adventures as they let their imaginations take them to the farthest corners of the universe.


[10/26/16 - 09:00 AM]
Esquire Network Teams Up with Nick Offerman and the Movember Foundation to Throw a "'Stache Bash" to Raise Awareness of Men's Health
Take a look at Nick chatting about moustaches and tune in to the marathon to see the best of the beards and flavor savers.


[10/26/16 - 08:56 AM]
Travel Channel Says Week of December 25 Is the Perfect Time for a "Chill-cation"
Travel Channel's favorite experts and explorers - Josh Gates, Jack Maxwell, Anthony Melchiorri, Don Wildman, Andrew Zimmern and Zak Bagans - will lead ultimate chilly escapes with ice-themed episodes of the network's most popular series.


[10/26/16 - 08:32 AM]
ABC Brings You "Home for the Holidays" with Series and Specials from Thanksgiving Through the New Year
Highlights include new seasons of "The Great Christmas Light Fight" and the re-monikered "The Great American Baking Show."


[10/26/16 - 08:16 AM]
Cubs vs. Indians Delivers Best Metered Market Rating for Game 1 of the World Series Since 2009
FOX Sports spins the numbers for Tuesday, October 25.


[10/26/16 - 07:47 AM]
2016 MTV EMAS Embraces Fans-First Innovation
The 2016 MTV EMAs are the first-ever awards show to launch a Facebook Messenger interactive bot to give fans an exclusive way to engage with the live show.


[10/26/16 - 07:02 AM]
National Geographic Goes "Further" - Company Announces Global Rebrand Extending Across Entire Organization
The rebrand will coincide with the global event series premiere of "Mars," the epic story of mankind's thrilling quest to colonize Mars, from executive producers Brian Grazer and Ron Howard, on Monday, November 14.