[09/09/13 - 11:33 AM]
TNT's "Mob City" - First Look at Key Art
The Frank Darabont-produced hour launches Wednesday, December 4 at 10:00/9:00c on the network.
---
[via press release from TNT]
TNT'S MOB CITY: FIRST LOOK AT KEY ART
TNT Unveils Key Art for Eagerly Anticipated Drama MOB CITY, from Writer-Director-Producer Frank Darabont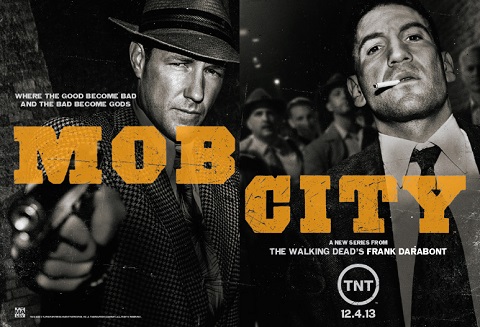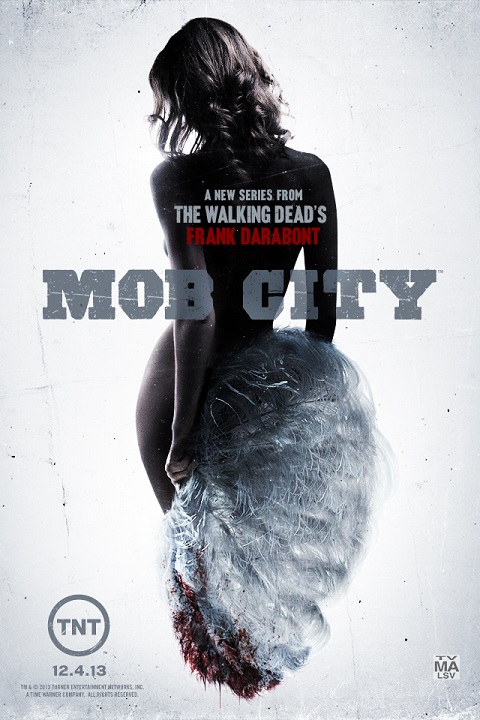 TNT has released the initial key art for its eagerly anticipated television event Mob City, the powerful drama from Frank Darabont (The Walking Dead), who wrote and directed the pilot and serves as executive producer on the series. The two images capture different aspects of the 1940s-set dama, with one featuring Mob City stars Jon Bernthal (The Walking Dead) and Ed Burns (Entourage) in a composite reminiscent of newspaper crime photos of the era. The second image shows a fan dancer from the one of the nightspots featured in the series. Mob City is set to premiere Wednesday, Dec. 4, at 10 p.m. (ET/PT).
TNT's Mob City depicts the epic battle between a determined police chief and a dangerous mobster in 1940s Los Angeles. In addition to Bernthal and Burns, the series' extraordinary ensemble cast includes Jeffrey DeMunn (The Walking Dead, The Shawshank Redemption), Neal McDonough (Captain America, Desperate Housewives), Gregory Itzin (24), Robert Knepper (Prison Break), Milo Ventimiglia (Heroes), Alexa Davalos (Clash of the Titans, The Mist) and Jeremy Luke (Don Jon). Based on the critically acclaimed book L.A. Noir: The Struggle for the Soul of America's Most Seductive City, by John Buntin, Mob City centers on Det. Joe Teague (Bernthal), an ex-Marine who holds his cards close to his chest. Teague has been assigned to a new mob task force headed by Det. Hal Morrison (DeMunn). The task force is part of a crusade by Los Angeles Police Chief William Parker (McDonough) to free the city of criminals like Ben "Bugsy" Siegel (Burns) and Mickey Cohen (Luke), the ruthless king of the Los Angeles underworld. Parker also won't hesitate to go after anyone from his own police force who sells out honor and duty for the sake of a big payout. Mob City is produced by TNT Originals. Also serving as executive producers on the series are Michael De Luca (The Social Network) and Elliot Webb (Alpha House). Alissa Phillips and Dana Renee Ashmore serve as co-executive producers, with Paul Bernard as producer.




[07/29/16 - 01:03 PM]
National Geographic Channel Greenlights Global Scripted Event Series Based on Martha Raddatz's New York Times Best-Seller, "The Long Road Home"
Screenwriter Mikko Alanne ("The 33") is adapting and also executive producing this epic story of survival for television.


[07/29/16 - 01:02 PM]
National Geographic Channel, Imagine Entertainment and RadicalMedia Redefine Television Storytelling with "Mars" - An Unprecedented Global Event Series
The project premieres on the National Geographic Channel in 171 countries and 45 languages this November.


[07/29/16 - 01:01 PM]
USA Network Sets "Chrisley Knows Best" Mid-Season Return for Tuesday, August 23 with Two New Back-to-Back Episodes
The network previously extended the current season, bringing the total to 26 episodes, and has already announced a pick up for a Season 5, set to air next year.


[07/29/16 - 12:12 PM]
Animal Planet Celebrates "World Lion Day" with a Marathon of Lion Programming on August 10
Highlights include the all-new special "Clash of Africa's Giants," which gives audiences a look inside the lives of one of Africa's growing prides on a quest for survival.


[07/29/16 - 11:45 AM]
FOX Orders Second Season of Competition Series "American Grit"
Season two is currently casting the next group of men and women who are ready to find their inner strength and transform their lives for the better.


[07/29/16 - 11:30 AM]
Video: "Killing Reagan" - Trailer
The National Geographic Channel original movie premieres Sunday October 16 at 9:00/8:00c.


[07/29/16 - 11:02 AM]
Video: Miramax(R) and El Rey Network Release Trailer from Season Three of the El Rey Network Original "From Dusk Till Dawn: The Series"
This season the Gecko brothers find themselves in the vortex of the culebra world, thrust into a fight against the forces of Hel as they assemble an unlikely crew to take on the new enemies determined to take them down.


[07/29/16 - 10:33 AM]
"The Circus" Returns This September for the Final Act of the 2016 Election
Sunday night's episode marks the final episode in the series' summer run.


[07/29/16 - 09:26 AM]
El Rey Network Now Available on Verizon Fios
El Rey will be included in the Ultimate, Preferred, Mundo and Mundo Total TV plans on channel 198.


[07/29/16 - 09:07 AM]
Thursday's Broadcast Ratings: CBS, "Big Brother" Top Charts
The Eye claims the adults 18-49 and the total viewers crown.


[07/29/16 - 08:33 AM]
Family, Food and Fun Rule the Road in Primetime Series "The Great Food Truck Race: Family Face-Off"
The five-episode stunt launches Sunday, August 28 at 9:00/8:00c on Food Network.


[07/29/16 - 08:31 AM]
"Teen Choice 2016" and Rock the Vote Partner to Inspire Teens to Weigh in on Who Should Be the Next President
The results of the youth poll will be revealed during the live broadcast airing this Sunday, July 31 on FOX.


[07/28/16 - 06:45 PM]
TV One Premieres Film Festival Sensation "Jean of the Joneses" on Sunday, October 23 at 7 P.M. ET
The network's latest original movie centers on 25-year-old Jean, portrayed in a break-out performance by Taylour Paige, and her multi-generational, middle-class family of strong-minded yet loving women.


[07/28/16 - 02:30 PM]
Kobe Bryant to Present Decade Award to Justin Timberlake at "Teen Choice 2016," Airing Live This Sunday, July 31, on FOX!
Lea Michele, Sarah Hyland, NE-YO, Chris Evans, Daisy Ridley, Shay Mitchell and Ashley Benson are also among the celebrities scheduled to appear.


[07/28/16 - 01:58 PM]
TV One Delivers a Knockout Punch with New Original Film "Ringside," Premiering Sunday, Sept. 4 at 7 P.M. ET
The film stars Tyler Lepley as undefeated boxer Jaxon Holley and explores the personal battles he faces outside of the ring while preparing for the biggest fight of his career.