[09/09/13 - 11:33 AM]
TNT's "Mob City" - First Look at Key Art
The Frank Darabont-produced hour launches Wednesday, December 4 at 10:00/9:00c on the network.
---
[via press release from TNT]
TNT'S MOB CITY: FIRST LOOK AT KEY ART
TNT Unveils Key Art for Eagerly Anticipated Drama MOB CITY, from Writer-Director-Producer Frank Darabont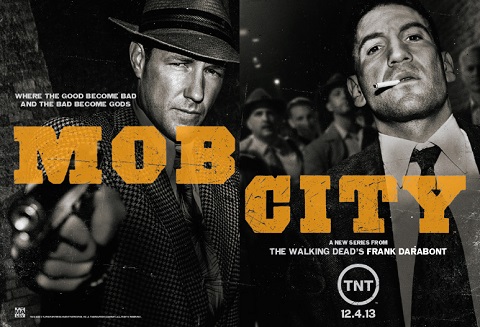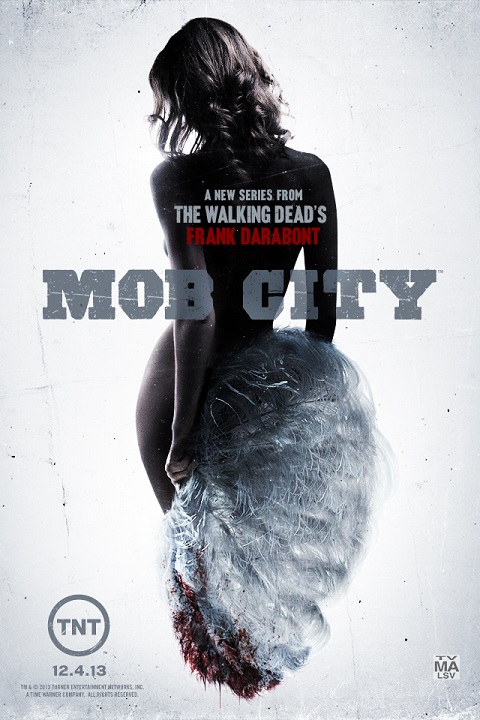 TNT has released the initial key art for its eagerly anticipated television event Mob City, the powerful drama from Frank Darabont (The Walking Dead), who wrote and directed the pilot and serves as executive producer on the series. The two images capture different aspects of the 1940s-set dama, with one featuring Mob City stars Jon Bernthal (The Walking Dead) and Ed Burns (Entourage) in a composite reminiscent of newspaper crime photos of the era. The second image shows a fan dancer from the one of the nightspots featured in the series. Mob City is set to premiere Wednesday, Dec. 4, at 10 p.m. (ET/PT).
TNT's Mob City depicts the epic battle between a determined police chief and a dangerous mobster in 1940s Los Angeles. In addition to Bernthal and Burns, the series' extraordinary ensemble cast includes Jeffrey DeMunn (The Walking Dead, The Shawshank Redemption), Neal McDonough (Captain America, Desperate Housewives), Gregory Itzin (24), Robert Knepper (Prison Break), Milo Ventimiglia (Heroes), Alexa Davalos (Clash of the Titans, The Mist) and Jeremy Luke (Don Jon). Based on the critically acclaimed book L.A. Noir: The Struggle for the Soul of America's Most Seductive City, by John Buntin, Mob City centers on Det. Joe Teague (Bernthal), an ex-Marine who holds his cards close to his chest. Teague has been assigned to a new mob task force headed by Det. Hal Morrison (DeMunn). The task force is part of a crusade by Los Angeles Police Chief William Parker (McDonough) to free the city of criminals like Ben "Bugsy" Siegel (Burns) and Mickey Cohen (Luke), the ruthless king of the Los Angeles underworld. Parker also won't hesitate to go after anyone from his own police force who sells out honor and duty for the sake of a big payout. Mob City is produced by TNT Originals. Also serving as executive producers on the series are Michael De Luca (The Social Network) and Elliot Webb (Alpha House). Alissa Phillips and Dana Renee Ashmore serve as co-executive producers, with Paul Bernard as producer.




[10/31/14 - 03:43 PM]
TNT Greenlights High-Octane Drama "Agent X," Starring Jeff Hephner, Sharon Stone and Gerald McRaney
The network has ordered 10 episodes for the first season of the series, with plans to launch in the second half of 2015.


[10/31/14 - 03:27 PM]
NBC Passes on Back Nine for "Bad Judge," "A to Z"
Said development will spell the end of both series after 13 episodes.


[10/31/14 - 02:08 PM]
The Season Premiere of "Mom" Delivers Series High Ratings
CBS spins the numbers for Thursday, October 30.


[10/31/14 - 12:55 PM]
ABC to Air Charles Schulz' Animated Classic, "A Charlie Brown Thanksgiving," Wednesday, November 26
A special bonus cartoon from Charles M. Schulz, "This Is America, Charlie Brown: The Mayflower Voyagers," will air with the Peanuts classic.


[10/31/14 - 12:43 PM]
"Northmen - A Viking Saga" Acquired for Distribution and Premium Pay TV Deal with Starz
The film is directed by Claudio Fäh and produced by Ralph S. Dietrich.


[10/31/14 - 12:38 PM]
FOX Premieres: 30-Day Multi-Platform Totals
FOX further spins the numbers for the season to date.


[10/31/14 - 10:12 AM]
Iggy Azalea to Perform at the 2014 American Music Awards(R)
She joins a star-studded lineup of previously announced must-see performers including 5 Seconds of Summer, Charli XCX, Mary J. Blige, Fergie, Lorde, One Direction, Sam Smith and the evening's host, Pitbull.


[10/31/14 - 09:36 AM]
PBS to Air Second Season of Shine International's Boisterous Sitcom "Vicious" Stateside, Summer 2015
Following a re-commission by UK broadcaster ITV, the series will return with Freddie (Sir Ian McKellen) and Stuart (Sir Derek Jacobi) delivering more biting remarks, snide comments and cruel asides.


[10/31/14 - 08:46 AM]
"Parenthood" Retains 92% of Last Week in Adults 18-49 and 97% in Total Viewers
NBC spins the numbers for Thursday, October 30.


[10/31/14 - 08:34 AM]
Thursday's Broadcast Ratings: ABC Edges CBS for Demo Crown
The Alphabet snaps the Eye's seven week win streak among adults 18-49.


[10/31/14 - 08:12 AM]
ABC Beats CBS' Thursday Night Premieres to Win the Opening Night Of the November Sweep for the 2nd Straight Year in Adults 18-49
ABC spins the numbers for Thursday, October 30.


[10/31/14 - 07:50 AM]
Global Mystery Solved: Investigation Discovery Did It!
Since Investigation Discovery debuted in February 2008, it has been one of the fastest-growing networks in U.S. cable television and has seen a parallel growth track internationally.


[10/31/14 - 07:32 AM]
USA Network to Air Academy Award(R) Nominated Film "Do the Right Thing" with Special Introduction by Critically Acclaimed Lead Actress Rosie Perez
On Saturday, November 1, USA Network will air the Spike Lee film, that sparked a national dialogue more than two decades ago about racial tension in America and which still remains relevant today.


[10/31/14 - 03:01 AM]
Death-Defying Stunts and Famous Cars Take Center Stage in Two New Original Reality Series
"Extreme Escapes" (Saturday, November 29) and "Screen Machines" (Tuesday, December 2) are both on tap at ReelzChannel in the coming weeks.


[10/30/14 - 02:50 PM]
"The Meredith Vieira Show" Renewed for Second Season on NBC Owned Television Stations
"'The Meredith Vieira Show' has the full commitment and support of NBCUniversal and we could not be happier to bring it back for a second season," said Ed Swindler.