[09/09/13 - 11:33 AM]
TNT's "Mob City" - First Look at Key Art
The Frank Darabont-produced hour launches Wednesday, December 4 at 10:00/9:00c on the network.
---
[via press release from TNT]
TNT'S MOB CITY: FIRST LOOK AT KEY ART
TNT Unveils Key Art for Eagerly Anticipated Drama MOB CITY, from Writer-Director-Producer Frank Darabont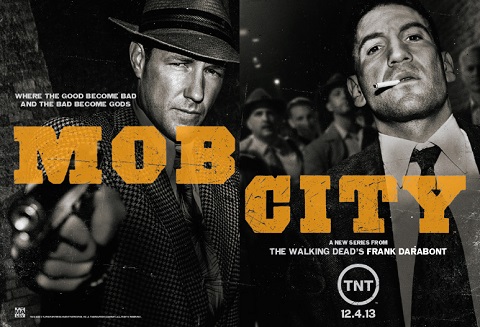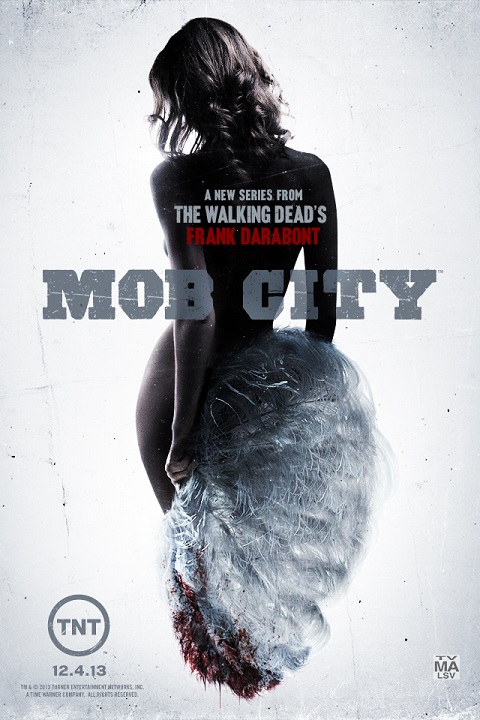 TNT has released the initial key art for its eagerly anticipated television event Mob City, the powerful drama from Frank Darabont (The Walking Dead), who wrote and directed the pilot and serves as executive producer on the series. The two images capture different aspects of the 1940s-set dama, with one featuring Mob City stars Jon Bernthal (The Walking Dead) and Ed Burns (Entourage) in a composite reminiscent of newspaper crime photos of the era. The second image shows a fan dancer from the one of the nightspots featured in the series. Mob City is set to premiere Wednesday, Dec. 4, at 10 p.m. (ET/PT).
TNT's Mob City depicts the epic battle between a determined police chief and a dangerous mobster in 1940s Los Angeles. In addition to Bernthal and Burns, the series' extraordinary ensemble cast includes Jeffrey DeMunn (The Walking Dead, The Shawshank Redemption), Neal McDonough (Captain America, Desperate Housewives), Gregory Itzin (24), Robert Knepper (Prison Break), Milo Ventimiglia (Heroes), Alexa Davalos (Clash of the Titans, The Mist) and Jeremy Luke (Don Jon). Based on the critically acclaimed book L.A. Noir: The Struggle for the Soul of America's Most Seductive City, by John Buntin, Mob City centers on Det. Joe Teague (Bernthal), an ex-Marine who holds his cards close to his chest. Teague has been assigned to a new mob task force headed by Det. Hal Morrison (DeMunn). The task force is part of a crusade by Los Angeles Police Chief William Parker (McDonough) to free the city of criminals like Ben "Bugsy" Siegel (Burns) and Mickey Cohen (Luke), the ruthless king of the Los Angeles underworld. Parker also won't hesitate to go after anyone from his own police force who sells out honor and duty for the sake of a big payout. Mob City is produced by TNT Originals. Also serving as executive producers on the series are Michael De Luca (The Social Network) and Elliot Webb (Alpha House). Alissa Phillips and Dana Renee Ashmore serve as co-executive producers, with Paul Bernard as producer.




[08/27/14 - 09:13 AM]
"Mr. Pickles" and "Squidbillies" Dominate With an Animation Doubleheader!
Look for both series on Sunday nights beginning September 21 at 11:30/10:30c.


[08/27/14 - 09:04 AM]
MTV's Hit Matchmaking Series "Are You the One?" Returns on Monday, October 6 at 10:00 P.M. ET/PT
Adding to the drama this season is a twist that will make finding the perfect match more challenging, as an eleventh girl will join the house as a double match for one of the guys.


[08/27/14 - 09:01 AM]
CBS Announces the 18 Castaways Competing on "Survivor"
The Emmy Award-winning series returns for its 29th season with a special 90-minute premiere, Wednesday, September 24 at 8:00/7:00c.


[08/27/14 - 08:51 AM]
"America's Got Talent" Wins Its Two-Hour Time Period Among the Big 4 by a Margin of 91% and by 65% in Total Viewers
NBC spins the numbers for Tuesday, August 26.


[08/27/14 - 08:35 AM]
Tuesday's Broadcast Ratings: Another Week, Another "Got Talent" Win for NBC
The show's latest installment leads the night in both total viewers and adults 18-49.


[08/27/14 - 08:32 AM]
Night 2 "Bachelor in Paradise" 2-Night Event Holds Steady from Night 1 In Total Viewers and Adults 18-49
ABC spins the numbers for Tuesday, August 26.


[08/27/14 - 08:31 AM]
El Rey Network and Mark Burnett's One Three Media Announce Production Start on "Lucha Underground"
The character-driven, freestyle wrestling series is set to debut Wednesday, October 8 at 8:00/7:00c.


[08/27/14 - 08:31 AM]
Bounce TV Announces Bounce TV Summer Music Festival 2014
Perennial R&B powerhouse Maze featuring Frankie Beverly and Grammy(R)-Award winning great Patti LaBelle will headline the 11-city tour which launches in Dallas on August 29.


[08/27/14 - 08:13 AM]
Relive the Craziest Moments in "Ink Master" History and Vote on the Most Insane Moment During "You Choose Live" Before Season Five Premiere
"You Choose Live" telecasts immediately before the season five premiere of "Ink Master," airing Tuesday, September 2.


[08/27/14 - 08:07 AM]
American Heroes Channel Presents World Television Premiere of Critically Acclaimed Documentary Film "The Hornet's Nest" on Thursday, September 11 at 9/8c
The film follows Emmy Award-winning journalists Mike Boettcher and his son, Carlos Boettcher, as they are embedded with U.S. forces fighting on the front lines in Afghanistan.


[08/27/14 - 08:04 AM]
Three Episodes of Cinemax Series "The Knick" to Be Presented on HBO on Labor Day
Following a hiatus this week, "The Knick" returns with new episodes on Friday, September 5 at 10:00/9:00c.


[08/27/14 - 06:04 AM]
Amazon to Debut Jill Soloway's Highly-Anticipated Dark Comedy "Transparent" on September 26 in the US and UK
Jeffrey Tambor, Judith Light, Gaby Hoffmann, Amy Landecker and Jay Duplass star in the 10-episode series.


[08/27/14 - 06:00 AM]
Fan Favorite Chris Soules Searches for Love Again on ABC's Hit Romance Reality Series, "The Bachelor," When It Returns to ABC in January 2015
Soules, the stylish farmer from Iowa, was sent home by Andi Dorfman on "The Bachelorette."


[08/26/14 - 03:03 PM]
Video: Two New Teasers for "American Horror Story: Freak Show"
Get your first taste of the franchise's newest installment, premiering Wednesday, October 8 at 10:00/9:00c on FX.


[08/26/14 - 02:26 PM]
2015 NBC Sports Group NASCAR Sprint Cup and Nationwide Series Schedules Announced
NBC's coverage of the 2015 NASCAR Sprint Cup Series begins Sunday, July 5 with flag-to-flag coverage from Daytona in primetime, while Nationwide Series coverage begins Saturday, July 4.