[09/09/13 - 11:33 AM]
TNT's "Mob City" - First Look at Key Art
The Frank Darabont-produced hour launches Wednesday, December 4 at 10:00/9:00c on the network.
---
[via press release from TNT]
TNT'S MOB CITY: FIRST LOOK AT KEY ART
TNT Unveils Key Art for Eagerly Anticipated Drama MOB CITY, from Writer-Director-Producer Frank Darabont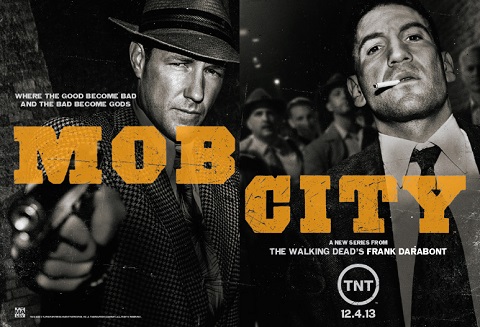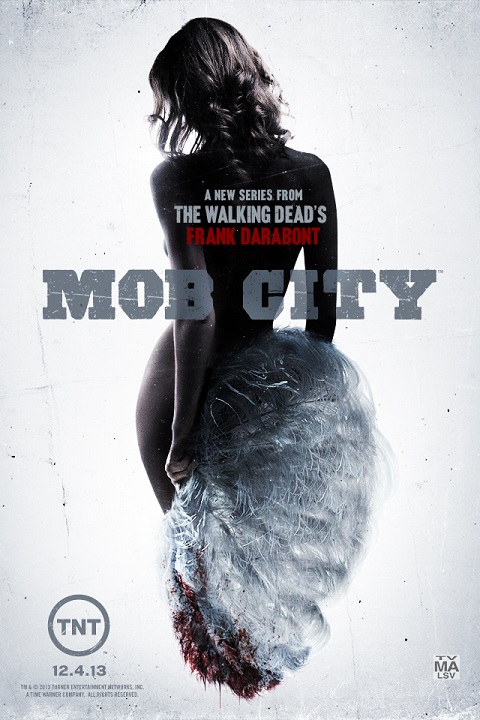 TNT has released the initial key art for its eagerly anticipated television event Mob City, the powerful drama from Frank Darabont (The Walking Dead), who wrote and directed the pilot and serves as executive producer on the series. The two images capture different aspects of the 1940s-set dama, with one featuring Mob City stars Jon Bernthal (The Walking Dead) and Ed Burns (Entourage) in a composite reminiscent of newspaper crime photos of the era. The second image shows a fan dancer from the one of the nightspots featured in the series. Mob City is set to premiere Wednesday, Dec. 4, at 10 p.m. (ET/PT).
TNT's Mob City depicts the epic battle between a determined police chief and a dangerous mobster in 1940s Los Angeles. In addition to Bernthal and Burns, the series' extraordinary ensemble cast includes Jeffrey DeMunn (The Walking Dead, The Shawshank Redemption), Neal McDonough (Captain America, Desperate Housewives), Gregory Itzin (24), Robert Knepper (Prison Break), Milo Ventimiglia (Heroes), Alexa Davalos (Clash of the Titans, The Mist) and Jeremy Luke (Don Jon). Based on the critically acclaimed book L.A. Noir: The Struggle for the Soul of America's Most Seductive City, by John Buntin, Mob City centers on Det. Joe Teague (Bernthal), an ex-Marine who holds his cards close to his chest. Teague has been assigned to a new mob task force headed by Det. Hal Morrison (DeMunn). The task force is part of a crusade by Los Angeles Police Chief William Parker (McDonough) to free the city of criminals like Ben "Bugsy" Siegel (Burns) and Mickey Cohen (Luke), the ruthless king of the Los Angeles underworld. Parker also won't hesitate to go after anyone from his own police force who sells out honor and duty for the sake of a big payout. Mob City is produced by TNT Originals. Also serving as executive producers on the series are Michael De Luca (The Social Network) and Elliot Webb (Alpha House). Alissa Phillips and Dana Renee Ashmore serve as co-executive producers, with Paul Bernard as producer.




[09/29/16 - 01:47 PM]
Actress Monica Potter Renovates Her Childhood Home in New HGTV Series "Welcome Back Potter"
Premiering on Tuesday, October 11, the series follows Monica, her mom, Nancy, and three outspoken sisters, Jessica, Brigette and Kerry, as they tackle the massive whole-home renovation.


[09/29/16 - 01:10 PM]
ABC Gives Full-Season Orders to "Designated Survivor" and "Speechless"
Nine additional episodes of both series, from Twentieth Century Fox Television and ABC Studios, and The Mark Gordon Company and ABC Studios respectively, have been ordered.


[09/29/16 - 12:01 PM]
Jared Harris Boards AMC's Scripted Anthology "The Terror"
Additional casting includes Ciaran Hinds as Sir John Franklin; Paul Ready as Henry Goodsir; and Adam Nagaitis as Cornelius Hickey.


[09/29/16 - 11:47 AM]
Video: Superhero Fight Club 2.0 Sneak Peek
Check out the heroes of The CW's DC Comics-based TV series.


[09/29/16 - 10:49 AM]
Global Superpowers Stand Off in American Heroes Channel's All-New Series "Cold War Armaggedon"
Premiering Wednesday, October 12, the new eight-part series transports viewers back forty years as the horrors of World War II ended, and a new kind of war began.


[09/29/16 - 08:47 AM]
Wednesday's Broadcast Ratings: FOX Tops Charts with "Empire"
ABC's "Designated Survivor" however is the only series to post year-to-year gains for its network.


[09/29/16 - 08:30 AM]
Freeform Acquires All Five Seasons of "The Mindy Project" - Series Begins Airing on Monday, October 3
Episodes will also be available on the Freeform App on October 3 and will refresh weekly.


[09/29/16 - 08:00 AM]
Season Three of E!'s Scandalous Scripted Drama Series "The Royals" Premieres Sunday, December 4 at 10PM ET/PT
New faces joining the cast this season include series regular Max Brown, reoccurring guest star Jules Knight and guest star Damian Hurley.


[09/29/16 - 07:35 AM]
Logo Breaks Records with Highest Rated Thursday in Network History
Logo further spins the numbers for Thursday, September 22.


[09/29/16 - 07:01 AM]
Sandra Oh Set to Guest Star in a Multi-Episode Arc on the Third Season of ABC's "American Crime"
Set in Alamance County, North Carolina, Oh will play Abby Tanaka, a social worker who runs a local shelter dedicated to housing victims of domestic abuse in the face of community indifference.


[09/29/16 - 06:31 AM]
ABC Announces October Slate for the ABC App, Including First Seasons of "The Bachelor" and "The Bachelorette," and Two New ABCd Comedies
The network is also introducing two new ABCd original short-form comedies, "Broken" and "Serious Music."


[09/28/16 - 02:03 PM]
VH1 and Freeform Acquire All Five Seasons of "The Mindy Project" from NBCUniversal's Universal Television
The show will begin airing on both networks in October and episodes will also be available on the VH1 and Freeform apps.


[09/28/16 - 02:02 PM]
Universal Cable Productions Signs Development Deal with Alfred Hitchcock Estate
"Welcome to Hitchcock" is a new original anthology series will focus on a single season-long mystery or crime in the spirit of the classic Hitchcock style and legacy.


[09/28/16 - 02:00 PM]
"You're the Worst" Picked Up for Fourth Season on FXX
"Expertly written, brilliantly acted, 'You're the Worst' continues to be hilarious and excellent," said Eric Schrier.


[09/28/16 - 01:03 PM]
Bravo Media Serves Up a Double Dose of Sass as "The Real Housewives of Atlanta" and "Married to Medicine" Return on Sunday, November 6
Cynthia Bailey, Kandi Burruss, Kenya Moore, Phaedra Parks, Porsha Williams and Shereè Whitfield are all due back on the former series.