[09/09/13 - 11:33 AM]
TNT's "Mob City" - First Look at Key Art
The Frank Darabont-produced hour launches Wednesday, December 4 at 10:00/9:00c on the network.
---
[via press release from TNT]
TNT'S MOB CITY: FIRST LOOK AT KEY ART
TNT Unveils Key Art for Eagerly Anticipated Drama MOB CITY, from Writer-Director-Producer Frank Darabont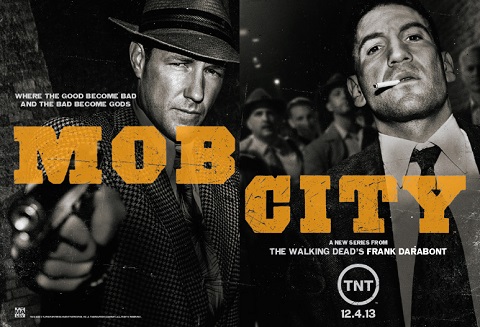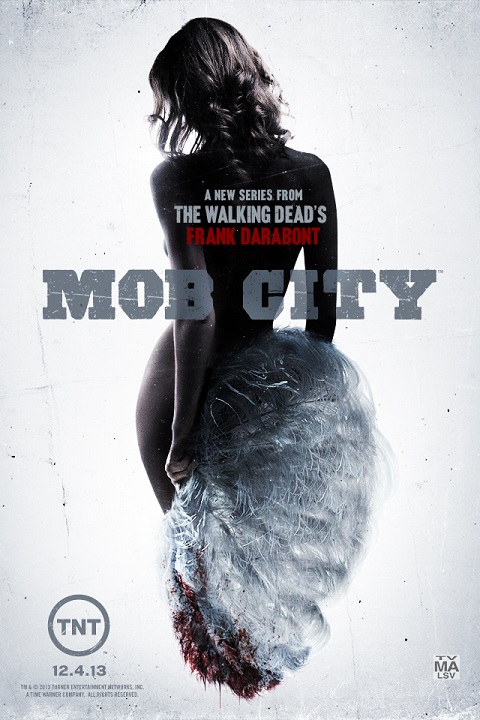 TNT has released the initial key art for its eagerly anticipated television event Mob City, the powerful drama from Frank Darabont (The Walking Dead), who wrote and directed the pilot and serves as executive producer on the series. The two images capture different aspects of the 1940s-set dama, with one featuring Mob City stars Jon Bernthal (The Walking Dead) and Ed Burns (Entourage) in a composite reminiscent of newspaper crime photos of the era. The second image shows a fan dancer from the one of the nightspots featured in the series. Mob City is set to premiere Wednesday, Dec. 4, at 10 p.m. (ET/PT).
TNT's Mob City depicts the epic battle between a determined police chief and a dangerous mobster in 1940s Los Angeles. In addition to Bernthal and Burns, the series' extraordinary ensemble cast includes Jeffrey DeMunn (The Walking Dead, The Shawshank Redemption), Neal McDonough (Captain America, Desperate Housewives), Gregory Itzin (24), Robert Knepper (Prison Break), Milo Ventimiglia (Heroes), Alexa Davalos (Clash of the Titans, The Mist) and Jeremy Luke (Don Jon). Based on the critically acclaimed book L.A. Noir: The Struggle for the Soul of America's Most Seductive City, by John Buntin, Mob City centers on Det. Joe Teague (Bernthal), an ex-Marine who holds his cards close to his chest. Teague has been assigned to a new mob task force headed by Det. Hal Morrison (DeMunn). The task force is part of a crusade by Los Angeles Police Chief William Parker (McDonough) to free the city of criminals like Ben "Bugsy" Siegel (Burns) and Mickey Cohen (Luke), the ruthless king of the Los Angeles underworld. Parker also won't hesitate to go after anyone from his own police force who sells out honor and duty for the sake of a big payout. Mob City is produced by TNT Originals. Also serving as executive producers on the series are Michael De Luca (The Social Network) and Elliot Webb (Alpha House). Alissa Phillips and Dana Renee Ashmore serve as co-executive producers, with Paul Bernard as producer.




[09/03/15 - 02:16 PM]
Check Out John Diggle's New Costume on "Arrow!"
David Ramsey's character will be donning this gear in the premiere episode of "Arrow" on Wednesday, October 7.


[09/03/15 - 02:10 PM]
"Grandfathered" Celebrates Grandparents Day with 1-800-Flowers Promotion
Starting today, use promo code "Grandfathered" to receive 20% off an exclusive collection of flowers and treats.


[09/03/15 - 12:58 PM]
"The Chew" Is All About You! Season Five Kicks Off Tuesday, September 8 on ABC
Hosts Mario Batali, Michael Symon, Carla Hall, Clinton Kelly and Daphne Oz return for a fun-filled season as your ultimate guides in entertaining from help with a quick fix fabulous meal to aide in a kitchen calamity.


[09/03/15 - 12:00 PM]
Hallmark Channel's Original Programming Stands Out on Saturday Nights
The Hallmark Channel further spins the numbers for Saturday, August 29.


[09/03/15 - 11:34 AM]
Jimmy Fallon and Seth Meyers Encores Win the Late-Night Ratings Week of Aug. 24-28
NBC spins the late-night numbers for the week of August 24-28.


[09/03/15 - 11:03 AM]
TNT & TBS Stars Rashida Jones, Sean Bean, Samantha Bee, Jason Jones, Rebecca Romijn and Jeff Hephner Coming to New York Comic Con
TBS and TNT are bringing the stars and producers of five of their most anticipated upcoming shows to New York Comic Con in October.


[09/03/15 - 10:07 AM]
British Pop Sensation Little Mix to Perform with "America's Got Talent" Finalists Acroarmy for Sept. 9 Semifinal Results Show on NBC
Little Mix - singers Perrie Edwards, Jesy Nelson, Leigh-Anne Pinnock and Jade Thirwall - have quickly established themselves as one of the brightest pop acts in Britain.


[09/03/15 - 10:01 AM]
Disney XD Greenlights "Lab Rats: Elite Force," a Spin-Off of Popular Series "Lab Rats: Bionic Island" and "Mighty Med"
Reprising their starring roles on their respective series are Billy Unger as Chase and Bradley Steven Perry as Kaz, Jake Short as Oliver, Paris Berelc as Skylar, and Kelli Berglund as Bree.


[09/03/15 - 09:35 AM]
USA Network Wins the Summer, Ranking #1 in Key Demos Across All Basic Cable
USA spins the numbers for the summer to date.


[09/03/15 - 09:18 AM]
SundanceTV Joins Forces with Red Arrow International, Goalpost Pictures Australia and Pukeko Pictures in New Zealand on Original Genre Series "Cleverman"
Set in the near future, the series follows a group of non-humans battling for survival in a world where humans feel increasingly inferior to them, and want to silence, exploit and kill them.


[09/03/15 - 08:55 AM]
"The Carmichael Show" Grows in Its Second Week, Up 18% at 9 P.M., 22% at 9:30
NBC spins the numbers for Wednesday, September 2.


[09/03/15 - 08:31 AM]
CBS Program Advisory for Premiere of "The Late Show with Stephen Colbert"
"The Late Show" will run until 12:44 AM, ET/PT on Tuesday, September 8.


[09/03/15 - 08:27 AM]
Wednesday's Broadcast Ratings: NBC Edges CBS, FOX for Demo Crown
Plus: the Peacock's "America's Got Talent" is the night's most-watched program overall.


[09/03/15 - 08:19 AM]
ABC's "Celebrity Wife Swap" Season Finale is Up in Viewers and Adults 18-49, Marking its Most-Watched Telecast in 4 Weeks
ABC spins the numbers for Wednesday, September 2.


[09/03/15 - 07:51 AM]
Discovery's #1-Rated Show "Gold Rush" Returns for Sixth Season with Miners Facing New Challenges and Unexpected Twists of Fate
The series returns with a two-hour premiere on Friday, October 16 at 9:00/8:00c.