[09/09/13 - 11:33 AM]
TNT's "Mob City" - First Look at Key Art
The Frank Darabont-produced hour launches Wednesday, December 4 at 10:00/9:00c on the network.
---
[via press release from TNT]
TNT'S MOB CITY: FIRST LOOK AT KEY ART
TNT Unveils Key Art for Eagerly Anticipated Drama MOB CITY, from Writer-Director-Producer Frank Darabont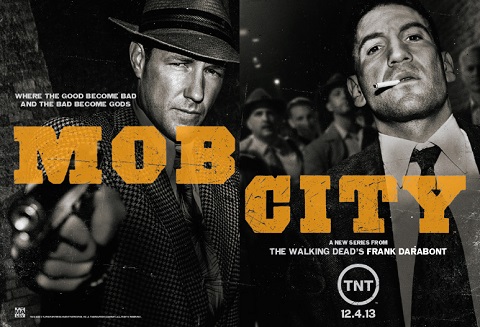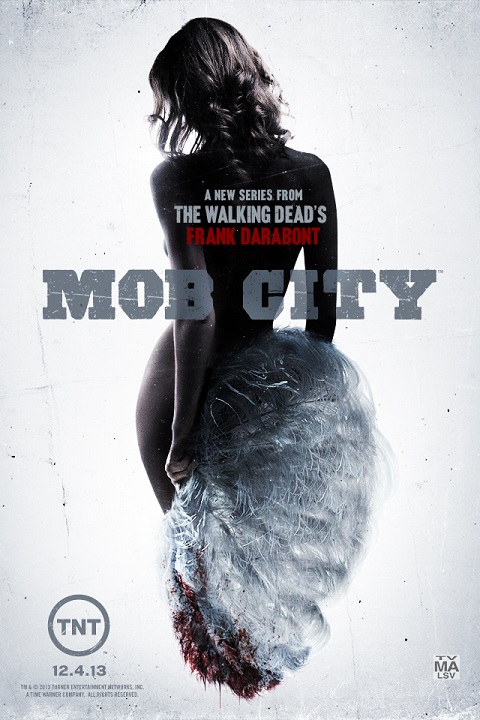 TNT has released the initial key art for its eagerly anticipated television event Mob City, the powerful drama from Frank Darabont (The Walking Dead), who wrote and directed the pilot and serves as executive producer on the series. The two images capture different aspects of the 1940s-set dama, with one featuring Mob City stars Jon Bernthal (The Walking Dead) and Ed Burns (Entourage) in a composite reminiscent of newspaper crime photos of the era. The second image shows a fan dancer from the one of the nightspots featured in the series. Mob City is set to premiere Wednesday, Dec. 4, at 10 p.m. (ET/PT).
TNT's Mob City depicts the epic battle between a determined police chief and a dangerous mobster in 1940s Los Angeles. In addition to Bernthal and Burns, the series' extraordinary ensemble cast includes Jeffrey DeMunn (The Walking Dead, The Shawshank Redemption), Neal McDonough (Captain America, Desperate Housewives), Gregory Itzin (24), Robert Knepper (Prison Break), Milo Ventimiglia (Heroes), Alexa Davalos (Clash of the Titans, The Mist) and Jeremy Luke (Don Jon). Based on the critically acclaimed book L.A. Noir: The Struggle for the Soul of America's Most Seductive City, by John Buntin, Mob City centers on Det. Joe Teague (Bernthal), an ex-Marine who holds his cards close to his chest. Teague has been assigned to a new mob task force headed by Det. Hal Morrison (DeMunn). The task force is part of a crusade by Los Angeles Police Chief William Parker (McDonough) to free the city of criminals like Ben "Bugsy" Siegel (Burns) and Mickey Cohen (Luke), the ruthless king of the Los Angeles underworld. Parker also won't hesitate to go after anyone from his own police force who sells out honor and duty for the sake of a big payout. Mob City is produced by TNT Originals. Also serving as executive producers on the series are Michael De Luca (The Social Network) and Elliot Webb (Alpha House). Alissa Phillips and Dana Renee Ashmore serve as co-executive producers, with Paul Bernard as producer.




[02/21/17 - 11:00 AM]
HBO Confirms Documentary "Rock and a Hard Place" Will Debut March 27
The film looks at incarcerated young people who are granted a second chance: the opportunity to trade an extensive prison sentence for a fresh start by completing the famed Miami-Dade County Corrections & Rehabilitation Boot Camp.


[02/21/17 - 10:46 AM]
Hulu Teams with J.J. Abrams, Stephen King and Warner Bros. Television for New Hulu Original Series "Castle Rock," Set in the Stephen King Universe
A teaser trailer for "Castle Rock" has been viewed more than one million times since it was released on Friday.


[02/21/17 - 10:17 AM]
Video: Nickelodeon's "The Fairly Odd Phantom" Animated Short Features Butch Hartman's Characters All Together for First Time
The original animated short features an ensemble cast of characters from the Nickelodeon animated series created by Butch Hartman: "The Fairly OddParents," "Danny Phantom," "T.U.F.F Puppy" and the brand-new "Bunsen is a Beast."


[02/21/17 - 10:15 AM]
"The Mick" Renewed for a Second Season on FOX
"From the earliest stages of development, all of us at FOX had enormous faith in 'The Mick,' and it hasn't disappointed," said David Madden.


[02/21/17 - 10:13 AM]
"Jerrod Carmichael: 8," Featuring the Comedy Star in His Second HBO Special, Debuts March 11
Taped in December before a live audience at historic Masonic Hall in New York City, the show features his subversive, thought-provoking take on cultural norms.


[02/21/17 - 10:12 AM]
"Cries from Syria," An Unforgettable Account of the Five-Year Syrian Civil War from the Inside, Debuts March 13 on HBO
This harrowing film tells the story of a people who, despite great suffering, have never lost hope for a better tomorrow.


[02/21/17 - 09:57 AM]
WGN America Presents "Breaking Free," A Documentary Special On The Underground Railroad Ahead of the Season Two Premiere of Its Critically Acclaimed Scripted Series "Underground" Premiering March 8
Viewers will get a chance to see the making of "Underground" season two and hear from cast, crew and civil rights leaders on why this story deserves to be told today.


[02/21/17 - 09:50 AM]
Freeform's March Funday Weekend-Long Programming Event Airs March 18 and 19
Spring is just around the corner, but before you go bouncing into the great outdoors, spend one last lazy weekend with Freeform's Funday programming event.


[02/21/17 - 09:19 AM]
Showtime(R) to Present World Premiere of New Drama Series "I'm Dying Up Here" at SXSW(R)
The fictional series explores L.A.'s famed '70s stand-up comedy scene where the careers of legends such as David Letterman, Jay Leno and Richard Pryor were launched.


[02/21/17 - 09:17 AM]
"@midnight with Chris Hardwick Live" Returns to SXSW on Friday, March 10 at 8 p.m. ET/PT on @facebooklive in Austin
Said stunt features special guest panelists Tom Lennon, Whitney Cummings and Nick Swardson battling for points in Texas.


[02/21/17 - 08:25 AM]
Monday's Broadcast Ratings: "The Bachelor" Continues Its Demo Reign
The Alphabet wins the night among adults 18-49 while CBS is the most-watched network.


[02/21/17 - 08:03 AM]
Things Get Shady in Maryland When Bravo Media Premieres "The Real Housewives of Potomac" on Sunday, April 2 at 9 PM ET/PT
Gizelle Bryant, Karen Huger, Ashley Darby, Robyn Dixon and Charrisse Jackson-Jordan are joined by new housewife Monique Samuels.


[02/21/17 - 06:01 AM]
"Love at First Bark" A Hallmark Channel Original Movie Premieres Saturday, April 1, 9 P.M. ET/PT on Hallmark Channel
Jana Kramer and Kevin McGarry star in the project, from Two 4 the Money Media.


[02/20/17 - 08:37 AM]
Sunday's Broadcast Ratings: ABC Wins Low Key Night in Demos
The Alphabet wins the evening among adults 18-49 with a modest 0.9 average rating.


[02/19/17 - 08:07 PM]
Upcoming Episodes of "Big Little Lies," "Girls," "Crashing" Available for Early Streaming Next Friday
HBO's originals will be available in advance of Sunday's telecast against the Oscars.