[09/09/13 - 11:33 AM]
TNT's "Mob City" - First Look at Key Art
The Frank Darabont-produced hour launches Wednesday, December 4 at 10:00/9:00c on the network.
---
[via press release from TNT]
TNT'S MOB CITY: FIRST LOOK AT KEY ART
TNT Unveils Key Art for Eagerly Anticipated Drama MOB CITY, from Writer-Director-Producer Frank Darabont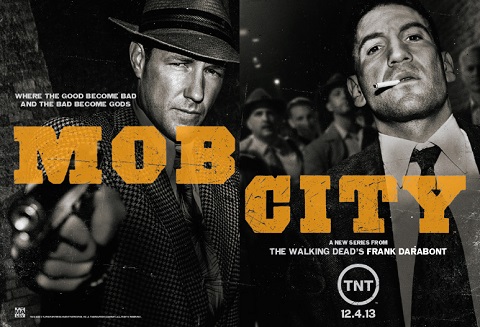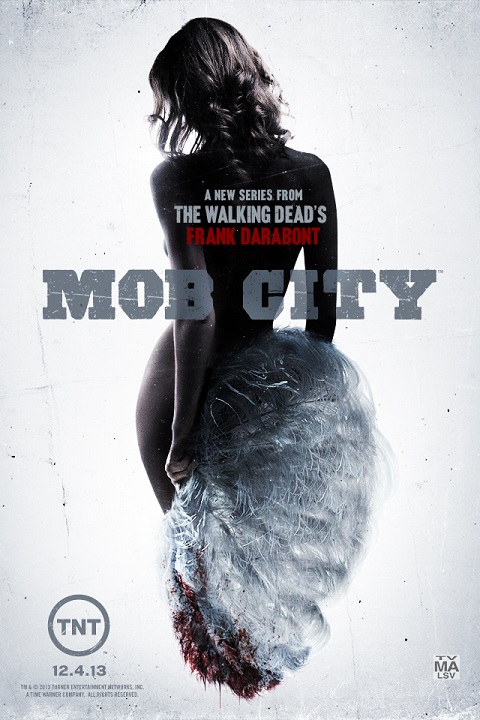 TNT has released the initial key art for its eagerly anticipated television event Mob City, the powerful drama from Frank Darabont (The Walking Dead), who wrote and directed the pilot and serves as executive producer on the series. The two images capture different aspects of the 1940s-set dama, with one featuring Mob City stars Jon Bernthal (The Walking Dead) and Ed Burns (Entourage) in a composite reminiscent of newspaper crime photos of the era. The second image shows a fan dancer from the one of the nightspots featured in the series. Mob City is set to premiere Wednesday, Dec. 4, at 10 p.m. (ET/PT).
TNT's Mob City depicts the epic battle between a determined police chief and a dangerous mobster in 1940s Los Angeles. In addition to Bernthal and Burns, the series' extraordinary ensemble cast includes Jeffrey DeMunn (The Walking Dead, The Shawshank Redemption), Neal McDonough (Captain America, Desperate Housewives), Gregory Itzin (24), Robert Knepper (Prison Break), Milo Ventimiglia (Heroes), Alexa Davalos (Clash of the Titans, The Mist) and Jeremy Luke (Don Jon). Based on the critically acclaimed book L.A. Noir: The Struggle for the Soul of America's Most Seductive City, by John Buntin, Mob City centers on Det. Joe Teague (Bernthal), an ex-Marine who holds his cards close to his chest. Teague has been assigned to a new mob task force headed by Det. Hal Morrison (DeMunn). The task force is part of a crusade by Los Angeles Police Chief William Parker (McDonough) to free the city of criminals like Ben "Bugsy" Siegel (Burns) and Mickey Cohen (Luke), the ruthless king of the Los Angeles underworld. Parker also won't hesitate to go after anyone from his own police force who sells out honor and duty for the sake of a big payout. Mob City is produced by TNT Originals. Also serving as executive producers on the series are Michael De Luca (The Social Network) and Elliot Webb (Alpha House). Alissa Phillips and Dana Renee Ashmore serve as co-executive producers, with Paul Bernard as producer.




[05/22/17 - 01:45 PM]
A&E Network's Hit Series "Leah Remini: Scientology and the Aftermath" to Premiere Two-Hour Stand-Alone Special on Monday, May 29
In this two-hour special, Leah Remini and Mike Rinder explore the historical relationship between the Church of Scientology and its often vocal critics.


[05/22/17 - 01:13 PM]
HGTV Lodge Boasts Star-Studded Lineup at 2017 CMA Festival in Nashville
From Thursday, June 8 - Sunday, June 11, in Nashville, the 3,500-square-foot HGTV Lodge will offer Festival-goers the Ultimate Country Music Fan Experience(TM).


[05/22/17 - 11:31 AM]
Video: OWN Unveils Season Two Trailer of Acclaimed Drama Series "Queen Sugar"
The new season will debut with a two-night premiere on Tuesday, June 20 and Wednesday, June 21.


[05/22/17 - 11:30 AM]
Video: "Flaked" - Season 2 - Official Trailer
Season two launches globally on Netflix on Friday, June 2.


[05/22/17 - 10:33 AM]
Lifetime Greenlights "The Lost Wife of Robert Durst" Starring Katharine McPhee and Daniel Gillies
Based on the book "A Deadly Secret: The Strange Disappearance of Kathie Durst," by investigative journalist Matt Birkbeck, filming begins this month in Vancouver.


[05/22/17 - 10:27 AM]
Video: Final Trailer Released for BBC America's "Orphan Black"
Get a final look at what to expect this season on the network's award-winning clone drama before the series returns Saturday, June 10.


[05/22/17 - 10:06 AM]
Cartoon Network Expands "Ben 10" Universe with Season Two Pick Up and New Mobile and Console Games
Beginning Monday, May 29, Ben's transformation into Wildvine, the 10th alien to be featured in the current first season will be revealed in two all-new episodes.


[05/22/17 - 09:38 AM]
"Dateline NBC" Correspondent Keith Morrison Sits Down with Chris Tapp in Investigation Discovery's "Who Killed Angie Dodge? Keith Morrison Investigates"
The two-hour special premieres Monday, May 29 at 8:00/7:00c.


[05/22/17 - 09:31 AM]
"Friends from College" Premieres Friday, July 14th on Netflix
Each day this week, keep a look out for a new sneak peek from the new series starring Keegan-Michael Key, Cobie Smulders, Annie Parisse, Nat Faxon, Fred Savage and Jae Suh Park.


[05/22/17 - 09:16 AM]
Video: New Showtime Drama Series "I'm Dying Up Here" Available Now for Early Sampling
Starting today, consumers who do not subscribe to Showtime can watch the series premiere for free on YouTube and SHO.com.


[05/22/17 - 09:10 AM]
Video: First Look at "Bobcat Goldthwait's Misfits & Monsters" on truTV
In early 2018, truTV will premiere the new anthology series that features twisted morality tales.


[05/22/17 - 09:05 AM]
BET Sounds Off Black Music Month on a High Note
New original scripted series "Tales" premieres Tuesday, June 27 at 10:00/9:00c.


[05/22/17 - 09:01 AM]
The Hit Comedy Series "Baby Daddy" Goes Out With a Bang as It Celebrates Its 100th Episode and Series Finale, Airing Monday, May 22, on Freeform
"The 'Baby Daddy' cast and crew are truly remarkable, and together it has been a joy to watch our characters' lives unfold on screen over the past six seasons," said Dan Berendsen.


[05/22/17 - 08:59 AM]
History's "Alone" Returns with a Twist for Season 4 on Thursday, June 15 at 10PM ET/PT
In season four, seven teams of two will be separated and dropped miles apart with two ultimate goals: navigate the brutal, unforgiving terrain of Vancouver Island in an attempt to locate their isolated partner and, once reunited, survive as long as they can.


[05/22/17 - 08:39 AM]
Sunday's Broadcast Ratings: ABC Rides "Billboard Music Awards" to Victory
The Alphabet's annual telecast however is down more than 20% from last year among adults 18-49.