[09/09/13 - 11:33 AM]
TNT's "Mob City" - First Look at Key Art
The Frank Darabont-produced hour launches Wednesday, December 4 at 10:00/9:00c on the network.
---
[via press release from TNT]
TNT'S MOB CITY: FIRST LOOK AT KEY ART
TNT Unveils Key Art for Eagerly Anticipated Drama MOB CITY, from Writer-Director-Producer Frank Darabont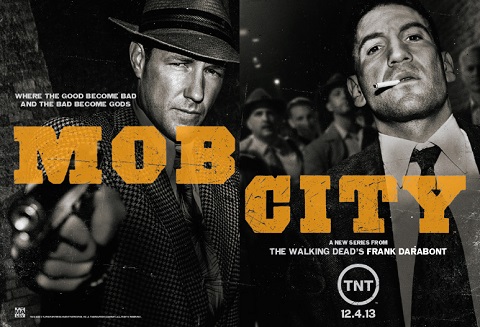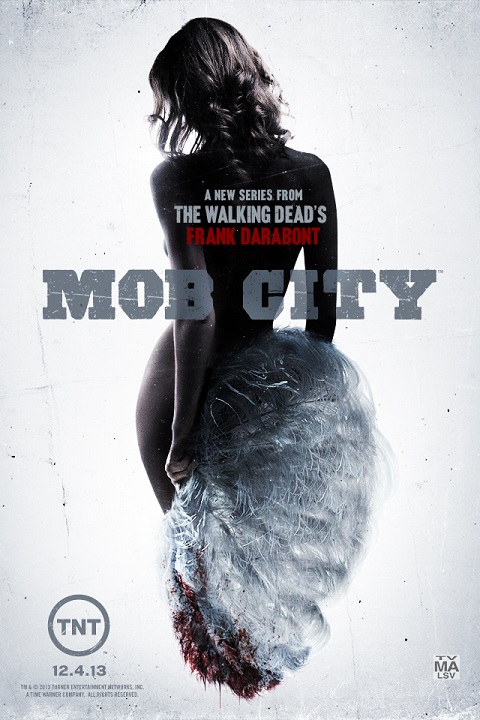 TNT has released the initial key art for its eagerly anticipated television event Mob City, the powerful drama from Frank Darabont (The Walking Dead), who wrote and directed the pilot and serves as executive producer on the series. The two images capture different aspects of the 1940s-set dama, with one featuring Mob City stars Jon Bernthal (The Walking Dead) and Ed Burns (Entourage) in a composite reminiscent of newspaper crime photos of the era. The second image shows a fan dancer from the one of the nightspots featured in the series. Mob City is set to premiere Wednesday, Dec. 4, at 10 p.m. (ET/PT).
TNT's Mob City depicts the epic battle between a determined police chief and a dangerous mobster in 1940s Los Angeles. In addition to Bernthal and Burns, the series' extraordinary ensemble cast includes Jeffrey DeMunn (The Walking Dead, The Shawshank Redemption), Neal McDonough (Captain America, Desperate Housewives), Gregory Itzin (24), Robert Knepper (Prison Break), Milo Ventimiglia (Heroes), Alexa Davalos (Clash of the Titans, The Mist) and Jeremy Luke (Don Jon). Based on the critically acclaimed book L.A. Noir: The Struggle for the Soul of America's Most Seductive City, by John Buntin, Mob City centers on Det. Joe Teague (Bernthal), an ex-Marine who holds his cards close to his chest. Teague has been assigned to a new mob task force headed by Det. Hal Morrison (DeMunn). The task force is part of a crusade by Los Angeles Police Chief William Parker (McDonough) to free the city of criminals like Ben "Bugsy" Siegel (Burns) and Mickey Cohen (Luke), the ruthless king of the Los Angeles underworld. Parker also won't hesitate to go after anyone from his own police force who sells out honor and duty for the sake of a big payout. Mob City is produced by TNT Originals. Also serving as executive producers on the series are Michael De Luca (The Social Network) and Elliot Webb (Alpha House). Alissa Phillips and Dana Renee Ashmore serve as co-executive producers, with Paul Bernard as producer.




[10/06/15 - 03:31 PM]
E!'s Hit Series "Total Divas" Begins Production on Season Five
The Bella Twins (Nikki and Brie Bella), Natalya (Nattie), Eva Marie, Paige, Rosa Mendes and Alicia Fox are all due back in early 2016.


[10/06/15 - 03:30 PM]
Sanaa Lathan ("The Perfect Guy") to Star in New Event Series Being Developed by FOX
The project examines the dangerous aftermath of a police shooting when an African-American cop kills a white teen in Tennessee.


[10/06/15 - 01:44 PM]
National Geographic Channel and Mental Floss Celebrate the Intersection of Science and Medicine, Taking Viewers into a Cutting-Edge Operating Room to Perform "Brain Surgery Live"
The live two-hour special premieres in the U.S. on Sunday, October 25 at 9:00/8:00c.


[10/06/15 - 01:08 PM]
Thinkfactory Media Partners with Hip Hop Legend, Michel'le to Reveal Her Untold Story from the Streets of Compton
In addition to the scripted project, Thinkfactory Media and Michel'le are collaborating on a documentary detailing her life.


[10/06/15 - 11:53 AM]
Esquire Network Dives in Head First with the New Season of "Going Deep with David Rees" Beginning Wednesday November 11th
To promote the series, David will embark on an "analog" social media tour - where he drives cross-country from NYC to LA.


[10/06/15 - 11:14 AM]
Hulu and Viacom Expand Content Partnership In Robust, New Multi-Year Agreement
"Inside Amy Schumer," "Broad City," "Finding Carter," "Teenage Mutant Ninja Turtles" and "Sanjay and Craig" are among the featured titles.


[10/06/15 - 11:00 AM]
truTV Greenlights "Super Into" Hosted by Kevin Pereira
Each half-hour asks our favorite celebrities to take us inside their private passions - from Rob Corddry and astronomy, including a ride on a zero gravity plane, to Diablo Cody and rollercoasters.


[10/06/15 - 10:33 AM]
New Art of Speedy from The CW's "Arrow"
The new season kicks off this Wednesday, October 7 at 8:00/7:00c.


[10/06/15 - 10:00 AM]
Timely Documentary "3 1/2 Minutes, Ten Bullets," Exploring the Deadly Impact of Racial Prejudice, Debuts Nov. 23, Exclusively on HBO
The documentary made its world premiere at the 2015 Sundance Film Festival, where it won a Special Jury Award for Social Impact.


[10/06/15 - 10:00 AM]
ABC Family Becomes Freeform in January 2016
"Pretty Little Liars," "The Fosters," "Young and Hungry" and "Baby Daddy" will all return in early 2016 for their winter premieres alongside the world premieres of new original series "Shadowhunters" and "Recovery Road."


[10/06/15 - 09:32 AM]
MTV Announces Full Lineup for New York Comic Con - Releases Key Art for "The Shannara Chronicles"
Each can't-miss panel will feature cast and producers from the shows and the debut of exclusive New York Comic Con trailers.


[10/06/15 - 09:30 AM]
"Scorpion" Grows in Viewers, Adults 18-49 and Adults 25-54
CBS spins the numbers for Monday, October 5.


[10/06/15 - 09:07 AM]
ABC Is Set to Celebrate the Milestone 20th Anniversary of "Toy Story" - The Film That Started the Computer Generated Animation Revolution - In the Original Special, "Toy Story 20th Anniversary," To Air in December
The special will air along with a showing of "Toy Story" that same evening.


[10/06/15 - 09:03 AM]
"48 Hours: The Doctor's Daughter" Is Saturday's #1 Non-Sports Broadcast with Viewers
CBS spins the numbers for Saturday, October 3.


[10/06/15 - 09:01 AM]
New "Rocky Horror Show" Premieres Midnight Saturday, October 18 on BBC America
"I'm still in awe at the popularity of the show," said Richard O'Brien, creator and narrator.