[10/11/13 - 09:18 AM]
Starz Releases First Photos from Sophomore Season of David S. Goyer's Hit Action Adventure Original Series "Da Vinci's Demons"
Get your first look at the show's second season, due in 2014 on the pay channel.
---
[via press release from Starz]
STARZ RELEASES FIRST PHOTOS FROM SOPHOMORE SEASON OF DAVID S. GOYER'S HIT ACTION ADVENTURE ORIGINAL SERIES "DA VINCI'S DEMONS"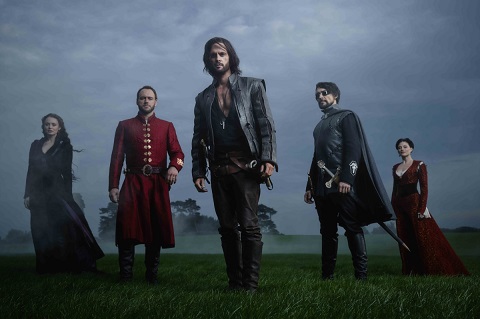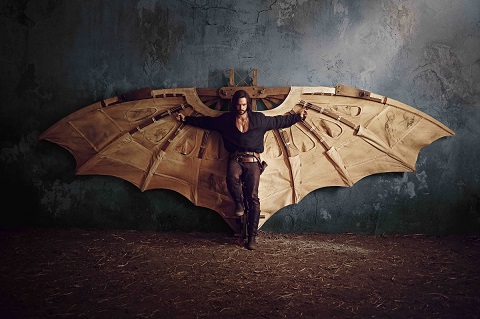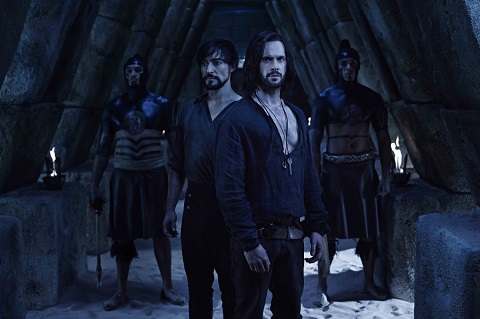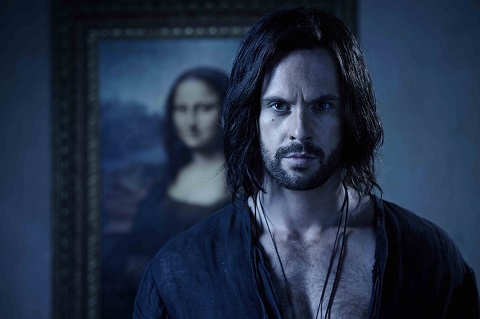 Today STARZ released the first photos from the anticipated second season of the adventure drama, "Da Vinci's Demons," a STARZ Original series from the mind of David S. Goyer (Batman Begins, The Dark Knight, Man of Steel), which will return on STARZ in 2014.
Starring Tom Riley ("Monroe," I Want Candy), as the title character, season two of "Da Vinci's Demons," finds Florence thrown into chaos in the wake of the Pazzi conspiracy. Lorenzo is gravely ill and Leonardo da Vinci must push the limits of his mind and body to defend the city against the forces of Rome. While the Medicis go to unthinkable lengths to deal with new threats, da Vinci continues on his quest to find the fabled Book of Leaves and uncover the secret history of his mother. He'll come to realize that he has lethal competition in his quest -- new enemies who may be even worse than the forces of Pope Sixtus. His search will take him to faraway lands and force him to reevaluate everything he knew about the world and his own history.
The series also stars Laura Haddock as Lucrezia Donati, Blake Ritson as Count Riario Girolamo, Elliot Cowan as Lorenzo Medici and Lara Pulver as Clarice Orsini.
STARZ greenlit "Da Vinci's Demons" for a second season following its record-setting first season weekend debut on STARZ on Friday April 12, 2012. The historical fantasy created by David S. Goyer and produced by Adjacent Productions, follows the 'untold' story of the world's greatest genius, Leonardo da Vinci, during his turbulent youth in Renaissance Florence. Outside of the United States and English-speaking Canada, "Da Vinci's Demons" is distributed internationally by BBC Worldwide. Fox International Channels (FIC) acquired the first season of the series and premiered it to audiences in 120 countries in Latin America, Europe, Asia, the Middle East and Africa following Starz's exclusive premiere in the U.S.
Follow Da Vinci's Demons on social media: Instagram - Davincisdemons_STARZ Twitter - @DaVincis_Starz
All photos (C) Starz, Entertainment, LLC




[01/15/18 - 01:24 PM]
Comedy Central(R) Renews "The Jim Jefferies Show" for a Second Season
"You'd think I'd stop being surprised at how smart and funny Jim is about everything," said Kent Alterman. "I'm just glad we're still giving visas to people from whatever shithole country he comes from."


[01/15/18 - 10:32 AM]
Revealing Gloria Allred Documentary "Seeing Allred" to Launch on Netflix February 9
As sexual-violence allegations grip the nation, "Seeing Allred" provides a candid look at one of the most public crusaders against the war on women.


[01/15/18 - 10:18 AM]
Six-Part Television Event "Waco" Premieres on Paramount Network Wednesday, January 24 at 10 PM ET/PT
Michael Shannon, Taylor Kitsch, Andrea Riseborough, John Leguizamo, Melissa Benoist, Paul Sparks, Shea Whigham, Rory Culkin, Julia Garner and Camryn Manheim star in the project.


[01/15/18 - 10:17 AM]
"American Woman" Premieres Thursday, June 7 at 10:00PM ET/PT on Paramount Network
The 12-episode series from John Wells Productions in association with Warner Horizon Scripted Television stars Alicia Silverstone, Mena Suvari and Jennifer Bartels.


[01/15/18 - 10:16 AM]
"Yellowstone" Premieres on Paramount Network Wednesday, June 20 at 9:00PM ET/PT
The cast list includes Wes Bentley, Kelly Reilly, Luke Grimes, Cole Hauser, Kelsey Asbille, Dave Annable, Danny Huston, Gil Birmingham, Josh Lucas, Jefferson White, Gretchen Mol, Jill Hennessey, Patrick St. Esprit, Ian Bohen, Heather Hemmons, and Denim Richards.


[01/15/18 - 10:15 AM]
"Heathers" Set to Premiere on Paramount Network Wednesday, March 7 at 10 PM, ET/PT
The pitch-black comedy anthology series is based on the 80s cult classic film of the same name.


[01/15/18 - 09:02 AM]
Amazon Prime Original Series "Britannia" to Debut Exclusively on Prime Video in the US on Friday, January 26
"Britannia" is set in 43AD as the Roman Imperial Army, determined and terrified in equal measure, returns to crush the Celtic heart of Britannia, a mysterious land ruled by wild warrior women and powerful Druids who can channel the powerful forces of the underworld.


[01/15/18 - 08:26 AM]
Sunday's Broadcast Ratings: FOX Gets Huge Boost from NFL Overrun
The network's playoff coverage grows to more than 35 million viewers last night.


[01/15/18 - 08:21 AM]
Video: Netflix Reflects on "Black Mirror" Season 4 with Six All-New, Behind-the-Scenes Videos
"Black Mirror" Season 4 is now streaming on Netflix.


[01/15/18 - 07:06 AM]
"I Am MLK Jr." Premieres Monday, April 2 on Paramount Network
The film will tell the story and celebrate the life of this American icon from an engaging contemporary perspective structured around seminal events of the Civil Rights Movement.


[01/14/18 - 02:49 PM]
Renowned Prosecutor Marcia Clark Examines Infamous Murder Cases in A&E Network's "Marcia Clark Investigates The First 48"
Produced by ITV Entertainment, each two-hour episode will focus on a specific case and examine the first 48 hours after the crime to reveal new angles and unravel enduring mysteries.


[01/14/18 - 02:48 PM]
A&E to Spotlight the Epic Legal Battles of Nancy Grace and Dan Abrams in the New Original Series "Grace vs. Abrams"
Produced by Lincoln Square Productions, the series will be shot in Times Square Studios before a live audience.


[01/14/18 - 01:52 PM]
Crackle Announces "In the Cloud" VR Experience to Release Ahead of Feature on Thursday, February 1st
The VR experience will launch on additional interactive platforms soon and is also available online in 360-degree video.


[01/14/18 - 01:51 PM]
Emmy-Nominated "SuperMansion" Returns Thursday, April 12th with Special Guest Mikey Day, Plus All-New Summer 2018 Special
In the upcoming season, the lunatics get the keys to the asylum when Dr. Devizo (Chris Pine) is declared a hero after "saving the world" at the end of last season.


[01/14/18 - 01:50 PM]
Crackle Returns to Puerto Rico for Production on Season Three of Original Drama Series "StartUp"
In addition, Academy Award-winning actor Mira Sorvino joins the cast as Rebecca Stroud, a NSA special agent who has come to investigate ArakNet, and will do whatever it takes to have ArakNet partner with the government.