[10/11/13 - 09:18 AM]
Starz Releases First Photos from Sophomore Season of David S. Goyer's Hit Action Adventure Original Series "Da Vinci's Demons"
Get your first look at the show's second season, due in 2014 on the pay channel.
---
[via press release from Starz]
STARZ RELEASES FIRST PHOTOS FROM SOPHOMORE SEASON OF DAVID S. GOYER'S HIT ACTION ADVENTURE ORIGINAL SERIES "DA VINCI'S DEMONS"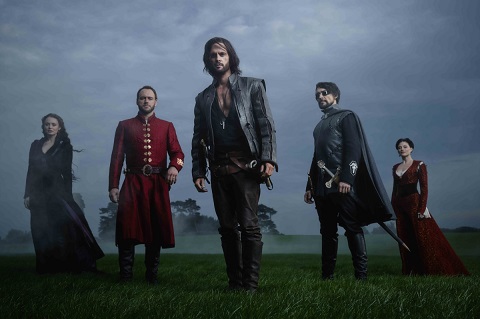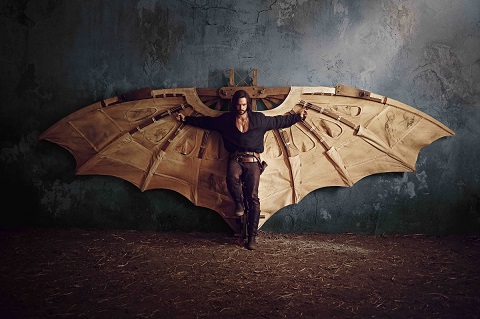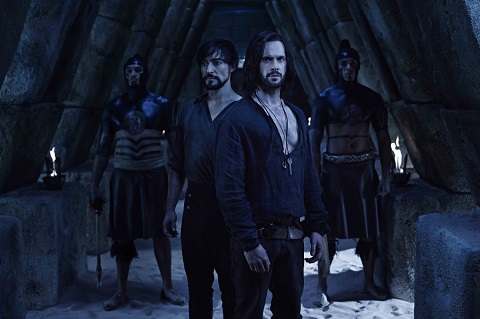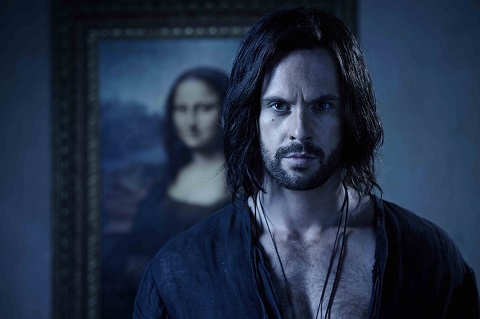 Today STARZ released the first photos from the anticipated second season of the adventure drama, "Da Vinci's Demons," a STARZ Original series from the mind of David S. Goyer (Batman Begins, The Dark Knight, Man of Steel), which will return on STARZ in 2014.
Starring Tom Riley ("Monroe," I Want Candy), as the title character, season two of "Da Vinci's Demons," finds Florence thrown into chaos in the wake of the Pazzi conspiracy. Lorenzo is gravely ill and Leonardo da Vinci must push the limits of his mind and body to defend the city against the forces of Rome. While the Medicis go to unthinkable lengths to deal with new threats, da Vinci continues on his quest to find the fabled Book of Leaves and uncover the secret history of his mother. He'll come to realize that he has lethal competition in his quest -- new enemies who may be even worse than the forces of Pope Sixtus. His search will take him to faraway lands and force him to reevaluate everything he knew about the world and his own history.
The series also stars Laura Haddock as Lucrezia Donati, Blake Ritson as Count Riario Girolamo, Elliot Cowan as Lorenzo Medici and Lara Pulver as Clarice Orsini.
STARZ greenlit "Da Vinci's Demons" for a second season following its record-setting first season weekend debut on STARZ on Friday April 12, 2012. The historical fantasy created by David S. Goyer and produced by Adjacent Productions, follows the 'untold' story of the world's greatest genius, Leonardo da Vinci, during his turbulent youth in Renaissance Florence. Outside of the United States and English-speaking Canada, "Da Vinci's Demons" is distributed internationally by BBC Worldwide. Fox International Channels (FIC) acquired the first season of the series and premiered it to audiences in 120 countries in Latin America, Europe, Asia, the Middle East and Africa following Starz's exclusive premiere in the U.S.
Follow Da Vinci's Demons on social media: Instagram - Davincisdemons_STARZ Twitter - @DaVincis_Starz
All photos (C) Starz, Entertainment, LLC




[10/27/16 - 11:33 AM]
Freeform Serves Up a Fifth Season of Popular Comedy "Young & Hungry"
The new season will kick off production next week and will premiere in 2017.


[10/27/16 - 11:01 AM]
Pop Orders Second Season of Its Original Scripted Comedy "Nightcap" in Advance of Its Nov. 16 Series Premiere
Pop will premiere with two back-to-back episodes featuring guest stars Sarah Jessica Parker, Kelly Ripa, Mark Consuelos and Andy Cohen in episode one, and Gwyneth Paltrow, Jim Norton and Nate Berkus in episode two.


[10/27/16 - 10:33 AM]
Bravo Media Greenlights Six New and Returning Series Growing the Network's Robust Slate
The network confirmed new season orders for fan-favorites "Southern Charm" season four as well as "Shahs of Sunset" season six and "Million Dollar Listing New York" season six.


[10/27/16 - 10:31 AM]
"Mommy Dead and Dearest," The Shocking True Crime Story About the Murder of Dee Dee Blanchard and the Disturbing Life of Her Daughter, Gypsy Rose, to Debut in March 2017, Exclusively on HBO
In the film, provocative documentarian Erin Lee Carr again explores a crime in the age of social media.


[10/27/16 - 10:00 AM]
Freeform Celebrates 20 Years of Christmas Cheer with the "25 Days of Christmas" Programming Event Starting Thursday, December 1
This year's merriest programming stunt includes the network television premiere of "Holiday Joy" and the Freeform premieres of "Santa Paws 2: The Santa Pups," "Snow Buddies" and "Just Friends."


[10/27/16 - 10:00 AM]
"Bones: The Final Chapter" to Premiere Tuesday, January 3, on FOX
The 12-episode run will celebrate the inventive series and bring the storylines of Brennan (Emily Deschanel), Booth (David Boreanaz) and the Jeffersonian-FBI team to a close, allowing the show's loyal fans to say goodbye to these indelible characters.


[10/27/16 - 09:59 AM]
"Steve Austin's Broken Skull Challenge," Television's Most Physically Demanding Competition Series, Returns for a Punishing New Season on Sunday, November 13 at 10PM ET/PT
The bigger-and-badder than ever physical competition series, starring sports and entertainment icon "Stone-Cold" Steve Austin, attracted nearly four million weekly viewers last season.


[10/27/16 - 09:23 AM]
Wednesday's Broadcast Ratings: World Series Delivers Big for FOX
The network's coverage of Game 2 is up 36% from a year ago among adults 18-49.


[10/27/16 - 09:19 AM]
World Series Game 2 Posts 11.3 Overnight Rating, Drives FOX to Primetime Victory for Second Consecutive Night
FOX Sports spins the numbers for Wednesday, October 26.


[10/27/16 - 08:52 AM]
TV One's "Rickey Smiley for Real" Returns for a Third Season, Tuesday, Nov. 15 at 8 P.M. ET
While Rickey Smiley continues to struggle to maintain his sanity by juggling his hectic business, family and personal schedules, the show will also follow the hilarity and hi-jinx of his family and co-workers.


[10/27/16 - 08:16 AM]
Disney Channel Sees Future in Spin-Off of "That's So Raven"
As the pilot story goes, Raven is now a divorced mother to two pre-teen kids (a son and daughter), one of whom has inherited her ability to catch glimpses of the future.


[10/27/16 - 07:38 AM]
James Bay, Fifth Harmony, The Chainsmokers and Halsey, and Carlos Vives with Shakira to Perform at the "2016 American Music Awards(R)"
They join previously announced performers Lady Gaga, Green Day, Bruno Mars, Twenty One Pilots, and "The American Music Award of Merit" honoree and performer Sting.


[10/27/16 - 07:00 AM]
"The Late Show with Stephen Colbert" to Broadcast Two Live Shows During Election Week on CBS
On Monday, November 7, Stephen Colbert will be joined by Don Cheadle, Katherine Waterston and musical guest Drive-By Truckers.


[10/26/16 - 03:23 PM]
Lifetime Partners with "The View" for Primetime Event Program, "The View Live Election Special"
The special will feature "The View's" co-hosts from their set with a live studio audience, election-themed Hot Topics, interactive election activities and up-to-the-minute results from key battleground states.


[10/26/16 - 02:01 PM]
Freeform Says Farewell to "Pretty Little Liars" with an Exclusive One-Hour Tell-All Following the Series Finale
Troian Bellisario, Ashley Benson, Lucy Hale, Shay Mitchell and Sasha Pieterse, as well as executive producer I. Marlene King, will sit down for an hour long unbarred and uncensored tell-all after show.