[10/11/13 - 09:18 AM]
Starz Releases First Photos from Sophomore Season of David S. Goyer's Hit Action Adventure Original Series "Da Vinci's Demons"
Get your first look at the show's second season, due in 2014 on the pay channel.
---
[via press release from Starz]
STARZ RELEASES FIRST PHOTOS FROM SOPHOMORE SEASON OF DAVID S. GOYER'S HIT ACTION ADVENTURE ORIGINAL SERIES "DA VINCI'S DEMONS"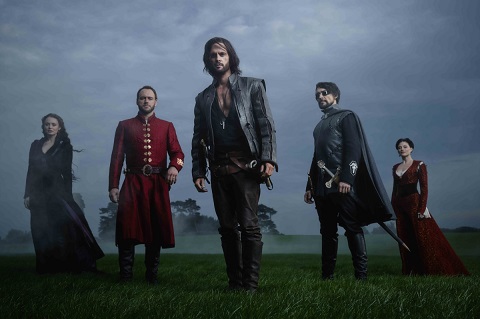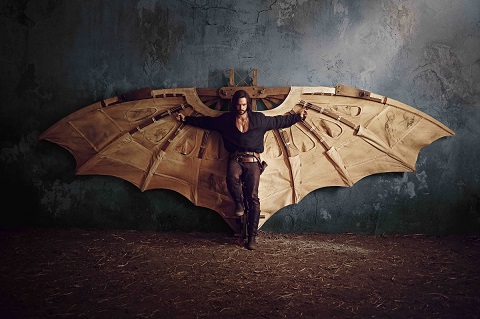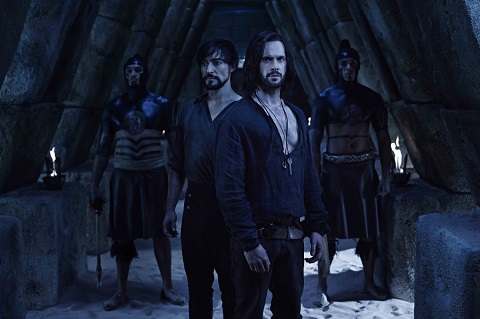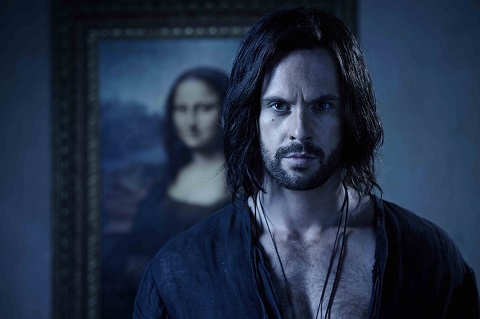 Today STARZ released the first photos from the anticipated second season of the adventure drama, "Da Vinci's Demons," a STARZ Original series from the mind of David S. Goyer (Batman Begins, The Dark Knight, Man of Steel), which will return on STARZ in 2014.
Starring Tom Riley ("Monroe," I Want Candy), as the title character, season two of "Da Vinci's Demons," finds Florence thrown into chaos in the wake of the Pazzi conspiracy. Lorenzo is gravely ill and Leonardo da Vinci must push the limits of his mind and body to defend the city against the forces of Rome. While the Medicis go to unthinkable lengths to deal with new threats, da Vinci continues on his quest to find the fabled Book of Leaves and uncover the secret history of his mother. He'll come to realize that he has lethal competition in his quest -- new enemies who may be even worse than the forces of Pope Sixtus. His search will take him to faraway lands and force him to reevaluate everything he knew about the world and his own history.
The series also stars Laura Haddock as Lucrezia Donati, Blake Ritson as Count Riario Girolamo, Elliot Cowan as Lorenzo Medici and Lara Pulver as Clarice Orsini.
STARZ greenlit "Da Vinci's Demons" for a second season following its record-setting first season weekend debut on STARZ on Friday April 12, 2012. The historical fantasy created by David S. Goyer and produced by Adjacent Productions, follows the 'untold' story of the world's greatest genius, Leonardo da Vinci, during his turbulent youth in Renaissance Florence. Outside of the United States and English-speaking Canada, "Da Vinci's Demons" is distributed internationally by BBC Worldwide. Fox International Channels (FIC) acquired the first season of the series and premiered it to audiences in 120 countries in Latin America, Europe, Asia, the Middle East and Africa following Starz's exclusive premiere in the U.S.
Follow Da Vinci's Demons on social media: Instagram - Davincisdemons_STARZ Twitter - @DaVincis_Starz
All photos (C) Starz, Entertainment, LLC




[11/16/17 - 02:35 PM]
NBC Sets Midseason Premiere Dates for New Dramas "Good Girls" and "Rise"
They'll follow the spring premiere of "The Voice" and the season finale of "This Is Us," respectively.


[11/16/17 - 01:27 PM]
Bravo Media's "The Real Housewives of Beverly Hills" Returns Tuesday, December 19 at 9PM ET/PT
Erika Girardi, Dorit Kemsley, Kyle Richards, Lisa Rinna, and Lisa Vanderpump are joined by new housewife Teddi Mellencamp Arroyave and friend Camille Grammer.


[11/16/17 - 12:19 PM]
"32 Pills: My Sister's Suicide," A Searing Look at One Woman's Struggle to Cope with Her Sister's Suicide and Find Healing Through Art, Debuts Dec. 7 on HBO
Hope Litoff's directorial debut tells the powerful story of one sister struggling to know and accept the other in a way she was never able to in life, even as she learns to live with the pain of loss.


[11/16/17 - 12:01 PM]
Steve Harvey to Ring in 2018 on "FOX's New Year's Eve with Steve Harvey: Live From Times Square" Sunday, December 31, on FOX
In his first-ever New Year Eve's special with FOX, Harvey will bring his signature humor and hosting talents to this highly anticipated celebration taking place in the heart of New York City's Times Square, featuring views of the Times Square Ball as it drops to ring in 2018.


[11/16/17 - 11:31 AM]
Video: Showtime(R) Releases Full Trailer and Official Poster for "The Chi" Premiering January 7 at 10 PM ET/PT
Produced entirely in its namesake city, "The Chi" is a timely coming-of-age story centering on a group of residents who become linked by coincidence but bonded by the need for connection and redemption.


[11/16/17 - 11:05 AM]
"Black Lightning" Makes Its Series Premiere Tuesday, January 16 on The CW
The series premiere date for "Life Sentence," and the season premiere dates of "The 100," "The Originals" and "iZombie" will be announced later.


[11/16/17 - 11:03 AM]
Lifetime Announces Airdates for Feature Movies - "Cocaine Godmother," "Faith Under Fire" and "The Simone Biles Story"
Beginning Saturday, January 20, with the premiere of "Cocaine Godmother: The Griselda Blanco Story," Academy Award winner Catherine Zeta-Jones stars in the true story of the most infamous woman in the drug world who fiercely and ruthlessly ran the cocaine trade in America.


[11/16/17 - 10:22 AM]
Netflix Announces New Series "Messiah," From Creator Michael Petroni and Executive Producers Mark Burnett and Roma Downey
Netflix will bring the epic suspenseful drama exploring the lines among religion, faith and politics to its members around the globe in 2019.


[11/16/17 - 09:10 AM]
Velocity's "Unique Rides" Crafts Visionary Cars for Visionary Artists and Entertainers in an All New Season
In season three, viewers get an inside look at how Will Castro and his team pull out the stops to create dreamlike rides for some of the biggest names in entertainment including Nas, Nicki Minaj, Billy Joel, Mario Lopez, Ice-T and more.


[11/16/17 - 09:05 AM]
WGN America Sets "Shoot the Messenger" Premiere Date for Monday, February 26
The network also released today a new teaser trailer for the eight-part event series starring Elyse Levesque, Lyriq Bent, Lucas Bryant and Alex Kingston.


[11/16/17 - 09:03 AM]
ABC Sets TGIT Return Date Following Winter Break - January 18, 2018
The countdown begins to the final 11 episodes of "Scandal."


[11/16/17 - 09:02 AM]
ABC Announces Premiere Dates for "Child Support," January 5, and "Match Game," January 3
The new primetime series will feature adult contestants and priceless interactions between funnyman Ricky Gervais and a group of five kids who say the most unpredictable things.


[11/16/17 - 08:33 AM]
Freeform Releases the #GrownishChallenge
The video stars, in order of appearance, Chloe Bailey, Halle Bailey, Jordan Buhat, Trevor Jackson, Yara Shahidi, Francia Raisa, Emily Arlook, Luka Sabbat and Chris Parnell.


[11/16/17 - 08:15 AM]
Wednesday's Broadcast Ratings: FOX Reclaims Top Spot Among Adults 18-49
"Empire" is the night's top demo draw while "Survivor: Heroes vs. Healers vs. Hustlers" is the most-watched program.


[11/16/17 - 07:11 AM]
Video: The Making of "The Grand Tour" Season Two - "It's a Half-a-Romeo"
In a brand-new behind-the-scenes video, Jeremy, Richard and James try to come up with an alternative to last year's "Celebrity Brain Crash" segment, with questionable results.