[10/11/13 - 09:18 AM]
Starz Releases First Photos from Sophomore Season of David S. Goyer's Hit Action Adventure Original Series "Da Vinci's Demons"
Get your first look at the show's second season, due in 2014 on the pay channel.
---
[via press release from Starz]
STARZ RELEASES FIRST PHOTOS FROM SOPHOMORE SEASON OF DAVID S. GOYER'S HIT ACTION ADVENTURE ORIGINAL SERIES "DA VINCI'S DEMONS"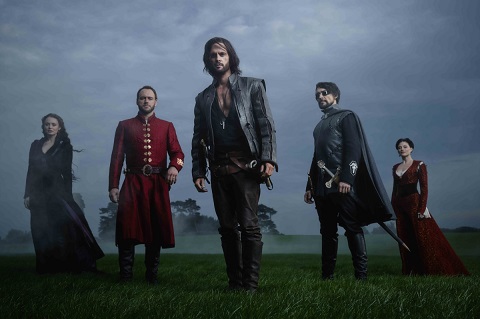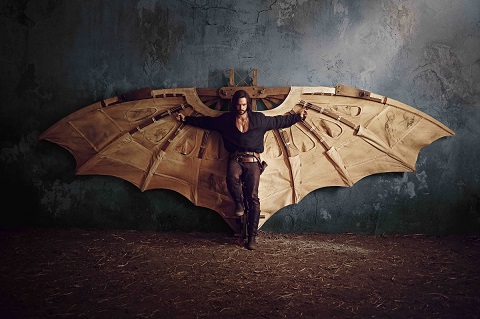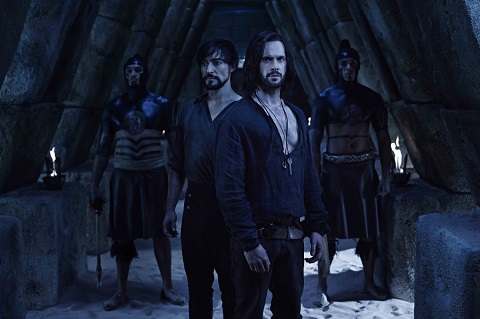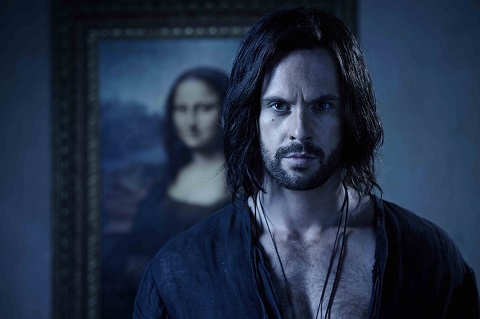 Today STARZ released the first photos from the anticipated second season of the adventure drama, "Da Vinci's Demons," a STARZ Original series from the mind of David S. Goyer (Batman Begins, The Dark Knight, Man of Steel), which will return on STARZ in 2014.
Starring Tom Riley ("Monroe," I Want Candy), as the title character, season two of "Da Vinci's Demons," finds Florence thrown into chaos in the wake of the Pazzi conspiracy. Lorenzo is gravely ill and Leonardo da Vinci must push the limits of his mind and body to defend the city against the forces of Rome. While the Medicis go to unthinkable lengths to deal with new threats, da Vinci continues on his quest to find the fabled Book of Leaves and uncover the secret history of his mother. He'll come to realize that he has lethal competition in his quest -- new enemies who may be even worse than the forces of Pope Sixtus. His search will take him to faraway lands and force him to reevaluate everything he knew about the world and his own history.
The series also stars Laura Haddock as Lucrezia Donati, Blake Ritson as Count Riario Girolamo, Elliot Cowan as Lorenzo Medici and Lara Pulver as Clarice Orsini.
STARZ greenlit "Da Vinci's Demons" for a second season following its record-setting first season weekend debut on STARZ on Friday April 12, 2012. The historical fantasy created by David S. Goyer and produced by Adjacent Productions, follows the 'untold' story of the world's greatest genius, Leonardo da Vinci, during his turbulent youth in Renaissance Florence. Outside of the United States and English-speaking Canada, "Da Vinci's Demons" is distributed internationally by BBC Worldwide. Fox International Channels (FIC) acquired the first season of the series and premiered it to audiences in 120 countries in Latin America, Europe, Asia, the Middle East and Africa following Starz's exclusive premiere in the U.S.
Follow Da Vinci's Demons on social media: Instagram - Davincisdemons_STARZ Twitter - @DaVincis_Starz
All photos (C) Starz, Entertainment, LLC




[05/25/16 - 02:37 PM]
Science Channel to Air "Droned" This Summer
The series will follow drone build teams and their clients while exploring the impact drones are having as viewers get a front row seat to a technology revolution.


[05/25/16 - 02:01 PM]
IFC Announces Series Development Deal with New York Magazine's Vulture
The project, titled "The Vulture Show," will deliver smart, irreverent and "slightly off" entertainment news, covering TV, movies, music, art, books, theater and celebrities with the outlet's signature, sharp perspective.


[05/25/16 - 01:31 PM]
Cable's #1 New Non-Fiction Series "60 Days In" Returns for an Explosive Second Season Thursday, August 18 at 9PM ET/PT on A&E
Plus: ABC News Chief Legal Analyst, Dan Abrams hosts "60 Days In: The Aftermath," a tell-all reunion special, with the season one participants premiering on Thursday, May 26.


[05/25/16 - 01:28 PM]
New Discovery Series "Homestead Rescue" - New Premiere Date and Clip
The newcomer will now launch Friday, June 17 at 10:00/9:00c on the cable channel.


[05/25/16 - 11:30 AM]
Investigation Discovery's June Programming Slate Delivers Healthy Dose of Drama with Four New Original Series
Television's home for true-crime content, ID brings compelling, real stories to the small screen, including premieres of four all-new series, and the return of three fan-favorites.


[05/25/16 - 11:25 AM]
CMT Celebrates Dierks Bentley's New Album, Black, with Special Takeover Weekend Beginning May 28
Look for "CMT Instant Jam: Dierks Bentley" on Saturday, May 28 at 9:00/8:00c.


[05/25/16 - 11:11 AM]
Returning Original Starz Series "Power" and "Survivor's Remorse" Move to Sundays in July
The former returns on July 17 followed by the latter on July 24.


[05/25/16 - 10:30 AM]
VH1's Sexy Hit Series "Dating Naked" Is Back - Season 3 Premieres Wednesday, June 29 at 9:00 PM ET/PT
Hosted by Rocsi Diaz, this season once again features two main daters, David and Natalie, as they search for love on a tropical island paradise.


[05/25/16 - 10:22 AM]
Freeform's "Funday" Father's Day Weekend Programming Event Begins Saturday, June 18 and Continues Through Sunday, June 19
Now with the summer kicking into high gear, what better way to celebrate your beloved father than bonding over classic Disney movies in a weekend-long marathon?


[05/25/16 - 10:00 AM]
"The Americans" Picked Up for Final Two Seasons
A 13-episode fifth season will air in 2017, followed by a 10-episode sixth and final season in 2018.


[05/25/16 - 09:40 AM]
Brett Donahue to Play John F. Kennedy Jr. in Muse Entertainment's "The Kennedys-After Camelot"
As previously announced, the project stars Katie Holmes as Jackie Kennedy Onassis, Matthew Perry as Ted Kennedy, Alexander Siddig as Aristotle Onassis, Kristen Hager as Joan Kennedy.


[05/25/16 - 09:32 AM]
Food Network Heads Outdoors as Professional Grill Masters Face the Heat in "Chopped Grill Masters Napa"
The five-week event launches Tuesday, July 5 at 10:00/9:00c on the cable channel.


[05/25/16 - 09:08 AM]
Brad Paisley and Carrie Underwood to Host "The 50th Annual CMA Awards" Live From Nashville, Wednesday, November 2, on ABC
The return of the popular pair was announced during Paisley's appearance on "Jimmy Kimmel Live!" and via Underwood's social network.


[05/25/16 - 08:48 AM]
Fifth Harmony and Cam Join for a Pop-Country Mash Up at the "CMT Music Awards" Airing Live on Wednesday, June 8 at 8:00 PM ET/PT
Plus: Vince Vaughn and Rob Riggle, NASCAR driver Danica Patrick, country artists Charles Kelley of Lady Antebellum, Cole Swindell, Dan+Shay and Kellie Pickler are on tap to present.


[05/25/16 - 08:45 AM]
Tuesday's Broadcast Ratings: "The Voice" Goes Out on Top for NBC
The Peacock's reality franchise holds off ABC's own season finale of "Dancing with the Stars."