BBC AMERICA'S DRAMATIC CONSPIRACY THRILLER ORPHAN BLACK RETURNS SATURDAY, APRIL 19
Tatiana Maslany's multiple roles create the most extraordinary ensemble cast on television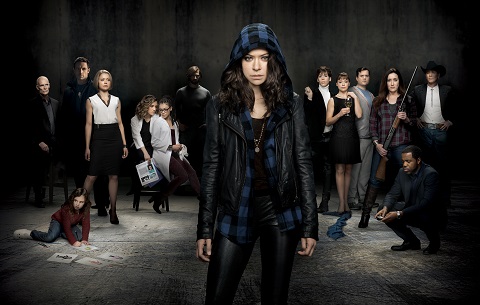 New York - March 13, 2014 - Season two of BBC AMERICA's dramatic conspiracy thriller, Orphan Black, hits the ground running with Sarah (Golden Globe(R) nominee Tatiana Maslany, Parks and Recreation) in a desperate race to find her missing daughter Kira (Skyler Wexler, Carrie) - a wild pursuit that brings her head-to-head with ruthless pro-clone, Rachel (Maslany). This season also rejoins Sarah's clone sisters Alison (Maslany) and Cosima (Maslany) as they struggle to keep their clone world a secret and pick up the pieces of their broken lives - all while dealing with the harsh reality that no one around them can be trusted. Orphan Black returns Saturday, April 19, 9:00pm ET/PT.
As the mysterious world of Orphan Black widens, new layers of the conspiracy are peeled back. Season one introduced Sarah, whose life changed dramatically after witnessing the suicide of a woman who looked just like her. Sarah learned that, not only were she and the woman clones, but there were others just like them, and dangerous factions at work set on capturing them all. She forged an alliance with fellow clones Alison Hendrix and Cosima Niehaus - and together they've been fighting for their freedom and the safety of their loved ones.
This season the trio's bond remains strong but they've all made choices that have dire consequences, leaving Sarah to navigate a dangerous world of new enemies and shifting allegiances. She immediately sets off fighting for survival and willing to risk everything to find her missing daughter Kira and foster mother, Mrs. S (Maria Doyle Kennedy, Downton Abbey). Unsure who to trust, Sarah starts an all out war against immense forces. A powerful member of the Dyad group of companies, clone Rachel Duncan, has been tasked with negotiating the allegiance of Sarah and the other clones. She'll stop at nothing to complete her mission, using those who love Sarah as leverage, including confidant Paul Dierden (Dylan Bruce, Arrow). But Sarah is willing to risk everything and employs scorched earth tactics that inevitably imperil the clones.
Alison, in a fit of desperation to preserve her perfect suburban world, signed a deal with the Dyad Institute to maintain the life of a Stepford wife with husband Donnie and her children - but at what cost? The death of her friend Aynsley and the constant suspicion she's being watched are taking a toll on her sanity. Paralyzed by paranoia, she finds a shoulder to lean on in Sarah's feisty foster brother Felix (Jordan Gavaris, Degrassi), who after getting lost in the shuffle of Sarah's life, is happy to finally be needed. Cosima isn't faring any better. Sick with a mysterious illness and facing her mortality, the consequences are severe. Unfortunately, their enemies might be her only hope, and Cosima must work with Dyad Institute scientist and lover, Delphine, to find a cure before it's too late.
The series, starring Tatiana Maslany, is co-created by Graeme Manson and John Fawcett, with Manson also serving as writer and Fawcett as director. Maslany's breakout performance, playing seven clones and counting, earned her Golden Globe(R) and People's Choice nominations, and won her multiple Awards including a TCA Award for Individual Achievement, a Critics' Choice Best Dramatic Actress Award, the Young Hollywood Award for breakthrough performance and a Canadian Screen Actor Award for Best Performance in a Dramatic Role.
Reprising their roles are Matt Frewer (Falling Skies) as Dr. Aldous Leekie, the scientist that oversees the Dyad Institute's clone experiment, Evelyne Brochu (Tom at the Farm) as Dr. Delphine Cormier, a beautiful scientist sent to monitor her eventual lover Cosima, Kristian Bruun (Life) as Donnie, Alison's lump of a husband who is also secretly her monitor and Kevin Hanchard (Suits) as Detective Arthur 'Art' Bell, former partner to dead clone, Beth, who gets sucked into the secret clone world. Joining this season are Michiel Huisman (Nashville) as Cal, a rugged and resourceful outdoorsman with a sixth sense about people and situations, Peter Outerbridge (Nikita) as Johanssen, a mercurial modern-day cowboy and leader of a new breed of religious extremists and Ari Millen (Nikita) as Mark, a loyal follower of Johannsen and his religious teachings. Guest starring are Patrick J. Adams (Suits) as Jesse, a down to earth guy with guts to match his good nature, and Michelle Forbes (True Blood) as Marion Bowles, a powerful new player at the Dyad Institute with a birds-eye view of the war between Sarah and Rachel.
Note to editors Twitter: @OrphanBlack Hashtags: #OrphanBlack Website: http://www.bbcamerica.com/orphan-black/
CAST AND PRODUCTION CREDITS
Sarah... and all the clone sisters Tatiana Maslany (Parks and Recreation, Picture Day)
Felix Jordan Gavaris (Degrassi, Unnatural History)
Paul Dylan Bruce (Arrow, Flowers in the Attic)
Mrs. S Maria Doyle Kennedy (Downton Abbey, Dexter)
Kira Skyler Wexler (Carrie, Alphas)
Art Kevin Hanchard (Suits, Take the Lead)
Delphine Evelyne Brochu (Tom at the Farm, Inch'Allah)
Donnie Kristian Bruun (Life, Bang Bang Baby)
Dr. Leekie Matt Frewer (Falling Skies, Watchmen)
Cal Michiel Huisman (Nashville, Treme)
Johanssen Peter Outerbridge (Nikita, Beauty and the Beast)
Mark Ari Millen (Nikita, Rookie Blue)
Co-Creator/Director John Fawcett
Co-Creator/Writer Graeme Manson
Directors TJ Scott
David Frazee
Helen Shaver
Brett Sullivan
Ken Girotti
Executive Producers Ivan Schneeberg
David Fortier
Graeme Manson
John Fawcett
Co-Executive Producers Karen Walton
Kerry Appleyard
Producers Claire Welland
Karen Troubetzkoy
Orphan Black is produced by Temple Street Productions in association with BBC AMERICA and Bell Media.
BBC AMERICA delivers U.S. audiences high-quality, innovative and intelligent programming. Established in 1998, it has been the launch pad for talent embraced by American mainstream pop culture, including Ricky Gervais, Gordon Ramsay, Graham Norton, and successful programming formats including ground-breaking non-scripted television like Top Gear and top-rated science-fiction like Doctor Who. Owned by BBC Worldwide, the commercial arm of the BBC, BBC AMERICA has attracted both critical acclaim and major awards including two Emmy(R) Awards, five Golden Globes(R) and eleven Peabody Awards. The channel attracts one of cable's most affluent and educated audiences and is available on cable and satellite TV in 80 million homes. It broadcasts in both standard and high-definition, with content available On Demand across all major digital platforms. Online,www.bbcamerica.com is the place to go to dig deeper into pop culture with a British twist.