[07/18/14 - 05:30 PM]
Showtime(R) Releases Fourth Season Key Art for "Homeland"
Plus: get a first look at the new season, due Sunday, October 5 at 9:00/8:00c on the network.
---
[via press release from Showtime]
SHOWTIME(R) RELEASES FOURTH SEASON KEY ART FOR "HOMELAND"
Network's Highest-Rated Series Premieres On Sunday, October 5th at 9 PM ET/PT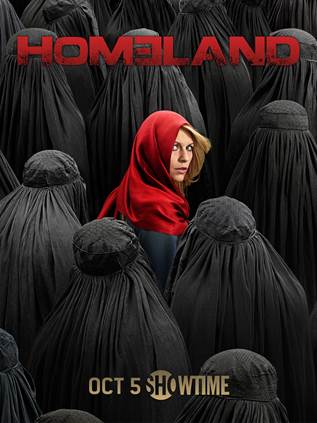 NEW YORK, NY (July 18, 2014) - Today, SHOWTIME unveiled the season four poster for its No. 1 series HOMELAND, premiering on Sunday, October 5th at 9 p.m. ET/PT. The highly-anticipated drama stars Emmy(R), SAG(R) and Golden Globe(R) winner Claire Danes as Carrie Mathison, a bi-polar CIA officer who plays by her own rules. Averaging seven million total weekly viewers, HOMELAND has garnered a total of 25 Emmy nominations and seven Golden Globe nominations. For an early look at season four, go to: http://s.sho.com/1jFILkq.
As last season drew to a close Carrie, pregnant with the late Brody's (Damian Lewis) baby, got promoted to a new post overseas, while Saul Berenson (Emmy and Tony(R) Award winner Mandy Patinkin) contemplated his future outside of the CIA. Season four will find Carrie assigned to one of the most volatile and dangerous CIA stations in the Middle East where she is back on the front lines in the war on terror. Along with Danes and Patinkin, Emmy nominee Rupert Friend will return for season four, along with Nazanin Boniadi and Laila Robins who will both be series regulars. Produced by Fox 21, the series was developed for American television by Alex Gansa and Howard Gordon, and based on the original Israeli series Prisoners of War by Gideon Raff. Along with Gansa, Gordon and Raff, the executive producers for season four are Alexander Cary, Chip Johannessen, Meredith Stiehm, Avi Nir and Ran Telem.




[04/01/15 - 10:30 AM]
E! Continues to Boost Original Programming with Introduction of Three New Series and Return of Three Hit Franchises
"#RichKids of Beverly Hills" (Sunday, May 24), "Total Divas" (Summer 2015) and "Christina Milian Turned Up" (Fall 2015) are all due back.


[04/01/15 - 10:03 AM]
truTV Spring 2015 Highlights
Said offerings include the return of "Fake Off" (Wednesday, May 6), "Barmageddon" (Monday, June 1) and "How to Be a Grown Up" (Tuesday, June 2).


[04/01/15 - 10:00 AM]
Fifth Harmony, Carly Rae Jepsen, Chelsea Kane, Sweet Suspense, Kelsea Ballerini, and Stars of "black-ish" and "Teen Beach 2" to Present at the 2015 Radio Disney Music Awards
A 30-minute pre-show originating from the red carpet and a 90-minute awards show telecast will be presented on multiple platforms around the world beginning Sunday, April 26 (7:30 p.m., ET/PT) on Disney Channel.


[04/01/15 - 10:00 AM]
CBS Announces Season Finale Airdates
Plus: "Stalker" will rejoin the schedule on Monday, May 4 at 9:00/8:00c.


[04/01/15 - 09:45 AM]
Creative Team Behind "The Bachelor" Franchise Introduces New Luxurious Line of Hot Tubs to Be Sold at Retailers Nationwide Beginning April 1
"Hot tubs represent a great way of life - a life filled with romance and passion," said Bachelor creator/executive producer Mike Fleiss.


[04/01/15 - 09:38 AM]
USA Network's WWE "Monday Night Raw" Attracts Largest Audience in Nearly Three Years
USA spins the numbers for Monday, March 30.


[04/01/15 - 09:31 AM]
Second Round of Performers Announced to Perform on "ACM Presents: Superstar Duets," Friday, May 15 on CBS
The special, taping April 17-18 at the two-day ACM Party for a Cause Festival at Globe Life Park in Arlington, Texas, will be broadcast Friday, May 15 (9:00-11:00 PM, ET/PT).


[04/01/15 - 08:45 AM]
NBC Ties for the Nightlong Win Against All-Original Competition on the Big 4, Despite Encores of "Voice" and "Chicago Fire"
NBC spins the numbers for Tuesday, March 31.


[04/01/15 - 08:38 AM]
Tuesday's Broadcast Ratings: "NCIS," "Dovekeepers" Top Viewers for CBS
The Eye however shares the adults 18-49 crown with NBC last night.


[04/01/15 - 08:29 AM]
Nat Geo WILD Celebrates Earth Day with Slate of Original Animal Programming Throughout April
To help localize the Earth Day effort, Nat Geo WILD will invite people to post a selfie with the part of the Earth they most want to protect, using the hashtag #earthdayselfie.


[04/01/15 - 07:24 AM]
NBC Sports Group Fills Out 2015 Stanley Cup Playoff Bracket with Complete Coverage Beginning April 15
During April, May and June, NBC Sports Group will televise as many as 105 playoff games and possibly more than 260 hours of programming.


[04/01/15 - 07:21 AM]
CNBC's "Consumed: The Real Restaurant Business" Premieres Wednesday, May 13 at 10PM ET/PT
CNBC takes viewers behind-the-scenes of five very different restaurants in the ultra-competitive New York food scene, chronicling their every struggle and occasional triumph.


[04/01/15 - 06:40 AM]
VH1 Gives the Green Light to Love on the Red Planet with "Space D.A.T.E"
"These brave individuals have committed to spending years of their lives on Mars," said Tom Calderone. "We figured that we may as well give them an opportunity to be with someone hot."


[03/31/15 - 06:02 PM]
Video: "The Flash" - Different Person Trailer
The CW has released a one-minute preview of the remainder of the season.


[03/31/15 - 03:46 PM]
It's Only the Beginning... "Bloodline" Season 2 Coming 2016
Netflix has renewed its just-launched drama for a second season.