[07/18/14 - 05:30 PM]
Showtime(R) Releases Fourth Season Key Art for "Homeland"
Plus: get a first look at the new season, due Sunday, October 5 at 9:00/8:00c on the network.
---
[via press release from Showtime]
SHOWTIME(R) RELEASES FOURTH SEASON KEY ART FOR "HOMELAND"
Network's Highest-Rated Series Premieres On Sunday, October 5th at 9 PM ET/PT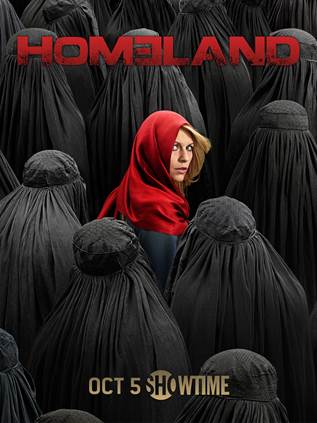 NEW YORK, NY (July 18, 2014) - Today, SHOWTIME unveiled the season four poster for its No. 1 series HOMELAND, premiering on Sunday, October 5th at 9 p.m. ET/PT. The highly-anticipated drama stars Emmy(R), SAG(R) and Golden Globe(R) winner Claire Danes as Carrie Mathison, a bi-polar CIA officer who plays by her own rules. Averaging seven million total weekly viewers, HOMELAND has garnered a total of 25 Emmy nominations and seven Golden Globe nominations. For an early look at season four, go to: http://s.sho.com/1jFILkq.
As last season drew to a close Carrie, pregnant with the late Brody's (Damian Lewis) baby, got promoted to a new post overseas, while Saul Berenson (Emmy and Tony(R) Award winner Mandy Patinkin) contemplated his future outside of the CIA. Season four will find Carrie assigned to one of the most volatile and dangerous CIA stations in the Middle East where she is back on the front lines in the war on terror. Along with Danes and Patinkin, Emmy nominee Rupert Friend will return for season four, along with Nazanin Boniadi and Laila Robins who will both be series regulars. Produced by Fox 21, the series was developed for American television by Alex Gansa and Howard Gordon, and based on the original Israeli series Prisoners of War by Gideon Raff. Along with Gansa, Gordon and Raff, the executive producers for season four are Alexander Cary, Chip Johannessen, Meredith Stiehm, Avi Nir and Ran Telem.




[10/27/16 - 02:40 PM]
A&E Network to Premiere New Original Docuseries "Leah Remini: Scientology and The Aftermath"
Remini, along with high level former Scientology executives and Church members, delves deep into shocking stories of abuse, heartbreak and harassment experienced by those who have left the church and spoken publicly about their experiences.


[10/27/16 - 02:06 PM]
Unexpected Motherhood Explored in Lifetime's Two New Series, "30 Something Grandma" and "Knocked Up"
Look for the newcomers on November 15 and December 6, respectively.


[10/27/16 - 02:05 PM]
truTV's Short-Form Comedy Series "Rachel Dratch's Late Night Snack" Returns Wednesday, Nov. 2
In this weekly showcase, comedy fans will be treated to a lineup of original offerings from some of the biggest and brightest creators spanning a variety of styles from character-driven shorts to animation to music videos and much more.


[10/27/16 - 01:06 PM]
Universal Cable Productions Announces Multiple Licensed Product Partners for "Mr. Robot"
Available just in time for Halloween, Rasta Imposta's iconic fsociety mask is available now at retailers nationwide including Amazon, Costume Super Center, Hot Topic, Party City, Spirit Halloween and Spencers.


[10/27/16 - 12:49 PM]
WE tv Announces New Paranormal Docu-Series "Ghosts in the Hood" Premiering on Thursday, January 5, 2017
The show follows the ghost-hunting team of O.P.O. (Official Paranormal Operations), who go where other ghost hunters typically don't - from the LBC to Altadena - bringing their signature humor along with them.


[10/27/16 - 12:46 PM]
Are You Cameron Ready? Netflix Announces Launch Date for Unscripted Series "Chasing Cameron"
The 10-episode series, which follows digital influencer Cameron Dallas, will launch globally on December 27 at 12:01am PST.


[10/27/16 - 11:54 AM]
Video: "24: Legacy" Trailer Reaches 7.0 Million Views in 24 Hours
The two-night premiere event airs Sunday, February 5, following "Super Bowl LI," and continues Monday, February 6, on FOX.


[10/27/16 - 11:33 AM]
Freeform Serves Up a Fifth Season of Popular Comedy "Young & Hungry"
The new season will kick off production next week and will premiere in 2017.


[10/27/16 - 11:17 AM]
Video: Netflix Debuts Trailer for "Dana Carvey: Straight White Male, 60"
Filmed at the The Wilbur Theatre in Boston, the outrageously funny stand-up special features Carvey's distinctive brand of comedy.


[10/27/16 - 11:10 AM]
Ali Khan's Search for the Best "Cheap Eats" Across the Country Continues on the Series Return on Cooking Channel
Come along and join this budget-conscious culinary tour beginning on Thursday, December 1 at 10:00/9:00c.


[10/27/16 - 11:01 AM]
Pop Orders Second Season of Its Original Scripted Comedy "Nightcap" in Advance of Its Nov. 16 Series Premiere
Pop will premiere with two back-to-back episodes featuring guest stars Sarah Jessica Parker, Kelly Ripa, Mark Consuelos and Andy Cohen in episode one, and Gwyneth Paltrow, Jim Norton and Nate Berkus in episode two.


[10/27/16 - 10:33 AM]
Bravo Media Greenlights Six New and Returning Series Growing the Network's Robust Slate
The network confirmed new season orders for fan-favorites "Southern Charm" season four as well as "Shahs of Sunset" season six and "Million Dollar Listing New York" season six.


[10/27/16 - 10:31 AM]
"Mommy Dead and Dearest," The Shocking True Crime Story About the Murder of Dee Dee Blanchard and the Disturbing Life of Her Daughter, Gypsy Rose, to Debut in March 2017, Exclusively on HBO
In the film, provocative documentarian Erin Lee Carr again explores a crime in the age of social media.


[10/27/16 - 10:00 AM]
Freeform Celebrates 20 Years of Christmas Cheer with the "25 Days of Christmas" Programming Event Starting Thursday, December 1
This year's merriest programming stunt includes the network television premiere of "Holiday Joy" and the Freeform premieres of "Santa Paws 2: The Santa Pups," "Snow Buddies" and "Just Friends."


[10/27/16 - 10:00 AM]
"Bones: The Final Chapter" to Premiere Tuesday, January 3, on FOX
The 12-episode run will celebrate the inventive series and bring the storylines of Brennan (Emily Deschanel), Booth (David Boreanaz) and the Jeffersonian-FBI team to a close, allowing the show's loyal fans to say goodbye to these indelible characters.