[07/18/14 - 05:30 PM]
Showtime(R) Releases Fourth Season Key Art for "Homeland"
Plus: get a first look at the new season, due Sunday, October 5 at 9:00/8:00c on the network.
---
[via press release from Showtime]
SHOWTIME(R) RELEASES FOURTH SEASON KEY ART FOR "HOMELAND"
Network's Highest-Rated Series Premieres On Sunday, October 5th at 9 PM ET/PT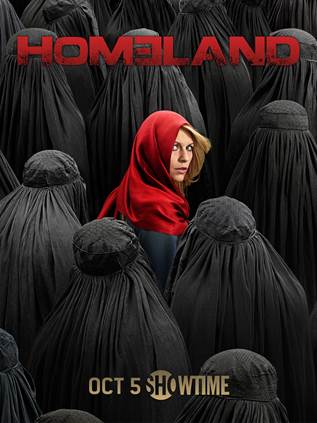 NEW YORK, NY (July 18, 2014) - Today, SHOWTIME unveiled the season four poster for its No. 1 series HOMELAND, premiering on Sunday, October 5th at 9 p.m. ET/PT. The highly-anticipated drama stars Emmy(R), SAG(R) and Golden Globe(R) winner Claire Danes as Carrie Mathison, a bi-polar CIA officer who plays by her own rules. Averaging seven million total weekly viewers, HOMELAND has garnered a total of 25 Emmy nominations and seven Golden Globe nominations. For an early look at season four, go to: http://s.sho.com/1jFILkq.
As last season drew to a close Carrie, pregnant with the late Brody's (Damian Lewis) baby, got promoted to a new post overseas, while Saul Berenson (Emmy and Tony(R) Award winner Mandy Patinkin) contemplated his future outside of the CIA. Season four will find Carrie assigned to one of the most volatile and dangerous CIA stations in the Middle East where she is back on the front lines in the war on terror. Along with Danes and Patinkin, Emmy nominee Rupert Friend will return for season four, along with Nazanin Boniadi and Laila Robins who will both be series regulars. Produced by Fox 21, the series was developed for American television by Alex Gansa and Howard Gordon, and based on the original Israeli series Prisoners of War by Gideon Raff. Along with Gansa, Gordon and Raff, the executive producers for season four are Alexander Cary, Chip Johannessen, Meredith Stiehm, Avi Nir and Ran Telem.




[12/14/18 - 02:23 PM]
Bravo Media's "Married to Medicine" Season 6 Three-Part Reunion Hits a Fever Pitch on Friday, December 21 at 9PM ET/PT
The subsequent installments will air Sunday, January 6 and 13 at 9:00/8:00c.


[12/14/18 - 01:42 PM]
Superstar Recording Artists Jennifer Hudson, Kelly Clarkson, John Legend, Dierks Bentley, Halsey, Marshmello and Bastille, Panic! At the Disco, Brynn Cartelli and More to Perform on "Voice" Finale
The season finale will also feature special musical collaborations with the Top 4 finalists, which will be announced soon.


[12/14/18 - 12:01 PM]
Netflix Picks Up "Bonding" from Rightor Doyle
The dark comedy centers on the relationship between former high-school BFFs, Pete, a recently out gay man, and Tiff, a grad student and secretly one of New York City's top dominatrixes, who reconnect in an unexpected way years later.


[12/14/18 - 10:03 AM]
HBO Films' "Brexit," Starring Benedict Cumberbatch, Debuts Jan. 19
This provocative feature-length drama goes behind the scenes, revealing the personalities, strategies and feuds of the Leave and Remain campaigns.


[12/14/18 - 10:00 AM]
ABC Television Network Orders Additional Episodes of Comedies "black-ish," "The Goldbergs," "The Kids Are Alright" and "Single Parents" for the 2018-2019 Season
"Black-ish" has received two additional episodes while the others have been extended by one episode.


[12/14/18 - 09:06 AM]
Video: Showtime(R) Releases Official Poster and New Teaser for "Black Monday"
The 10-episode series will premiere on Sunday, January 20 at 10:00/9:00c.


[12/14/18 - 09:05 AM]
"Strike Back" Begins Season Six Jan. 25 on Cinemax
The show follows the explosive escapades of Section 20, an elite, multinational, covert special ops team, as it spans the globe fighting a vast web of interconnected criminal and terrorist activity.


[12/14/18 - 08:23 AM]
Thursday's Broadcast Ratings: "Thursday Night Football" Powers FOX Victory
The network's last Thursday game of the season delivers top honors in total viewers and adults 18-49.


[12/14/18 - 08:03 AM]
Video: "Russian Doll" Season 1 - Date Announcement - Netflix
From Natasha Lyonne, Amy Poehler and Leslye Headland comes "Russian Doll," February 1 on Netflix.


[12/14/18 - 08:01 AM]
DC Universe: The Ultimate Holiday Binge-Watching Destination Anchored with the Season Finale of Original Series "Titans" on December 21
97% of members have watched the exclusive original "Titans."


[12/13/18 - 03:14 PM]
Red Nose Day Returns to NBC for Fifth Year with a Special Night of Programming on Thursday May 23, 2019
In 2019, the multi-week fundraising campaign will culminate on Red Nose Day, Thursday, May 23 with a three-hour block of Red Nose Day-themed programming on NBC.


[12/13/18 - 03:02 PM]
"Black Lightning": First Look at "Lightning"!
The network teases China Anne McClain as her crime fighting alter-ego in advance of the show's January 21 return.


[12/13/18 - 02:03 PM]
Video: "Magic for Humans" Season 2 - Announcement - Netflix
Justin Willman will be back for season two in 2019.


[12/13/18 - 01:37 PM]
MTV Unveils Cast For Highly Anticipated "Lindsay Lohan's Beach Club"
Lohan returns to the spotlight as a powerhouse entrepreneur with the launch of her new club, Lohan Beach House in Mykonos, Greece.


[12/13/18 - 01:19 PM]
After Season 3 "The Grand Tour" Will Be Returning for an Even Bigger Adventure
Amazon announced via social media the series will be back for a fourth season.