[07/18/14 - 05:30 PM]
Showtime(R) Releases Fourth Season Key Art for "Homeland"
Plus: get a first look at the new season, due Sunday, October 5 at 9:00/8:00c on the network.
---
[via press release from Showtime]
SHOWTIME(R) RELEASES FOURTH SEASON KEY ART FOR "HOMELAND"
Network's Highest-Rated Series Premieres On Sunday, October 5th at 9 PM ET/PT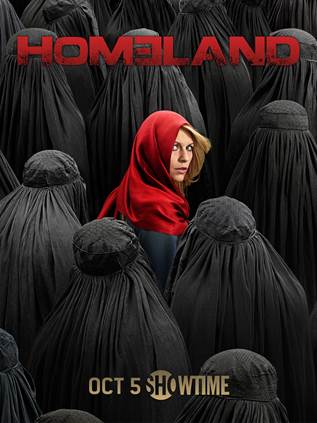 NEW YORK, NY (July 18, 2014) - Today, SHOWTIME unveiled the season four poster for its No. 1 series HOMELAND, premiering on Sunday, October 5th at 9 p.m. ET/PT. The highly-anticipated drama stars Emmy(R), SAG(R) and Golden Globe(R) winner Claire Danes as Carrie Mathison, a bi-polar CIA officer who plays by her own rules. Averaging seven million total weekly viewers, HOMELAND has garnered a total of 25 Emmy nominations and seven Golden Globe nominations. For an early look at season four, go to: http://s.sho.com/1jFILkq.
As last season drew to a close Carrie, pregnant with the late Brody's (Damian Lewis) baby, got promoted to a new post overseas, while Saul Berenson (Emmy and Tony(R) Award winner Mandy Patinkin) contemplated his future outside of the CIA. Season four will find Carrie assigned to one of the most volatile and dangerous CIA stations in the Middle East where she is back on the front lines in the war on terror. Along with Danes and Patinkin, Emmy nominee Rupert Friend will return for season four, along with Nazanin Boniadi and Laila Robins who will both be series regulars. Produced by Fox 21, the series was developed for American television by Alex Gansa and Howard Gordon, and based on the original Israeli series Prisoners of War by Gideon Raff. Along with Gansa, Gordon and Raff, the executive producers for season four are Alexander Cary, Chip Johannessen, Meredith Stiehm, Avi Nir and Ran Telem.




[08/16/18 - 01:03 PM]
TNT Orders "The Angel of Darkness" Limited Series
Daniel Brühl, Luke Evans and Dakota Fanning will return for the sequel to this year's "The Alienist."


[08/16/18 - 12:38 PM]
Special Edition of "20/20" Looks Back on Life and Legacy of Icon Aretha Franklin
Look for the one-hour special to air tonight at 8:00/7:00c on ABC.


[08/16/18 - 12:25 PM]
USA Network's "Real Country" Adds Celebrity Guests & Host; Sets Premiere Date
The latest additions include Trace Adkins, Wynonna Judd and Big & Rich.


[08/16/18 - 12:03 PM]
Netflix Makes Overall Series Deal with Kenya Barris
Under the deal, Barris will write and executive produce all projects through his production company, Khalabo Ink Society.


[08/16/18 - 11:49 AM]
HGTV Picks Up Second Season of "Boise Boys"
The new season is slated to premiere in late spring 2019.


[08/16/18 - 11:00 AM]
Video: Two Binge-Worthy Limited Series Dramas Premiere on Pop TV This Fall: "Wolf Creek" on Oct. 21-23 and "Clique" on Nov. 7
Check out the trailers for both upcoming projects.


[08/16/18 - 10:16 AM]
OWN Honors Aretha Franklin with Special Re-Airing of Memorable "The Oprah Winfrey Show" Celebrating Her Life and Career Airing This Saturday, August 18
Winfrey talks with Aretha Franklin about her life and career, including her autobiography, "Aretha: From These Roots."


[08/16/18 - 10:00 AM]
Starz Acquires Nine Exclusive First-Run Documentaries Including "Scotty and the Secret History of Hollywood"
The film is the deliciously scandalous story of Scotty Bowers, a handsome ex-Marine who landed in Hollywood after the Second World War and became confidant, aide-de-camp and lover to many of Hollywood's greatest male - and female - stars.


[08/16/18 - 09:58 AM]
Sam and Cody Carroll Deliver Tastes of the Bayou on Food Network's "Cajun Aces"
Join Cody and Sam over six episodes as they share recipes rooted in their Cajun background, while showcasing delicious and easy recipes at home without sacrificing flavor.


[08/16/18 - 09:41 AM]
Academy Award(R) and Golden Globe(R) Nominee Mary J. Blige to Appear in MTV's "Scream"
She joins the previously announced all-star cast including Keke Palmer, Tyler Posey, Tyga, Giorgia Whigham, Jessica Sula, RJ Cyler, C.J. Wallace and Giullian Yao Gioiello.


[08/16/18 - 09:07 AM]
Join the Haunt! Travel Channel Premieres "Haunted Live" - Fri, Sept. 14
Each week, the team - comprised of Chris Smith, Steven "Doogie" McDougal, Scott Porter, Brannon Smith and Mike Goncalves - will reveal a new haunted location to the public, keeping it under wraps until the investigation begins to avoid interference or contamination.


[08/16/18 - 09:02 AM]
Stars Rally Together Again for Stand Up to Cancer's Live Broadcast on Sept. 7
Bradley Cooper, Academy Award(R)-nominated actor, will return as co-executive producer along with the renowned live-event producing team Done + Dusted.


[08/16/18 - 09:00 AM]
E! Sets Premiere for Late Night Talk Show "Busy Tonight" Hosted by Busy Philipps on Sunday, October 28 at 10 PM ET/PT
The half hour talk show, airing every Sunday through Wednesday, will feature everyone's favorite unfiltered Hollywood best friend giving her hilarious and outspoken opinions on the latest pop culture stories and trending topics.


[08/16/18 - 08:14 AM]
Wednesday's Broadcast Ratings: NBC Rides "Got Talent" Results to Victory
The show's Wednesday premiere puts the Peacock in front among total viewers and adults 18-49.


[08/16/18 - 08:01 AM]
Lost Temple Reveals New Insights on Bible Story "Jonah and the Whale" in Smithsonian Channel(TM) Series "Secrets"
Archaeologists investigating a site in Iraq destroyed by ISIS have discovered a 2,700-year-old temple that reveals new insights into one of the Bible's most famous stories, "Jonah and the Whale."