[07/18/14 - 05:30 PM]
Showtime(R) Releases Fourth Season Key Art for "Homeland"
Plus: get a first look at the new season, due Sunday, October 5 at 9:00/8:00c on the network.
---
[via press release from Showtime]
SHOWTIME(R) RELEASES FOURTH SEASON KEY ART FOR "HOMELAND"
Network's Highest-Rated Series Premieres On Sunday, October 5th at 9 PM ET/PT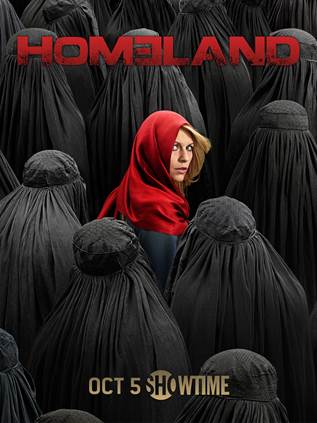 NEW YORK, NY (July 18, 2014) - Today, SHOWTIME unveiled the season four poster for its No. 1 series HOMELAND, premiering on Sunday, October 5th at 9 p.m. ET/PT. The highly-anticipated drama stars Emmy(R), SAG(R) and Golden Globe(R) winner Claire Danes as Carrie Mathison, a bi-polar CIA officer who plays by her own rules. Averaging seven million total weekly viewers, HOMELAND has garnered a total of 25 Emmy nominations and seven Golden Globe nominations. For an early look at season four, go to: http://s.sho.com/1jFILkq.
As last season drew to a close Carrie, pregnant with the late Brody's (Damian Lewis) baby, got promoted to a new post overseas, while Saul Berenson (Emmy and Tony(R) Award winner Mandy Patinkin) contemplated his future outside of the CIA. Season four will find Carrie assigned to one of the most volatile and dangerous CIA stations in the Middle East where she is back on the front lines in the war on terror. Along with Danes and Patinkin, Emmy nominee Rupert Friend will return for season four, along with Nazanin Boniadi and Laila Robins who will both be series regulars. Produced by Fox 21, the series was developed for American television by Alex Gansa and Howard Gordon, and based on the original Israeli series Prisoners of War by Gideon Raff. Along with Gansa, Gordon and Raff, the executive producers for season four are Alexander Cary, Chip Johannessen, Meredith Stiehm, Avi Nir and Ran Telem.




[05/27/16 - 10:31 AM]
AMC Is Now Home to Five of the Top 10 Shows on Cable TV and Two of the Top Three Cable Premieres This Television Season
AMC spins the numbers for the season to date.


[05/27/16 - 10:07 AM]
Pittsburgh Penguins Host San Jose Sharks in Game 1 of Stanley Cup Final Monday, May 30 - Memorial Day - at 8 P.M. ET on NBC
The Sharks advanced to their first Stanley Cup Final in franchise history with a 5-2 win in Game 6 of the Western Conference Final vs. St. Louis, while Pittsburgh advanced with a 2-1 win in Game 7 of the Eastern Conference Final against the Tampa Bay Lightning.


[05/27/16 - 08:28 AM]
Night 1 of "500 Questions" Dominates Its Thursday Unscripted Competition
ABC spins the numbers for Thursday, May 26.


[05/27/16 - 08:23 AM]
NBC's "The Red Nose Day Special" Draws a 0.6/2 and 2.155 Million Viewers Overall
NBC spins the numbers for Thursday, May 26.


[05/27/16 - 07:11 AM]
Destination America Steps Into the Darkest Town in America in the All-New Series "Ghosts of Shepherdstown"
The six-part series launches Sunday, June 12 at 10:00/9:00c on the cable channel.


[05/27/16 - 06:00 AM]
2nd Annual Red Nose Day Raises Over $31.5 Million for Kids in Need, Over 70 Stars Join NBC for Live Charity Event "The Red Nose Day Special"
Elton John, Julia Roberts, Jack Black, Ellen DeGeneres, Tracy Morgan, Blake Shelton, Will Ferrell and Zac Efron were among the many celebrities who appeared in the live, two-hour charity television event.


[05/26/16 - 03:11 PM]
ITV and Hulu Commission Exciting Eight-Part Drama Series "Harlots"
Acclaimed actresses Samantha Morton, Lesley Manville and Jessica Brown Findlay are set to star in the series, which will be produced by Monumental Pictures.


[05/26/16 - 02:37 PM]
"Comedy Bang! Bang!" Gets "Weird" with a One-Week Free Preview of This Season's Premiere Episode
IFC is previewing the first episode of this upcoming season free on IFC.com, through the IFC mobile app, On Demand and wherever the internet lives one week before it premieres on IFC on Friday, June 3.


[05/26/16 - 02:32 PM]
"Brett Gelman's Dinner in America" Special Premieres Friday, July 1st at Midnight (ET/PT) on Adult Swim
The premise is simple: A roundtable discussion in which Brett attempts to engage four distinguished actors - Loretta Devine, Shareeka Epps, Joe Morton and Mack Wilds - in an open forum on racism.


[05/26/16 - 01:43 PM]
AMC.com Releases the Director's Commentary on the "Preacher" Pilot
Series executive producers and directors Seth Rogen and Evan Goldberg give viewers an exclusive inside look at the premiere episode.


[05/26/16 - 12:52 PM]
CBS to Finish "Angel from Hell," "Rush Hour" Runs on Saturday Nights
Look for the former to return on Saturday, July 2 while the latter will resume on Saturday, July 23.


[05/26/16 - 12:41 PM]
Video: Showtime(R) Drops the New Trailer for Its Music Series "Roadies," The First Original Series from Oscar(R) Winner Cameron Crowe
The series gives an insider's look at the reckless, romantic, funny and often poignant lives of a committed group of roadies who live for music and the de facto family they've formed along the way.


[05/26/16 - 12:07 PM]
Michael Bloom Joins TBS & TNT as Senior Vice President of Unscripted Series and Specials
Most recently, Bloom was instrumental in forging the architecture for ELeague, the new eSports co-venture between Turner and WME | IMG.


[05/26/16 - 12:03 PM]
Kobe Bryant Named "Athlete of the Decade" by Spike TV
Spike TV proudly honors the Lakers' iconic superstar with its first ever "Athlete of the Decade" award to be presented at the network's 10th Annual "Guys Choice" event.


[05/26/16 - 12:02 PM]
WGN America's "Outsiders" Star David Morse Throws Out First Pitch at the Pittsburgh Pirates vs. Arizona Diamondbacks Game, In Celebration of the Start of Production on the Hit Series' Season Two
Morse's first pitch comes on the heels of Pittsburgh Mayor William Peduto declaring Wednesday, May 18 "Outsiders Day," with a proclamation ceremony at City Hall.