[07/18/14 - 05:30 PM]
Showtime(R) Releases Fourth Season Key Art for "Homeland"
Plus: get a first look at the new season, due Sunday, October 5 at 9:00/8:00c on the network.
---
[via press release from Showtime]
SHOWTIME(R) RELEASES FOURTH SEASON KEY ART FOR "HOMELAND"
Network's Highest-Rated Series Premieres On Sunday, October 5th at 9 PM ET/PT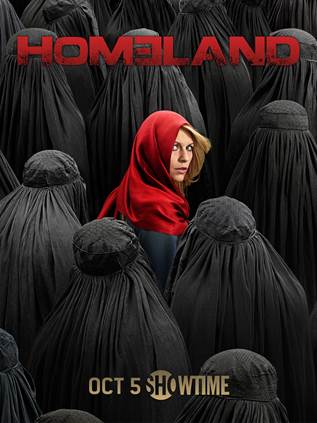 NEW YORK, NY (July 18, 2014) - Today, SHOWTIME unveiled the season four poster for its No. 1 series HOMELAND, premiering on Sunday, October 5th at 9 p.m. ET/PT. The highly-anticipated drama stars Emmy(R), SAG(R) and Golden Globe(R) winner Claire Danes as Carrie Mathison, a bi-polar CIA officer who plays by her own rules. Averaging seven million total weekly viewers, HOMELAND has garnered a total of 25 Emmy nominations and seven Golden Globe nominations. For an early look at season four, go to: http://s.sho.com/1jFILkq.
As last season drew to a close Carrie, pregnant with the late Brody's (Damian Lewis) baby, got promoted to a new post overseas, while Saul Berenson (Emmy and Tony(R) Award winner Mandy Patinkin) contemplated his future outside of the CIA. Season four will find Carrie assigned to one of the most volatile and dangerous CIA stations in the Middle East where she is back on the front lines in the war on terror. Along with Danes and Patinkin, Emmy nominee Rupert Friend will return for season four, along with Nazanin Boniadi and Laila Robins who will both be series regulars. Produced by Fox 21, the series was developed for American television by Alex Gansa and Howard Gordon, and based on the original Israeli series Prisoners of War by Gideon Raff. Along with Gansa, Gordon and Raff, the executive producers for season four are Alexander Cary, Chip Johannessen, Meredith Stiehm, Avi Nir and Ran Telem.




[08/25/16 - 02:27 PM]
"Who Wants to Be a Millionaire" Premieres New Season From Las Vegas on Monday, September 12
Las Vegas has become one of the premier entertainment capitals of the world, and beginning this fall, "Millionaire" will originate from its new production home at Bally's Las Vegas.


[08/25/16 - 02:25 PM]
FOX Brings Live MLS Matches Alongside NFL Coverage For First Match Ever
The network will feature two MLS matches airing live adjacent to regional National Football League broadcasts as part of a joint MLS and NFL lineup on Sunday, September 18.


[08/25/16 - 01:04 PM]
A&E Network Premieres Two-Hour Documentary Ahead of the 20th Anniversary of JonBenet Ramsey's Brutal Murder
A&E reveals never-before-seen case details, including Burke Ramsey's 1998 interview tape detailing his first-hand account of the events at that time.


[08/25/16 - 11:50 AM]
Ann Coulter, Jewel, Ralph Macchio, Nikki Glaser Added to #LoweRoast Roster
They'll join Jimmy Carr, Pete Davidson, Peyton Manning, Rob Riggle, Jeff Ross and Roast Master David Spade.


[08/25/16 - 11:38 AM]
Real Estate/Renovation Stars Dave and Kortney Wilson Prep for Season Two of HGTV's "Masters of Flip"
Look for the first of 14 new episodes on Monday, October 3, at 9:00/8:00c.


[08/25/16 - 11:01 AM]
Video: IFC Releases First Full Trailer for the "Season 51" Return of Emmy-Nominated "Documentary Now!"
As previously announced, the series returns Wednesday September 14 at 10:00/9:00c.


[08/25/16 - 11:00 AM]
"CBS All Access" Subscription Service Now Available on Xbox One
For $5.99 a month, CBS All Access offers more than 7,500 on-demand episodes from the current season and previous seasons of classic shows, as well as the ability to stream local CBS stations live in more than 150 markets across the U.S.


[08/25/16 - 10:44 AM]
HBO's "The Night Of" Heads Into Finale with Strong Momentum Averaging 7 Million Viewers
HBO spins the numbers for the summer to date.


[08/25/16 - 10:02 AM]
FYI Greenlights New Original Series "Stove Tots"
Production begins immediately on 13 one-hour episodes with the series slated to premiere in 2017.


[08/25/16 - 10:01 AM]
IFC's Comedy Crib Partners with the New York Television Festival
The exclusive Comedy Crib collaboration will highlight the selected projects through the end of the year.


[08/25/16 - 10:00 AM]
HBO Confirms Lineup of Comedy Programming for Upcoming Months
Highlights include new specials from Jerrod Carmichael, Pete Holmes and T.J. Miller.


[08/25/16 - 09:34 AM]
Showtime(R) Sets Premiere Date for "Gringo: The Dangerous Life of John McAfee"
Oscar nominee and two-time Sundance Film Festival winner Nanette Burstein delivers a deep investigation into the mysterious life of visionary anti-virus entrepreneur John McAfee.


[08/25/16 - 09:33 AM]
History(R) Commemorates the 15th Anniversary of the September 11th Terrorist Attacks with a Week of Original Primetime Specials
A new special, "15 Septembers Later," will premiere on Labor Day, Monday, September 5 at 9:00/8:00c.


[08/25/16 - 09:24 AM]
Wednesday's Broadcast Ratings: NBC, "Got Talent" Seal Another Victory
The Peacock continues its win streak among total viewers and adults 18-49.


[08/25/16 - 09:00 AM]
"ACM Honors" Performers Added - Alicia Keys, Miranda Lambert and More!
Plus: Mike Fisher, Emmylou Harris, Martina McBride and Thomas Rhett will present at the ceremony taking place Tuesday, August 30, at Nashville's historic Ryman Auditorium.