[08/26/14 - 01:18 PM]
Showtime(R) Releases Key Art for "The Affair," Premiering Sunday, October 12th at 10 PM ET/PT
Plus: the network has also released a brand-new teaser for the series.
---
[via press release from Showtime]
SHOWTIME(R) RELEASES KEY ART FOR "THE AFFAIR," PREMIERING SUNDAY, OCTOBER 12TH AT 10 PM ET/PT
New Teaser Released For The Anticipated Drama Series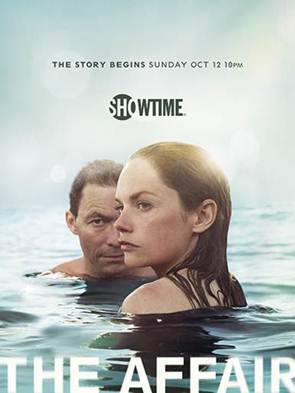 NEW YORK - August 26, 2014 - Today, SHOWTIME debuted the poster for its provocative new drama series THE AFFAIR, which premieres on Sunday, October 12th at 10 p.m. ET/PT. The highly-anticipated series stars Golden Globe(R) nominees Dominic West (The Wire) and Ruth Wilson (Luther), as well as Emmy(R) nominee Maura Tierney (ER) and SAG Award(R) nominee Joshua Jackson (Fringe). Currently in production on ten episodes in and around Long Island, New York, THE AFFAIR is the exploration of two marriages and the emotional and psychological effects of the affair that disrupts them. Check out the series' brand-new teaser:
THE AFFAIR will be told separately from the male and female perspectives - using the distinct memory biases to both misdirect and intrigue. Ruth Wilson plays Alison, a young woman waiting tables at a popular Hamptons diner, trying to piece her life back together in the wake of a tragedy. Her husband Cole (Joshua Jackson), struggles to keep it all together, both with his wife and the financially-strained ranch that has been in his family for generations. Their emotionally-charged marriage becomes even more complicated when Alison begins an affair with Noah (Dominic West), a New York City public school teacher and aspiring novelist who is spending the summer at his in-laws' estate out on the island. Maura Tierney plays Helen, Noah's college sweetheart, best friend, mother of his children, lover and wife of 17 years. Award-winning playwright and writer/producer Sarah Treem (House of Cards, In Treatment) wrote the original script from a story created with Hagai Levi. They first worked together on the American adaption of Levi's show In Treatment. Treem and Levi will both serve as executive producers, along with executive producer and director Jeffrey Reiner (Friday Night Lights) and executive producer Eric Overmyer (The Wire).




[12/17/18 - 02:16 PM]
Statement from CBS Board of Directors
The Board of Directors of CBS has completed its investigation of former Chairman and CEO Leslie Moonves, CBS News, and cultural issues at CBS.


[12/17/18 - 01:54 PM]
HGTV Digital Platforms Offer Fans Exclusive In-Depth Coverage of "A Very Brady Renovation"
New installments will be uploaded weekly and will offer a glimpse of the full series which premieres in 2019.


[12/17/18 - 12:00 PM]
TBS Announces Season Premiere of "American Dad!"
New episodes resume Monday, February 11 at 10:00/9:00c.


[12/17/18 - 11:01 AM]
TNT and Cadence13 Announce "Root of Evil," A True Story Podcast Series and Companion to TNT's Suspense Drama "I Am the Night"
The podcast series will premiere Wednesday, February 13 and joins Turner Podcast Network's portfolio of podcasts available on Apple Podcasts and many other podcast platforms.


[12/17/18 - 11:00 AM]
CBS All Access Renews "Tell Me a Story" for a Second Season
Season two will explore a whole new set of fairy tales and characters.


[12/17/18 - 10:47 AM]
Fan Favorite "Say Yes to the Dress" Returns to TLC, Followed by a Special Crossover Premiere Episode of HGTV's New Series "Say Yes to the Nest"
The six-episode season of "Say Yes to the Nest" premieres on HGTV in March 2019.


[12/17/18 - 10:10 AM]
Make Your Friday Night Special with Jena Friedman on January 25th
Friedman is back in the second installment of "Soft Focus" that features a segment on sexual harassment in gaming and an interview with Presidential hopeful and Belizian fugitive, John McAfee.


[12/17/18 - 09:50 AM]
"Impossible Enginnering" Returns to Science Channel for Season Four Beginning January 3
The new season shines a light on the brilliant minds behind these marvels and the remarkable level of detail that goes into building these amazing feats of modern day engineering.


[12/17/18 - 09:05 AM]
ABC News Presents a Two-Hour Documentary on John F. Kennedy Jr.'s Life and Last Days, Thursday, Jan. 3
The ABC News documentary explores not only John's life but also the stressors that he was facing in his final days, from apparent turmoil in his marriage to keeping his magazine George afloat.


[12/17/18 - 09:04 AM]
"Full Frontal with Samantha Bee" Donates House to El Refugio for "Christmas on I.C.E." Holiday Special
El Refugio provides visitation to immigrants at Stewart Detention Center in the remote town of Lumpkin, Georgia, as well as free lodging and meals to friends and family members visiting their loved ones.


[12/17/18 - 08:26 AM]
Sunday's Broadcast Ratings: NBC, "Sunday Night Football" Take Top Honors
The Peacock once again wins the evening among total viewers and adults 18-49.


[12/17/18 - 08:15 AM]
Staying in Is the New Going Out! Ring in the New Year by Watching 14 Family Friendly Countdowns on Netflix
This new batch of tween content countdowns reflects Netflix's overall investment in the genre.


[12/17/18 - 07:45 AM]
Winter Heats Up With MTV's "Siesta Key"
Season two premieres Tuesday, January 22 at 9:00/8:00c with back-to-back episodes.


[12/17/18 - 07:31 AM]
It's a Wrap on "Don't Try This at Home"
Lead actors on the Netflix series include Maximilian Mundt, Lena Klenke, Danilo Kamperidis, Damian Hardung, Luna Schaller, and Bjarne Mädel.


[12/17/18 - 07:00 AM]
Netflix Original Series "The Dark Crystal: Age of Resistance" Announces Stellar Voice Cast for the Return to Jim Henson's Beloved Classic
Leading the voice cast are Taron Egerton, Anya Taylor-Joy, and Nathalie Emmanuel, as Rian, Brea and Deet, three Gelfling heroes.