[08/27/14 - 12:22 PM]
Iconic Houdini Posters Recreated with Adrien Brody Released
Said stunt is timed with the premiere of the mini-series on Monday, September 1 and 2 at 9:00/8:00c on History.
---
[via press release from History]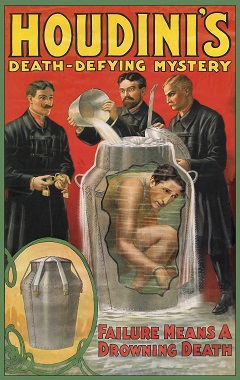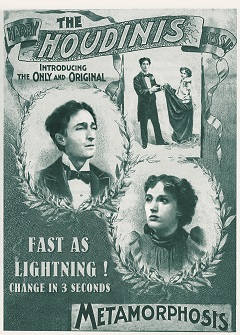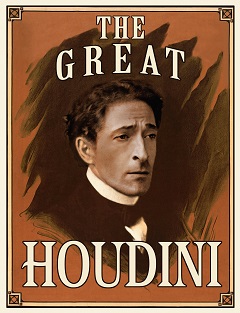 With a little bit of modern magic, a few of Harry Houdini's iconic posters have been recreated with Adrien Brody. These vintage posters were part of Houdini's key to worldwide fame, advertising his different performances and sensational stunts. These posters will be seen in HISTORY's upcoming two-night scripted miniseries, HOUDINI, premiering September 1 at 9 p.m.
ABOUT HOUDINI
HOUDINI, a new two-night scripted miniseries airing on September 1 and 2 at 9 p.m. ET/PT on HISTORY(R), is the story of a man who can defy death, but who really was the man behind the escapes? The event miniseries follows the epic tales of Harry Houdini as he emerges as America's first bonafide world-renowned superstar.
From humble beginnings at circus sideshows to sold-out concert halls, Eastern European immigrant Ehrich Weiss rose to become a household name across the globe - Houdini. Academy Award(R) winner Adrien Brody (The Pianist) stars as The Great Harry Houdini as he finds fame, engages in espionage, battles spiritualists, and encounters the greatest names of the era, from U.S. presidents to Arthur Conan Doyle and Rasputin. A thrilling ride throughout Harry's psyche, HOUDINI delves deep behind the curtain into his life through his stunts, his visions, and his mastery of illusion.
Joining Brody is Kristen Connolly (House of Cards, The Cabin the Woods) as Bess Houdini, the love of Harry's life and right hand when it came to some of his most amazing feats, and Evan Jones (A Million Ways to Die in the West, The Book of Eli, Gangster Squad) as Jim Collins, Harry's assistant and confidant.




[06/25/19 - 02:03 PM]
WarnerMedia Orders Patrick Somerville's "Made for Love" and "Station Eleven" for Streaming Service
The projects are based on the novels by Alissa Nutting and Emily St. John Mandel, respectively.


[06/25/19 - 01:16 PM]
Investigation Discovery Premieres All-New Original Series "Til Death Do Us Part"
The eight-episode series premieres Tuesday, July 9 at 10:00/9:00c on the cable channel.


[06/25/19 - 01:01 PM]
HBO Celebrates 50th Anniversary of Apollo Moon Landing with Special Encore of Emmy(R)-Winning Miniseries "From the Earth to the Moon"
On Monday, July 15, all 12 digitally remastered episodes will launch on HBO GO, HBO NOW and HBO On Demand.


[06/25/19 - 12:24 PM]
Rob Riggle Dives Into the Ultimate "Shark Trip" for Discovery Channel's Shark Week 2019
In addition, Riggle will do double duty as host of Shark Week's late-night talk show "Shark After Dark."


[06/25/19 - 12:01 PM]
Two-Part Documentary "I Love You, Now Die," A Deeper Look at the Texting Suicide Case That Made National Headlines, Debuts July 9 and 10, Exclusively on HBO
This discovery sparked sensational headlines nationwide, leading to a trial that raised difficult questions about technology, social media and mental health, while asking if one person can be held responsible for the suicide of another.


[06/25/19 - 11:02 AM]
Michael Gladis and Lorenza Izzo Join "Penny Dreadful: City of Angels" as Upcoming Showtime(R) Drama Series Rounds Out Cast
The series stars Natalie Dormer, Daniel Zovatto, Kerry Bishé, Adriana Barraza, Rory Kinnear, Jessica Garza, Johnathan Nieves and Nathan Lane.


[06/25/19 - 10:48 AM]
OWN: Oprah Winfrey Network and OZY Media Announce New Four-Part Series "OWN Spotlight: Black Women OWN the Conversation"
Carlos Watson hosts four one-hour episodes featuring a panel of celebrity guests and 100 Black women with a focus on key issues including love and relationships, motherhood, beauty, and mind, body and soul.


[06/25/19 - 10:15 AM]
TLC Will Air "JFK Jr. and Carolyn's Wedding: The Lost Tapes" July 13 at 8PM ET/PT
"As the leading destination for weddings, TLC is immensely proud to air this intimate look into the exclusive and historic wedding of 'American royalty,' which captivated and delighted the world," said Howard Lee.


[06/25/19 - 09:03 AM]
"Good Talk with Anthony Jeslenik" Premieres September 6 on Comedy Central
Over the course of six episodes, Jeselnik will sit down with David Spade, Kristen Schaal, Kumail Nanjiani, Natasha Leggero, Nick Kroll, and Tig Notaro.


[06/25/19 - 09:01 AM]
Smithsonian Channel(TM) Welcomes a New Class of Wildlife Stars in "Orangutan Jungle School"
All episodes will be available to stream Friday, August 2 on Smithsonian Channel Plus, with the first two episodes free for those without a subscription.


[06/25/19 - 08:33 AM]
Bobby Flay Heats Things Up on Food Network This Summer with New Series "BBQ Brawl: Flay v. Symon" and "The Flay List"
Look for both series on Thursday nights in August on the cable channel.


[06/25/19 - 08:09 AM]
Monday's Broadcast Ratings: ABC Keeps Top Spot with "The Bachelorette"
The Alphabet again takes home a victory in total viewers and adults 18-49.


[06/24/19 - 12:00 PM]
George Clooney to Direct and Star in Untitled Mark L. Smith Project for Netflix
This post-apocalyptic tale follows the parallel stories of Augustine (Clooney), a lonely scientist in the Arctic, as he races to make contact with the crew of the Aether spacecraft as they try to return home to Earth.


[06/24/19 - 11:31 AM]
TLC's Sizzling Summer Lineup Brings the Heat with Series Premiere of "The Family Chantel" and Return of "Before the 90 Days"
Fans will get an extra special dose of Pedro and Chantel in the first ever spinoff of the "90 Day" franchise following an individual couple, "The Family Chantel," premiering Monday, July 22.


[06/24/19 - 11:25 AM]
"Yellowstone" Season Two Premiere Draws 5 Million Total Viewers, Making It Cable's Most-Watched Original Telecast This Summer
Paramount Network further spins the numbers for Wednesday, June 19.