[11/13/14 - 12:52 PM]
Showtime(R) Debuts Season Five Poster Art for Its Hit Comedy Series "Shameless"
William H. Macy and Emmy Rossum return for a new season beginning Sunday, January 11 at 9:00/8:00c.
---
[via press release from Showtime]
SHOWTIME(R) DEBUTS SEASON FIVE POSTER ART FOR ITS HIT COMEDY SERIES "SHAMELESS"
Network's Highest-Rated Comedy Premieres On Sunday, January 11 At 9 PM ET/PT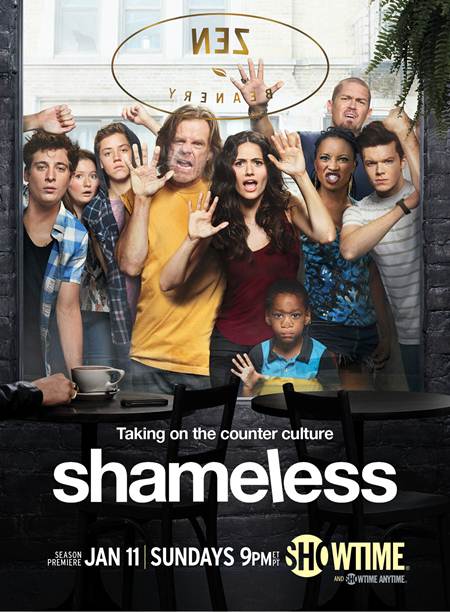 NEW YORK, NY - November 13, 2014 - Today, SHOWTIME unveiled the season five key art for its hit comedy series SHAMELESS, which premieres on Sunday, January 11th at 9 p.m. ET/PT. SHAMELESS stars Oscar(R) nominee and Emmy(R) winner William H. Macy as pickled patriarch Frank Gallagher and Golden Globe(R) nominee Emmy Rossum as daughter and resilient Gallagher leader Fiona. SHAMELESS kicks off the SHOWTIME triple-header block of comedies, leading into HOUSE OF LIES at 10 p.m. ET/PT and EPISODES at 10:30 p.m. ET/PT. The trio of powerhouse comedies are all led by Emmy nominees for their roles, William H. Macy, Don Cheadle and Matt LeBlanc.
For a behind the scenes look at the SHAMELESS season five photo shoot, visit: http://s.sho.com/1xlEU1q
Recently garnering three Emmy Award nominations in the comedy category, SHAMELESS season five finds the Gallaghers dealing with both the upside and downside of personal and urban renewal. As their neighborhood begins a move towards gentrifying, the Gallagher clan begins to reconcile their chaotic past in the hopes of building a better future. Dermot Mulroney, Steve Kazee and Sasha Alexander will guest star. The series stars Macy and Rossum, along with Ethan Cutkosky, Emily Bergl, and special guest star Joan Cusack. Based on the long-running hit U.K. series, SHAMELESS is executive produced by Emmy Award-winning television and film producer John Wells, Andrew Stearn, Christopher Chulack, Nancy M. Pimental and Davey Holmes. Wells developed the series for American television based on the original series created by Paul Abbott, who also serves as the show's executive consultant. SHAMELESS is produced by Bonanza Productions, Inc. in association with John Wells Productions and Warner Bros. Television.




[11/12/19 - 01:34 PM]
NBC's "Christmas in Rockefeller Center" Special Returns Dec. 4 to Celebrate and Revel in the Festive Holiday Season
Among the scheduled performers: Chicago, Brett Eldredge, Derek & Julianne Hough, John Legend, Idina Menzel, Lea Michele, NE-YO, Gwen Stefani, Straight No Chaser, and Skylar Astin & Alex Newell.


[11/12/19 - 12:00 PM]
"The Masked Singer" to Air Two Nights in a Row, with a Special Holiday-Themed Semifinals Episode
Look for said installments on Tuesday, December 10 and Wednesday, December 11 followed by the two-hour season finale on Wednesday, December 18.


[11/12/19 - 11:49 AM]
Robert De Niro to Be Honored with 2019 SAG Life Achievement Award
De Niro will be presented the performers union's top accolade at the 26th Annual Screen Actors Guild Awards, which will be simulcast live on TNT and TBS on Sunday, January 19.


[11/12/19 - 10:02 AM]
WGN America's Hit Comedic Procedural Series "Carter" Returns January 20
Jerry O'Connell, Sydney Poitier Heartsong and Kristian Bruun star in the new season.


[11/12/19 - 10:02 AM]
Will Ferrell to Host "Saturday Night Live" with Musical Guest King Princess on Nov. 23
"SNL" returns this Saturday with recording artist and actor Harry Styles pulling double duty as host and musical guest.


[11/12/19 - 09:45 AM]
Host Jamie Foxx Returns to Bring the Holiday Cheer in an All-New "Beat Shazam" Special Holiday-Themed Episode Airing Monday, Dec. 9 on FOX
Seasonal classics mix with music's biggest hit songs, as teams of cousins, military DJs and a father/daughter duo compete in the all-new "Santa Jamie" special holiday episode.


[11/12/19 - 09:33 AM]
Ovation Acquires Additional Seasons of "Travel Man" and "Midsomer Murders" in Deal with all3media
The deal is for seasons 7 and 8 of "Travel Man" (including a one-hour Christmas special).


[11/12/19 - 09:10 AM]
Video: New Season of Paramount Network's "Ink Master: Turf War" Trailer
Paramount Network's hit tattoo competition reality series returns for a 13th season on Tuesday, January 7 at 10:00/9:00c.


[11/12/19 - 08:59 AM]
Matt Berry Is the Toast of IFC as "Toast of London" Joins the Network's "Slightly Off" After Midnight Line-Up
The series follows the exploits of Steven Toast (Berry), an eccentric, middle-aged actor with a sketchy past who spends more time dealing with his problems off stage than performing on it.


[11/12/19 - 08:50 AM]
Christian Serratos to Star as Legendary Icon Selena Quintanilla in Netflix's "Selena: The Series"
The coming of age story follows Selena Quintanilla as her dreams come true and all the heart-wrenching and life-changing choices she and her family have to make as they navigate success, family, and music.


[11/12/19 - 08:15 AM]
Monday's Broadcast Ratings: FOX Takes Home Adults 18-49 Crown
"9-1-1" powers the network to the top spot in the key demographic.


[11/12/19 - 07:12 AM]
Video: "Harley Quinn" Official Trailer Now Available
"Harley Quinn" premieres Friday, November 29, only on DC Universe.


[11/12/19 - 05:26 AM]
Ricky Gervais Takes the Fifth! Comedy Superstar Returns for Fifth Time to Host 77th Annual Golden Globe(R) Awards, Set for Sunday, Jan. 5 on NBC
"Once again, they've made me an offer I can't refuse. But this is the very last time I'm doing this, which could make for a fun evening," said Gervais.


[11/11/19 - 12:51 PM]
El Chapo's Wife, Emma Coronel Aispuro, to Appear on VH1's Gritty Docuseries "Cartel Crew"
New episodes continue Monday nights at 9:00/8:00c on the cable channel.


[11/11/19 - 12:16 PM]
Disney+ to Release Marvel Studios Special "Expanding the Universe" at Launch
The special, due tomorrow, is a new look at the original series coming to the service.