[11/13/14 - 12:52 PM]
Showtime(R) Debuts Season Five Poster Art for Its Hit Comedy Series "Shameless"
William H. Macy and Emmy Rossum return for a new season beginning Sunday, January 11 at 9:00/8:00c.
---
[via press release from Showtime]
SHOWTIME(R) DEBUTS SEASON FIVE POSTER ART FOR ITS HIT COMEDY SERIES "SHAMELESS"
Network's Highest-Rated Comedy Premieres On Sunday, January 11 At 9 PM ET/PT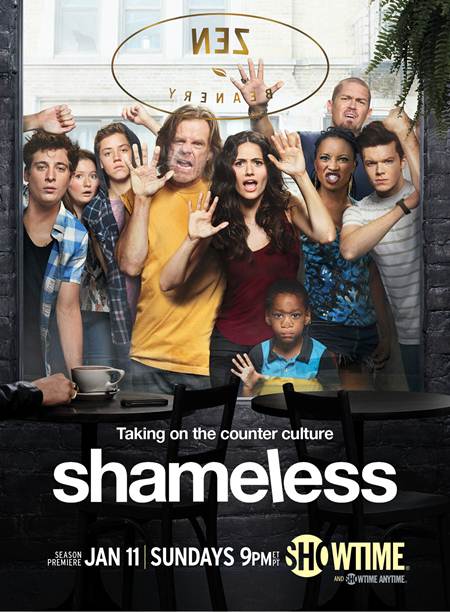 NEW YORK, NY - November 13, 2014 - Today, SHOWTIME unveiled the season five key art for its hit comedy series SHAMELESS, which premieres on Sunday, January 11th at 9 p.m. ET/PT. SHAMELESS stars Oscar(R) nominee and Emmy(R) winner William H. Macy as pickled patriarch Frank Gallagher and Golden Globe(R) nominee Emmy Rossum as daughter and resilient Gallagher leader Fiona. SHAMELESS kicks off the SHOWTIME triple-header block of comedies, leading into HOUSE OF LIES at 10 p.m. ET/PT and EPISODES at 10:30 p.m. ET/PT. The trio of powerhouse comedies are all led by Emmy nominees for their roles, William H. Macy, Don Cheadle and Matt LeBlanc.
For a behind the scenes look at the SHAMELESS season five photo shoot, visit: http://s.sho.com/1xlEU1q
Recently garnering three Emmy Award nominations in the comedy category, SHAMELESS season five finds the Gallaghers dealing with both the upside and downside of personal and urban renewal. As their neighborhood begins a move towards gentrifying, the Gallagher clan begins to reconcile their chaotic past in the hopes of building a better future. Dermot Mulroney, Steve Kazee and Sasha Alexander will guest star. The series stars Macy and Rossum, along with Ethan Cutkosky, Emily Bergl, and special guest star Joan Cusack. Based on the long-running hit U.K. series, SHAMELESS is executive produced by Emmy Award-winning television and film producer John Wells, Andrew Stearn, Christopher Chulack, Nancy M. Pimental and Davey Holmes. Wells developed the series for American television based on the original series created by Paul Abbott, who also serves as the show's executive consultant. SHAMELESS is produced by Bonanza Productions, Inc. in association with John Wells Productions and Warner Bros. Television.




[10/28/20 - 09:15 AM]
OWN Spices Up the Fall with First Ever Food Programming Block Premiering Saturday, November 14
Said lineup includes "Lovely Bites," "Tregaye's Way," "Food Fantasies" and "Tanya's Kitchen Table."


[10/28/20 - 08:20 AM]
Marilyn Manson, Ali Larter, Iman Benson, Ryan Kwanten and Barbara Crampton Join Shudder's "Creepshow" Season Two
Also on tap are C. Thomas Howell, Denise Crosby, Breckin Meyer, Ted Raimi, Kevin Dillon and Eric Edelstein.


[10/28/20 - 07:30 AM]
Bryon Rubin Named Chief Operating Officer for CBS
In his new role, Rubin will oversee all financial and business operations that support the divisions of the CBS Entertainment Group.


[10/28/20 - 07:02 AM]
This Empire Is Only Getting Stronger - "Narcos: Mexico" Is Coming Back for Season 3
Netflix confirmed the news on social media this morning.


[10/28/20 - 07:01 AM]
truTV Serves Up Comedic Cooking Competition Series "Fast Foodies"
In each episode, Kristen Kish, Jeremy Ford and Justin Sutherland invite a celebrity guest to bring their favorite fast food item to the restaurant as they compete to perfectly recreate and then skillfully reimagine the dish.


[10/28/20 - 07:01 AM]
Video: "The White Tiger" - Official Teaser Trailer - Netflix
From acclaimed writer-director Ramin Bahrani, the film is based on the New York Times bestseller and 2008 Man Booker Prize-winning novel.


[10/28/20 - 07:00 AM]
CBS Announces New One-Hour Concert Special "Play On: Celebrating The Power of Music to Make Change," Hosted by Kevin Bacon and Eve, to Be Broadcast Saturday, Dec. 5
This unique concert special will feature three stellar music lineups spanning genres from country and rock to hip hop and jazz/funk, while also celebrating three iconic live music venues.


[10/28/20 - 06:04 AM]
TV One Premieres Original Suspense Crime Drama "Blood on Her Badge" on Monday, November 16, 2020 at 8 P.M. ET/7C
Inspired by true crime events, this gripping film details the journey of an ill-fated romance and stars Rayven Ferrell, Tequan Richmond, Miguel Nunez, Tetona Jackson, and Johnell Young.


[10/27/20 - 11:29 PM]
Development Update: Tuesday, October 27
Updates include: The CW renews three of its imported series; CBS confirms reduced episode counts for its studio's scripted projects; and Jon Stewart to return to television on Apple TV+.


[10/27/20 - 01:20 PM]
HBO Max Offering Free Viewing of "A West Wing Special to Benefit When We All Vote"
The special is available to watch for free now until the end of the year.


[10/27/20 - 01:02 PM]
Video: "The Mighty Ones" - Trailer (Official) - A Hulu Original Series
The Mighty Ones are four best friends living in an unkempt backyard belonging to a trio of equally unkempt humans whom they mistake for gods.


[10/27/20 - 01:01 PM]
BET Presents New Original Groundbreaking Documentary "Smoke: Marijuana + Black America" Executive Produced and Narrated by Multi-Platinum Rapper and Entrepreneur Nasir "Nas" Jones
The two-hour special - set to premiere on Wednesday, November 18 - examines marijuana's cultural, social, economic and legal impact on American society and the Black community.


[10/27/20 - 12:27 PM]
Showtime(R) Sports Documentary Films Announces "Macho: The Hector Camacho Story"
Premiering Friday, December 4, the documentary debuts just two weeks after the eighth anniversary of Camacho's fatal shooting in Bayamon, Puerto Rico.


[10/27/20 - 11:59 AM]
HBO Announces the Return of Critically Acclaimed Drama Series "In Treatment" Starring Uzo Aduba
Production is slated to begin this fall under COVID-19 guidelines, with a debut scheduled for 2021.


[10/27/20 - 11:16 AM]
Amazon Prime Video Enjoys "Great Success" with "Borat Subsequent Moviefilm" Opening Weekend
During its opening weekend it was streamed by tens of millions of customers.