TBS's "Cougar Town" Celebrates 100th Episode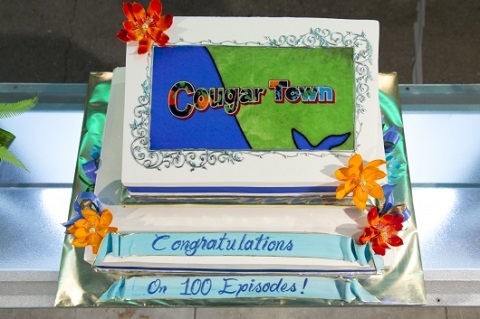 Last night, the cast and crew of TBS's Cougar Town celebrated the 100th episode of the hit show at Culver City Studios in Culver City, CA. Co-creator and executive producer Bill Lawrence led a toast with cast members, including Courteney Cox, Busy Philipps, Dan Byrd, Christa Miller, Josh Hopkins and Ian Gomez.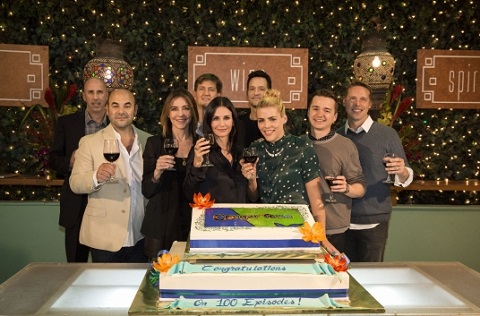 (l-r) Robert Clendenin, Ian Gomez, Christa Miller, Bill Lawrence, Courteney Cox, Josh Hopkins, Busy Philipps, Dan Byrd and Kevin Biegel celebrate the 100th episode of TBS's Cougar Town, which returns for its sixth and final season Tuesday, Jan. 6.
About TBS's Cougar Town
Cougar Town returns for its sixth and final season on Tuesday, Jan. 6, at 10:30 p.m. (ET/PT). Courteney Cox, Christa Miller, Busy Philipps, Dan Byrd, Ian Gomez and Josh Hopkins star in this comedy, which centers on the Cul de Sac Crew, a tight-knit group of friends who keep things funny while supporting each other through the challenges and pitfalls of life - with a little dysfunction and a whole lot of wine.
Cox plays Jules Cobb, a meddling mom who is utterly devoted to her husband, Grayson (Hopkins), and her adult son, Travis (Byrd). Their tight-knit circle of friends includes Ellie (Miller), Jules' incessantly sarcastic next-door neighbor and confidante; Andy (Gomez), Ellie's doting husband and the mayor of Gulfhaven; and Laurie (Philipps), Jules' protégé who also happens to be pregnant with Travis' baby. Also included in the mix are Jules' endearingly dimwitted ex-husband, Bobby (guest star Brian Van Holt), and her widowed neighbor Dr. Tom (guest star Robert Clendenin), who's had a longtime crush on Jules.