[02/26/15 - 12:17 PM]
WGN America Unveils Provocative "Salem" Key Art for Season Two
Season two of "Salem" will debut on Sunday, April 5 at 10:00/9:00c.
---
[via press release from WGN America]
WGN AMERICA UNVEILS PROVOCATIVE "SALEM" KEY ART FOR SEASON TWO
The Witch War Begins April 5th at 10 PM ET/9C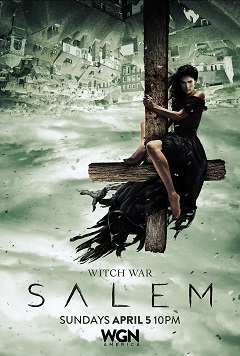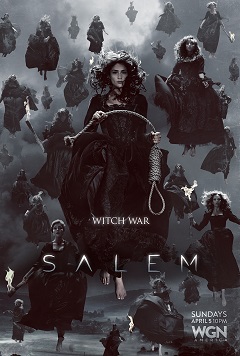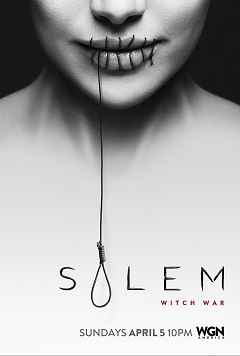 In anticipation of the season two premiere of WGN America's breakout hit supernatural thriller "Salem," the network has released key art featuring Salem's deadliest witch Mary Sibley (Janet Montgomery), along with Tituba (Ashley Madekwe), Anne Hale (Tamzin Merchant) and Mercy Lewis (Elise Eberle). Season two of "Salem" will debut on Sunday, April 5 at 10pm ET/9pm CT.
SALEM, a bold re-imagination of the infamous 17th-century witch trials, returns for season two at the dawn of a Witch War. As the disease and devastation unleashed by a deadly supernatural ritual spread through the war-torn village, Salem's most powerful witch, Mary Sibley, must face off against adversaries old and new who are vying for her throne.
From creators and writers Brannon Braga ("Cosmos," "24") and Adam Simon ("The Haunting in Connecticut"), "Salem" is a gripping one-hour drama that boldly re-imagines the infamous 17th century witch trials in colonial Massachusetts. The series stars Janet Montgomery, Shane West ("Nikita," "ER"), Seth Gabel ("Arrow," "Fringe"), Ashley Madekwe, Tamzin Merchant ("Jane Eyre"), Elise Eberle ("The Astronaut Farmer") and Iddo Goldberg ("Mob City"). New to the cast of "Salem" for season two are Lucy Lawless ("Xena: Warrior Princess", "Spartacus"), Stuart Townsend ("Betrayal," "The League of Extraordinary Gentlemen"), Joe Doyle ("Raw") and Oliver Bell ("The Saint").
"Salem" is executive produced by Brannon Braga, Adam Simon, Kelly Souders, Brian Peterson and Prospect Park's Josh Barry and Jeff Kwatinez. Nick Copus directs and serves as co-executive producer. The series is produced by Fox 21 Television Studios.




[03/22/18 - 12:09 PM]
Smithsonian Channel(TM) Reveals the Inside Story and Untold Events of a Deadly American Tragedy in "Waco: The Longest Siege"
The film provides an intimate portrait of a young Vernon Howell (later renamed David Koresh) and his Branch Davidian followers, who came from around the globe to join the Pied Piper-like figure.


[03/22/18 - 10:35 AM]
Video: "Pose" - Peek Teaser - FX
"Pose," FX's new original series from Ryan Murphy, Brad Falchuk, and Steven Canals, premieres this summer.


[03/22/18 - 10:31 AM]
Video: Viceland Premeries Trailer for New Series "My House" About NYC Queer Ballroom Scene
"My House" is an insider's guide to New York City's hyper-competitive underground queer ballroom scene.


[03/22/18 - 10:05 AM]
CMT Elevates Morgan Selzer to Senior Vice President of Program Development
"Morgan is a seasoned and savvy development executive who crafts compelling stories across multiple formats and genres," said Keith Cox.


[03/22/18 - 10:00 AM]
All-New Two-Hour Special "Meghan Markle: An American Princess" to Air Friday, May 11, on FOX
The two-hour event will focus on Markle's life and potential legacy as the first American to marry into the British royal family since 1937.


[03/22/18 - 10:00 AM]
CBS Announces Season Finale Airdates for 2017-2018
"Scorpion" will now kick off said finales on Monday, April 16.


[03/22/18 - 09:44 AM]
"Shaquille O'Neal Presents: All Star Comedy Jam: I'm Still Laughing" to Premiere Friday, March 23 at 10 PM ET/PT on Showtime(R)
Filmed at The Rio Hotel & Casino in Las Vegas, the new special features comedy veteran and fan-favorite Bruce Bruce teaming up with Huggy Lowdown, Aida Rodriguez and Brian "Da Wildcat" Smith.


[03/22/18 - 09:23 AM]
Embedded with Survivors of the Parkland, Fla. School Shooting, CBS News Brings Viewers Inside a Movement as Students Turn Grief Into Action in "39 Days"
The one-hour special airs this Saturday, March 24 at 8:00/7:00c.


[03/22/18 - 08:34 AM]
Seth Rogen Announces All-Star Lineup for Netflix Comedy Special
Guests scheduled to appear include: Tiffany Haddish, Sarah Silverman, Michelle Wolf, John Mulaney, James Corden,The Muppets, Post Malone, Nick Kroll, Kumail Nanjiani, Sacha Baron Cohen, Jeff Goldblum, Michael Che, Craig Robinson & The Nasty Delicious.


[03/22/18 - 08:32 AM]
"The Rain" Is Coming to Netflix May 4
In Netflix's post-apocalyptic YA thriller, two Danish siblings emerge from the safety of their bunker six years after a brutal virus carried by the rain wipes out almost all humans in Scandinavia.


[03/22/18 - 08:10 AM]
Wednesday's Broadcast Ratings: FOX Finales Win Tight Demo Race
The network edges ABC, CBS and NBC by one-tenth of a ratings point.


[03/21/18 - 11:21 PM]
Development Update: Wednesday, March 21
Updates include: Daniel Ezra tapped to lead The CW's "Spencer"; Bernard David Jones lands starring role in FOX's "Our People"; and Karen Fukuhara is the latest to report for Amazon's "The Boys."


[03/21/18 - 03:35 PM]
Hallmark Channel Announces Season Two of "Meet the Peetes"
"Viewers have welcomed the Peete family into their homes and have fallen in love with their heartfelt and touching narratives that families everywhere can relate to," said Michelle Vicary.


[03/21/18 - 03:34 PM]
Hallmark Expands Pet Adoption Initiative, Adoption Ever After, with New, Original Special "Cat Bowl"
"Cat Bowl" will feature adult cats and seniors playing a feline Hall of Fame game, Saturday, February 2, 2019.


[03/21/18 - 03:33 PM]
Hallmark Channel to Launch First Ever Interactive "Home & Family" Dream Holiday Home Contest
The contest offers the chance for one lucky viewer to win a holiday-themed home redecoration that will turn heads and be the envy of decorators across the country.