Netflix/THE GET DOWN - Baz Luhrmann discovers his new leading lady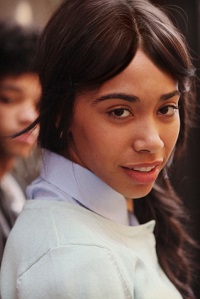 Following on the heels of Claire Danes (Romeo and Juliet), Nicole Kidman (Moulin Rouge) and Carey Mulligan (The Great Gatsby), Baz Luhrmann has discovered his new leading lady, who will make her acting debut in The Get Down, Luhrmann's new Netflix Original Series set to debut in 2016.
HERIZEN GUARDIOLA will star as "Mylene Cruz," a shining, tenacious girl with a voice from God who dreams of disco stardom from the confines of her family's fiercely religious church walls. An 18-year-old singer/songwriter, Herizen will make her acting debut in The Get Down.
Says Luhrmann, "So many really talented actors were seen to play the lead female role of Mylene Cruz, daughter of Reverend Ramon Cruz and niece of Papa Filipe Fuerte Cruz in The Get Down. It's always thrilling to find a fresh unknown talent, particularly one who is not only a terrific actor but a magnificent vocalist.
The entire The Get Down team welcome HERIZEN GUARDIOLA into our story."
Previously announced cast members include Justice Smith ("Ezekiel"), Shameik Moore ("Shaolin Fantastic"), Skylan Brooks ("Ra Ra") and Tremaine Brown, Jr. ("Boo Boo").
The Get Down will focus on 1970s New York City - broken down and beaten up, violent, cash strapped -- dying. Consigned to rubble, a rag-tag crew of South Bronx teenagers are nothings and nobodies with no one to shelter them - except each other, armed only with verbal games, improvised dance steps, some magic markers and spray cans. From Bronx tenements, to the SoHo art scene; from CBGBs to Studio 54 and even the glass towers of the just-built World Trade Center, The Get Down is a mythic saga of how New York at the brink of bankruptcy gave birth to hip-hop, punk and disco -- told through the lives and music of the South Bronx kids who changed the city, and the world...forever.
Luhrmann, will direct the first two episodes and the season finale and serve as executive producer. The series is also executive produced by Catherine Martin, Paul Watters, Thomas Kelly, Stephen Adly Guirgis, Shawn Ryan and Marney Hochman.
The 13-episode music-driven drama from Sony Pictures Television will debut in all Netflix territories in 2016.
Please find attached a photo taken from rehearsals. (Photo Credit: Baz Luhrmann)