[05/29/15 - 11:53 AM]
Showtime(R) Unveils Poster Art and Official Teaser for Season Three of the Hit Series "Ray Donovan," Starring Emmy(R) Nominee Liev Schreiber
The new season bows Sunday, July 12 at 9:00/8:00c on the pay channel.
---
[via press release from Showtime]
SHOWTIME(R) UNVEILS POSTER ART AND OFFICIAL TEASER FOR SEASON THREE OF THE HIT SERIES "RAY DONOVAN," STARRING EMMY(R) NOMINEE LIEV SCHREIBER
Premiering On July 12th, RAY DONOVAN Season Two Guest Stars Include Katie Holmes And Ian McShane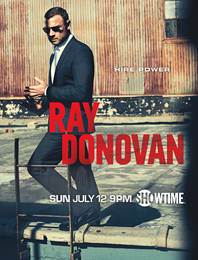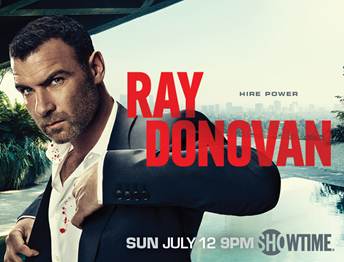 NEW YORK, NY - May 29, 2015 - SHOWTIME has released the season three poster art and official teaser for its critically-acclaimed and award-winning drama RAY DONOVAN. The series will premiere Sunday, July 12th at 9 p.m. ET/PT with 12 one-hour episodes. RAY DONOVAN stands as one of the network's highest-rated series and earned two Golden Globe(R) wins and multiple Emmy nominations. RAY DONOVAN kicks off the powerful SHOWTIME summer line-up, leading into the third season of MASTERS OF SEX, starting on Sunday, July 12th at 10 p.m. ET/PT. To watch the RAY DONOVAN season three tease, visit: http://s.sho.com/1PSVGPC.
RAY DONOVAN stars two-time Golden Globe and Emmy nominee Liev Schreiber as LA's best professional fixer, the man called in to make the city's celebrities, superstar athletes, and business moguls' most complicated and combustible situations go away. Season three finds Ray adrift from his family and those closest to him, while he focuses on his business and desires to be his own boss. Meanwhile, his father Mickey (Jon Voight, in his Emmy-nominated and Golden Globe-winning role), who had narrowly escaped last season's heist debacle, finds himself charting a similar course to build his own empire. Joining the show this season are guest stars Ian McShane and Katie Holmes, with Elliott Gould returning. The cast also includes Paula Malcomson, Eddie Marsan, Dash Mihok, Steven Bauer, Katherine Moennig, Pooch Hall, Kerris Dorsey and Devon Bagby. A SHOWTIME production, the series is executive produced by David Hollander, Mark Gordon and Bryan Zuriff, and created by Ann Biderman.




[11/16/19 - 08:31 AM]
Friday's Broadcast Ratings: FOX Tops Demos; CBS Leads Total Viewers
"WWE SmackDown" powers the former to the adults 18-49 crown.


[11/15/19 - 11:51 PM]
Development Update: Friday, November 15
Updates include: Clive Owen cast as Bill Clinton in FX's "Impeachment: American Crime Story"; Kingsley Ben-Adir to play Barack Obama for "A Higher Loyalty"; and Quibi orders TV take on "Varsity Blues" to series.


[11/15/19 - 03:10 PM]
Lynette Howell Taylor and Stephanie Allain to Produce the 92nd Oscars(R)
"We have both watched the Oscars for as long as we can remember, and to be given the opportunity to produce the show is a dream," said Howell Taylor and Allain.


[11/15/19 - 03:01 PM]
Viacom Renews "The Office" Through 2025
Additionally, Viacom renewed its cable deal for equally iconic sitcom "Parks and Recreation."


[11/15/19 - 01:01 PM]
Jason Kennedy Named Host of E!'s New Series "In the Room"
The first special airs on Wednesday, December 4 and features Kennedy in a rare sit down with four-time Super Bowl MVP Tom Brady.


[11/15/19 - 12:24 PM]
YouTube and James Charles Partner for New Beauty Competition Series
In this four part competition series brought to life by Brian Graden Media, contestants will put their best makeup artistry on display for Charles and a mix of celebrity guest judges as well as seasoned beauty industry veterans.


[11/15/19 - 10:08 AM]
Faster, Dirtier, Muddier Than Ever: An All-New Season of "Dirty Mudder Truckers" Premieres December 9 on Discovery Channel
Crews from all over the country travel down to central Florida to take on the 'Dirty 7' in The Pit - a 750-foot stretch of mud with tracks designed to chew up and spit out mega-trucks of every size.


[11/15/19 - 09:45 AM]
Investigation Discovery Goes Beyond the Clickbait in the IDGO Original Series, "Caught on Camera: The Untold Stories"
Five, 10-minute episodes are available now on Investigation Discovery's TV Everywhere platform, IDGO, with the second run of five episodes being released on November 29.


[11/15/19 - 09:01 AM]
Showtime(R) to Air the Television Premiere of Academy Award(R) Winner "Green Book"
The film, featuring Oscar(R) winner Mahershala Ali and Oscar nominee Viggo Mortensen, will air Saturday, December 14 at 9:00/8:00c.


[11/15/19 - 08:30 AM]
Chart-Topping Powerhouse Trio and 2019 AMA Nominees Jonas Brothers Team Up with T-Mobile for Live Performance on the "2019 American Music Awards(R)," Airing Live Sunday, Nov. 24, on ABC
Jonas Brothers join previously announced performers Camila Cabello, Billie Eilish, Selena Gomez, Dua Lipa, Lizzo, Thomas Rhett and Shania Twain, as well as Taylor Swift.


[11/15/19 - 08:12 AM]
Thursday's Broadcast Ratings: "Thursday Night Football" Continues Its Reign
FOX overshadows the evening in both total viewers and adults 18-49.


[11/15/19 - 08:10 AM]
Discovery's "Diesel Brothers" Is Back for a New Season of Super-Sized Firsts When It Debuts December 9
Mondays will be Trucking Huge as "Diesel Brothers" leads into an all new season of "Dirty Mudder Truckers," airing Monday, December 9 at 9:00/8:00c.


[11/15/19 - 06:00 AM]
Disney Channel Launches Digital Open Casting Call for Kids and Teens
The digital casting call, open today, will accept video submissions now through Tuesday, December 31, at www.Disney.com/disneychannelcasting.


[11/15/19 - 06:00 AM]
Apple Orders "Slow Horses" Starring Academy Award Winner Gary Oldman
Oldman will star as Jackson Lamb, the brilliant but irascible leader of the spies who end up in Slough House due to their career ending mistakes.


[11/15/19 - 02:02 AM]
Further Cast Join "Roadkill," David Hare's Political Thriller for BBC One
The four-part series will air on PBS in the United States.