AMC Releases "Comic Book Men" Season Five Key Art on National Comic Book Day
In celebration of National Comic Book Day today, AMC released the official key art for "Comic Book Men" season five. The poster features executive producer Kevin Smith along with the men of his New Jersey-based comic book shop Jay and Silent Bob's Secret Stash - Walt, Michael, Bryan and Ming - and the accompanying tagline, "Never Fear, The Comic Book Men Are Here."
The fifth season of the unscripted series premieres with back-to-back episodes on Sunday, October 18 at Midnight ET/PT.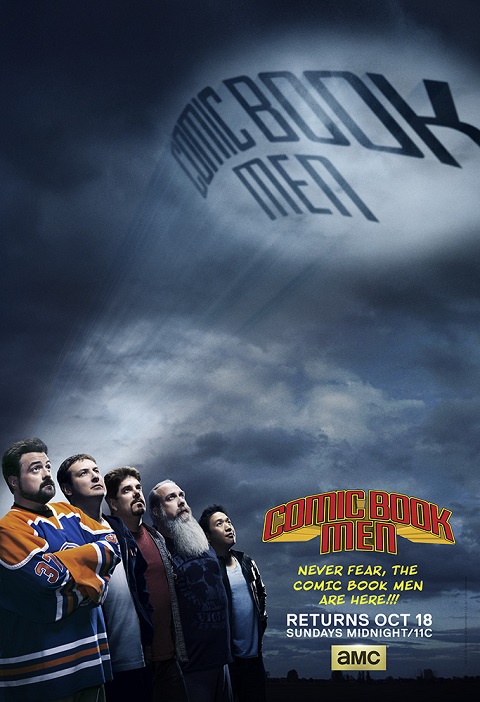 (L-R) Kevin Smith, Walt Flanagan, Michael Zapcic, Bryan Johnson and Ming Chen
In its fifth season, AMC's popular unscripted series "Comic Book Men" takes another dive into geekdom by following the antics in and around master fanboy Kevin Smith's New Jersey comic shop, Jay and Silent Bob's Secret Stash. Leading the fearless team behind the shop's counter are Walt, Mike, Bryan and Ming, who geek out over mind-blowing pop culture artifacts and the legends behind them. Special guests this season include comic book mastermind Stan Lee, artistic genius John Romita Jr., and the gentle giant inside Chewbacca, actor Peter Mayhew. And in a "Comic Book Men" first, Kevin Smith drops by William Shatner's personal office to pick the brain of Captain Kirk himself. Whether it's buying and selling memorabilia or embarking on wild adventures away from the store, The Stash cast shares all the juicy details with Kevin during their hilarious podcast, which is woven throughout the series.
Ep. 501: "Wookiee Fever" - Midnight ET/PT
Chewbacca himself, Peter Mayhew, judges a wookiee call contest at the Stash. One of the hottest comic books of the 90s lands on the counter.
EP 502: "Holy Zap Copter" - 12:30am ET/PT
Mike takes flight in the Bat Copter to celebrate 15 years at the Secret Stash. The boys look at one of the hottest books of the 90s.