MTV ANNOUNCES FULL LINEUP FOR NEW YORK COMIC CON, RELEASES FIRST-LOOK AT KEY ART, CONFIRMS CAST AND PRODUCERS ATTENDING FROM "TEEN WOLF" AND "THE SHANNARA CHRONICLES"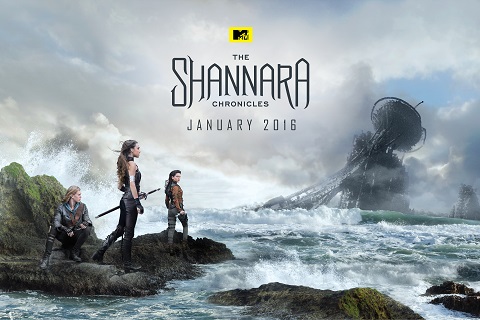 New York, NY (October 6, 2015) - MTV today announced its New York Comic Con lineup for October 9 and 10, featuring the return of "Teen Wolf" and the highly-anticipated convention debut of the new epic Sci-Fi/Fantasy drama, "The Shannara Chronicles." Each can't-miss panel will feature cast and producers from the shows and the debut of exclusive New York Comic Con trailers. Additionally, both casts will be signing exclusive New York Comic Con collector's edition items. The network also released the first key art image for "The Shannara Chronicles" today, which is available here for download.
MTV'S NEW YORK COMIC CON 2015 SCHEDULE
FRIDAY, OCTOBER 9
Teen Wolf Panel: 5:45-6:45pm (Empire Stage)
Andy Swift of TV Line will moderate a panel discussion and fan Q&A with cast members Tyler Posey, Dylan Sprayberry, Cody Christian and Executive Producer Jeff Davis as they discuss the current season and share a first look at the new season.
For the most up to the minute information throughout the weekend, fans can follow the show on Twitter and Facebook.
The Shannara Chronicles Signing: 5:30-6:30pm (Random House booth, #2204)
Cast members Poppy Drayton, Ivana Baquero, Manu Bennett to sign character portrait cards exclusive to New York Comic Con; author and Executive Producer Terry Brooks to sign copies of an exclusive edition of "The Elfstones of Shannara" book, the basis for the MTV series.
SATURDAY, OCTOBER 10
The Shannara Chronicles Panel: 12:15-1:15pm (Empire Stage)
MTV will introduce New York Comic Con fans to the world of "Shannara" when author and series Executive Producer, Terry Brooks, joins stars Poppy Drayton, Austin Butler, Ivana Baquero, John Rhys Davies and Manu Bennett along with Executive Producers Al Gough, Miles Millar and Jonathan Liebesman. Attendees will see a Comic Con exclusive trailer be able to participate in a Q & A with the panelists. Damian Holbrook, Senior Writer from TV Guide Magazine will moderate.
For the most up to the minute information throughout the weekend, fans can follow the show on Twitter and Facebook.
Teen Wolf Signing 1:30-2:30pm (Room IE05)
Dylan Sprayberry, Cody Christian and Executive Producer Jeff Davis to sign New York Comic Con-exclusive posters.
"The Shannara Chronicles" is written and executive produced by Al Gough and Miles Millar. Jon Favreau, Jonathan Liebesman, Terry Brooks and Dan Farah also serve as executive producers. The first two episodes were directed by Jonathan Liebesman ("Teenage Mutant Ninja Turtles"). MTV is producing with Sonar Entertainment.
"Teen Wolf" was developed by Jeff Davis (creator, "Criminal Minds") who also serves as executive producer. Additional executive producers include Russell Mulcahy ("Highlander," "Resident Evil: Extinction"), Joe Genier, Marty Adelstein ("Prison Break"), René Echevarria ("Medium," "Castle"), Tony DiSanto and Liz Gateley. The pilot was written by Jeff Davis and Jeph Loeb & Matthew Weisman and directed by Russell Mulcahy. The "Teen Wolf" series is based on a Screenplay by Jeph Loeb & Matthew Weisman. The series is a co-production with, and distributed by, MGM, in association with Lost Marbles Productions, Inc., Siesta Productions, Inc., First Cause, Inc. and DiGa.
About MTV
MTV is the world's premier youth entertainment brand. With a global reach of more than a half-billion households, MTV is the cultural home of the millennial generation, music fans and artists, and a pioneer in creating innovative programming for young people. MTV reflects and creates pop culture with its Emmy(R), Grammy(R) and Peabody(R) award-winning content built around compelling storytelling, music discovery and activism across TV, online and mobile. MTV's sibling networks MTV2 and mtvU each deliver unparalleled customized content for young males, music fans and college students, and its online hub MTV.com is a leading destination for music, news and pop culture. MTV is a unit of Viacom Inc. (NASDAQ: VIA, VIAB), one of the world's leading creators of programming and content across all media platforms.
About Sonar Entertainment
Sonar Entertainment is a multi-faceted independent creative company designed to meet today's ever-changing landscape in global television production and distribution. With headquarters in Los Angeles and offices around the world, Sonar is uniquely positioned to participate in a variety of ways in order to create quality television series, miniseries and movies. The company has the capabilities to develop, produce, acquire, deficit finance, package and distribute product both internationally and domestically. While primarily focused on the development and production of new product, Sonar is also the distributor of over 1,000 library titles comprised of award-winning programs from RHI Entertainment and Hallmark Entertainment, among others.
About Metro-Goldwyn-Mayer
Metro-Goldwyn-Mayer is a leading entertainment company focused on the production and distribution of film and television content globally. The company owns one of the world's deepest libraries of premium film and television content. In addition, MGM has investments in domestic and international television channels and is the majority owner of and distributor for United Artists Media Group (UAMG). For more information, visit www.mgm.com.
About New York Comic Con
New York Comic Con, the crown jewel of New York Super Week, will take place October 8-11 at the Javits Center in New York City. The show is the East Coast's biggest and most exciting popular culture convention with the latest and greatest in comics, graphic novels, anime, manga, video games, toys, movies and television. The show's panels and autograph sessions give fans a chance to interact with their favorite creators and guests, while screening rooms feature sneak peeks at films and television shows months before they hit either big or small screens. For more information, please visitNewYorkComicCon.com.