[10/30/15 - 11:57 AM]
Hulu Original "11.22.63" Premieres Presidents Day 2016
The nine-hour limited event series based upon the New York Times best-selling 2011 novel written by Stephen King premieres Presidents Day, February 15, 2016, on Hulu.
---
[via press release from Hulu]
11.22.63
Synopsis
Hulu Original series 11.22.63 is a thriller in which high school history teacher Jake Epping (James Franco) travels back in time to prevent the assassination of President John F. Kennedy - but his mission is threatened by Lee Harvey Oswald, falling in love and the past itself, which doesn't want to be changed. Also starring Chris Cooper, Josh Duhamel, T.R. Knight, Cherry Jones, Sarah Gadon, Lucy Fry, George MacKay and Daniel Webber.
The nine-hour limited event series based upon the New York Times best-selling 2011 novel written by Stephen King premieres Presidents Day, Feb. 15, 2016, on Hulu. J.J. Abrams, Stephen King, Bridget Carpenter and Bryan Burk serve as executive producers. Academy Award(R)-winning Director Kevin Macdonald (Last King of Scotland, State of Play, Black Sea) directs and executive produces the first two hours.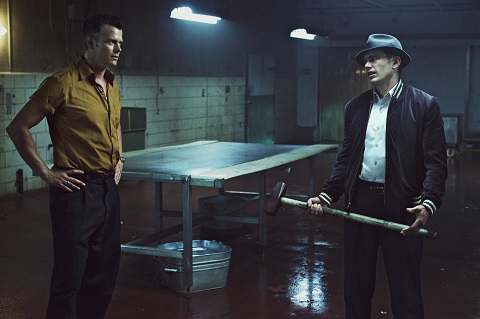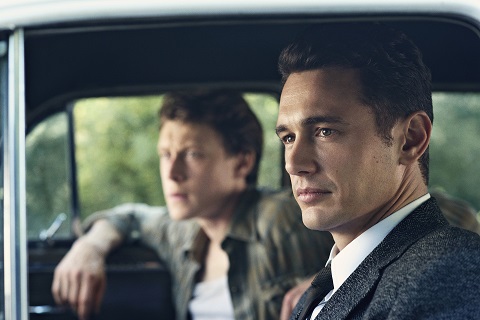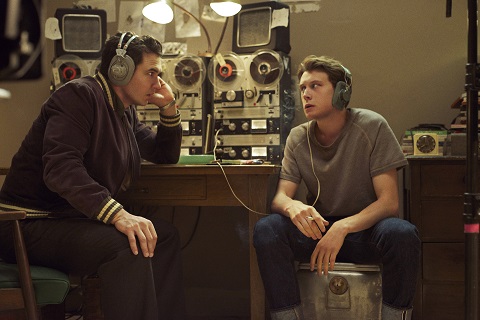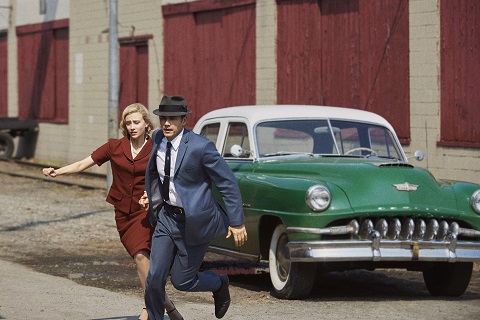 Photo credits:
0237, 0019, 0075 - Sven Frenzel
0082 - Ben Mark Holzberg
0022 - Alex Dukay
For more, follow 11.22.63 on Facebook, Twitter and Instagram:
http://facebook.com/112263OnHulu
http://twitter.com/112263OnHulu (#hulu112263 official hashtag)
http://instagram.com/112263OnHulu




[10/18/18 - 12:03 PM]
"We Are Not Done Yet," Following U.S. Veterans Striving to Combat Military Trauma, Debuts Nov. 8 in Conjunction with Veterans Day, Exclusively on HBO
The film profiles a group of veterans and active-duty service members as they come together to combat past and current traumas through the written word, sharing their experiences in a USO writing workshop at Walter Reed National Military Medical Center.


[10/18/18 - 11:40 AM]
Bravo's "Top Chef" Races to Kentucky for Season 16 Beginning Thursday, December 6 at 9PM ET/PT
This season, 15 new talented chefs from cities big and small across the U.S. will compete for the sought-after title amid the unique culinary scenes in Louisville, Lexington and Lake Cumberland, before heading abroad for an epic finale showdown in Macau, China.


[10/18/18 - 11:00 AM]
Bette Midler Joins Freeform's "Hocus Pocus 25th Anniversary Halloween Bash"
The two-hour special, filmed at the iconic Hollywood Forever Cemetery to celebrate the movie's status as a Halloween staple, will premiere on Saturday, October 20.


[10/18/18 - 10:31 AM]
NBC Orders Three Additional Episodes of Its Monday Night Hit "Manifest," TV's #1 New Series
"Manifest" will now have a full-season order of 16 episodes.


[10/18/18 - 10:30 AM]
IFC's "Brockmire" Steps Up to Bat with Fresh Roster of Season 3 Guest Stars
J.K. Simmons, Bob Costas, Martha Plimpton and Richard Kind are among those on tap.


[10/18/18 - 10:24 AM]
Smithsonian Channel(TM) Expands One of the Most Ambitious Colorization Projects in Television History with Hit Series "America in Color"
The series returns for its second season on Sunday, November 18 at 8:00/7:00c.


[10/18/18 - 09:32 AM]
Video: Trailer Debut - Netflix's "The Degenerates" Original Comedy Special Series
The series consists of six 30-minute episodes full of no-holds-barred comedy for mature audiences from the likes of rising comics Big Jay Oakerson, Joey Diaz, Liza Treyger, Yamaneika Saunders, Christina P., and Brad Williams.


[10/18/18 - 09:01 AM]
It's a Double Dose of Spice When "The Great American Baking Show: Holiday Edition" Premieres on ABC, Thursday, Dec. 6
Joining as host this season, Spice Girl and television personality Emma Bunton, alongside returning host Anthony "Spice" Adams, will present bakers with weekly challenges as they turn up the heat in the kitchen creating sweet and savory holiday fare.


[10/18/18 - 09:00 AM]
"The Great Christmas Light Fight" Is Back for Its Sixth Season, Celebrating the Most Wonderful Time of the Year, Starting Monday, Nov. 26, on ABC
ABC also announced the pickup of Season 7 to air in 2019.


[10/18/18 - 08:13 AM]
Wednesday's Broadcast Ratings: "Empire" Rises as FOX Tops Demos
The network's flagship drama is the only series up week-to-week among adults 18-49.


[10/18/18 - 08:00 AM]
"The 73rd Annual Tony Awards(R)" to Be Broadcast Live from Radio City Music Hall in New York City, Sunday, June 9, 2019 on CBS
The nominations will be announced on Tuesday, April 30, 2019.


[10/18/18 - 08:00 AM]
Season Three of "Leah Remini: Scientology and the Aftermath" Premieres Tuesday, November 27 at 9PM ET/PT
In addition, A&E will premiere the new two-hour special, "Leah Remini: Scientology and the Aftermath: The Jehovah's Witnesses," on Tuesday, November 13.


[10/18/18 - 07:04 AM]
Video: We'll Start You Off with a Sample - "Narcos: Mexico" Trailer Debut
"Narcos: Mexico" will explore the origins of the modern drug war by going back to its roots, beginning at a time when the Mexican trafficking world was a loose and disorganized confederation of independent growers and dealers.


[10/18/18 - 07:01 AM]
Emmy Award-Winning Actress Rachel Brosnahan Will Narrate Bloomberg Philanthropies' New Climate Change Documentary "Paris to Pittsburgh"
The film will premiere on National Geographic, Wednesday, December 12 at 9:00/8:00c.


[10/17/18 - 11:42 PM]
Development Update: Wednesday, October 17
Updates include: ABC locks in "NYPD Blue" sequel series; HBO pulls the plug on "Animals."; and Toby Haynes to helm Amazon's "Utopia."