FIRST LOOK VIDEO AND ART RELEASED FOR "POWER" SEASON THREE
Power returns in July on STARZ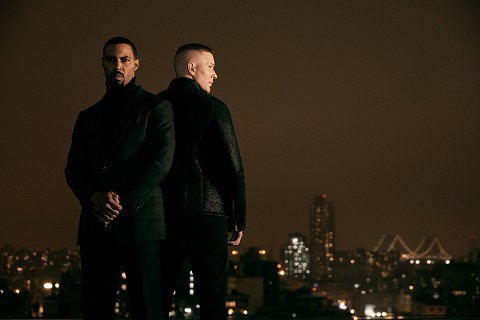 New York, NY, April 5, 2016 - Today, STARZ released the first look video and art from season three of the highly anticipated STARZ original series "Power" in advance of its season 3 return this July.
This first look at the dynamic, new season finds James "Ghost" St. Patrick (Omari Hardwick) at odds with everyone including his former partner and brother Tommy Egan (Joseph Sikora) and ends with the ominous conclusion: Ghost Must Die.
Season 3 finds James St. Patrick as the owner of new nightclubs, out of the drug game, and in a rekindled relationship with his first love, Angela (Lela Loren) - the AUSA sworn to bring him to justice. But just as they begin to believe James' past criminal persona of "Ghost" may finally be behind them, both are forced to face the consequences of running from a life from which no one gets away clean - especially with the fate of Kanan (Curtis "50 Cent" Jackson), and the motives of Lobos (Enrique Murciano) remaining a mystery.
James' estranged best friend Tommy has just reunited with his newly returned love, Holly, but he must attempt the insurmountable task to not only rebuild Lobos' devastated drug organization, but to kill Ghost - turning brother against brother.
With her marriage to James in shambles, Tasha (Naturi Naughton) adapts to life without her husband by her side. She'll find new purpose with old skills while trying to protect her children from the repercussions of life in the drug game and Ghost's fateful past decisions.
He's on the verge of having everything he's ever wanted, but will this new phase of James St. Patrick's life end before it begins with old sins and the specter of "Ghost" coming back to haunt him? Be careful what you wish for.
"Power" premieres in July on Starz with ten hour-long episodes third season. Courtney A. Kemp serves as the Creator, Showrunner and Executive Producer of "Power." Curtis "50 Cent" Jackson, Mark Canton, Randell Emmett and Gary Lennon serve as Executive Producers on "Power."
The show is also produced by G-Unit Films and Television, the production company launched by Curtis "50 Cent" Jackson.
For more information visit the "Power" Facebook Page and follow @Power_ Starz on Twitter. Join the conversation with #PowerTV and #STARZ.
About Starz
Starz (NASDAQ: STRZA, STRZB) is a leading integrated global media and entertainment company with operating units that provide premium subscription video programming on domestic U.S. pay television networks (Starz Networks) and global content distribution (Starz Distribution), www.starz.com. The Starz Networks operating unit is home to the flagship STARZ(R) brand with 23.6 million subscribers in the United States as of December 31, 2015, with the STARZ ENCORESM network at 32.2 million subscribers. Through STARZ, the company provides high quality, entertaining premium subscription video programming with 17 premium pay TV channels and associated on-demand and online services. STARZ is sold through U.S. multichannel video distributors, including cable operators, satellite television providers, telecommunications companies, and other online and digital platforms. Starz offers subscribers more than 5,000 distinct premium television episodes and feature films every year and up to 1,500 every month, including STARZ Original series, first-run movies and other popular movie and television programming. The Starz Distribution operating unit is home to the Anchor Bay Entertainment, Starz Digital, and Starz Worldwide Distribution divisions. In addition to STARZ Original series, Starz Distribution develops, produces and acquires movies, television and other entertainment content for worldwide home video, digital, and television licensing and sales.