SHOWTIME(R), DAVID LYNCH AND MARK FROST REVEAL THE PRODUCTION TEAM BEHIND THE NEW "TWIN PEAKS," SET TO PREMIERE IN 2017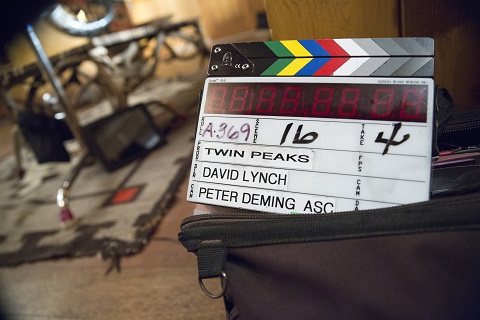 LOS ANGELES, CA - April 26, 2016 - On the heels of yesterday's announcement of the new TWIN PEAKS cast and the conclusion of principal photography, SHOWTIME, David Lynch and Mark Frost have released the names of the production team on the highly-anticipated series. Several members of the TWIN PEAKS team are longtime Lynch collaborators who also worked on the original television phenomenon. Written and produced by series creators and executive producers David Lynch and Mark Frost, the new TWIN PEAKS is directed entirely by David Lynch, and will premiere on SHOWTIME in 2017, on-air, on demand and over the internet.
One of the most groundbreaking and influential television series of all time, the new SHOWTIME event series picks up twenty-five years after the inhabitants of a quaint northwestern town were stunned when their homecoming queen Laura Palmer was shockingly murdered.
The attached document includes the official production team on the new TWIN PEAKS for SHOWTIME. Original members of the TWIN PEAKS world are asterisked.
Showtime Networks Inc. (SNI), a wholly-owned subsidiary of CBS Corporation, owns and operates the premium television networks SHOWTIME(R), THE MOVIE CHANNEL(TM) and FLIX(R), and also offers SHOWTIME ON DEMAND(R), THE MOVIE CHANNEL(TM) ON DEMAND and FLIX ON DEMAND(R), and the network's authentication service SHOWTIME ANYTIME(R). Showtime Digital Inc., a wholly-owned subsidiary of SNI, operates the stand-alone streaming service SHOWTIME(R). SHOWTIME is currently available to subscribers via cable, DBS and telco providers, and as a stand-alone streaming service through Apple(R), Roku(R), Amazon and Google. Consumers can also subscribe to SHOWTIME via Hulu, Sony PlayStation(R) Vue and Amazon Prime Video. SNI also manages Smithsonian Networks(TM), a joint venture between SNI and the Smithsonian Institution, which offers Smithsonian Channel(TM), and offers Smithsonian Earth(TM)through SN Digital LLC. SNI markets and distributes sports and entertainment events for exhibition to subscribers on a pay-per-view basis through SHOWTIME PPV. For more information, go to www.SHO.com.
# # #
Those who have previously worked in the TWIN PEAKS world have been asterisked (*).
DIRECTOR/PRODUCERS
DIRECTOR/EXECUTIVE PRODUCER DAVID LYNCH *
EXECUTIVE PRODUCER MARK FROST *
PRODUCER SABRINA S. SUTHERLAND *
LINE PRODUCER/UPM CHRISTINE LARSON-NITZSCHE
PRODUCTION
ASSISTANT UPM (WA) FON CHEN WILLIAMS
PRODUCTION SUPERVISOR KATE KELLY
PRODUCTION COORDINATOR MATTHEW ROCKEL
PRODUCTION COORDINATOR (WA) ALISON KELLY
PRODUCTION SECRETARY DANIEL FISCH
PRODUCTION SECRETARY (WA) KYLIE WALCHUK
ASSISTANT TO D. LYNCH MICHAEL BARILE
PRODUCTION ASSISTANT DANA MARIE FARLEY
PRODUCTION ASSISTANT ZACHARY ROBERT CRAFT
PRODUCTION ASSISTANT CHRISSY MAROON
PRODUCTION ASSISTANT (WA) BRENDAN GRIFFIN
PRODUCTION ASSISTANT (WA) ANTONIO DECOSSIO
ACCOUNTING
ACCOUNTANT BEVERLY ROSE KUBIK
1ST ASSISTANT ACCOUNTANT LENORE SENA
1ST ASSISTANT ACCOUNTANT DANA MICHAELSEN
1ST ASSISTANT ACCOUNTANT / PAYROLL STEPHANIE CORNICK
2ND ASSISTANT ACCOUNTANT SAMANTHA DABKEY
PAYROLL ACCOUNTANT JEAN MARC MADELON
ACCOUNTING CLERK LORENE SPONSEL
ACCOUNTING CLERK (WA) ALEX SCHULZ
ART DEPARTMENT
PRODUCTION DESIGNER RUTH DE JONG
ART DIRECTOR CARA BROWER
SET DESIGNER NANCY DEREN
SET DESIGNER SCOTT HERBERTSON
SET DESIGNER BARBARA MESNEY
GRAPHIC DESIGNER JASON PERRINE
GRAPHIC DESIGNER KAREN TENEYCK
ART DEPARTMENT COORDINATOR CAROLYN KING
ART DEPARTMENT PA JAKE CAVALLO