[09/21/16 - 09:00 AM]
Netflix Announces "Fuller House" Season 2 Premiere Date/New Key Art Debut
Look for new episodes beginning Friday, December 9 on the streaming service.
---
[via press release from Netflix]
Netflix Announces "Fuller House" Season 2 Premiere Date/New Key Art Debut
Today, Netflix announced the premiere date for Fuller House Season 2 which launches globally December 9, 2016 on Netflix, along with the debut of the new key art.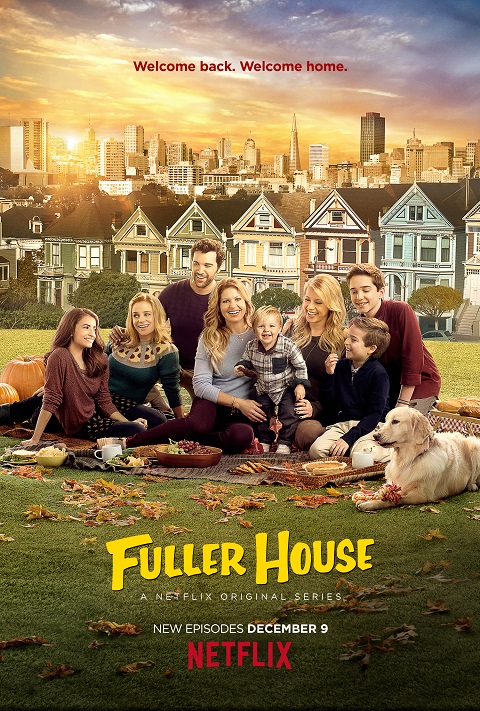 About Fuller House:
In the spinoff series, Fuller House, the adventures that began in 1987 on Full House continue, with veterinarian D.J. Tanner-Fuller (Candace Cameron-Bure) recently widowed and living in San Francisco. D.J.'s younger sister/aspiring musician Stephanie Tanner (Jodie Sweetin) and D.J.'s lifelong best friend/fellow single mother Kimmy Gibbler (Andrea Barber), along with Kimmy's feisty teenage daughter Ramona, all move in to help take care of D.J.'s three boys - the rebellious 12-year-old Jackson, neurotic 7-year-old Max and her newborn baby, Tommy Jr.
Fuller House stars Candace Cameron Bure as D.J. Tanner-Fuller, Jodie Sweetin as Stephanie Tanner, Andrea Barber as Kimmy Gibbler, Juan Pablo Di Pace as Fernando, Soni Nicole Bringas as Romona, Michael Campion as Jackson, Elias Harger as Max, Dashiell and Fox Messitt Twins as Baby Tommy, Scott Weinger as Steve Hale, John Brotherton as Matt Harmon, and Ashley Liao as Lola.
Bob Boyett and Jeff Franklin serve as executive producers. Fuller House is produced by Miller-Boyett Productions and Jeff Franklin Productions in association with Warner Horizon Television for Netflix.




[04/20/18 - 09:15 PM]
"Grey's" Goes for 15 - ABC Renews Its Longest-Running Primetime Drama for a Historic 15th Season
"'Grey's Anatomy' has a special place in my heart and millions of viewers feel the same way," said Channing Dungey.


[04/20/18 - 01:08 PM]
Noah Emmerich Has Been Cast as "Dan Peleg" in "The Spy"
"The Spy" is a Netflix limited series exploring Eli Cohen's (Sacha Baron Cohen) role as a spy for Israel in Syria in the early 1960s.


[04/20/18 - 01:04 PM]
Sarah Jeffery Returns as Audrey in "Descendants 3"
Directed by Emmy(R) and DGA Award-winning Kenny Ortega, "Descendants 3," a Disney Channel Original Movie, begins production next month for a 2019 premiere.


[04/20/18 - 11:01 AM]
Disney Junior's "Muppet Babies" Grows to New Series Highs
Disney Channel further spins the numbers for Friday, April 13.


[04/20/18 - 10:58 AM]
"Detroiters" Returns for Season Two with Back-to-Back Episodes on Thursday, June 21 at 10:00 P.M. ET/PT
The Comedy Central series stars real-life best friends and Detroit natives Sam Richardson and Tim Robinson as small-time ad men in the Motor City.


[04/20/18 - 09:22 AM]
MTV and Gunpowder & Sky Announce New Series "Too Stupid to Die" Premiering June 2018
"'Too Stupid to Die' is the right kind of show and characters who fit our coming of age strategy that's driving MTV's growth," said Chris McCarthy.


[04/20/18 - 09:05 AM]
Mobile Game "Broad City: High Score" Available for Download Today
Fans can navigate their way through New York, playing a series of rapid-fire, skill-challenging mini-games inspired by hilarious moments from the show.


[04/20/18 - 08:33 AM]
Thursday's Broadcast Ratings: CBS Holds Off Surge from ABC, "Scandal" Finale
The Eye wins the night among total viewers and adults 18-49.


[04/20/18 - 08:07 AM]
"The Great American Read," A New Multi-Platform PBS Series, Reveals List of America's 100 Favorite Novels
The series, hosted by television personality and journalist Meredith Vieira, launches with a two-hour episode on Tuesday, May 22 at 8:00/7:00c.


[04/20/18 - 08:06 AM]
"Friday Night Lights" Now Streaming on Hulu
Fans can now head to Hulu to watch every episode of the acclaimed series, and relive their favorite moments from Coach Taylor & Tami, as well as all of the Dillon High School football team.


[04/20/18 - 08:02 AM]
Season Three of "David Tutera's Celebrations" Returns with All New Episodes Friday, April 27 at 10PM ET/PT on WE tv
With new hires to watch over, and new celebrity clients including Zendaya, Heidi and Spencer Pratt, and Buddy Valastro, the event planner extraordinaire has his hands full.


[04/20/18 - 07:27 AM]
Video: Light Up This 4/20 with Season 2 of IFC's "Brockmire"
The show's season premiere, "The Getaway Game," is now available to watch on various platforms in advance of its linear debut.


[04/20/18 - 07:19 AM]
Video: Netflix Unveils Trailer for "Safe," As Michael C. Hall Returns to Television in Harlan Coben's Crime Thriller
After his teenage daughter goes missing, widowed surgeon Tom Delaney (Michael C. Hall) begins unearthing dark secrets about the people closest to him.


[04/20/18 - 06:00 AM]
ABC's "Jimmy Kimmel Live!" to Host Special "Avengers: Infinity War" Week, April 23 - April 27
The guest lineup includes the film's stars: Robert Downey Jr., Tom Holland, Zoe Saldana, Pom Klementieff, Paul Bettany, Scarlett Johansson, Tom Hiddleston, Dave Bautista, Mark Ruffalo, Danai Gurira, Chris Hemsworth, Josh Brolin, Sebastian Stan, Chadwick Boseman, Karen Gillan, Benedict Cumberbatch, Don Cheadle, Elizabeth Olsen and Winston Duke.


[04/19/18 - 06:48 PM]
FOX Sports Ushers in 25th Season of NFL Coverage with Its Strongest Broadcast Schedule Ever
FOX's strong 2018 regular season schedule features 35 NFC divisional matchups - 10 from the NFC South, nine each from the NFC North and NFC West, and seven from the NFC East.