You're Still Hooked and Netflix Knows Why
Netflix Unveils When Global Fandom Begins for The Get Down, Narcos, Stranger Things and more
Beverly Hills, Calif., September 21, 2016 -- Netflix releases the latest set of hooked episodes* and it turns out nothing brings the world together like thrilling mysteries, young love, family drama and criminal behavior. Also, dogs...
The world's leading Internet TV network expanded last year's research to look at more than 30 additional series** on a global scale (viewing spanned six continents) to pinpoint the episode that took watchers from casual to committed - that is, the episode that kept 70% of viewers watching through a first season's end. In doing so, Netflix discovered viewing behavior - and fandom - is quite universal. Regardless of whether they live in Argentina or Japan, members are not only getting hooked on similar episodes, but identifying with similar storylines.
Fear of the unknown turned watchers upside down for Stranger Things (Where's Will, where's Barb and what's a Demogorgon?!; episode 2) and had them bewitched with American Horror Story: Murder House (The dead roam freely on All Hallows' Eve; episode 4). The underworld of political corruption, whether it's Pablo Escobar's thirst for power in Colombia or Robert Taro's fight to keep it in France, had members addicted to both Narcos and Marseille by episode 3. Unsurprisingly, the curiosity of criminality had members arrested to The Fall (Paul Spector proves murder is not a spectator sport; episode 2), Prison Break (Michael finds staying alive in prison is harder than breaking out; episode 3) and Making A Murderer (Brendan Dassey is interrogated; episode 4).
However, not all hooked moments were dark or deadly. Love was the key to get viewers falling for Gilmore Girls (Rory's first kiss!; episode 7), Jane the Virgin (Jane rekindles an old flame, episode 7) and Grey's Anatomy (Meredith gets steamy with McDreamy in an elevator; episode 2). Relationships of the familial kind had members relating to The Get Down (Mylene's future hits a high note, but her relationship with her father hits a new low, episode 2), Club de Cuervos (Chava derails plans for the Iglesias soccer dynasty; episode 4) and The Ranch (The only thing bigger than Colt's ego is Beau's stubbornness; episode 3). A mix of the two is what worked for Fuller House when puppy Cosmo rounds out the Tanner clan in episode 4.
"We've always believed there is a universality to great stories. The Internet allows us to share these stories with a global audience and what we see from the data is how similar our members watch and respond," said Cindy Holland, Vice President of Original Content at Netflix. "The hooked findings give us confidence that there is an appetite for original and unique content all over the world, which is why we're excited to deliver variety in stories to our members, whether they're political dramas from France or musical dramas from the Bronx."
According to the research, here are the global episodes where members got hooked: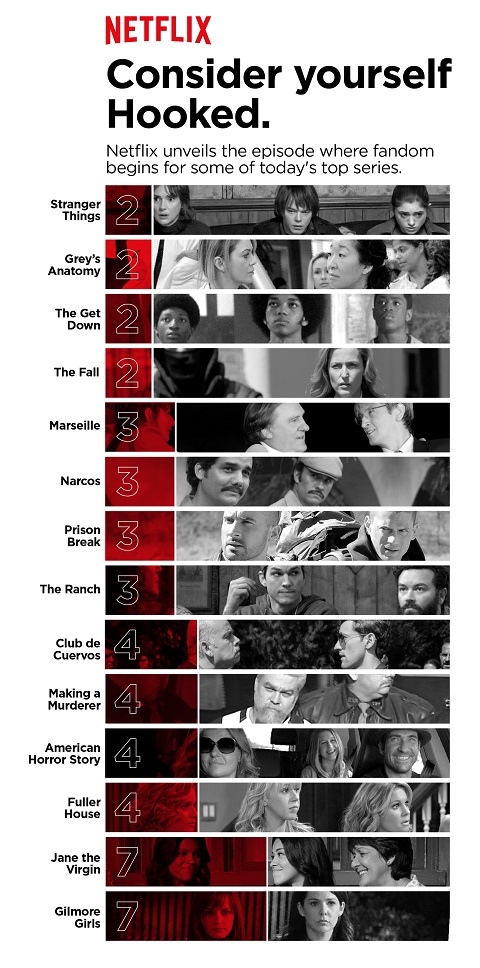 *Methodology:
The data in this research was pulled from Netflix member accounts who started watching season one of the selected series from January 2015 to August 2016 for Argentina, Australia, Brazil, Belgium, Canada, Colombia, Chile, Denmark, Finland, France, Germany, Ireland, Mexico, Netherlands, New Zealand, Norway, Peru, Sweden, UK and US and January 2016 to August 2016 for Hong Kong, India, Italy, Japan, Malaysia, Philippines, Poland, Portugal, Singapore, South Africa, South Korea, Spain, Taiwan, Turkey and UAE. A hooked episode was defined when 70% of viewers who watched that episode went on to complete season one of the same series. Hooked episodes were first identified by country, then averaged to create the global hooked episode. The hooked episode had no correlation to total viewership numbers or season attrition. While the Netflix research did confirm episodes, it didn't indicate specific plot points.
**Not all shows are available in all countries
About Netflix
Netflix is the world's leading Internet television network with over 83 million members in over 190 countries enjoying more than 125 million hours of TV shows and movies per day, including original series, documentaries and feature films. Members can watch as much as they want, anytime, anywhere, on nearly any Internet-connected screen. Members can play, pause and resume watching, all without commercials or commitments.