[11/28/16 - 06:48 AM]
Still Feeling Thank-FULL? Netflix Announces Launch Date for "Santa Clarita Diet"
Timothy Olyphant and Drew Barrymore star in the series, due Friday, February 3 on the streaming service.
---
[via press release from Netflix]
Still Feeling Thank-FULL? Netflix Announces Launch Date for Santa Clarita Diet
Are you still feeling stuffed with all that turkey and pie? Netflix has the answer, Santa Clarita Diet.
Go ahead and indulge in all the holiday fare now, and then start the Diet when the Netflix original series premieres worldwide on Friday, February 3, 2017 only on Netflix. Along with the date announce, First Look photos of this new dark comedy starring Drew Barrymore and Timothy Olyphant are available now.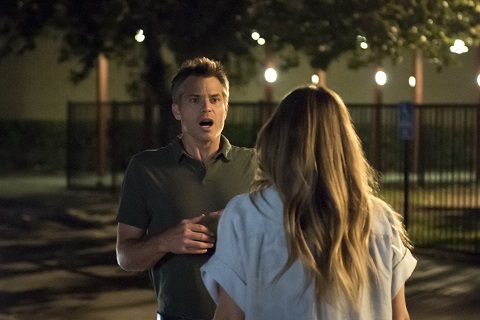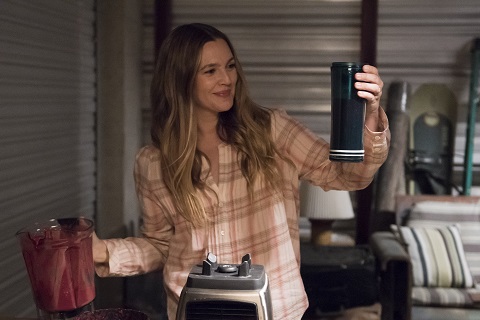 Series Description:
In Santa Clarita Diet, Joel (Timothy Olyphant, Justified) and Sheila (Drew Barrymore, Blended) are husband and wife realtors leading vaguely discontented lives in the L.A. suburb of Santa Clarita with their teenaged daughter Abby (Liv Hewson), until Sheila goes through a dramatic change sending their lives down a road of death and destruction...but in a good way.
Santa Clarita Diet stars Drew Barrymore as Sheila Hammond, Timothy Olyphant as Joel Hammond, Liv Hewson as Abby Hammond and Skylar Gisondo as Eric Bemis.
Showrunner Victor Fresco, Drew Barrymore, Timothy Olyphant, Aaron Kaplan, Tracy Katsky, Chris Miller and Ember Truesdell are executive producers on the series. Nancy Juvonen is a producer. Santa Clarita Diet is a Netflix production and is available globally ONLY on Netflix on February 3, 2017.




[02/24/17 - 04:46 PM]
The Second Season of "Criminal Minds: Beyond Borders" Will Premiere Wednesday, March 8
The series will replace newcomer "Doubt" in the 10:00/9:00c hour.


[02/24/17 - 03:13 PM]
Jennifer Aniston, Jason Bateman, Warren Beatty, Sofia Boutella, Matt Damon and More Announced as Final Slate of 89th Oscars(R) Presenters
Also on tap: Faye Dunaway, Michael J. Fox, Ryan Gosling, Salma Hayek, Taraji P. Henson, Dev Patel, Seth Rogen, Octavia Spencer, Meryl Streep and Vince Vaughn.


[02/24/17 - 01:09 PM]
E! Exclusive Premiere of "Fifty Shades of Grey" to Air Sunday, March 5 at 7:30 PM ET/PT
The telecast will be followed by the debut of the network's second scripted series "The Arrangement."


[02/24/17 - 11:38 AM]
Platinum-Selling Artists Machine Gun Kelly and Camila Cabello to Perform at "Nickelodeon's 2017 Kids' Choice Awards"
Hosted by WWE Superstar John Cena, the show will air live on Saturday, March 11 from USC's Galen Center in Los Angeles.


[02/24/17 - 10:11 AM]
Animated Adult Television Series "Animals.," Created by Phil Matarese & Mike Luciano, from Duplass Brothers Productions, Returns for Its Second Season March 17, Exclusively on HBO
The series is also available on HBO NOW, HBO GO, HBO On Demand and affiliate portals.


[02/24/17 - 10:04 AM]
Video: The Story of "The Handmaid's Tale"
The 10-episode first season premieres Wednesday, April 26 on Hulu.


[02/24/17 - 09:30 AM]
Tracy Morgan Comes to Netflix with All-New Stand-Up Comedy Special Launching Tuesday, May 16th
Tracy Morgan's "Staying Alive" finds the comedy icon exploring his fresh take on life, career and mortality in the wake of surviving a devastating near-fatal traffic collision in 2014.


[02/24/17 - 09:30 AM]
BBC America's London East End Drama, "Ripper Street," Returns for Its Final Season on March 8
The powerful closing chapter picks up mere days after the grisly death of Detective Inspector Bennet Drake, which reunites his old friends, Detective Inspector Edmund Reid, surgeon Captain Homer Jackson and "Long" Susan Hart, to bring his murderer to justice.


[02/24/17 - 08:42 AM]
Thursday's Broadcast Ratings: ABC Hangs Onto Demo Crown
A new "Grey's Anatomy" sparks another victory for the Alphabet among adults 18-49.


[02/24/17 - 08:30 AM]
Showtime(R) Celebrates "Twin Peaks" Day, Unveiling Dual Key Art
One poster depicts Laura Palmer (Sheryl Lee), whose mysterious death sparked the "Twin Peaks" saga, while the other showcases series star Kyle MacLachlan as Special Agent Dale Cooper.


[02/24/17 - 07:03 AM]
Bravo Media Partners with Lay's for First-Ever Live "Top Chef" Quickfire Challenge
Fans can watch the delicious drama unfold through a Facebook Live special presentation on the official Top Chef page and on bravotv.com's "The Feast," the network's food-focused digital destination.


[02/24/17 - 07:01 AM]
The Guardians and the Avengers Team Up for an Epic One-Hour "Marvel's Guardians of the Galaxy" Season Two Premiere on Saturday, March 11, on Disney XD
Disney XD will also release six shorts following the adventures of the five main characters daily, beginning February 27 on the Disney XD app, VOD and Disney XD's YouTube.


[02/23/17 - 11:52 PM]
Development Update: Thursday, February 23
Updates include: Lauren Graham to lead "Linda from HR" for FOX; Josh Duhamel, Bokeem Woodbine to star in "Unsolved" at USA; and Lea Michele cast in ABC comedy pilot.


[02/23/17 - 03:05 PM]
Disney-ABC Television Group Wins Two Humanitas Prizes
ABC won the 30 Minute award for "black-ish" "Hope" episode, written by Kenya Barris.


[02/23/17 - 02:47 PM]
Video: New Trailer - Burning Sands - on Netflix March 10
The film was selected for the 2017 Sundance Film Festival US Dramatic Competition and will be available to Netflix members worldwide on Friday, March 10.