CAN THE DOCTOR SAVE MANHATTAN THIS CHRISTMAS?
DETAILS AND POSTER ART REVEALED FOR BBCA'S "DOCTOR WHO" CHRISTMAS SPECIAL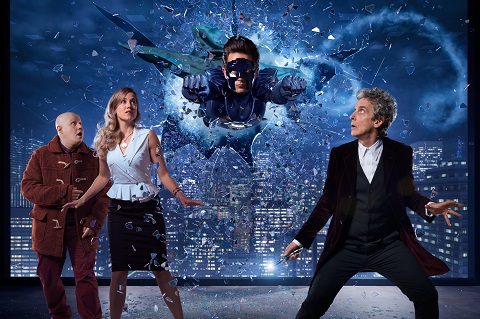 New York - November 30, 2016 - Today, BBC AMERICA revealed the synopsis and poster art for the all-new Doctor Who Christmas Special, The Return of Doctor Mysterio, premiering Sunday, December 25, 9/8c on BBC AMERICA.
This Christmas sees the Doctor join forces with a masked Superhero for an epic New York adventure. With brain-swapping aliens poised to attack, the Doctor and Nardole link up with an investigative reporter and a mysterious figure known only as The Ghost. Can the Doctor save Manhattan? And what will be revealed when we see behind the mask?
Peter Capaldi stars as the Doctor, Matt Lucas (Bridesmaids, Little Britain) as Nardole, Justin Chatwin (Orphan Black, Shameless) as Grant and Charity Wakefield (Wolf Hall, The Player) as an investigative journalist.
The special is written by Steven Moffat, executive produced by Brian Minchin, produced by Peter Bennett and directed by Ed Bazalgette (Poldark). It was shot in Cardiff at BBC Wales Roath Lock Studios.
In the days leading up to the new Christmas Special, BBCA will air a Doctor Who Takeover Marathon. The new season of Doctor Who will premiere alongside the Doctor Who spin-off Class in Spring 2017 on BBC AMERICA.
BBCA's robust slate of originals includes: Dirk Gently's Holistic Detective Agency airing now on Saturdays and returning with season two in 2017, BBC Music Awards on December 14th, Planet Earth II on January 28th, plus the final season of Orphan Black and the recently greenlit series from Phoebe Waller-Bridge, Killing Eve.