FIRST LOOK AT NICOLE KIDMAN FROM THE NEW INSTALLMENT OF JANE CAMPION'S CRITICALLY ACCLAIMED "TOP OF THE LAKE"
"TOP OF THE LAKE: CHINA GIRL" is produced by See-Saw Films in association with BBC First in Australia, BBC UKTV in New Zealand, SundanceTV and Hulu in the United States, ARTE in France and BBC Worldwide.
Nicole Kidman will play an Australian mother, Julia, whose story will intersect with Elisabeth Moss ("Mad Men"), reprising her Golden Globe winning role as Detective Robin Griffin.
"Top of the Lake: China Girl" is a crime mystery story that finds Detective Robin Griffin, recently returned to Sydney and trying to rebuild her life. When the body of an Asian girl washes up on Bondi Beach, there appears little hope of finding the killer, until Robin realizes that "China Girl" didn't die alone. Robin's search to discover "China Girl's" identity takes her into the city's criminal underbelly and closer than she could have imagined to the secrets of her own heart.
"Top of the Lake: China Girl" will broadcast on SundanceTV in 2017.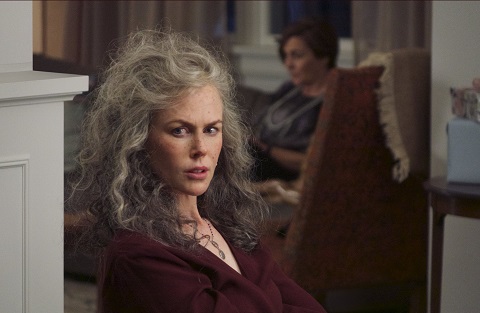 NICOLE KIDMAN AS JULIA
Notes to Editors:
The first series of "Top of the Lake" won the 2013 Emmy(R) for Outstanding Cinematography for a Miniseries or Movie, as well as the 2014 Golden Globe(R) for Best Performance by an Actress in a Mini-Series or a Motion Picture Made for Television for Moss. "Top of The Lake" also received recognition at the 2014 BAFTAs, Screen Actors Guild Awards, Critics Choice Television Awards, PGA Awards, among many others.
The new mini-series will once again be directed by Oscar(R) winner Jane Campion (Bright Star, The Piano), along with new co-director Ariel Kleiman (Partisan). Campion and Gerard Lee also return as co-writers of the second series. "Top of The Lake: China Girl" is being produced by Philippa Campbell (Rain, "Top of the Lake" series 1) and Libby Sharpe (Jewboy). Executive producers are Campion with See-Saw's Emile Sherman, Iain Canning (The King's Speech, Shame) and Jamie Laurenson.