REIGNING ROYAL WOMEN STEER STARZ' ORIGINAL LIMITED SERIES "THE WHITE PRINCESS" PREMIERING ON SUNDAY, APRIL 16TH AT 8PM ET/PT
Follow up to the Golden Globe(R) and Emmy(R) Nominated Miniseries "The White Queen" Based on the Best Selling "The Cousins' War" Novels
First Look at the Key Art Teases "Love to the Death"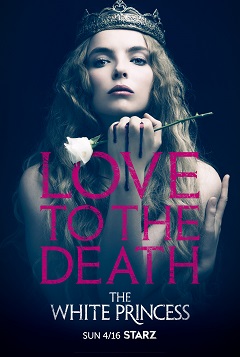 Beverly Hills, Calif., February 9, 2017 - Starz announced today that the highly-anticipated STARZ Original Limited Series "The White Princess" - a follow-up to the Golden Globe(R) and Emmy(R) award-nominated STARZ Original Miniseries "The White Queen" from Company Pictures and Playground - will premiere on Sunday, April 16th at 8PM ET/PT. Set in 15th century England, the drama is drawn from the novel of the same name by Philippa Gregory and part of The Cousins' War book series.
Starz today also debuted "The White Princess" key art featuring Princess Elizabeth of York/Lizzie, bloodily gripping a white rose - the rose of the House of York, to which she is determined to stay loyal, even when she is forced to marry into the House of Tudor. Additionally, in the newly released, seductive official trailer, viewers get a taste of just what type of heroine Lizzie will become as she pronounces, "'Humble and penitent' be damned. 'Hidden and patient,' that will be my motto."
President of Programming for Starz Carmi Zlotnik said, "'The White Princess' represents the kind of Obsessable programming that has become the hallmark of STARZ Original Series, and we can't wait for the ardent fans of 'The White Queen' and 'Outlander' to discover it. We are thrilled that Emma Frost returned to the helm to reimagine 'The White Princess.' Her unique voice has created a compelling royal drama, driven by dynamic women in front of and behind the camera."
Hailed by Harper's Bazaar as "the feminist answer to 'Game of Thrones,'" "The White Princess" picks up three days after the conclusion of "The White Queen," as a new generation ascends to the throne in a tale of power, political divides, family, love, and betrayal. "The White Princess" is a gripping historical drama uniquely told from the perspective of the women waging the ongoing battle for the English throne: Lizzie (Jodie Comer), Lady Margaret Beaufort (Michelle Fairley) and Dowager Queen Elizabeth Woodville (Essie Davis).
The story begins as one of England's most politically turbulent times - The War of the Roses - is coming to an end. An uneasy peace is achieved when former King Richard III is defeated at the Battle of Bosworth, and the victor, Henry Tudor, soon-to-be King Henry VII (Jacob Collins-Levy), is married to Lizzie - a princess from a rival house and Richard III's former lover.
"The White Princess" is helmed by returning Showrunner and Writer Emma Frost ("The White Queen," "The Man in the High Castle," "Shameless"), also on board as Executive Producer, alongside Executive Producer and Director Jamie Payne ("Legends," "Quantico"). Lachlan MacKinnon ("Burton and Taylor") is Producer for the series, with Playground's Colin Callender ("The White Queen," "The Dresser," "Wolf Hall") and Scott Huff ("The Missing") serving as Executive Producers along with Company Pictures' Michele Buck ("Hornblower").
"The White Princess" will consist of eight episodes airing Sunday nights beginning April 16th and it will also be available on STARZ ON DEMAND and to STARZ subscribers on the STARZ app. In December 2016, the STARZ app was named by Apple(R) as one of Apple TV's(R) "10 Best Apps of the Year," and has consistently ranked in the Top 10 Entertainment Top Grossing category on iTunes since its launch in April 2016.
About "The White Princess"
Drawn from the novel of the same name by Philippa Gregory, and part of The Cousins' War book series, "The White Princess" sees England ostensibly united by the marriage of Princess Elizabeth of York/Lizzie and King Henry VII, but their personal and political rift runs deep and the divide between them threatens to tear the kingdom apart once again. Rumors circulate that Lizzie's long-lost brother Prince Richard is alive and planning to take the throne - forcing Lizzie into an impossible choice between her new Tudor husband and the boy who could be her own blood and the rightful York King. "The White Princess" is a tale of power, political divides, family, love and betrayal, which charts one of the most tumultuous times in British history uniquely from the point of view of the women waging the ongoing battle for the English throne. "The White Princess" filmed on location in Bristol, UK and will air on STARZ beginning on April 16, 2017. Starz retains all domestic and international multiplatform rights including television, home entertainment, and digital.
About Starz
Starz (www.starz.com), a Lionsgate company (NYSE: LGF.A, LGF.B), is a leading global media and entertainment company that provides premium subscription video programming on domestic U.S. pay television networks and produces and distributes content for worldwide audiences, including its investment in the STARZ PLAY Arabia OTT service. Starz is home to the flagship STARZ(R) brand with 24.3 million subscribers in the United States as of December 31, 2016, with the STARZ ENCORESM network at 31 million subscribers. Starz provides high-quality, entertaining premium subscription video programming with 17 premium pay TV channels and associated on-demand and online services, including the STARZ app. Sold through U.S. multichannel video distributors, including cable operators, satellite television providers, telecommunications companies, and other online and digital platforms, Starz offers subscribers more than 5,000 distinct premium television episodes and feature films every year and up to 1,500 every month, including STARZ Original series, first-run movies and other popular movie and television programming.
About Playground
Playground is a New York and London based television and theatre production company founded in 2012 by Emmy, BAFTA, Tony and Golden Globe award-winning producer Colin Callender. It is committed to producing quality drama for the screen and the stage bringing together the finest US and UK talent from the worlds of theatre, film, and television. Playground has produced over 50 hours of prime time television drama garnering 15 Emmy nominations, 20 BAFTA nominations, including 5 wins, and 12 Golden Globe nominations, including a Golden Globe win for Best Miniseries. Recent productions include the Emmy-nominated and BAFTA, Golden Globe and Peabody Award winning six-part miniseries adaptation of Hilary Mantel's Wolf Hall starring Mark Rylance, Damian Lewis and Claire Foy for the BBC and Masterpiece, RTS winning and Golden Globe and BAFTA-nominated television adaptation of Ronald Harwood's The Dresser starring Ian McKellen and Anthony Hopkins and directed by Richard Eyre for the BBC and Starz, The White Princess a limited series for Starz based on the bestselling book by Phillippa Gregory, and Ken Lonergan's upcoming four hour adaptation of E.M. Forster's Howards End directed by BAFTA winner Hettie Macdonald and co-produced with City Entertainment and KippSter Entertainment for the BBC. Playground's recent theatre productions on Broadway include: Nora Ephron's Tony-nominated Lucky Guy directed by George C. Wolfe starring Tom Hanks in his Broadway debut, Harvey Fierstein's Tony-nominated Casa Valentina directed by Joe Mantello, the Tony award-winning revival of musical Hedwig and the Angry Inch, Jez Butterworth's The River directed by Ian Rickson starring Hugh Jackman, and Kenneth Branagh and Rob Ashford's critically acclaimed groundbreaking production of Macbeth at The Park Avenue Armory in New York. Playground, in partnership with Sonia Friedman Productions and Harry Potter Theatrical Productions, is currently producing the record-breaking West End hit play Harry Potter and the Cursed Child.
About Company Pictures
Company Pictures is one of the UK's largest independent film and television producers. Founded in 1998, we have produced hundreds of hours of critically acclaimed, award winning drama. Company has produced major drama series for the BBC, ITV, Channel 4, Sky, WGBH, HBO, Starz and other leading broadcasters all over the world. Company was responsible for period drama Elizabeth (winner of three Golden Globes), eleven series of the multi award winning Shameless, the much loved long running family series Wild at Heart and the hugely popular teen drama Skins. Recently, Company produced a big budget six part adaptation for the BBC of Hilary Mantel's prize winning "Wolf Hall" (recent winner of a Golden Globe(R)), written by Peter Straughan (Tinker Tailor Soldier Spy), directed by BAFTA nominated Peter Kosminsky and starring Mark Rylance and Damian Lewis."Wolf Hall" won a Golden Globe(R) for Best Television Limited Series and two BAFTAS for Best Drama Series and Best Leading Actor for Mark Rylance. From seminal drama "The Lakes" in the 1990s to "The White Queen," "Inspector George Gently" and "The Village" today, Company Pictures continues to produce and deliver high quality, distinguished drama that attracts the best talent the UK has to offer. Since October 2004 Company has been part of All3Media.
About All3Media
All3Media is a leading independent television, film and digital production and distribution companies. The All3Media group is comprised of 21 production and distribution companies from across the UK, Europe, New Zealand and USA including Apollo20, Bentley Productions, Caravan, Company Pictures, IDTV, Lime Pictures, Lion Television, Little Dot Studios, Maverick Television, MME Moviement, Neal Street Productions, New Pictures, North One Television, Objective Productions, Optomen, One Potato Two Potato, Seven Stories, South Pacific Pictures, Studio Lambert, All3Media America and All3Media International. All3Media is owned jointly between Discovery Communications and Liberty Global.