[04/13/17 - 09:06 AM]
"Outlander" Season Three Teaser Trailer to Air During Premiere of Starz' "The White Princess" on April 16th
In Season Three of "Outlander," the story picks up right after Claire travels through the stones to return to her life in 1948.
---
[via press release from Starz]
"OUTLANDER" SEASON THREE TEASER TRAILER TO AIR DURING PREMIERE OF STARZ' "THE WHITE PRINCESS" ON APRIL 16th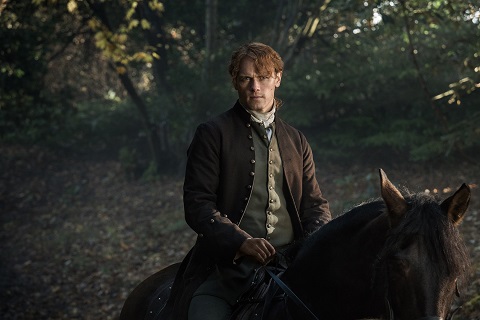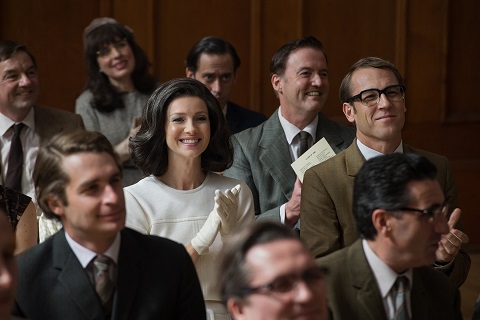 Photo Credit: Courtesy of Sony Pictures Television
Starz will release a teaser trailer for Season Three of their hit series "Outlander" on Sunday, April 16th in front of the premiere of new limited series "The White Princess" airing at 8pm ET/PT . Attached are two new Season Three images from the teaser trailer - the first features Claire Randall (Caitriona Balfe) and Frank Randall (Tobias Menzies) in the 1960's; the second image is of Jamie Fraser (Sam Heughan) in the 1700's.
In Season Three of "Outlander," the story picks up right after Claire travels through the stones to return to her life in 1948. Now pregnant, she struggles with the fallout of her sudden reappearance and its effect on her marriage to her first husband, Frank. Meanwhile, in the 18th century, Jamie suffers from the aftermath of his doomed last stand at the historic battle of Culloden, as well as the loss of Claire. As the years pass, Jamie and Claire attempt to make a life apart from one another, each haunted by the memory of their lost love. The budding possibility that Claire can return to Jamie in the past breathes new hope into Claire's heart... as well as new doubt. Separated by continents and centuries, Claire and Jamie must find their way back to each other. As always, adversity, mystery, and adventure await them on the path to reunion. And the question remains: when they find each other, will they be the same people who parted at the standing stones, all those years ago?
Book Three is set to premiere in September 2017 and will include 13 episodes based upon the third of eight books in Diana Gabaldon's international best-selling Outlander series, entitled Voyager. Production and filming on the third season continues in Cape Town, South Africa.
"Outlander" Online
For more information, go to the official Outlander Facebook Page and follow @Outlander_Starz on Twitter and Instagram. Join the conversation with #Outlander and #STARZ. Website: http://www.starz.com/originals/Outlander




[01/16/18 - 02:00 PM]
FOX Renews Critically Acclaimed Hit Drama "9-1-1" for a Second Season
"With a bold concept, award-winning stars and a flawless execution, Ryan [Murphy], Brad [Falchuk] and Tim [Minear] have done it again," said Dana Walden and Gary Newman.


[01/16/18 - 01:21 PM]
Velocity's Barrett-Jackson Live Hits the Gas for a Supercharged Saturday
One of the biggest annual automotive events in America, the Barrett-Jackson Scottsdale auction, features thousands of bidders, leading athletes and celebrities and dedicated collectors all vying for their next one-of-a-kind ride.


[01/16/18 - 12:40 PM]
"Love Is ___" Series Regular Casting
They'll join the previously announced Michele Weaver as the female lead Nuri and Will Catlett as male lead Yasir.


[01/16/18 - 11:46 AM]
NBC Schedules Three-Hour "Billboard Music Awards" to Air Live Coast to Coast on Sunday, May 20 at 8 P.M. ET/5 P.M. PT
The network acquired the rights to the "Billboard Music Awards" in a new multi-year deal signed in November.


[01/16/18 - 10:52 AM]
Nickelodeon's Viral Sports Clip Series "Crashletes" Returns for an Epic Third Season, Premiering Sunday, Feb. 11, at 10 A.M. (ET/PT) in TeenNick's NickSports Block
Co-hosts Brandon Broady and Stevie Nelson will be joined by a guest athlete in each episode who will help provide in-depth analysis of viral sports bloopers, blunders and absurdities.


[01/16/18 - 10:04 AM]
PBS Kids Offers Sneak Peek of Its First Series Dedicated to the Arts and Creativity: "Pinkalicious & Peterrific"
Three full-length 11-minute stories are now available; additional stories will roll out on digital platforms every Friday until February 9, when PBS stations will broadcast a special, one-hour series premiere event.


[01/16/18 - 10:03 AM]
PBS Announces "Native America," New Four-Part Series Premiering Fall 2018
Weaving history and science with living indigenous traditions, the series brings to life a land of massive cities connected by social networks spanning two continents, with unique and sophisticated systems of science, art and writing.


[01/16/18 - 10:02 AM]
PBS Announces "#MeToo, Now What?" (w.t.) New Half-hour, Five-Part Series Premiering February 2018
Zainab Salbi, founder of Women for Women International, hosts the series, premiering Friday, February 2 at 8:30/7:30c.


[01/16/18 - 10:01 AM]
PBS Announces Key Authors, Celebrities and Notable Figures in the Entertainment, Sports, News and Literary Worlds Lending Their Voices to "The Great American Read"
The series launches with a two-hour special event on Tuesday, May 22 at 8:00/7:00c.


[01/16/18 - 09:08 AM]
Ovation Acquires US Broadcast and Digital Rights to Season Two of "Rachel Hunter's Tour of Beauty"
In season two, international supermodel Rachel Hunter embarks on a search for the secrets to lasting beauty and a complete sense of well-being through The Americas.


[01/16/18 - 09:07 AM]
Ovation Acquires U.S. Premiere Rights to Season Three of the Critically Acclaimed International Hit Drama Series "Versailles"
Since its debut on Ovation in the fall of 2016, the series has been a remarkable success for the network, both on air and across its social networks.


[01/16/18 - 09:06 AM]
Ovation Celebrates the Art of Wine with Acquisition of "The Wine Show" Season One
Starring Matthew Goode and his good friend Matthew Rhys, "The Wine Show" take viewers on a fresh, accessible and thoroughly entertaining new journey into wine.


[01/16/18 - 08:38 AM]
Raelle Tucker and Scott Winant to Collaborate with Blumhouse Television to Produce Scripted Drama Series for Facebook Watch
The series, "Sacred Lies" (working title), is based on the classic Grimms Brothers tale, "The Handless Maiden" and the novel, "The Sacred Lies of Minnow Bly" by Stephanie Oakes.


[01/16/18 - 08:37 AM]
New Action-Packed Series "Fly Guys" Set to Debut on Facebook's Watch
The non-scripted series will follow an all-star crew of Europe's most talented acrobats and professional stunt performers.


[01/16/18 - 08:36 AM]
Bear Grylls Invites the Facebook Watch Community to "Face the Wild" with New Electus/BGV-Produced Adventure Docu-Series Launching March 21
Answering thousands of requests from Facebook followers across the nation, for the first time Bear will surprise 10 of his most inspiring fans by inviting them on one-on-one adventures of a lifetime: joining him in facing the wild.