[04/13/17 - 09:06 AM]
"Outlander" Season Three Teaser Trailer to Air During Premiere of Starz' "The White Princess" on April 16th
In Season Three of "Outlander," the story picks up right after Claire travels through the stones to return to her life in 1948.
---
[via press release from Starz]
"OUTLANDER" SEASON THREE TEASER TRAILER TO AIR DURING PREMIERE OF STARZ' "THE WHITE PRINCESS" ON APRIL 16th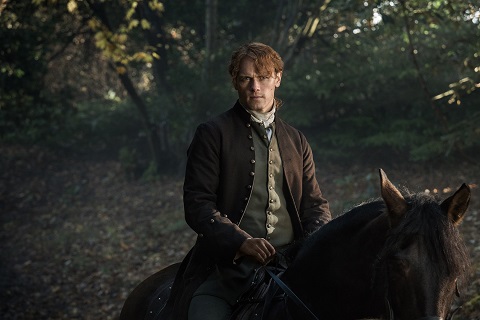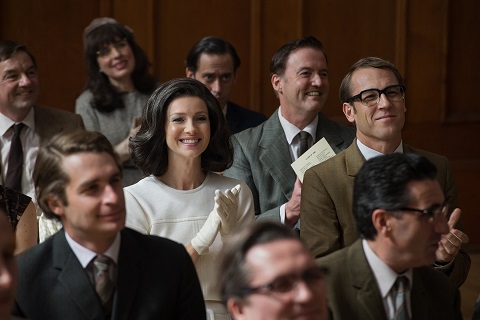 Photo Credit: Courtesy of Sony Pictures Television
Starz will release a teaser trailer for Season Three of their hit series "Outlander" on Sunday, April 16th in front of the premiere of new limited series "The White Princess" airing at 8pm ET/PT . Attached are two new Season Three images from the teaser trailer - the first features Claire Randall (Caitriona Balfe) and Frank Randall (Tobias Menzies) in the 1960's; the second image is of Jamie Fraser (Sam Heughan) in the 1700's.
In Season Three of "Outlander," the story picks up right after Claire travels through the stones to return to her life in 1948. Now pregnant, she struggles with the fallout of her sudden reappearance and its effect on her marriage to her first husband, Frank. Meanwhile, in the 18th century, Jamie suffers from the aftermath of his doomed last stand at the historic battle of Culloden, as well as the loss of Claire. As the years pass, Jamie and Claire attempt to make a life apart from one another, each haunted by the memory of their lost love. The budding possibility that Claire can return to Jamie in the past breathes new hope into Claire's heart... as well as new doubt. Separated by continents and centuries, Claire and Jamie must find their way back to each other. As always, adversity, mystery, and adventure await them on the path to reunion. And the question remains: when they find each other, will they be the same people who parted at the standing stones, all those years ago?
Book Three is set to premiere in September 2017 and will include 13 episodes based upon the third of eight books in Diana Gabaldon's international best-selling Outlander series, entitled Voyager. Production and filming on the third season continues in Cape Town, South Africa.
"Outlander" Online
For more information, go to the official Outlander Facebook Page and follow @Outlander_Starz on Twitter and Instagram. Join the conversation with #Outlander and #STARZ. Website: http://www.starz.com/originals/Outlander




[11/15/18 - 10:02 AM]
Video: Comedy Central Releases Trailer for "The Other Two" - New Series from Chris Kelly and Sarah Schneider Premieres January 24
Guest stars for the debut season include, Beck Bennett, Kate Berlant, Michael Che, Andy Cohen, Heidi Gardner, Jackie Hoffman, Daniel K. Isaac, Brandon Scott Jones, Richard Kind, Greta Lee, Tinsley Mortimer, Andy Ridings, Josh Segarra, Wanda Sykes, Julio Torres, JJ Totah and Patrick Wilson.


[11/15/18 - 10:00 AM]
Disney Channel's Hit Series "Bunk'd" Ordered for a Fourth Season
The fourth season will be executive produced by Emmy(R)-nominated producer Phil Baker and Erin Dunlap.


[11/15/18 - 09:16 AM]
Syfy Announces First Original Late Night Animated Series "Alien News Desk"
Voiced by Will Forte and Heidi Gardner, the 12-episode series will cover up-to-the-minute news and commentary about the universe's most baffling species - the inscrutable Humans of Planet Earth.


[11/15/18 - 09:01 AM]
Video: "The Kominsky Method" - Official Trailer #2 - Netflix
On November 16, meet Sandy (Michael Douglas) and Norman (Alan Arkin), two lifelong friends who are navigating the ups and downs of life with humor, dignity, and a little bit of help from their families.


[11/15/18 - 08:18 AM]
Wednesday's Broadcast Ratings: "CMA Awards" Put ABC on Top
The Alphabet's telecast however is down 34% from a year ago among adults 18-49.


[11/15/18 - 08:01 AM]
Video: "The Fix" - Official Trailer - Netflix
In each episode, host Jimmy Carr and team captains D.L. Hughley and Katherine Ryan are joined by guest comics to debate and discuss one of the biggest challenges facing the world in a team panel format.


[11/15/18 - 07:35 AM]
Netflix Matches with "The One" in New Series Examining Love and DNA Science
The series is set five minutes in the future, in a world where a DNA test can find your perfect partner - the one person you're genetically predisposed to fall passionately in love with.


[11/15/18 - 07:31 AM]
Video: Netflix Debuts Trailer & Key Art for "A Christmas Prince: The Royal Wedding"
Rose McIver and Ben Lamb star in the film, due on November 30.


[11/15/18 - 07:31 AM]
"Andi Mack" and "Raven's Home" Hit Multi-Week Highs and Stand as Friday's Top 2 TV Telecasts in Key Youth Demos
Disney Channel further spins the numbers for Friday, November 9.


[11/15/18 - 07:01 AM]
Video: "Nicky Jam: El Ganador" - Official Trailer - Netflix
From his humble and troubled start in Boston, to his downfall on the streets, to becoming the king of one of the most popular musical genres, this is not only the life of Nicky Jam, but the history of reggaeton itself.


[11/14/18 - 05:01 PM]
"Memories of the Alhambra" Launches Worldwide from December 1st
Starting with its release in Asia and English-speaking territories an hour after broadcast in Korea, the Netflix series will also be available on the next day in Japan.


[11/14/18 - 03:30 PM]
Lily James and Armie Hammer Board Ben Wheatley's "Rebecca" for Working Title and Netflix
It tells the story of a newly-married young woman who, on arriving at her husband's imposing family estate on a bleak English coast, finds herself battling the shadow of his dead first wife, the mysterious Rebecca, whose legacy continues to haunt the house.


[11/14/18 - 01:59 PM]
Thanksgiving May Be a Week Away, But We're Very Thankful That "Bosch" Season 6 Is a Go!
The streaming service revealed the news on social media this afternoon.


[11/14/18 - 01:28 PM]
Amazon Studios Inks Production Deal with Blumhouse Television for a Series of Eight Thematically Connected Films
Amazon Studios and Blumhouse Television are committed to attaching diverse and underrepresented filmmakers to direct and bring these titles to life.


[11/14/18 - 01:04 PM]
"Say Her Name: The Life and Death of Sandra Bland," Exploring the Controversial Death of a Young Black Woman in Police Custody, Debuts Dec. 3 on HBO
The documentary made its world premiere at the 2018 Tribeca Film Festival.