[04/13/17 - 09:06 AM]
"Outlander" Season Three Teaser Trailer to Air During Premiere of Starz' "The White Princess" on April 16th
In Season Three of "Outlander," the story picks up right after Claire travels through the stones to return to her life in 1948.
---
[via press release from Starz]
"OUTLANDER" SEASON THREE TEASER TRAILER TO AIR DURING PREMIERE OF STARZ' "THE WHITE PRINCESS" ON APRIL 16th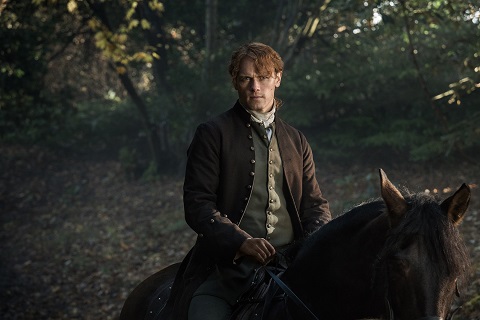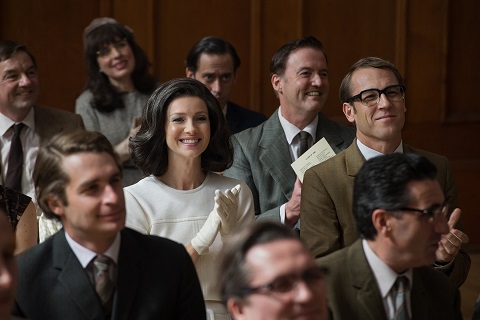 Photo Credit: Courtesy of Sony Pictures Television
Starz will release a teaser trailer for Season Three of their hit series "Outlander" on Sunday, April 16th in front of the premiere of new limited series "The White Princess" airing at 8pm ET/PT . Attached are two new Season Three images from the teaser trailer - the first features Claire Randall (Caitriona Balfe) and Frank Randall (Tobias Menzies) in the 1960's; the second image is of Jamie Fraser (Sam Heughan) in the 1700's.
In Season Three of "Outlander," the story picks up right after Claire travels through the stones to return to her life in 1948. Now pregnant, she struggles with the fallout of her sudden reappearance and its effect on her marriage to her first husband, Frank. Meanwhile, in the 18th century, Jamie suffers from the aftermath of his doomed last stand at the historic battle of Culloden, as well as the loss of Claire. As the years pass, Jamie and Claire attempt to make a life apart from one another, each haunted by the memory of their lost love. The budding possibility that Claire can return to Jamie in the past breathes new hope into Claire's heart... as well as new doubt. Separated by continents and centuries, Claire and Jamie must find their way back to each other. As always, adversity, mystery, and adventure await them on the path to reunion. And the question remains: when they find each other, will they be the same people who parted at the standing stones, all those years ago?
Book Three is set to premiere in September 2017 and will include 13 episodes based upon the third of eight books in Diana Gabaldon's international best-selling Outlander series, entitled Voyager. Production and filming on the third season continues in Cape Town, South Africa.
"Outlander" Online
For more information, go to the official Outlander Facebook Page and follow @Outlander_Starz on Twitter and Instagram. Join the conversation with #Outlander and #STARZ. Website: http://www.starz.com/originals/Outlander




[08/21/19 - 01:48 PM]
Starz Picks Up "Shining Vale" Horror Comedy Pilot
The half-hour comedy is written and executive produced by Jeff Astrof and Sharon Horgan.


[08/21/19 - 01:35 PM]
Robert Rodriguez Directs "We Can Be Heroes" for Netflix
When alien invaders kidnap Earth's superheroes, their children must team up and learn to work together if they want to save their parents and the world.


[08/21/19 - 12:24 PM]
"Awake" Rounds Out Cast
Gina Rodriguez, Ariana Greenblatt, Frances Fisher, Shamier Anderson, Finn Jones, Lucius Hoyos, Gil Bellows, Barry Pepper and Jennifer Jason Leigh star in the Netflix film.


[08/21/19 - 10:30 AM]
NBC to Air "A Little Late with Lilly Singh: The Primetime Special" on Wednesday, Sept. 18 at 10 p.m.
The one-hour special immediately follows the two-hour season finale of "America's Got Talent."


[08/21/19 - 10:02 AM]
"Ink Master: Grudge Match" Premieres Tuesday, October 1 at 10pm ET/PT on Paramount Network
The new installment in the franchise settles the score once and for all when former contestants get the opportunity to go head to head with their biggest rivals from their seasons.


[08/21/19 - 10:00 AM]
The Duplass Brothers' DBP Donut to Produce an Original Short Form Series, "Shook," Starring Sofia Wylie for Disney Channel's YouTube
A scripted single-camera narrative, "Shook" centers around Mia, a 15-year-old who yearns to dance professionally but is hindered by daily obligations to her little sister, Skylar, and their single mom, a registered nurse.


[08/21/19 - 09:40 AM]
Cool Down This Labor Day with a Chilling Lineup of All-New True-Crime Episodes During Investigation Discovery's Labor Day Premiere Marathon
This Labor Day, Investigation Discovery is giving fans a marathon day filled with brand new episodes of its most popular shows.


[08/21/19 - 09:35 AM]
Lifetime Greenlights "The Chris Watts Story" (WT) Starring Sean Kleier, Ashley Williams, and Brooke Smith Based on True Events
When Chris Watts tearfully pleaded to television cameras for the safe return of his missing pregnant wife Shanann and their two young daughters, dark secrets loomed just beneath the surface.


[08/21/19 - 09:32 AM]
Bigtime Chefs Bring Bigtime Flavors on the New Season of "Guy's Ranch Kitchen"
The series returns to Food Network on Saturday, September 28 at 12:30pm ET/PT.


[08/21/19 - 09:31 AM]
"Big Mouth" Season 3 Lands October 4 on Netflix
The show's social media account broke the news this morning.


[08/21/19 - 08:42 AM]
MTV Taps Former "Bachelorette" Star Rachel Lindsay and Artist Travis Mills to Host "MTV's Ghosted: Love Gone Missing"
In the eight-episode docuseries, Lindsay and Mills help distraught individuals track down and confront a former lover, friend, or family member in an effort to uncover the harsh realities of why they "ghosted" them.


[08/21/19 - 08:15 AM]
Nickelodeon's "Middle School Moguls" Premieres Sunday, Sept. 8, at 11 a.m. (ET/PT)
The four half-hour, CG-animated specials chronicle the ambitions of four new friends striving to create their own companies while attending Mogul Academy, an entrepreneurial school where kid-business dreams come true.


[08/21/19 - 08:11 AM]
Tuesday's Broadcast Ratings: NBC, "America's Got Talent" Continue Reign
The Peacock easily takes home top honors in total viewers and adults 18-49 last night.


[08/21/19 - 08:08 AM]
HGTV Announces First Special Guest Appearances For Its Reboot of "Extreme Makeover: Home Edition"
The series, hosted by award-winning actor Jesse Tyler Ferguson, will feature special guest stars in every episode, including Tarek El Moussa, Jasmine Roth and Tamara Day.


[08/21/19 - 08:01 AM]
A&E Premieres a Special Daytime Family Programming Event - "The Day I Picked My Parents" - on Sunday, September 8th
The original limited five-hour documentary series follows ten foster children who are part of a revolutionary program operated by the nonprofit organization Kidsave in California, as they search to find their forever home.