[05/04/17 - 02:01 PM]
Starz Releases "Howards End" First Look Image
"Howards End" is the first television adaptation from the Academy Award(R)-nominated screenwriter and playwright Kenneth Lonergan.
---
[via press release from Starz]
STARZ RELEASES "HOWARDS END" FIRST LOOK IMAGE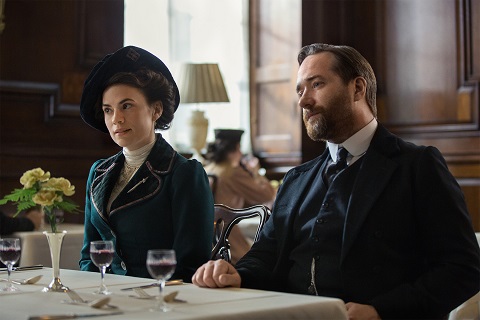 Photo Credit: Courtesy of STARZ
Starring Hayley Atwell, Matthew Macfadyen and Tracey Ullman, The Limited Series is Currently Filming in London
Starz, with the BBC, today released the first image from the limited series "Howards End," based on the classic E.M. Forster novel. The attached photo features Hayley Atwell (Margaret Schlegel) and Matthew Macfadyen (Henry Wilcox) at Simpson's-in-the-Strand restaurant.
"Howards End" is the first television adaptation from the Academy Award(R)-nominated screenwriter and playwright Kenneth Lonergan (Manchester by the Sea, Gangs of New York, You Can Count on Me).This four-part limited series is the story of two independent and unconventional sisters and the men in their lives seeking love and meaning as they navigate an ever-changing world. Academy Award(R) winning screenwriter Kenneth Lonergan brings a fresh take to this adaptation directed by BAFTA winner Hettie Macdonald ("White Girl").
Margaret Schlegel is an intelligent, idealistic young woman who is courted by the older Henry Wilcox, a self-made conservative businessman, after his wife Ruth Wilcox (Julia Ormond) dies unexpectedly and he becomes owner of Howards End. Meanwhile Margaret's passionate and capricious younger sister Helen Schlegel (Philippa Coulthard) takes up the cause of Leonard Bast (Joseph Quinn) a young bank clerk who falls on hard times at work and at home with his partner Jacky (Rosalind Eleazar). In the absence of their late parents, the sisters' loving but interfering Aunt Juley (Tracey Ullman) tries to keep the young ladies and their brother Tibby (Alex Lawther) on the straight and narrow.
"Howards End" consists of four hour-long episodes that will air on BBC One in the UK and STARZ in the U.S. Executive produced by Playground in association with City Entertainment and KippSter Entertainment, production and filming continues in and around London.
"Howards End" Online Join the conversation with #HowardsEnd and #STARZ.




[01/17/18 - 02:36 PM]
New Drama Series "Instinct" Will Now Debut Sunday, March 18 on the CBS Television Network
The project, starring Alan Cumming and Bojana Novakovic, will roll out one week later than previously announced.


[01/17/18 - 12:46 PM]
Smithsonian Channel(TM) Examines the Life and Death of an Iconic Civil Rights Activist in "The Lost Tapes: Malcolm X"
Said installment relives the pivotal years of this trailblazing activist using rarely seen footage and audio tapes, including never-before-seen footage of Nation of Islam rallies and recordings made at the Audubon Ballroom on the day of his assassination.


[01/17/18 - 11:36 AM]
Car Customization Entrepenuer, Ryan Friedlinghaus, Returns to Velocity for an All New Season of "Inside West Coast Customs"
"Everyone turns to Ryan for his craftsmanship and knowledge which stems from years of experience building outstanding cars," said Robert S. Scanlon, president of Velocity and TEN video content.


[01/17/18 - 11:16 AM]
Custom Car Builder Aaron Kaufman Returns to Discovery Channel in All-New Series "Shifting Gears with Aaron Kaufman"
"Fast N' Loud" star Aaron Kaufman is back, and this time, he's the boss.


[01/17/18 - 11:00 AM]
Lynn Barrie Joins Freeform as Senior Vice President, Original Programming and Development
Prior to joining Freeform, Barrie was the vice president of Comedy Development at ABC Entertainment Group.


[01/17/18 - 10:52 AM]
"Who Wants to Be a Millionaire" and "RightThisMinute" Renewed for 2018-19 on ABC Owned Television Stations by Disney-ABC Home Entertainment and Television Distribution
Hosted by Chris Harrison and currently in its 16th season in national syndication, "Millionaire" continues to be the only game show that offers a $1 million prize to each and every contestant.


[01/17/18 - 10:15 AM]
Rupert Friend Joins Cast of CBS All Access' "Strange Angel"
Friend will play Ernest Donovan, the enigmatic neighbor of Jack Parsons (portrayed by Jack Reynor) who becomes the young scientist's tour guide into the illicit underbelly of 1930s Los Angeles.


[01/17/18 - 10:03 AM]
"Marvel's Cloak & Dagger" Panel and Live Performances Announced for First Ever "Freeform Summit"
The "Freeform Summit," taking place Thursday at NeueHouse Hollywood, includes talent, executives, showrunners and directors across multiple series spotlighting the brand new 2018 programming lineup including.


[01/17/18 - 10:02 AM]
Showtime(R) to Premiere "Eddie Griffin: Undeniable"
Celebrating his 30-year anniversary in comedy, veteran comedian Eddie Griffin takes to the stage in the hilarious new special, premiering on Friday, February 9.


[01/17/18 - 09:09 AM]
"Love at First Bite" - New Series Premieres Monday, January 22 at 10PM ET/PT on FYI
Each 30-minute episode follows a couple who met, fell in love, and followed their passion for food and creativity together by opening a restaurant.


[01/17/18 - 08:43 AM]
Jermaine Dupri, Cameo, Richelieu Dennis, Tamika Mallory, Marley Dias, Dr. Lonnie Johnson, Rhyon Brown Announced as Recipients of 2018 Bounce Trumpet Awards
The prestigious annual event celebrating African-American achievements and contributions will air exclusively on Bounce on Sunday, February 11.


[01/17/18 - 08:13 AM]
Tuesday's Broadcast Ratings: "This Is Us," "Ellen's Game of Games" Top Charts for NBC
The Peacock cruises to victory among adults 18-49 last night.


[01/17/18 - 07:58 AM]
CMT Unveils the Cast of "Music City" from the Creator of "The Hills" and "Laguna Beach" Premiering Thursday, March 1 at 10 PM ET/PT
The highly-anticipated "Music City" follows a group of friends entering the next chapter of their lives while chasing dreams of success, fame and romance in Nashville.


[01/17/18 - 07:03 AM]
Video: First Look at the New Season of "Queer Eye" Launching Exclusively on Netflix February 7
The series returns to Netflix and is going global, introducing audiences around the world to a modern aesthetic, diverse perspective and a brand new Fab Five.


[01/17/18 - 06:30 AM]
Kendrick Lamar, Sam Smith and U2 Added to the Lineup for the "60th Annual Grammy Awards(R)" on Jan. 28 on CBS
Previously announced performers include Alessia Cara, Cardi B, Childish Gambino, Daddy Yankee, Luis Fonsi, Kesha, Khalid, Lady Gaga, Little Big Town, Logic, Patti LuPone, Bruno Mars, P!nk, Ben Platt and SZA.