CRACKLE GETS HAUNTED WITH ALL-NEW OCTOBER 5TH ORIGINAL HOLIDAY SPECIAL, "SUPERMANSION: DRAG ME TO HALLOWEEN," STARRING BRYAN CRANSTON, KEEGAN-MICHAEL KEY AND JILLIAN BELL; SPECIAL GUESTS INCLUDE COMEDIANS LAKE BELL AND PHIL LAMARR; NETWORK RELEASES FIRST LOOK CHARACTER PHOTO OF BELL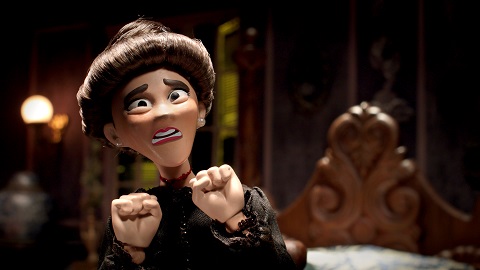 In the all-new stop-motion animated Crackle original special "SuperMansion: Drag Me to Halloween," debuting on Thursday, October 5th, the League of Freedom experiences all the fun and adventure of Halloween, Titanium Rex's (voice of Bryan Cranston) least favorite night of the year, from beautiful ghosts to demonic spirits to evil dentists, with some unforeseen attraction mixed in. Special guests include comedians Lake Bell ("Childrens Hospital") as Millicent and Phil LaMarr ("Futurama") who will voice, Hugh Dorvaks. In addition to Cranston, the special guests join "SuperMansion" stars Keegan-Michael Key (voice of American Ranger), Jillian Bell (voice of Viking Woman, Clown Girl), Tucker Gilmore (voice of Black Saturn), Zeb Wells (voice of Robobot) and Heidi Gardner (voice of Cooch). The Crackle original special will air on the streaming network this October.
Called "smart and deliriously unpredictable" by The New York Times and "uproariously funny" by Collider, "SuperMansion" follows the adventures of Titanium Rex as he struggles to live with and fight alongside the Millennial-aged, often lackadaisical members of the League. Season two voiceover stars included Bryan Cranston ("Breaking Bad"), Keegan-Michael Key ("Key & Peele"), Chris Pine ("Star Trek"), Jillian Bell (22 Jump Street), Yvette Nicole Brown ("Community"), Heidi Gardner (The Groundlings), Tucker Gilmore (Frozen), and Zeb Wells (The Amazing Spider-Man, "Robot Chicken").
Viewers can binge-watch all 24 episodes of "SuperMansion," the Emmy-nominated Crackle original series, and tune-in for season three when it premieres in early 2018 on the streaming network.
"SuperMansion" is created by Matthew Senreich ("Robot Chicken") and Zeb Wells, who also act as executive producers under their production company Stoopid Buddy Stoodios alongside Seth Green, John Harvatine IV and Eric Towner. Bryan Cranston and James Degus also serve as executive producers under their production banner Moon Shot Entertainment. "SuperMansion: Drag Me to Halloween" is written by Tom Sheppard ("Robot Chicken") and Zeb Wells. The special is directed by Nick Simotas ("SuperMansion").
For more information, visit "SuperMansion" on Facebook, Instagram and Twitter. Join the conversation with #SuperMansion and #Crackle.
About Crackle
Crackle, a unit of Sony Pictures Television Networks, programs Hollywood movies, popular TV shows, original series and feature films for the worlds connected audience. Crackle is freely accessible in the U.S. with no subscription or commitment required. The streaming service is available in 21 countries and houses a robust library of original programming available anytime, anywhere on every connected device. Check out Crackle on Facebook or follow @Crackle on Twitter for real time updates. For additional information, please go to www.crackle.com.