[08/24/17 - 12:13 PM]
The CW Unveils Fall 2017 Artwork for New Series "Dynasty" and "Valor"
The new art will appear in The CW's national outdoor, print, and digital marketing this fall.
---
[via press release from The CW]
THE CW UNVEILS FALL 2017 ARTWORK FOR NEW SERIES "DYNASTY" AND "VALOR"
Images To Appear in the Network's Fall Outdoor, Print and Digital Marketing Campaigns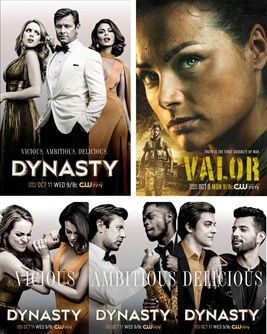 August 24, 2017 (Burbank, CA) - The CW Network has unveiled the artwork for the 2017 Fall launch of its new series DYNASTY and VALOR. The new art will appear in The CW's national outdoor, print, and digital marketing this fall.
The VALOR key art, with the tag line "Truth is the First Casualty of War," features Officer Nora Madani (Christina Ochoa) and Captain Leland Gallo (Matt Barr). The DYNASTY art is comprised of two elements, both with the tag line "Vicious. Ambitious. Delicious." One element features Blake Carrington (Grant Show) with his daughter Fallon Carrington (Elizabeth Gillies) and his new fiancée Cristal Flores (Nathalie Kelly). The second element features key pairings of characters embodying the words from the tag line: "Vicious" Fallon and Cristal; "Ambitious" Blake and Jeff Colby (Sam Adegoke); and "Delicious" Steven Carrington (James Mackay) and Sammy Jo (Rafael de la Fuente). The two DYNASTY elements will appear as part of an overall image campaign for the series launch.
The CW's Creative Director is Rick Frey. The Art Director for DYNASTY is Brian Hunt. The Art Director for VALOR is Doug Vallim. Photographer credit for DYNASTY and VALOR is Marc Hom.




[09/25/17 - 12:06 PM]
Live Musical Production of Tony Award-, Grammy Award- and Pulitzer Prize-Winning Musical "Rent" to Air Sunday, January 27, 2019, on FOX
After winning four Tony Awards and the Pulitzer Prize, writer/composer Jonathan Larson's tour de force celebrates its 20th anniversary this year, as it continues to offer an inspiring message of hope and friendship.


[09/25/17 - 12:05 PM]
Emmy(R)-Nominated Sketch Comedy Series "Tracey Ullman's Show" Returns for Second Season Oct. 20 on HBO
Over the course of the new season, Ullman uses her signature brand of sharp satire to shape-shift into a range of public figures and offbeat original characters.


[09/25/17 - 11:10 AM]
Freeform Orders a Pilot Spinoff "Pretty Little Liars: The Perfectionists," From Warner Horizon Scripted Television
Sasha Pieterse and Janel Parrish will reprise their roles from the parent series.


[09/25/17 - 11:06 AM]
History(R)'s New Scripted Drama Series "Knightfall" Delving Into the Mysterious World of the Knights Templar Premieres Wednesday, December 6 at 10 PM ET/PT
"Knightfall" begins after the fall of the city of Acre, the Templar's last stronghold in the Holy Land, where the Holy Grail is lost.


[09/25/17 - 10:30 AM]
Contractor Mike Holmes and His Family Help Homeowners on New DIY Network Series "Holmes: Next Generation"
The six-episode series is scheduled to premiere in March 2018.


[09/25/17 - 10:03 AM]
"The Newspaperman: The Life and Times of Ben Bradlee," An Intimate Documentary Portrait, Debuts Dec. 4 on HBO
Washington Post executive editor Ben Bradlee was largely credited with taking down President Richard Nixon in 1974 after the Post broke the Watergate story, exposing the largest political scandal in American history.


[09/25/17 - 10:01 AM]
Sanaa Lathan Joins Showtime(R) Drama Series "The Affair"
She'll recur as Jenelle, the tough-as-nails principal of the charter school where Noah (Dominic West) teaches, who intrigues him.


[09/25/17 - 09:51 AM]
FX+ Expands Content and Launches on Cox
FX+, a new commercial-free service featuring all seasons of almost every current and library title of FX original series, has added all seasons of 15 additional FX original series.


[09/25/17 - 09:31 AM]
Nickelodeon's Brand-New "SpongeBob SquarePants" Halloween Stop-Motion Animation Special: "The Legend of Boo-kini Bottom" Premieres Friday, Oct. 13, at 7:00 P.M. (ET/PT)
The special tells the story of the Flying Dutchman (Brian Doyle-Murray) coming to Bikini Bottom to make sure everyone in town is scared - especially SpongeBob, who seems to be unflappable in his belief that spooky things are actually funny.


[09/25/17 - 08:32 AM]
Sunday's Broadcast Ratings: NBC, "Sunday Night Football" Top Competition
The Peacock once again leads the night in total viewers and adults 18-49.


[09/25/17 - 08:11 AM]
Paramount Network Announces Launch Date and Logo
The network will officially debut on Thursday, January 18 at 9:00/8:00c with a live one-hour episode of "Lip Sync Battle" emanating from the Paramount lot in Hollywood.


[09/25/17 - 08:03 AM]
SundanceTV Starts Production on the Third Season of Its Critically-Acclaimed Series "Hap and Leonard"
The six-part drama, returning to SundanceTV in early 2018, takes inspiration from "The Two-Bear Mambo," the third installment of Joe R. Lansdale's popular book series.


[09/25/17 - 07:34 AM]
Video: Netflix Debuts New Trailer for the Film "First They Killed My Father"
Directed by Angelina Jolie, the film is the adaptation of Cambodian author and human rights activist Loung Ung's gripping memoir of surviving the deadly Khmer Rouge regime from 1975 to 1978.


[09/25/17 - 07:25 AM]
CBS Sports' Coverage of NFL for Week 3 Up +4% Over 2016
CBS spins the numbers for Sunday, September 24.


[09/25/17 - 06:03 AM]
Renowned Television Creators Amy Sherman-Palladino and Daniel Palladino Sign Multi-Year Overall Deal with Amazon Studios
Sherman-Palladino and Palladino will develop television projects that will add to their unprecedented two-season greenlight of upcoming Amazon Original Series "The Marvelous Mrs. Maisel," which debuts this fall on Prime Video.