[08/29/17 - 04:03 AM]
AMC Releases New Image from Fast-Paced Global Thriller "McMafia"
The image shows Alex Godman (James Norton), the English-raised son of Russian exiles with a mafia history, and his family.
---
[via press release from AMC]
AMC RELEASES NEW IMAGE FROM FAST-PACED GLOBAL THRILLER "McMAFIA"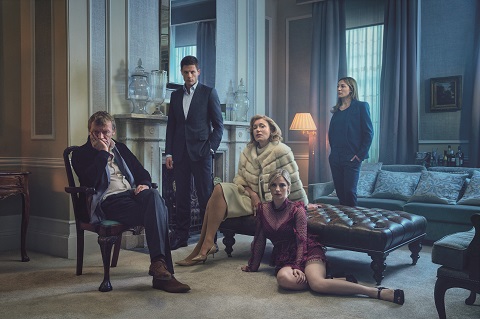 (from l-r, Dimitri (Aleksey Serebryakov), Alex (James Norton), Oksana (Maria Shukshina), Katya (Faye Marsay) and Rebecca (Juliet Rylance)
AMC has released a new image for McMafia, a new eight part fast-paced global thriller set to premiere next year.
The image shows Alex Godman (James Norton), the English-raised son of Russian exiles with a mafia history, and his family.
Faye Marsay (Love Nina, Game of Thrones) portrays Katya, Alex's sister, and Juliet Rylance (The Knick, Frances Ha) is Alex's strong-willed and morally upright British girlfriend, Rebecca. Aleksey Serebryakov (The Method, Leviathan) is Dimitri, Alex's father and the exiled head of a Russian crime syndicate, and Maria Shukshina (Yolki 3, Terrorist Ivanona) is Oksana, Alex's socialite mother.
Alex has spent his life trying to escape the shadow of that criminal past, building his own legitimate business and forging a life with his girlfriend Rebecca (Juliet Rylance) but when his family's past murderously returns to threaten them, Alex is forced to confront his values to protect those he loves. What starts out as a story of survival and revenge becomes an epic tale of a man's struggle against the lures of corruption in the modern world and in himself. McMafia is impressive and intimate, glamorous and gritty, global in scale and forensic in detail.
The series is inspired by Misha Glenny's best-selling book of the same name, and created by Hossein Amini (Drive) and James Watkins (The Woman in Black). It is co-produced by BBC, AMC and Cuba Pictures, in association with Twickenham Studios, and distributed internationally by BBC Worldwide.




[07/16/18 - 02:30 PM]
Paramount Network's "Yellowstone" Notches Series High Ratings
Paramount Network further spins the numbers for Wednesday, July 11.


[07/16/18 - 02:09 PM]
A Statement from Showtime Networks on "Who Is America?"
"Baron Cohen did not present himself as a disabled veteran, and viewers nationwide who watched the premiere on Sunday can now attest to that," said the pay channel.


[07/16/18 - 12:43 PM]
Zoey Deutch, Lucy Boynton, Laura Dreyfuss, Rahne Jones Join Ryan Murphy's "The Politician"
Murphy will serve as writer, showrunner and executive producer.


[07/16/18 - 12:30 PM]
Presenters and Attendees Announced for "The 2018 ESPYS Presented by Capital One," Hosted by Danica Patrick, July 18, on ABC
Chloe Kim, Adam Rippon, Nick Foles, Jennifer Garner, Jon Stewart, Chadwick Boseman and Allison Janney are among this year's attendees.


[07/16/18 - 11:31 AM]
Nick Cannon to Host "Teen Choice 2018"
Airing live from the Forum in Los Angeles, CA, on Sunday, August 12 on FOX, the choicest, star-studded, two-hour event will celebrate this year's top teen icons in television, music, film, sports, comedy and digital.


[07/16/18 - 10:44 AM]
ID Chronicles LAPD Homicide Detective Lindy Gligorijevic's Relentless Pursuit for Justice in All-New Series, "The Killer Closer"
The five-episode season premieres Friday, August 10 at 10:00/9:00c.


[07/16/18 - 10:31 AM]
Starz Releases Premiere Date and Official Key Art for New Original Series "Warriors of Liberty City," Set to Debut September 16th at 8:00 PM ET/PT
The series explores Liberty City, a crime-ridden neighborhood in Miami, Florida, that is arguably the NFL's largest, most successful football factory.


[07/16/18 - 10:11 AM]
Hulu Original "The First" Premieres Friday, Sept. 14
Sean Penn leads an ensemble cast in this near-future drama about a crew of astronauts attempting to become the first humans on Mars.


[07/16/18 - 09:31 AM]
Lifetime's Summer Escapes Wraps Up with All New Movies
Vivica A. Fox stars in two new movies and August brings all new thrills that are sure to keep the end of summer as hot as the beginning.


[07/16/18 - 09:17 AM]
"Diesel Brothers" Returns to Discovery Channel on July 30
Heavy D, Diesel Dave, and the Dieselsellerz crew are known worldwide for their crazy online videos and their incredible, over the top truck builds.


[07/16/18 - 08:29 AM]
Sunday's Broadcast Ratings: ABC Tops Viewers, Demos with Game Show Lineup
CBS takes a close second in both categories.


[07/16/18 - 08:24 AM]
Smithsonian Channel(TM) Explores Hallowed Shrines, Temples and Monuments Around the World in "Sacred Sites"
This summer, Smithsonian Channel brings back the series to explore even more enigmatic religious sites found around the world.


[07/16/18 - 07:45 AM]
HGTV's "Rustic Rehab" Premieres Thursday, Aug. 16, at 8 p.m. ET/PT
HGTV's newest series follows real estate and home renovation experts David and Chenoa Rivera as they snap up outdated cabins, vacation rentals and bungalows, turn them into charming retreats and sell them to families seeking small-town life.


[07/16/18 - 07:02 AM]
Global Renews eOne's High Stakes Drama "Ransom" for Third Season Set to Premiere in 2019
The 13-epsiode series will shoot in Budapest, Hungary, beginning in October 2018 and premiere next year on Global in Canada and CBS in the U.S.


[07/16/18 - 06:02 AM]
It's Official: "UnREAL" Moves to Hulu for Its Final Season
In a new deal between Hulu and A+E Studios, the fourth and final season of fan favorite drama series, "UnREAL," is now available to stream in its entirety on Hulu.