SUNDANCE NOW ANNOUNCES NEW PREMIERE DATES FOR CHILLING MINISERIES, 'RILLINGTON PLACE' AND ORIGINAL CO-PRODUCTION, 'BACK,' A COMEDY FROM OSCAR NOMINEE AND VEEP CO-WRITER SIMON BLACKWELL
'RILLINGTON PLACE,' STARRING TIM ROTH AND SAMANTHA MORTON, NOW SET TO DEBUT ON OCTOBER 5TH
BLACKWELL REUNITES WITH 'PEEP SHOW' CO-STARS DAVID MITCHELL AND ROBERT WEBB IN SCRIPTED COMEDY, 'BACK,' ON NOVEMBER 2ND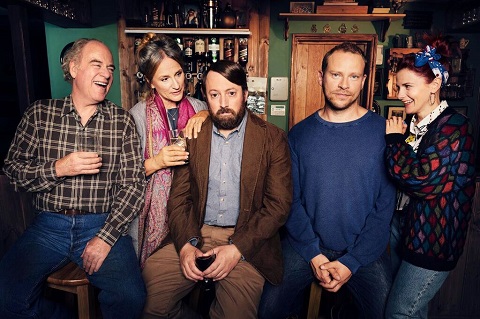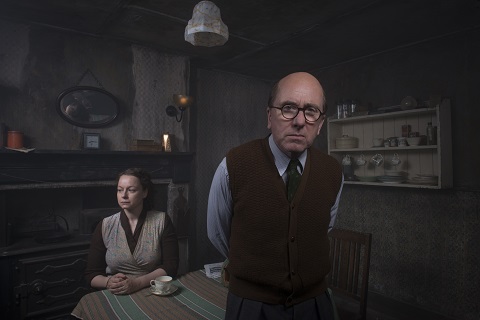 New York, August 30, 2017 - Sundance Now, AMC Networks' premium video streaming service dedicated to bringing members high-quality, acclaimed independent film, documentaries and TV series, announced today the new premiere date for RILLINGTON PLACE, the critically acclaimed miniseries starring Tim Roth (Tin Star, Twin Peaks, The Hateful Eight, Rob Roy) and Samantha Morton (Fantastic Beasts and Where to Find Them, In America) now set to debut on Thursday, October 5th.
In addition, Sundance Now announced the Thursday, November 2nd premiere for the scripted original co-production, BACK, created and written by Oscar nominee Simon Blackwell (Veep, In the Loop, Peep Show), directed by Ben Palmer (The Inbetweeners) and starring BAFTA winners David Mitchell (Peep Show) and Robert Webb (Peep Show).
RILLINGTON PLACE explores the life of John Christie (Roth) and the real-life multiple murders carried out by the serial killer in London's Notting Hill in the 1940s and 1950s. As one critic noted, the depiction of "the manipulation, the entrapment, the complicity without blame, the forced compromises, and the black misery spreading from one man's evil has rarely... been better done" and the subsequent tragic miscarriage of justice, which led to Timothy Evans being hanged for a crime he did not commit, contributed towards the abolition of capital punishment in Britain.
Presenting each episode from the separate viewpoints of Ethel, Timothy and finally Christie, writers Ed Whitmore and Tracey Malone drew on original source material from London's National Archives, alongside new interviews with surviving relatives, to retrace the steps that led Timothy to be accused of murder whilst Christie went unchallenged until his arrest in 1953.
RILLINGTON PLACE is made by BBC Studios, the BBC's commercial production arm, in association with Bandit Television for BBC One. It is directed by Craig Viveiros (And Then There Were None) and written by Ed Whitmore (He Kills Coppers) and Tracey Malone (Born To Kill).
BACK, the six-part acerbic comedy, and a Sundance Now co-production reunites Simon Blackwell with David Mitchell and Robert Webb and follows Stephen (Mitchell) as he tries to follow in his recently deceased father's footsteps and take over the family business. But his plans are soon foiled by the unexpected return of his estranged foster brother, Andrew (Webb).
After the death of his father, a pub landlord and local legend, Stephen (Mitchell) - whose only achievements so far have been marriage, followed by divorce, and a slightly disappointing refurbish of a pub - finally has a chance to shine as he is set to take over the family business. But his plans are interrupted when the charming Andrew (Webb), a former foster child briefly raised by Stephen's parents, turns up out of the blue at his father's funeral and is eager to renew his relationship with the closest thing to a family he has ever known. While Andrew quickly charms the rest of Stephen's dysfunctional family, including his mother Ellen, sister Cass and uncle Geoff, Stephen quickly begins to resent Andrew, who he sees as a glib, dangerous sociopath who's about to steal his family, his business and his life.
BACK is produced by That Mitchell & Webb Company in association with Big Talk Productions for Channel 4 in the UK, commissioned by Fiona Dermott, and will premiere exclusively on Sundance Now in the US. Executive Producers are Kenton Allen, Simon Blackwell, Matthew Justice, David Mitchell, Robert Webb.
To stream all Sundance Now content via web, iOS, Android, Roku, Apple TV, Xbox, FireTV and Chromecast, visit SundanceNow.com and sign up for a 7-day free trial.
# # #
About Sundance Now
Sundance Now brings members the best in award-winning films, documentaries & binge-worthy TV series. From exclusive Sundance Now Originals to new releases and hard-to-find classics - Sundance Now has captivating stories for everyone. Available via web, iOS, Android, Roku, Apple TV, Xbox, FireTV and Chromecast, subscribers can easily discover compelling content in the service's handpicked collections, curated by filmmakers and cultural icons. Sundance Now is owned and operated by AMC Networks, which has had a long history supporting and cultivating independent film and is the company behind some of the most popular, influential and successful stories ever made for TV and film, including The Walking Dead, Mad Men, Breaking Bad, Orphan Black, Portlandia and Boyhood. The company's portfolio of networks - AMC, BBC AMERICA, IFC, SundanceTV and WE tv - and its film distribution company IFC Films have been recognized with the industry's most distinguished honors, including multiple Emmy(R) Awards, Golden Globe(R) Awards, Oscars(R) and Peabody Awards. Follow Sundance Now on Twitter @sundance_now, Facebook @SundanceNow, Instagram @SundanceNow and YouTube @Sundance Now
About BBC Studios
BBC Studios is the BBC's main TV production arm, producing bold, British, creative content across a range of genres and specialisms. From Planet Earth II, Strictly Come Dancing and Top Gear, to Doctor Who, War and Peace and Louis Theroux, its programmes are renowned for their quality and loved by audiences in the UK and around the world. With bases all over the country, BBC Studios reflects and represents diverse voices and creative talent from across the UK. BBC Studios launched as a commercial business in April 2017, able to make programmes for other international and U.K. broadcasters as well as the BBC, supporting the BBC's public service mission and generating financial returns for licence fee payers.
About BBC Worldwide North America
BBC Worldwide North America is the main commercial arm and wholly-owned subsidiary of the British Broadcasting Corporation (BBC) operating in the U.S. and Canada. The company exists to maximize the value of the BBC's assets for the benefit of the UK license payer and invests in public service programming in return for rights. The company operates four businesses in the territory - linear and digital content sales and co-productions, consumer products, BBC.com, and two studios based in Los Angeles - BBC Worldwide Productions, responsible for the smash hit Dancing with the Stars and the limited series The Night Of; and Adjacent Productions, producers of Life Below Zero and Ladies of London, among others. The company also owns a 50.1% share in cable channel BBC AMERICA through a joint venture with AMC Networks.
About Big Talk Productions
Big Talk Productions is one of the UK's leading scripted television and film production companies. Over the last twenty years it has enjoyed an exceptional output of outstanding original scripted television comedy and drama and a track record of nurturing talent. Led by Chief Executive Kenton Allen, Managing Director Matthew Justice and Founder Nira Park, the company has expanded significantly over the last eight years. Highlights of Big Talk's award-winning output include 'Rev', 'Him & Her', 'Friday Night Dinner', 'Mum', 'Raised By Wolves' and 'Cold Feet'. Alongside Big Talk's re-commissioned successes, 2017 promises brand new comedy and drama including 'Back' written by Emmy-award winning Simon Blackwell, starring David Mitchell and Robert Webb. Big Talk is also producing a new 6- part comedy series 'Bliss' (Sky Atlantic), and 'Timewasters' (ITV2) will also air this Autumn. Single drama 'Diana & I', penned by acclaimed writer Jeremy Brock and directed by award-winning Peter Cattaneo, will hit BBC2 screens later this Autumn, as well as 'Living The Dream', a comedy drama, written and created by BAFTA nominee Mick Ford, starring Phil Glenister and Lesley Sharp for Sky1. Big Talk was named Production Company of the Year at the 2016 Edinburgh TV Festival Awards.