[09/21/17 - 08:02 AM]
"Comic Book Men" Season 7 Premieres Sunday, October 22 at Midnight on AMC
Guests this season include Method Man, Robert Englund and more!
---
[via press release from AMC]
"COMIC BOOK MEN" SEASON 7 PREMIERES SUNDAY, OCTOBER 22 AT MIDNIGHT ON AMC
AMC Releases All-New Key Art Special Guests This Season Include Method Man, Robert Englund and More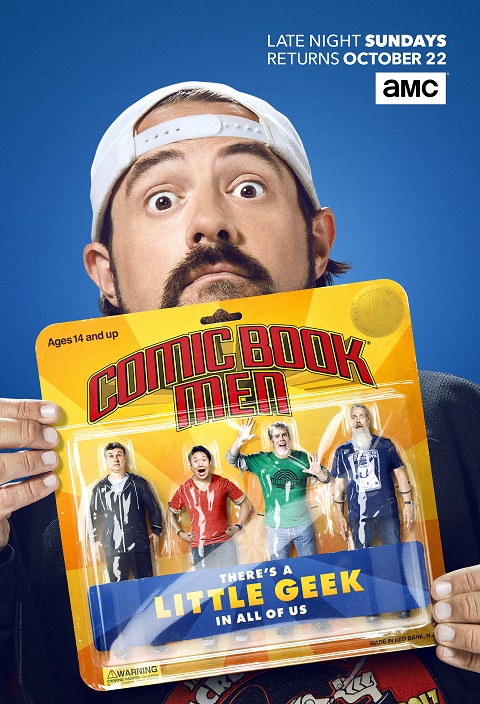 In its seventh season, AMC's popular unscripted series "Comic Book Men," premiering Sunday, October 22 at midnight, takes another dive into the world of geekdom by following the antics in and around master fanboy Kevin Smith's New Jersey comic shop, Jay and Silent Bob's Secret Stash. Leading the team behind the shop's counter are Walt, Bryan, Michael and Ming, who geek out over mind-blowing pop culture artifacts and the legends behind them. Special guests this season include "Luke Cage" star Mike Colter, Rosario Dawson, Burt Ward, Method Man, and Freddy Kruger himself, Robert Englund. Whether it's buying and selling memorabilia or embarking on wild adventures away from the store, The Stash cast shares all the juicy details with Kevin during their hilarious podcast, which is woven throughout the series.




[09/21/18 - 11:59 AM]
FX Networks Bringing "What We Do in the Shadows" and "Archer" to New York Comic Con
FX will present an exclusive screening of its new vampire comedy "What We Do in the Shadows," followed by a spirited discussion with Jemaine Clement, Taika Waititi and Paul Simms.


[09/21/18 - 11:15 AM]
Josh Segarra, Michael-Leon Wooley, Katerina Tannenbaum, and Tia Carrere Join RuPaul Charles in Netflix Comedy Series "AJ and the Queen"
The series is written by Michael Patrick King and RuPaul Charles who will both serve as executive producers.


[09/21/18 - 11:12 AM]
Video: Sony Crackle Releases Season Three Trailer and Key Art for Original Drama Series, "StartUp," Set to Debut with All 10 Episodes on Thursday, November 1
Joining the talented ensemble this season are Academy Award-winner and guest star Mira Sorvino, as NSA Agent Rebecca Stroud who has come to investigate ArakNet.


[09/21/18 - 10:04 AM]
"Mysteries of the Abandoned" Returning for Season Three Tuesday, October 2nd at 9PM on Science Channel
The series features stories behind some of the world's most amazing engineering marvels, why they were built, and why they were eventually no longer of use.


[09/21/18 - 10:03 AM]
"Saturday Night Live" Adds Ego Nwodim as Featured Player
"SNL" also added Alan Linic, Alison Gates, Eli Mandel and Bowen Yang as writers.


[09/21/18 - 09:12 AM]
Video: YouTube Original Series "Wayne" Debuts Teaser Trailer for New Action Comedy Series
The series will launch on YouTube Premium in January 2019.


[09/21/18 - 09:12 AM]
"Queen of the World," Landmark Documentary on Her Majesty Queen Elizabeth II, Debuts Oct. 1, Exclusively on HBO in the U.S.
The documentary tells the story of how the Commonwealth and its growth have been a central focus and passion throughout Her Majesty's life.


[09/21/18 - 09:04 AM]
Video: "Battlefish" - Official Trailer - Netflix
Off the coast of Oregon, fishermen are taking to the high seas to cash in on the world's most valuable fishery: albacore tuna.


[09/21/18 - 09:01 AM]
Melissa Joan Hart & Sean Astin to Star in "No Good Nick," A New Live Action Comedy Series for Netflix
The series revolves around a family that welcomes a 13-year-old into their family before realizing she is a street-smart con artist with a secret agenda.


[09/21/18 - 09:00 AM]
A&E Network Orders 450 Additional Hours of "Live PD" - #1 Series on Cable Friday and Saturday Nights - From MGM's Big Fish Entertainment
Totaling 450 hours, the deal extends the series' run into 2019, with the new order bringing the number of commissioned episodes to 293 to date.


[09/21/18 - 08:27 AM]
Thursday's Broadcast Ratings: CBS, "Big Brother" Top All-Repeat Competition
The Eye's summer mainstay is the only original last night.


[09/21/18 - 08:04 AM]
Video: "Adam Sandler: 100% Fresh" - Date Announcement - Netflix
Adam Sandler's new comedy special comes to Netflix on October 23.


[09/21/18 - 08:00 AM]
Disney Channel Hatches a Third Season of Emmy(R) Award-Nominated "DuckTales" Prior to Its Season Two Premiere
Guest stars this season include Julie Bowen, Edgar Wright, Jack McBrayer, John Hodgman and Jameela Jamil.


[09/21/18 - 07:58 AM]
Ina Garten and "Barefoot Contessa: Cook Like a Pro" Return for a Third Season Sunday, October 21st at 12:30PM ET/PT on Food Network
Emily Blunt, Lin-Manuel Miranda, Rob Marshall, and John DeLuca are among those slated to drop by the new season.


[09/21/18 - 07:05 AM]
"Yankee," Latest Netflix Original, Starts Production in Mexico City
"Yankee" is the story of Malcolm Moriarty (Pablo Lyle), a young entrepreneur from the United States who, to protect his family, crossed the border into Mexico and became a drug lord.