[09/21/17 - 08:02 AM]
"Comic Book Men" Season 7 Premieres Sunday, October 22 at Midnight on AMC
Guests this season include Method Man, Robert Englund and more!
---
[via press release from AMC]
"COMIC BOOK MEN" SEASON 7 PREMIERES SUNDAY, OCTOBER 22 AT MIDNIGHT ON AMC
AMC Releases All-New Key Art Special Guests This Season Include Method Man, Robert Englund and More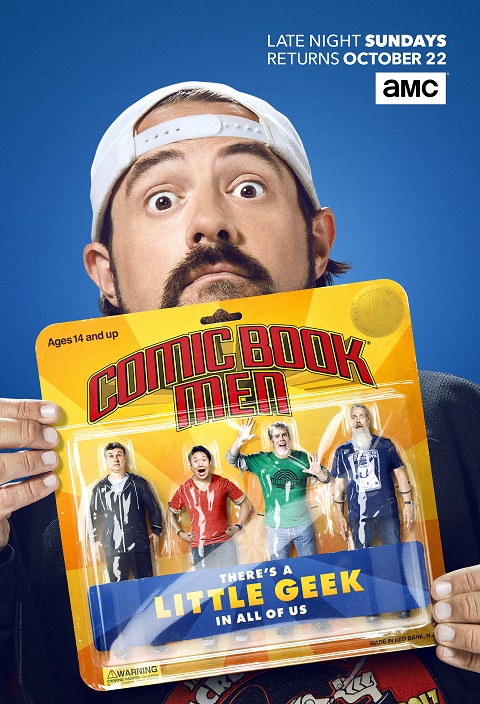 In its seventh season, AMC's popular unscripted series "Comic Book Men," premiering Sunday, October 22 at midnight, takes another dive into the world of geekdom by following the antics in and around master fanboy Kevin Smith's New Jersey comic shop, Jay and Silent Bob's Secret Stash. Leading the team behind the shop's counter are Walt, Bryan, Michael and Ming, who geek out over mind-blowing pop culture artifacts and the legends behind them. Special guests this season include "Luke Cage" star Mike Colter, Rosario Dawson, Burt Ward, Method Man, and Freddy Kruger himself, Robert Englund. Whether it's buying and selling memorabilia or embarking on wild adventures away from the store, The Stash cast shares all the juicy details with Kevin during their hilarious podcast, which is woven throughout the series.




[02/21/18 - 08:37 AM]
Netflix Signs New Four Picture Deal with Jay and Mark Duplass
"The Untitled Duplass Brothers Ray Romano Project," the first film on the newly struck deal, will be released later this year.


[02/21/18 - 08:10 AM]
American Political Drama Series "Madam Secretary" to Premiere on WE tv Starting Wednesday, March 7 at 7PM
Beginning the following week, Wednesday, March 14, the series will air during all-day binge-a-thons on Wednesdays from 10am-4:00am ET/PT.


[02/21/18 - 07:00 AM]
Video: Danger, Will Robinson! Netflix Releases First Look at "Lost in Space," Launching on Earth on April 13
Netflix provided NASA with access to the pilot episode, which was transmitted 12 days ago to the International Space Station for astronauts to view during their leisure time.


[02/21/18 - 06:06 AM]
Amazon Studios to Adapt "Consider Phlebas," First Novel of the "Culture" Series, for Television
The series will be adapted by Dennis Kelly with Plan B Entertainment slated to produce and the Estate of Iain Banks attached as executive producer.


[02/21/18 - 05:32 AM]
Ten More Presenters Announced for 90th Oscars(R)
The additional presenters include Gal Gadot, Mark Hamill, Armie Hammer, Oscar Isaac, Lin-Manuel Miranda, Gina Rodriguez, Eva Marie Saint, Wes Studi, Kelly Marie Tran and Zendaya.


[02/20/18 - 03:31 PM]
Moon Girl and Devil Dinosaur Are Heading to TV
Based on the hit comic book series, the animated project follows the adventures of nine-year-old super-genius Lunella Lafayette, an African-America girl who teams up with her crimson-colored dinosaur and uses her smarts to save the day.


[02/20/18 - 02:30 PM]
Disney Channel's Original Movie "Zombies" Reaches 10.3 Million Viewers Over the Holiday Weekend
Disney Channel further spins the numbers for Friday, February 16.


[02/20/18 - 02:10 PM]
Team USA Men's Hockey Win Over Slovakia Ranks as NBCSN's Most Watched Late-Night Hockey Game in 4 Years
NBC further spins the numbers for Monday, February 19.


[02/20/18 - 01:03 PM]
Bravo Media Closes the Deal in New Series "Sell It Like Serhant" Premiering Wednesday, April 11 at 10PM ET/PT
In this new series, Ryan Serhant answers the call of struggling salespeople across multiple industries who are on the brink of losing their jobs and are desperate for his expertise.


[02/20/18 - 12:44 PM]
Netflix Adds to Animation Slate with Series Order for "Tuca & Bertie"
The animated series is a comedy about the friendship between two 30-year-old bird women who live in the same apartment building: Tuca, a cocky, care-free toucan, and Bertie, an anxious, daydreaming songbird.


[02/20/18 - 12:37 PM]
Smithsonian Channel(TM) Reveals the Hidden World of America's Elusive Mountain Lion in "The Mountain Lion and Me"
Montana filmmaker Casey Anderson has formed a remarkable relationship with one of America's most powerful predators, a mountain lion named Mama Mo.


[02/20/18 - 10:45 AM]
Discovery Family Introduces the New Pet-Centric World of "Littlest Pet Shop: A World of Our Own" Premiering Saturday, April 14
Inspired by Discovery Family's 2012 hit series "Littlest Pet Shop," the series reveals a completely overhauled pet-centric world where even the littlest pet is treated like the greatest king!


[02/20/18 - 10:02 AM]
Video: New Trailer for Season Two of CBS All Access' "The Good Fight"
The series stars Christine Baranski, Cush Jumbo, Rose Leslie, Delroy Lindo, Audra McDonald, Sarah Steele, Justin Bartha, Michael Boatman and Nyambi Nyambi.


[02/20/18 - 10:01 AM]
Video: WGN America Reveals "100 Code" Premiere Date for Tuesday, May 29 and Unveils All-New Trailer
"100 Code" is a tense crime thriller, following the hunt for a serial killer who targets young, blonde and blue-eyed women, found dead in fields of flowers.


[02/20/18 - 10:01 AM]
Freeform Orders "Girls Code" Pilot from Emmy-Nominated Executive Producer and Director Paul Feig
The pilot sets up the odd couple partnership between a brazen, self-centered tech CEO and a community-building social entrepreneur who must overcome their many issues with each other in order to co-run a groundbreaking, all-female tech incubator.