[12/12/17 - 10:02 AM]
Official "Black Lightning" Key Art Now Available
The newcomer premieres premieres Tuesday, January 16 at 9:00/8:00c on The CW.
---
[via press release from The CW]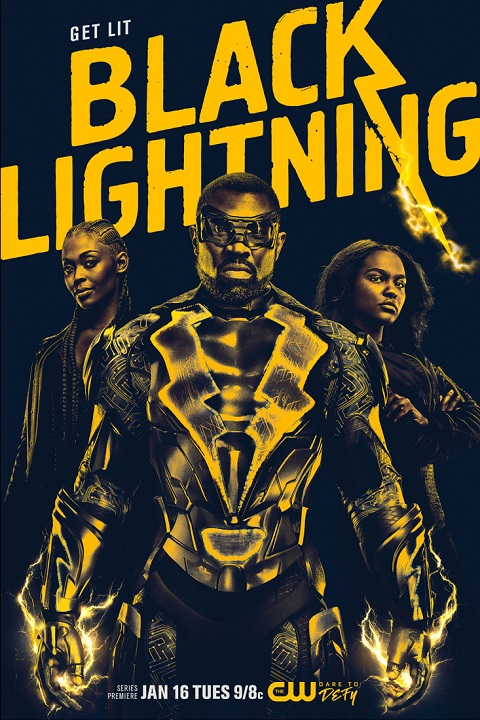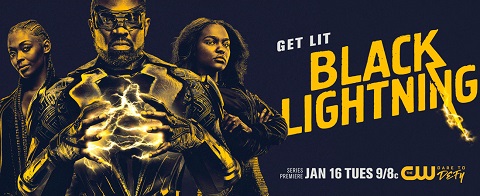 BLACK LIGHTNING premieres Tuesday, January 16 at 9:00pm ET on The CW.
Jefferson Pierce (Cress Williams) is a man wrestling with a secret. As the father of two daughters and principal of a charter high school that also serves as a safe haven for young people in a neighborhood overrun by gang violence, he is a hero in his community. Nine year ago, Pierce was a hero of a different sort. Gifted with the superhuman power to harness and control electricity, he used those powers to keep his hometown streets safe as the masked vigilante Black Lightning. However, after too many nights with his life on the line, and seeing the effects of the damage and loss that his alter ego was inflicting on his family, he left his Superhero days behind and settled into being a principal and a dad. Choosing to help his city without using his superpowers, he watched his daughters Anissa (Nafessa Williams) and Jennifer (China Anne McClain) grow into strong young women, even though his marriage to their mother, Lynn (Christine Adams), suffered. Almost a decade later, Pierce's crime-fighting days are long behind him... or so he thought. But with crime and corruption spreading like wildfire, and those he cares about in the crosshairs of the menacing local gang The One Hundred, Black Lightning returns - to save not only his family, but also the soul of his community.
Based on the characters from D.C., Black Lightning is from Berlanti Productions and Akil Productions in association with Warner Bros. Television, with executive producers Greg Berlanti ("Arrow," "The Flash"), Salim Akil & Mara Brock Akil ("Being Mary Jane," "The Game," "Girlfriends") and Sarah Schechter ("Arrow," "The Flash"). The Black Lightning character was created by Tony Isabella with Trevor Von Eeden.




[09/20/18 - 02:39 PM]
Bravo Media Falls for the Garden State with the Return of "The Real Housewives of New Jersey" Premiering Wednesday, November 7 at 9PM ET/PT
Teresa Giudice, Melissa Gorga, Dolores Catania and Margaret Josephs are joined by new housewives Jennifer Aydin and Jackie Goldschneider along with everyone's favorite friend Danielle Staub.


[09/20/18 - 01:54 PM]
The United States Secret Service Grants National Geographic Unprecedented Access for New Special "United States Secret Service: On the Front Line"
The two-hour special premieres Sunday, October 14 at 9:00/8:00c on the cable channel.


[09/20/18 - 01:00 PM]
There Are Two Kinds of People in the World: The Living and the Dead. Learn All About It in "Spectros," New Netflix Brazilian Original Series
Douglas Petrie will partner with renowned Brazilian production company Moonshot Pictures in the upcoming eight-episode series.


[09/20/18 - 12:36 PM]
Comedy Series "Camping," Starring Jennifer Garner and David Tennant and Executive Produced by Lena Dunham and Jenni Konner, Debuts Oct. 14, Exclusively on HBO
The show is based on the British series of the same name created by Julia Davis and produced by Baby Cow Productions.


[09/20/18 - 11:32 AM]
Energize! "Star Trek: Short Treks" to Premiere Oct. 4 on CBS All Access
"Runaway" will kick things off on Thursday, October 4.


[09/20/18 - 11:10 AM]
Lifetime Reinvents the Wedding Genre with New Event Series "My Great Big Live Wedding with David Tutera"
Eight inspirational couples will work with world-renowned wedding and event planner, David Tutera, to receive the wedding of their dreams.


[09/20/18 - 11:09 AM]
Academy Award(R) Nominee and Emmy(R) Winner Rory Kennedy's "Above and Beyond: NASA's Journey to Tomorrow" Takes a Sweeping Look at the Government Agency and Its Goals for the Future During Its 60th Anniversary
The documentary special airs October 13 at 9:00/8:00c on Discovery and Science Channel.


[09/20/18 - 11:03 AM]
Comedy Central Announces Premiere Dates for "Comedy Central Stand-Up Presents..." Half-Hour Specials
Among those featured: Emmy Blotnick, Tim Dillon, Devin Field, Megan Gailey, Chris Garcia, Langston Kerman, Mike Lawrence, Ryan O'Flanagan, and Sarah Tiana.


[09/20/18 - 11:00 AM]
HBO Acquires Worldwide Rights to Documentary "United Skates," A Film by Dyana Winkler and Tina Brown
John Legend is an executive producer of the documentary feature, which was produced by Sweet Ninja Films in association with LA Media Fund, Get Lifted Film Co., Secret Sauce Media and Naked Edge Films.


[09/20/18 - 10:28 AM]
Jamie Foxx and Joseph Gordon-Levitt to Co-Star in Netflix's Untitled Joost/Schulman Sci-Fi Pic
The sci-fi script is written by Mattson Tomlin with Henry Joost and Ariel Schulman directing.


[09/20/18 - 10:22 AM]
Investigation Discovery Explores Violence and Racism in "Love & Hate Crime: A Murder in Mississippi"
The second installment in the three-part series will premiere Saturday, October 13.


[09/20/18 - 10:19 AM]
The Show That Started It All, "90 Day Fiance" Returns for Its Sixth Season on TLC
The series comes on the heels of spinoff "Before the 90 Days," which is finishing its second season run on Sunday, October 14.


[09/20/18 - 10:07 AM]
Hit Political Podcast "Pod Save America" Comes to HBO for a Series of Four Specials, Debuting Friday, Oct. 12
The series will be taped the same day in front of live audiences in Miami (October 12), Austin (October 19), Philadelphia (October 26) and Irvine (November 2).


[09/20/18 - 10:01 AM]
Love Is in the Air on OWN as Network Announces New Unscripted Series Focusing on Love, Relationships and Marriage
Highlights include the previously announced "Ready to Love," premiering Tuesday, October 23.


[09/20/18 - 10:00 AM]
Hang with the Gang When E!'s New Topical Series "LadyGang" Premieres Sunday, October 28 at 10:30 PM ET/PT
The series will follow Hollywood's hottest girl posse, Keltie Knight, Becca Tobin, and Jac Vanek as they are joined by celebrity guests for un-filtered, honest and hysterical champagne-fueled discussions about the things you would only divulge to your closest girlfriends.