[12/12/17 - 10:02 AM]
Official "Black Lightning" Key Art Now Available
The newcomer premieres premieres Tuesday, January 16 at 9:00/8:00c on The CW.
---
[via press release from The CW]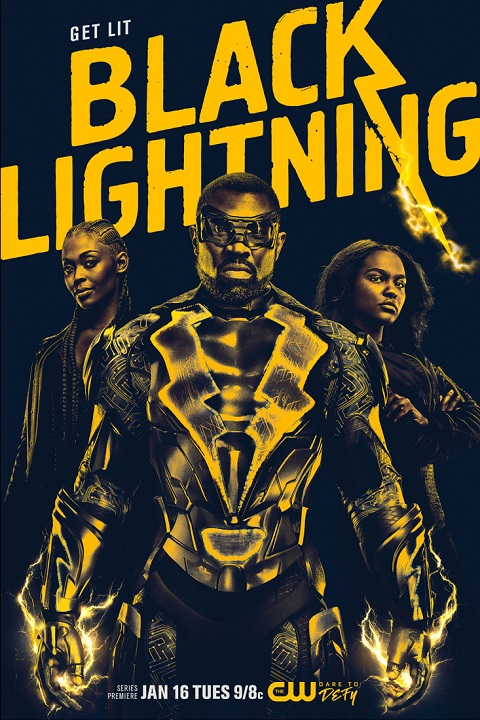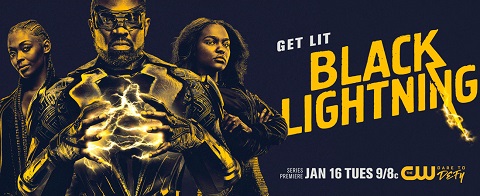 BLACK LIGHTNING premieres Tuesday, January 16 at 9:00pm ET on The CW.
Jefferson Pierce (Cress Williams) is a man wrestling with a secret. As the father of two daughters and principal of a charter high school that also serves as a safe haven for young people in a neighborhood overrun by gang violence, he is a hero in his community. Nine year ago, Pierce was a hero of a different sort. Gifted with the superhuman power to harness and control electricity, he used those powers to keep his hometown streets safe as the masked vigilante Black Lightning. However, after too many nights with his life on the line, and seeing the effects of the damage and loss that his alter ego was inflicting on his family, he left his Superhero days behind and settled into being a principal and a dad. Choosing to help his city without using his superpowers, he watched his daughters Anissa (Nafessa Williams) and Jennifer (China Anne McClain) grow into strong young women, even though his marriage to their mother, Lynn (Christine Adams), suffered. Almost a decade later, Pierce's crime-fighting days are long behind him... or so he thought. But with crime and corruption spreading like wildfire, and those he cares about in the crosshairs of the menacing local gang The One Hundred, Black Lightning returns - to save not only his family, but also the soul of his community.
Based on the characters from D.C., Black Lightning is from Berlanti Productions and Akil Productions in association with Warner Bros. Television, with executive producers Greg Berlanti ("Arrow," "The Flash"), Salim Akil & Mara Brock Akil ("Being Mary Jane," "The Game," "Girlfriends") and Sarah Schechter ("Arrow," "The Flash"). The Black Lightning character was created by Tony Isabella with Trevor Von Eeden.




[01/15/21 - 01:05 PM]
NBC Set Premiere Dates for Its Two Upcoming Comedies "Young Rock" and "Kenan"
Look for both series back-to-back beginning Tuesday, February 16 in place of "Zoey's Extraordinary Playlist," which will return in the spring.


[01/15/21 - 12:50 PM]
BET Announces Its Multiplatform Programming Strategy for Inauguration 2021
Live coverage is scheduled to begin Wednesday, January 20 at 11:00 am ET/10c on BET.


[01/15/21 - 11:50 AM]
ABC News Announces Special Coverage of the Inauguration of President-Elect Joe Biden Beginning Tuesday, Jan. 19
At 8:00 p.m. EST ABC News presents a primetime program, "The Inauguration of Joseph R. Biden, Jr. - An ABC News Special," that will provide reporting on and analysis of the historic moments from the day.


[01/15/21 - 11:38 AM]
Discovery Documents the Cutting-Edge Science Behind Creating a Vaccine to Conquer COVID-19
"The Vaccine: Conquering Covid" premiering Sunday, February 21 at 8 PM PT/ET on Discovery and streaming on discovery+.


[01/15/21 - 11:21 AM]
Netflix Partners with Renowned Author Dr. Ibram X. Kendi to Bring Three of His Bestselling Books to Life Onscreen
"Stamped from the Beginning: The Definitive History of Racist Ideas in America," "Stamped: Racism, Antiracism and You," and "Antiracist Baby" are the featured projects.


[01/15/21 - 11:01 AM]
"Selena: The Series" Captivates Fans Ahead of Anticipated Finale on May 14
25 million households around the world sang "Como la flor" along with part one in the first four weeks after it premiered in December.


[01/15/21 - 10:51 AM]
"Crikey! It's the Irwins" Returns with a New Season of Reopenings, Rescues, Newborn Wildlife and Exciting News About the Future Generation of the Irwin Family on Discovery+ Feb. 7
A sneak peek of the premiere episode will air on Animal Planet directly out of "Puppy Bowl XVII" on Sunday, Feb. 7 at 5 PM ET/PT.


[01/15/21 - 10:00 AM]
"Super Bowl Greatest Commercials 2021" Special Hosted by Boomer Esiason and Daniela Ruah to Be Broadcast Feb. 3 on CBS
Beginning today, viewers can watch and vote for their favorite Super Bowl commercial from the past 20 years at https://www.cbs.com/SBGC.


[01/15/21 - 09:29 AM]
HBO's "Last Week Tonight with John Oliver" Returns February 14
The series has received a staggering 20 Emmys(R) since its premiere in 2014.


[01/15/21 - 09:29 AM]
Video: Official Trailer for Season One of "Flack" Available Now
All six episodes of the first season will premiere on Prime Video January 22 while season two will premiere at a later date in 2021.


[01/15/21 - 09:07 AM]
CBS All Access Announces Guest Stars for Season Four of "No Activity"
Louie Anderson, Kevin Bacon, Jillian Bell, D'Arcy Carden, Rob Delaney, Elle Fanning, Will Forte, Kimberly Hébert Gregory, Udo Kier, Lamorne Morris, Oscar Nuñez, Hannah Simone, June Squibb and Samara Weaving are all on tap.


[01/15/21 - 09:00 AM]
"Drawn to Change" Featuring 12-Year-Old Activist Yolanda Renee King, Premieres Jan. 16 in Celebration of Martin Luther King Jr. Day
The episode highlights her goals to continue with her grandfather's legacy, as well as her work in activism and climate change.


[01/15/21 - 09:00 AM]
Video: Apple TV+ Unveils Out of This World Trailer for Season Two of Epic Space Drama "For All Mankind"
The first episode of the 10-episode second season will debut globally on Friday, February 19, followed by one new episode weekly, every Friday, exclusively on Apple TV+.


[01/15/21 - 08:35 AM]
Thursday's Broadcast Ratings: "Celebrity Wheel of Fortune" Keeps ABC on Top
The Alphabet's game show trio leads the night in both total viewers and adults 18-49.


[01/15/21 - 08:30 AM]
IMDb TV and Amazon Studios Greenlight Uninterrupted's Docu-Series, "Top Class: The Life and Times of the Sierra Canyon Trailblazers," on Renowned High School Basketball Dynasty
The series follows the highs and lows of the team's grueling, highly publicized quest for a third straight state championship.