[12/28/17 - 08:36 AM]
Try New Things in the New Year and Travel Along with Phil Rosenthal as He Takes a Culinary Tour of the World
"Somebody Feed Phil" launches Friday, January 12 on Netflix.
---
[via press release from Netflix]
"I don't know anyone who wouldn't love this, except my parents" - Phil Rosenthal
To Watch and Embed the Trailer for Somebody Feed Phil, a Netflix Original Documentary Series Launching Globally on January 12, Click Here
Recent James Beard award winner Phil Rosenthal's new food and travel series is coming to Netflix
The creator of the critically acclaimed series Everybody Loves Raymond serves as a joyful guide and ambassador to every corner of the world. "The most mind expanding thing we can do in life is travel and I'm going to get you to travel by showing you where to eat". In Phil's world, joy comes in many forms. From a bowl of noodles to an encounter with a Buddhist monk in Thailand, to a family meal in a riverside hut in Saigon, to an Arab-Israeli co-run bakery in the ancient port city of Jaffa that puts bread before politics, Phil brings a zeal for life and empathy for people that can't help but make you smile. "Food is the great connector. And laughs are the cement"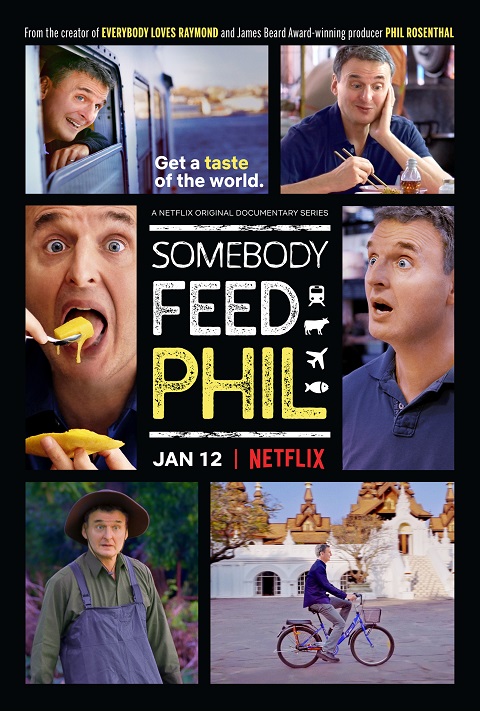 About the series:
Season One of the food and travel series takes Phil to Saigon, Lisbon, Bangkok, Tel Aviv, Mexico City, and New Orleans. On his journeys, Phil gets a seat at the table of some of the most lauded restaurants in the world, as well as some of the most intimate family settings and roadside stands. Phil shares it all with video calls home to his parents who are hilarious voyeurs on every trip.




[06/19/18 - 12:51 PM]
Paradise Found in New HGTV Series "My Aloha Dream Home" Premiering Friday, June 22, at 9 p.m. ET/PT
Real estate broker and attorney Wayne Chi helps clients find a tropical getaway to call home in the new HGTV series.


[06/19/18 - 11:30 AM]
NBC Announces Fall Premiere Dates for New 2018-19 Season
"The Voice" as is custom will kick things off on Monday, September 24 followed by the launch of new drama "Manifest."


[06/19/18 - 11:11 AM]
Academy Award(R) Winner John Ridley Joins EPIX(R) Series "Godfather of Harlem" Produced by ABC Signature Studios
The 10-episode series tells the story of infamous crime boss Bumpy Johnson (Forest Whitaker), who in the early 1960s, returned from ten years in prison to find the neighborhood he used to rule in shambles and his power gone.


[06/19/18 - 11:00 AM]
Starz Launches on YouTube TV
The networks' 14 Starz and Starz Encore channels are now available via YouTube TV for $9/month along with access to the network's full Starz and Starz Encore VOD catalogs.


[06/19/18 - 11:00 AM]
History Presents "Detroit: Comeback City," An Original Documentary Special to Premiere July 1
Narrated by Academy Award(R)-winner and Detroit native J.K. Simmons, the film chronicles how Detroit went from the engine of American capitalism to a city of ruins that is now on the cusp of an exciting rebirth.


[06/19/18 - 10:57 AM]
Contractor Mike Holmes and Son Mike Jr Star in New Season of DIY Network's "Holmes & Holmes" on July 10
Armed with Mike Sr.'s personal mission to "make it right," the 12-episode season will star the pair as they buy and transform three tired properties into dream homes.


[06/19/18 - 10:05 AM]
CBS TV Studios Announces 5-Year Production Deal with "Star Trek: Discovery" Producer Alex Kurtzman
As part of the new production deal, Kurtzman will supervise the expansion of CBS' "Star Trek" franchise for television, developing new series, mini-series and other content opportunities, including animation.


[06/19/18 - 10:02 AM]
Hulu Acquires Award-Winning Documentary "Crime + Punishment"
The premium streaming service will partner with IFC Films to release the documentary simultaneously in theaters and on Hulu on August 24.


[06/19/18 - 09:40 AM]
CNBC's New Primetime Series "Deadly Rich" Debuts July 9 at 10PM ET/PT
From the producers of "American Greed," the 10 episode true-crime series takes viewers inside the lives and deaths of the one percent, exposing the dirty little secrets of how big money drives people to the ultimate sin.


[06/19/18 - 09:30 AM]
Season Four of Bounce's Hit Comedy "In The Cut" Set to Premiere Mon. July 2 at 9:00 p.m. ET/PT
The series stars Dorien Wilson as Jay Weaver, an accomplished entrepreneur and barbershop owner who is kept on his toes by Cheryl, played by Kellita Smith, the co-owner of the beauty salon next door and his love interest-turned-fiancee.


[06/19/18 - 09:14 AM]
FOX Sports' Presentation of 2018 U.S. Open Championship Is Most-Watched U.S. Open Since 2015
FOX Sports spins the numbers for its coverage to date.


[06/19/18 - 08:12 AM]
Monday's Broadcast Ratings: ABC, "The Bachelorette" Hold Off Competition
The Alphabet takes home top honors in total viewers and adults 18-49.


[06/19/18 - 08:02 AM]
Video: Trailer - "Last Chance U" - New Season, New U
The quaint town of Independence, Kansas, is the new setting, as the underdog Pirates of Independence Community College have a chance to finally stand tall after more than a decade of losses.


[06/19/18 - 07:32 AM]
Video: Featurette Debut - It's "GLOW" Up Time! Watch the Cast Transform Behind the Scenes
Season two launches globally on Netflix next Friday, June 29.


[06/19/18 - 07:03 AM]
FOX Sports Announces BIG3 Broadcast Team for 2018 Season
Charissa Thompson, Mike Hill, and Kristina Pink will rotate as studio hosts for the BIG3 during the 10-week season, setting the stage for viewers between games every Friday night.