[01/08/18 - 01:10 PM]
Nickelodeon to Premiere New Original TV Movie, "Blurt," on Monday, Feb. 19, at 7:00 P.M. (ET/PT), Starring "Henry Danger's" Jace Norman, JoJo Siwa and Daniella Perkins
The live-action comedy tells the story of Jeremy Martin (Jace Norman) who, after a comical virtual reality mishap, starts speaking every thought he has out loud and to complicate matters, he happens to be running in the school election.
---
[via press release from Nickelodeon]
NICKELODEON TO PREMIERE NEW ORIGINAL TV MOVIE, "BLURT," ON MONDAY, FEB. 19, AT 7:00 P.M. (ET/PT), STARRING "HENRY DANGER'S" JACE NORMAN, JOJO SIWA AND DANIELLA PERKINS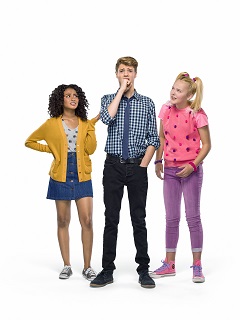 Nickelodeon will premiere a new original TV movie, Blurt (formerly Inside Voice), on Monday, Feb. 19, at 7:00 (ET/PT), starring Jace Norman (Henry Danger, Splitting Adam, Rufus), JoJo Siwa (Lip Sync Battle Shorties) and Daniella Perkins (Knight Squad). The live-action comedy tells the story of Jeremy Martin (Jace Norman) who, after a comical virtual reality mishap, starts speaking every thought he has out loud and to complicate matters, he happens to be running in the school election.
Jeremy Martin is a nice-guy and when he puts on mysterious virtual reality glasses at the mall, he suddenly loses his "inside voice" and starts spouting every thought he has out loud. Making matters worse, Jeremy is running for student council president against his classmate Milly (Daniella Perkins), who is full of great ideas to improve the school. Desperate to get back to normal, Jeremy and his sister Victoria (JoJo Siwa) must figure out how to convince his brain that he can speak up for himself.
The virtual reality sequences featured in the movie are being developed and created by Nickelodeon's Entertainment Lab, the network's new division spearheading long-range research and development efforts around new technologies for Nick and its audience. Blurt is the second on-air project fed through the lab, following Escape from Mr. Lemoncello's Library.
Blurt is executive produced by Scott McAboy and Michael Sammaciccia. Amy Sydorick is serving as producer. Jace Norman is serving as co-producer. The TV movie was written by Adrian Vina (Liar, Liar Vampire) and is directed by Michelle Johnston (Another Cinderella Story: If The Shoe Fits).




[09/21/18 - 09:01 AM]
Melissa Joan Hart & Sean Astin to Star in "No Good Nick," A New Live Action Comedy Series for Netflix
The series revolves around a family that welcomes a 13-year-old into their family before realizing she is a street-smart con artist with a secret agenda.


[09/21/18 - 09:00 AM]
A&E Network Orders 450 Additional Hours of "Live PD" - #1 Series on Cable Friday and Saturday Nights - From MGM's Big Fish Entertainment
Totaling 450 hours, the deal extends the series' run into 2019, with the new order bringing the number of commissioned episodes to 293 to date.


[09/21/18 - 08:27 AM]
Thursday's Broadcast Ratings: CBS, "Big Brother" Top All-Repeat Competition
The Eye's summer mainstay is the only original last night.


[09/21/18 - 08:00 AM]
Disney Channel Hatches a Third Season of Emmy(R) Award-Nominated "DuckTales" Prior to Its Season Two Premiere
Guest stars this season include Julie Bowen, Edgar Wright, Jack McBrayer, John Hodgman and Jameela Jamil.


[09/21/18 - 07:58 AM]
Ina Garten and "Barefoot Contessa: Cook Like a Pro" Return for a Third Season Sunday, October 21st at 12:30PM ET/PT on Food Network
Emily Blunt, Lin-Manuel Miranda, Rob Marshall, and John DeLuca are among those slated to drop by the new season.


[09/21/18 - 07:05 AM]
"Yankee," Latest Netflix Original, Starts Production in Mexico City
"Yankee" is the story of Malcolm Moriarty (Pablo Lyle), a young entrepreneur from the United States who, to protect his family, crossed the border into Mexico and became a drug lord.


[09/20/18 - 02:39 PM]
Bravo Media Falls for the Garden State with the Return of "The Real Housewives of New Jersey" Premiering Wednesday, November 7 at 9PM ET/PT
Teresa Giudice, Melissa Gorga, Dolores Catania and Margaret Josephs are joined by new housewives Jennifer Aydin and Jackie Goldschneider along with everyone's favorite friend Danielle Staub.


[09/20/18 - 01:54 PM]
The United States Secret Service Grants National Geographic Unprecedented Access for New Special "United States Secret Service: On the Front Line"
The two-hour special premieres Sunday, October 14 at 9:00/8:00c on the cable channel.


[09/20/18 - 01:00 PM]
There Are Two Kinds of People in the World: The Living and the Dead. Learn All About It in "Spectros," New Netflix Brazilian Original Series
Douglas Petrie will partner with renowned Brazilian production company Moonshot Pictures in the upcoming eight-episode series.


[09/20/18 - 12:36 PM]
Comedy Series "Camping," Starring Jennifer Garner and David Tennant and Executive Produced by Lena Dunham and Jenni Konner, Debuts Oct. 14, Exclusively on HBO
The show is based on the British series of the same name created by Julia Davis and produced by Baby Cow Productions.


[09/20/18 - 11:32 AM]
Energize! "Star Trek: Short Treks" to Premiere Oct. 4 on CBS All Access
"Runaway" will kick things off on Thursday, October 4.


[09/20/18 - 11:10 AM]
Lifetime Reinvents the Wedding Genre with New Event Series "My Great Big Live Wedding with David Tutera"
Eight inspirational couples will work with world-renowned wedding and event planner, David Tutera, to receive the wedding of their dreams.


[09/20/18 - 11:09 AM]
Academy Award(R) Nominee and Emmy(R) Winner Rory Kennedy's "Above and Beyond: NASA's Journey to Tomorrow" Takes a Sweeping Look at the Government Agency and Its Goals for the Future During Its 60th Anniversary
The documentary special airs October 13 at 9:00/8:00c on Discovery and Science Channel.


[09/20/18 - 11:03 AM]
Comedy Central Announces Premiere Dates for "Comedy Central Stand-Up Presents..." Half-Hour Specials
Among those featured: Emmy Blotnick, Tim Dillon, Devin Field, Megan Gailey, Chris Garcia, Langston Kerman, Mike Lawrence, Ryan O'Flanagan, and Sarah Tiana.


[09/20/18 - 11:00 AM]
HBO Acquires Worldwide Rights to Documentary "United Skates," A Film by Dyana Winkler and Tina Brown
John Legend is an executive producer of the documentary feature, which was produced by Sweet Ninja Films in association with LA Media Fund, Get Lifted Film Co., Secret Sauce Media and Naked Edge Films.