[01/08/18 - 01:10 PM]
Nickelodeon to Premiere New Original TV Movie, "Blurt," on Monday, Feb. 19, at 7:00 P.M. (ET/PT), Starring "Henry Danger's" Jace Norman, JoJo Siwa and Daniella Perkins
The live-action comedy tells the story of Jeremy Martin (Jace Norman) who, after a comical virtual reality mishap, starts speaking every thought he has out loud and to complicate matters, he happens to be running in the school election.
---
[via press release from Nickelodeon]
NICKELODEON TO PREMIERE NEW ORIGINAL TV MOVIE, "BLURT," ON MONDAY, FEB. 19, AT 7:00 P.M. (ET/PT), STARRING "HENRY DANGER'S" JACE NORMAN, JOJO SIWA AND DANIELLA PERKINS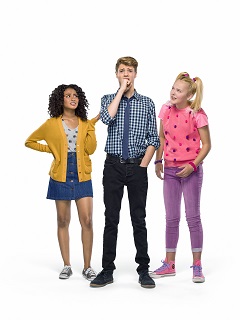 Nickelodeon will premiere a new original TV movie, Blurt (formerly Inside Voice), on Monday, Feb. 19, at 7:00 (ET/PT), starring Jace Norman (Henry Danger, Splitting Adam, Rufus), JoJo Siwa (Lip Sync Battle Shorties) and Daniella Perkins (Knight Squad). The live-action comedy tells the story of Jeremy Martin (Jace Norman) who, after a comical virtual reality mishap, starts speaking every thought he has out loud and to complicate matters, he happens to be running in the school election.
Jeremy Martin is a nice-guy and when he puts on mysterious virtual reality glasses at the mall, he suddenly loses his "inside voice" and starts spouting every thought he has out loud. Making matters worse, Jeremy is running for student council president against his classmate Milly (Daniella Perkins), who is full of great ideas to improve the school. Desperate to get back to normal, Jeremy and his sister Victoria (JoJo Siwa) must figure out how to convince his brain that he can speak up for himself.
The virtual reality sequences featured in the movie are being developed and created by Nickelodeon's Entertainment Lab, the network's new division spearheading long-range research and development efforts around new technologies for Nick and its audience. Blurt is the second on-air project fed through the lab, following Escape from Mr. Lemoncello's Library.
Blurt is executive produced by Scott McAboy and Michael Sammaciccia. Amy Sydorick is serving as producer. Jace Norman is serving as co-producer. The TV movie was written by Adrian Vina (Liar, Liar Vampire) and is directed by Michelle Johnston (Another Cinderella Story: If The Shoe Fits).




[04/12/21 - 01:33 PM]
Showtime(R) Launches New Anthology Series "Cinema Toast" Created by Jeff Baena And Produced by the Duplass Brothers
The episodes are voiced by actors including Alison Brie, Nick Offerman, Fred Armisen, John Early, Christina Ricci, Megan Mullally, Chloe Fineman and Chris Meloni.


[04/12/21 - 12:18 PM]
EPIX(R) Greenlights Sci-Fi Horror Series "From"
The 10-episode, one-hour series will commence production this May in Halifax, NS, with an eye towards a 2022 premiere on EPIX.


[04/12/21 - 11:33 AM]
Sharlto Copley Joins Previously Announced New Addition Annie Murphy in Season 2 of "Russian Doll"
Netflix confirmed the news on social media today.


[04/12/21 - 11:16 AM]
"The Daily Show with Trevor Noah Presents: Jordan Klepper Fingers The Pulse - Into The MAGAverse" Debuts Monday, April 19th at 11:00pm ET/PT on Comedy Central
Klepper revisits his surreal year on the 2020 campaign trail, remembering the best moments, sharing never-before-seen footage and conducting all-new interviews with the people he met along the way.


[04/12/21 - 11:07 AM]
The Battle of Brains Begins When NBC's "Capital One College Bowl" Premieres Tuesday, June 22 at 10 P.M. ET/PT
Hosted by Peyton Manning, with his brother Cooper Manning serving as sidekick, the series challenges college students out of the classroom and puts their knowledge to the test as they compete for academic scholarships.


[04/12/21 - 11:01 AM]
93rd Oscars(R) All-Star Cast Revealed
Starring, in alphabetical order, are Angela Bassett, Halle Berry, Bong Joon Ho, Don Cheadle, Bryan Cranston, Laura Dern, Harrison Ford, Regina King, Marlee Matlin, Rita Moreno, Joaquin Phoenix, Brad Pitt, Reese Witherspoon, Renée Zellweger and Zendaya.


[04/12/21 - 10:04 AM]
NBCUniversal Renews "Access Hollywood" and "Access Daily" Through 2025
The studio has sold the iconic entertainment news tentpole to the NBC Owned Television Stations group, along with leading station groups across the country, for three additional seasons.


[04/12/21 - 10:02 AM]
Video: "Pet Stars" - Official Trailer - Netflix
Follow talent management agency Pets on Q as they work with the biggest animal influencers on social media in this reality series.


[04/12/21 - 10:01 AM]
Jordan Vogt-Roberts to Direct Live-Action Film Adaptation Based on Iconic Gundam Universe
The story for the live-action Netflix film version of Gundam is being kept under wraps but the original Gundam series is set in the Universal Century, an era in which humanity's growing population has led people to emigrate to space colonies.


[04/12/21 - 10:00 AM]
Sunday's Broadcast Ratings: CBS Leads Tight Race in Viewers, Demos
Overrun of the 2021 Masters Tournament in primetime helps lift the Eye to top honors in both categories.


[04/12/21 - 09:53 AM]
Bravo's "The Real Housewives of Beverly Hills" Returns for Season 11 on Wednesday, May 19 at 8PM ET/PT
Returning for an emotionally charged season 11: Kyle Richards, Lisa Rinna, Erika Girardi, Dorit Kemsley, and Garcelle Beauvais.


[04/12/21 - 09:42 AM]
"OWN Spotlight: Viola Davis" Premieres Friday, April 16 on OWN
Continuing conversations surrounding issues impacting Black lives, Oprah talks to Oscar, Emmy and Tony Award-Winning actress Viola Davis about her role as fearless blues singer Ma Rainey in "Ma Rainey's Black Bottom," available on Netflix now.


[04/12/21 - 09:33 AM]
Showtime Sports Documentary Films Presents "The Kings," An In-Depth Look at the Boxing Golden Age of Duran, Hagler, Hearns and Leonard
The four-part series chronicles the four fighters' dramatic and divergent ascents to greatness and the legendary matches they produced.


[04/12/21 - 09:27 AM]
Video: YouTube Originals and Vox Media Studios Release "Retro Tech" Season Two Official Trailer Today Ahead of Season Premiere Tomorrow at 12:00PM ET / 9:00AM PT
Season two of the six episode series explores the technological promises of the past with special appearances by Bill Gates, Neil deGrasse Tyson, and many more.


[04/12/21 - 08:59 AM]
The History(R) Channel Commemorates 20th Anniversary of the Tragic Events of September 11 with Four New Compelling Documentaries
Co-produced by The 9/11 Memorial & Museum, "Revealed: The Hunt for Bin Laden," will premiere on Sunday, May 2 on the 10th anniversary of the raid that found Osama bin Laden.