[01/29/18 - 06:32 AM]
Adam Devine Tries to Get the Girl... Again, and Again, and Again in the Netflix Film "When We First Met"
Alexandra Daddario, Shelley Hennig, Andrew Bachelor and Robbie Amell also star in the film, due on February 9.
---
[via press release from Netflix]
WHEN WE FIRST MET
Directed by Ari Sandel (The DUFF)
Netflix has released the trailer and key art for the romantic comedy film When We First Met, launching exclusively on Netflix on February 9, 2018.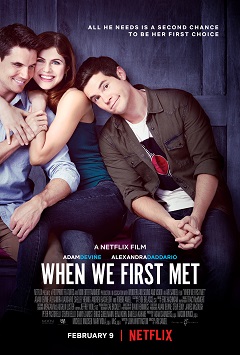 Noah (Adam Devine) spends the perfect first night with Avery (Alexandra Daddario), the girl of his dreams, but gets relegated to the friend zone. He spends the next three years wondering what went wrong - until he gets the unexpected chance to travel back in time and alter that night - and his fate - over and over again. Will Noah ever get it right? Directed by Ari Sandel (The DUFF) the film also co-stars Shelley Hennig, Andrew Bachelor and Robbie Amell.
Release Date: February 9
Distributor: Netflix
Directed by: Ari Sandel
Written by: John Whittington
Starring: Adam Devine, Alexandra Daddario, Shelley Hennig, Andrew Bachelor and Robbie Amell




[09/19/18 - 02:30 PM]
FOX Orders 10th Season of Television's No. 1 Cooking Show, "MasterChef," To Air During the 2018-2019 Season
In addition, multi-award-winning television producer Natalka Znak has been added as executive producer.


[09/19/18 - 12:44 PM]
Travel Channel Gets Dangerously Close to Real "Monster Encounters" with Wildlife Expert Casey Anderson
Premiering on Tuesday, October 30, Anderson's mission is to track down and document evidence of animals so large, or unusual, that they defy belief.


[09/19/18 - 11:15 AM]
FX Orders Third Season of "Snowfall"
The third season will premiere on FX in 2019.


[09/19/18 - 10:04 AM]
OWN Announces Fourth Season Renewal of Hit Megachurch Drama "Greenleaf" from Lionsgate
The announcement comes as the acclaimed drama delivered a season high in its Wednesday time period with more than 2.3 million viewers and a 1.90 rating in the network's key women 25-54 demo.


[09/19/18 - 10:02 AM]
Gearheads Put Their Motor Knowledge to the Test in Discovery's All-New Game Show "Brake Room" Hosted by Comedian Nick Stevens
Comedian and unapologetic Boston sports nut Nick Stevens hosts the series and pits gearheads against each other to test their motor knowledge in the hopes of winning the alluring "mystery box."


[09/19/18 - 10:00 AM]
CBS' "Murphy Brown" to Debut with a Special Extended Episode, Thursday, Sept. 27, 9:30-10:05 PM
To make room, the second season premiere of "S.W.A.T." will air 10:05-11:05 PM, ET/PT.


[09/19/18 - 10:00 AM]
Amazon Studios Signs Overall Deal with Emmy Award-Winning Producer and Director Reed Morano
Morano made history by being the first woman to ever win the Emmy and DGA Award in the same year for a dramatic series - both for her work on "The Handmaid's Tale" and was the first woman to win an Emmy in the Drama series category in 22 years.


[09/19/18 - 09:16 AM]
Comedy Special "Flight of the Conchords: Live in London" Debuts Oct. 6
The HBO special was taped before a live audience at the Eventim Apollo and features the Conchords performing songs from their recent "Flight of the Conchords Sing Flight of the Conchords Tour."


[09/19/18 - 09:00 AM]
TBS Sets October 23 Premiere Date for Season Two of 2017's #1 New Cable Comedy "The Guest Book"
New series regulars include Jimmy Tatro, Kimiko Glenn and Dan Beirne.


[09/19/18 - 08:15 AM]
Tuesday's Broadcast Ratings: NBC Dominates Another Tuesday with "Got Talent"
The penultimate episode of this summer's edition easily wins the night in all categories.


[09/19/18 - 08:00 AM]
Video: Netflix Debuts Terrifying New Trailer for "The Haunting of Hill House"
A modern reimagining of Shirley Jackson's iconic novel, "The Haunting of Hill House" explores a group of siblings who, as children, grew up in what would go on to become the most famous haunted house in the country.


[09/19/18 - 07:34 AM]
Video: Netflix Debuts Trailer & Key Art for "Shirkers"
"Shirkers" was a Singapore-made 1992 cult classic from teenage friends Sandi Tan, Jasmine Ng and Sophie Siddique - or it would have been, had the 16mm footage not been stolen by their enigmatic American collaborator Georges Cardona.


[09/19/18 - 06:31 AM]
Music Superstars Carrie Underwood, Imagine Dragons and Post Malone Featuring Ty Dolla $ign to Perform at the "2018 American Music Awards"
Hosted by Tracee Ellis Ross, the "2018 American Music Awards," the world's largest fan-voted awards show, will broadcast live from the Microsoft Theater in Los Angeles on Tuesday, October 9 at 8:00/7:00c on ABC.


[09/19/18 - 06:00 AM]
"The Kelly Clarkson Show" Sold to the NBC Owned Television Station Group
The 11 NBC owned stations can be viewed in nearly 30% of U.S. households.


[09/18/18 - 03:31 PM]
"Monday Night Football" Helps ESPN Win the Night Among All Networks
ESPN spins the numbers for Monday, September 17.