[01/29/18 - 07:32 AM]
Friendship Is the Best Medicine - "Alexa & Katie" Launches Globally on Netflix March 23, 2018
Paris Berelc and Isabel May star in the comedy, a funny and heartwarming show about two best friends eagerly anticipating the start of their freshman year of high school.
---
[via press release from Netflix]
Friendship is the best medicine. Alexa & Katie launches globally on Netflix March 23, 2018.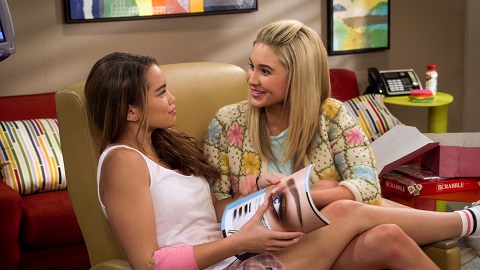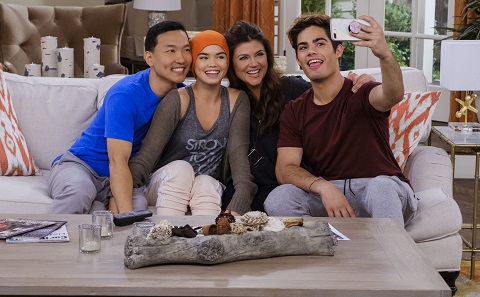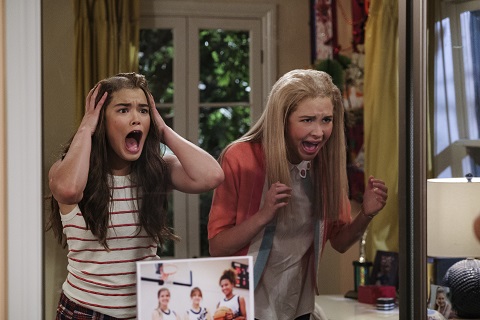 ++++++++++++++++++++++++
About Alexa & Katie:
Alexa & Katie is a funny and heartwarming show about two best friends eagerly anticipating the start of their freshman year of high school. Despite the fact that Alexa (Paris Berelc - Mighty Med, Lab Rats: Elite Force) is undergoing cancer treatment, her outgoing personality and enthusiasm for life never falter, especially with her loyal, quirky, and awkwardly adorable best friend Katie (newcomer Isabel May) by her side. At times they're left feeling like outsiders, during a period when what seems to matter most is fitting in. Tiffani Thiessen (White Collar, Saved By The Bell) also stars as Lori, Alexa's determined and protective mother. Created by Heather Wordham (Hannah Montana, Reba) with comedy veteran Matthew Carlson (Malcolm In The Middle, Samantha Who?) serving as showrunner, the show's star is Alexa and Katie's friendship; whether it be at school, at home, or in the hospital, they are by each other's side through thick and thin, serving as role models for modern-day female friendships.
Cast & Characters:
Paris Berelc - "Alexa Mendoza"
Isabel May - "Katie Cooper"
Tiffani Thiessen - "Lori Mendoza"
Emery Kelly - "Lucas Mendoza"
Eddie Shin - "Dave Mendoza"
Jolie Jenkins - "Jennifer Cooper"
Finn Carr - "Jack Cooper"
Please visit the official Alexa & Katie social pages: Twitter: @alexaandkatietv Instagram: @alexaandkatie Facebook: /alexaandkatienetflix




[07/19/18 - 04:57 PM]
Nickelodeon's Reimagined "Rise of the Teenage Mutant Ninja Turtles" Bows Monday, Sept. 17
Fans can watch a sneak peek of "Mystic Mayhem" on Friday, July 20 at 9:30/8:30c on Nickelodeon.


[07/19/18 - 04:33 PM]
Jaime King Set as the Lead the New Netflix Series "Black Summer"
A mother, torn from her daughter embarks upon a harrowing journey, stopping at nothing to find her.


[07/19/18 - 02:31 PM]
Comedy Central(R) Acquires "King of the Hill" and "The Cleveland Show" from Twentieth Television
"King of the Hill" will premiere on Monday, July 23 and "The Cleveland Show" is set to premiere in the fall.


[07/19/18 - 02:25 PM]
Video: WE tv Releases a Dramatic Sneak Peek of "Marriage Boot Camp Reality Stars" Season 11, Premiering Friday, September 7 at 9PM
This season, "Boot Camp's" most explosive veteran and music vixen, Aubrey O'Day returns with a new man.


[07/19/18 - 02:23 PM]
Video: YouTube Original Series "Origin" Debuts Teaser Trailer at Comic-Con International: San Diego
The 10-episode series follows a group of outsiders who find themselves abandoned on a ship bound for a distant land.


[07/19/18 - 01:41 PM]
Is This the End or Start of Something New - "Braxton Family Values" Premiering Thursday, August 16 at 9PM ET/PT
In season six, which first premiered in March, Tamar's sisters spoke out on her divorce and Toni's big announcement had the sisters vying for a position.


[07/19/18 - 01:17 PM]
YouTube Orders Second Season of Critically-Acclaimed, Fan Favorite "Impulse"
Season two of the 10-episode, hour-long series will premiere on YouTube Premium in 2019.


[07/19/18 - 01:07 PM]
Sundance Now and Shudder Acquire "A Discovery of Witches" Based on the #1 New York Times Bestseller
The series will make its debut in the U.S. and Canada on a date to be confirmed, with all episodes available simultaneously on both Sundance Now and Shudder.


[07/19/18 - 12:32 PM]
Oxygen Media Turns the Spotlight on "Golden State Killer: Main Suspect" Two-Hour Special Premieres Saturday, August 4
Hosted by NBC News investigative journalist Stephanie Gosk, this brand new two-hour special will offer an intimate look into the life of Joe DeAngelo, the suspect in custody, through new and exclusive interviews.


[07/19/18 - 11:08 AM]
IFC Partners with Joe's Pub at The Public for On-Air Short-Form Content
Every Saturday, IFC gives its viewers the best content creators' short-form comedy from the worlds of theater, animation and digital.


[07/19/18 - 10:08 AM]
"6 Underground" Casting Announcement
The Netflix original movie is being directed by Michael Bay and stars Ryan Reynolds.


[07/19/18 - 09:34 AM]
"BattleBots" Kicks Off Elimination Rounds with "Desperado" Special
The Desperado Tournament is the first of 10 new episodes in the second half of the season, and is set to premiere Friday, August 4 on Discovery Channel and Wednesday, August 8 on Science Channel.


[07/19/18 - 09:14 AM]
"Bring It!" Returns August 16th with All New Episodes
The Dancing Dolls are back with all new back-to-back episodes Thursday nights on Lifetime.


[07/19/18 - 09:00 AM]
Video: "Mayans M.C." - Official Trailer - FX
The cable channel releases the full trailer for the "Sons of Anarchy" spin-off, which premieres September 4.


[07/19/18 - 08:24 AM]
Wednesday's Broadcast Ratings: CBS Tops Viewers, Shares Demo Crown with FOX
The Eye's "Big Brother" leads the night overall among adults 18-49.