[01/29/18 - 07:32 AM]
Friendship Is the Best Medicine - "Alexa & Katie" Launches Globally on Netflix March 23, 2018
Paris Berelc and Isabel May star in the comedy, a funny and heartwarming show about two best friends eagerly anticipating the start of their freshman year of high school.
---
[via press release from Netflix]
Friendship is the best medicine. Alexa & Katie launches globally on Netflix March 23, 2018.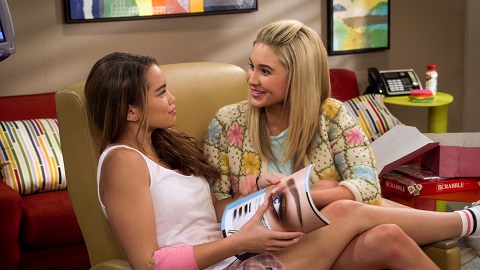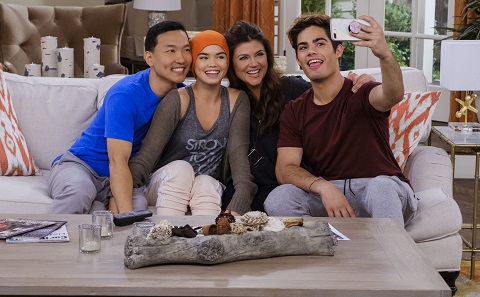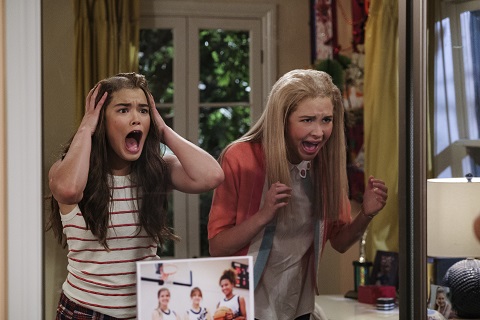 ++++++++++++++++++++++++
About Alexa & Katie:
Alexa & Katie is a funny and heartwarming show about two best friends eagerly anticipating the start of their freshman year of high school. Despite the fact that Alexa (Paris Berelc - Mighty Med, Lab Rats: Elite Force) is undergoing cancer treatment, her outgoing personality and enthusiasm for life never falter, especially with her loyal, quirky, and awkwardly adorable best friend Katie (newcomer Isabel May) by her side. At times they're left feeling like outsiders, during a period when what seems to matter most is fitting in. Tiffani Thiessen (White Collar, Saved By The Bell) also stars as Lori, Alexa's determined and protective mother. Created by Heather Wordham (Hannah Montana, Reba) with comedy veteran Matthew Carlson (Malcolm In The Middle, Samantha Who?) serving as showrunner, the show's star is Alexa and Katie's friendship; whether it be at school, at home, or in the hospital, they are by each other's side through thick and thin, serving as role models for modern-day female friendships.
Cast & Characters:
Paris Berelc - "Alexa Mendoza"
Isabel May - "Katie Cooper"
Tiffani Thiessen - "Lori Mendoza"
Emery Kelly - "Lucas Mendoza"
Eddie Shin - "Dave Mendoza"
Jolie Jenkins - "Jennifer Cooper"
Finn Carr - "Jack Cooper"
Please visit the official Alexa & Katie social pages: Twitter: @alexaandkatietv Instagram: @alexaandkatie Facebook: /alexaandkatienetflix




[02/16/18 - 11:49 PM]
Development Update: Friday, February 16
Updates include: Madeline Stowe to star in FOX's "Mixtape"; Aunjanue Ellis set for lead role in "Chiefs" at CBS; and Lynn Collins among those bound for ABC's "Safe Harbor."


[02/16/18 - 05:54 PM]
"Descendants 3" Was Announced to Disney Channel Viewers Tonight in a Special Message from "Mal"
"Descendants 3" will begin production there in summer for a debut next year on Disney Channel.


[02/16/18 - 01:48 PM]
NBC Olympics' PyeongChang Coverage Delivered Most Dominant Winter Games Thursday Night Since Sarah Hughes Won Gold & Bode Miller Took Silver in 2002
NBC further spins the numbers for Thursday, February 15.


[02/16/18 - 12:00 PM]
Video: TBS Reveals First Trailer for "The Last O.G."
The series centers on Tray (Tracy Morgan), an ex-con shocked to see just how much the world has changed when he is released from prison for on good behavior after a 15-year stint.


[02/16/18 - 11:56 AM]
Travel Channel Triggers Mid-Season Pick Up of "Expedition Unknown" with Josh Gates
Production on the new season is slated to begin this spring.


[02/16/18 - 11:47 AM]
Check Out the New "iZombie" Season 4 Key Art!
The new season kicks off Monday, February 26 at 9:00/8:00c on The CW.


[02/16/18 - 11:00 AM]
Emmy(R) Award Winner Alfre Woodard to Guest-Star as Cookie's Mother on "Empire"
Renee, Cookie's mother, comes back into her life with a turbulent reunion.


[02/16/18 - 10:30 AM]
VH1's Unstoppable Streak Continues with a New Season of "Love & Hip Hop: Atlanta" and the Return of Erica Mena Monday, March 19 at 8PM ET/PT
After several failed relationships Erica is ready to leave her past behind her in search of a fresh start in Atlanta.


[02/16/18 - 10:30 AM]
Emmy Award-Winning "So You Think You Can Dance" Returns for 15th Season, Premiering Summer 2018 on FOX
Emmy Award winner Nigel Lythgoe, award-winning choreographer Mary Murphy and award-winning actress, singer and dancer Vanessa Hudgens will return as resident judges on the series, hosted by Emmy Award nominee Cat Deeley.


[02/16/18 - 09:02 AM]
Thursday's Broadcast Ratings: NBC Rides Winter Olympics to Top Spot
The Peacock leads the night in both total viewers and adults 18-49.


[02/16/18 - 09:00 AM]
CBS All Access Announces Additional Casting for "Strange Angel"
Production of the 1930s-set series began earlier this month on location across Los Angeles.


[02/16/18 - 08:17 AM]
Science Channel's All-New Series "Secrets of the Lost" Kicks Off with Two Episodes Offering Incredible Insight Into the Great Pyramid of Giza with Help of Newly Uncovered Ancient Text
The new, six-episode series premieres Sunday, February 25 at 10:00/9:00c on Science Channel.


[02/16/18 - 08:06 AM]
Emmy(R) Award-Winning "Rupaul's Drag Race" Returns for a Milestone 10th Season on Thursday, March 22 Followed by an All-New Season of "Untucked"
Each supersized, 90-minute episode of "RuPaul's Drag Race" will give fans more fashion, lip-syncs and drag than ever before.


[02/16/18 - 08:03 AM]
Welcome to the Neighborhood! Netflix Reveals First Look at "Santa Clarita Diet" Season 2's Newest Residents
Joel McHale, Maggie Lawson, Gerald McRaney and Zachary Knighton are all on tap for the new season, due this spring.


[02/16/18 - 05:31 AM]
90th Oscars(R) First Slate of Presenters Announced
The presenters, including past Oscar winners and nominees, are Mahershala Ali, Chadwick Boseman, Viola Davis, Laura Dern, Jennifer Garner, Tiffany Haddish, Greta Gerwig, Tom Holland, Kumail Nanjiani, Margot Robbie, Emma Stone and Daniela Vega.