[03/06/18 - 01:01 PM]
Nickelodeon Greenlights Original Animated Comedy Series "Pony"
The 2D-animated buddy comedy follows the life of an average girl, Annie, her (almost) average family and what happens when an excitable, unpredictable, loveable and talking pony comes to live with them in their city apartment.
---
[via press release from Nickelodeon]
Nickelodeon Greenlights Original Animated Comedy Series "Pony"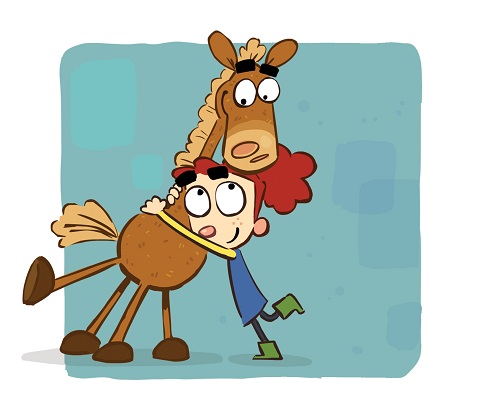 Nickelodeon's new animated series Pony.
NEW YORK -- Nickelodeon today announced a 20-episode order for Pony, an original 2D-animated buddy comedy that follows the life of an average girl, Annie, her (almost) average family and what happens when an excitable, unpredictable, loveable and talking pony comes to live with them in their city apartment. Pony is the first animated comedy series to be greenlit for the U.S. from Nickelodeon International. Created by Ant Blades, Pony is based off a short of the same name from Nickelodeon's 2015 International Animated Shorts Program.
Pony follows Annie's everyday life as a 9-year-old, from working at her parent's city farm, located on their apartment balcony, homework, school friends and, most importantly, her friendship with Pony. Pony is Annie's biggest cheerleader and best friend, although sometimes his optimism and enthusiasm lands the pair in unusual situations.
Ant Blades started his creative career writing and drawing for the cartoon strip Bewley. After his short stint as an animator, Blades worked for years in the digital creative industry before moving back to the animation field and setting up Birdbox, a studio that produces commercials, on-air spots and funny short films.
Nickelodeon's International Animated Shorts Program is now a monthly themed outreach effort for original and funny content to fuel its dynamic development slate. Concepts for the program are received in all animation styles from 2D, digital 2D, stop motion, CG and mixed media. Finalists are provided with the necessary artistic and production support to help them complete their fully animated original, humor-based and character-driven short.
Nickelodeon, now in its 38th year, is the number-one entertainment brand for kids. It has built a diverse, global business by putting kids first in everything it does. The company includes television programming and production in the United States and around the world, plus consumer products, digital, recreation, books and feature films. Nickelodeon's U.S. television network is seen in more than 90 million households and has been the number-one-rated kids' basic cable network for 22 consecutive years. Nickelodeon and all related titles, characters and logos are trademarks of Viacom Inc. (NASDAQ: VIA, VIAB).




[08/17/18 - 11:23 PM]
Development Update: Friday, August 17
Updates include: Michelle Wolf, Joel McHale series canceled by Netflix; Tom Segura, Christina Pazsitzky to star in CBS comedy; and Steven Ogg to recur on TNT's "Snowpiercer."


[08/17/18 - 12:30 PM]
Fox 21 Television Studios and The Littlefield Company Option Best Selling Author Beth Macy's "Dopesick" for Television
"Every once in a while, you come across a piece of material that is that rare diamond in that it's an incredibly arresting story, and, even more, is timely and important," commented Bert Salke.


[08/17/18 - 11:18 AM]
HBO Announces Series Order for Damon Lindelof's "Watchmen"
Set in an alternate history where "superheroes" are treated as outlaws, "Watchmen" embraces the nostalgia of the original groundbreaking graphic novel while attempting to break new ground of its own.


[08/17/18 - 11:00 AM]
Disney Channel's New Family Comedy "Coop & Cami Ask the World" Set to Premiere Friday, October 12
The series follows the antics of middle-school siblings Coop and Cami Wrather, who co-host a popular online show while balancing life, family and friendship.


[08/17/18 - 10:16 AM]
Cast Announced - YouTube's Season 2 "Ryan Hansen Solves Crimes on Television*"
On tap are Jillian Bell, Rob Corddry, Jon Cryer, Rhys Darby, Donald Faison, Lucy Hale, Tom Lennon, Ken Marino, Tim Matheson, Joel McHale, Tim Meadows, Stephen Merchant, Ben Schwartz, Dax Shepard, Jessica St Clair, Pete Wentz, and Samira Wiley.


[08/17/18 - 10:08 AM]
Netflix Announces "What/If" an All New Original Drama Series Starring Renee Zellweger from Creator Mike Kelley
The social thriller explores the ripple effects of what happens when acceptable people start doing unacceptable things.


[08/17/18 - 10:01 AM]
Investigation Discovery's Fall Season Highlights
New series include "Blood Runs Cold" (Thursday, October 25) and "Deadly Silence" (Tuesday, November 13).


[08/17/18 - 09:18 AM]
"Monday Night Football" Preseason Game on ESPN Up 11 Percent Year-Over-Year
ESPN spins the numbers for Thursday, August 16.


[08/17/18 - 08:28 AM]
Thursday's Broadcast Ratings: Another Week, Another "Big Brother" Victory for CBS
The Eye wins the night among total viewers in addition to adults 18-49.


[08/17/18 - 08:00 AM]
"Star Wars Resistance," A New High-Flying Animated Adventure Series, Takes Flight with a One-Hour Premiere Sunday, October 7, on Disney Channel and DisneyNOW
The high-flying adventure series follows Kazuda Xiono ("Kaz"), a young pilot recruited by the Resistance for a top-secret mission to spy on the growing threat of the First Order.


[08/17/18 - 07:31 AM]
Key Art Debut - Jeremy Saulnier's Gripping Psychological Thriller "Hold the Dark," A Netflix Film Starring Jeffrey Wright, Alexander Skarsgard, Riley Keough
The latest Netflix original film debuts on Friday, September 28.


[08/16/18 - 11:30 PM]
Development Update: Thursday, August 16
Updates include: E! axes "The Royals" after four seasons; USA gives series order to "Bourne" TV series "Treadstone"; and Michael Engler to helm "The Gilded Age" at NBC.


[08/16/18 - 02:31 PM]
Starz's "Outlander" Season Four Returning November 4th!
Season four continues the story of time-traveling 20th century doctor Claire Fraser (Caitriona Balfe) and her 18th century Highlander husband Jamie Fraser (Sam Heughan), as they try to make a home for themselves in colonial America.


[08/16/18 - 01:03 PM]
TNT Orders "The Angel of Darkness" Limited Series
Daniel Brühl, Luke Evans and Dakota Fanning will return for the sequel to this year's "The Alienist."


[08/16/18 - 12:38 PM]
Special Edition of "20/20" Looks Back on Life and Legacy of Icon Aretha Franklin
Look for the one-hour special to air tonight at 8:00/7:00c on ABC.