[03/06/18 - 01:01 PM]
Nickelodeon Greenlights Original Animated Comedy Series "Pony"
The 2D-animated buddy comedy follows the life of an average girl, Annie, her (almost) average family and what happens when an excitable, unpredictable, loveable and talking pony comes to live with them in their city apartment.
---
[via press release from Nickelodeon]
Nickelodeon Greenlights Original Animated Comedy Series "Pony"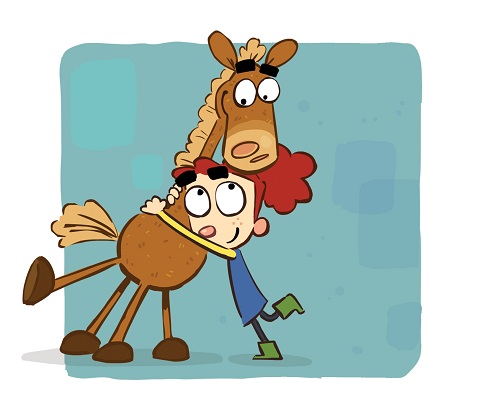 Nickelodeon's new animated series Pony.
NEW YORK -- Nickelodeon today announced a 20-episode order for Pony, an original 2D-animated buddy comedy that follows the life of an average girl, Annie, her (almost) average family and what happens when an excitable, unpredictable, loveable and talking pony comes to live with them in their city apartment. Pony is the first animated comedy series to be greenlit for the U.S. from Nickelodeon International. Created by Ant Blades, Pony is based off a short of the same name from Nickelodeon's 2015 International Animated Shorts Program.
Pony follows Annie's everyday life as a 9-year-old, from working at her parent's city farm, located on their apartment balcony, homework, school friends and, most importantly, her friendship with Pony. Pony is Annie's biggest cheerleader and best friend, although sometimes his optimism and enthusiasm lands the pair in unusual situations.
Ant Blades started his creative career writing and drawing for the cartoon strip Bewley. After his short stint as an animator, Blades worked for years in the digital creative industry before moving back to the animation field and setting up Birdbox, a studio that produces commercials, on-air spots and funny short films.
Nickelodeon's International Animated Shorts Program is now a monthly themed outreach effort for original and funny content to fuel its dynamic development slate. Concepts for the program are received in all animation styles from 2D, digital 2D, stop motion, CG and mixed media. Finalists are provided with the necessary artistic and production support to help them complete their fully animated original, humor-based and character-driven short.
Nickelodeon, now in its 38th year, is the number-one entertainment brand for kids. It has built a diverse, global business by putting kids first in everything it does. The company includes television programming and production in the United States and around the world, plus consumer products, digital, recreation, books and feature films. Nickelodeon's U.S. television network is seen in more than 90 million households and has been the number-one-rated kids' basic cable network for 22 consecutive years. Nickelodeon and all related titles, characters and logos are trademarks of Viacom Inc. (NASDAQ: VIA, VIAB).




[05/20/18 - 08:55 AM]
Saturday's Broadcast Ratings: NBC Keeps Demo Crown with NHL Playoffs
The Peacock wins the night among adults 18-49 while CBS is the most-watched broadcaster overall.


[05/20/18 - 08:43 AM]
Second-Highest Rated NBA Eastern Conference Finals Game 3 Ever on ESPN
ESPN spins the numbers for Saturday, May 19.


[05/19/18 - 08:36 AM]
Friday's Broadcast Ratings: FOX Tops Demo Race with "MasterChef Junior" Finale
The network takes home the adults 18-49 crown while CBS is the most-watched among the broadcasters.


[05/18/18 - 05:21 PM]
ABC News Announces Two-Hour Prime-Time Television Event, "The Last Days of Michael Jackson," Airing Thursday, May 24, on ABC
ABC News profiles one of the most influential artists of all time through interviews with the people he knew alongside never-before-seen video from interviews he did with ABC News anchors Barbara Walters and Diane Sawyer.


[05/18/18 - 03:06 PM]
Video: Showtime(R) Debuts Trailer for "Just Another Immigrant"
The 10-episode, half-hour series will air back-to-back episodes on Fridays beginning on June 8 at 9:00/8:00c.


[05/18/18 - 01:37 PM]
TV One to Premiere Season 13 of the Award-Winning Series "Unsung" on Sunday, May 20 at 9 P.M. ET/8C
Upcoming episodes focus on hip-hop artists Special Ed and Digable Planets, songstresses Cheryl Pepsii Riley, Regina Belle, 702 and Michel'le, blues pioneer B.B. King, and R&B crooner Will Downing.


[05/18/18 - 12:12 PM]
Video: Netflix Releases All New Trailer & Key Art for "The Break with Michelle Wolf," Every Sunday Beginning May 27th
Wolf shares a first look of what's to come each week with this trailer: sketches, guests, and jokes Michelle could only get away with on Netflix.


[05/18/18 - 12:08 PM]
Warner Bros. Animation Brings Back Iconic Characters in "ThunderCats Roar"
"ThunderCats Roar" boasts fresh and vibrant character designs along with a dynamic storytelling tone that promises to reignite the passionate fanbase of these iconic characters and introduce the legacy of Thundera to a whole new generation.


[05/18/18 - 10:51 AM]
DreamWorks Animation Television and Netflix Reveal Cast for All-New Original Series "She-Ra and the Princesses of Power"
Aimee Carrero, Karen Fukuhara, Marcus Scribner, AJ Michalka, Lorraine Toussaint, Reshma Shetty, Christine Woods, Jordan Fisher, Vella Lovell, Merit Leighton, Lauren Ash, Genesis Rodriguez and Sandra Oh are all on tap.


[05/18/18 - 10:38 AM]
Jason Aldean, James Bay, Big Sean, Florence + the Machine, Halsey, Dua Lipa, Season 13 Winner Chloe Kohanski and More to Perform on "Voice" Finale
Additionally, the season finale will feature special musical collaborations with the Top 4 finalists, which will be announced soon.


[05/18/18 - 10:02 AM]
FremantleMedia North America to Bring Michelangelo to Hulu with Award-Winning Writer Richard Mason
The series will detail the life of the brilliant and troubled artist, told through a modern lens that delves into the sexuality, relationships, alliances and betrayals in the volatile world of 16th Century Florence.


[05/18/18 - 09:11 AM]
Netflix Inaugurates Jennifer Aniston and Tig Notaro as "First Ladies"
Netflix announced a new film starring Jennifer Aniston as President of the United States and Tig Notaro as The First Lady.


[05/18/18 - 09:01 AM]
"Teen Choice 2018" Airs Live Sunday, August 12, on FOX
The annual event will return for its 20th consecutive year on the network.


[05/18/18 - 08:48 AM]
Khalid and Normani Team Up for the Pepsi(R) Generations Summer Performance of Their Hit Single "Love Lies" at the "2018 Billboard Music Awards" on NBC
They will join previously announced performances from BTS, Camila Cabello, Kelly Clarkson, Ariana Grande, John Legend, Dua Lipa, Jennifer Lopez, Shawn Mendes and Christina Aguilera, featuring Demi Lovato.


[05/18/18 - 08:24 AM]
Thursday's Broadcast Ratings: ABC, "Grey's Anatomy" Claim Demo Crown
The Alphabet's drama finales inch past CBS's mix of repeats and originals last night.