[03/14/18 - 11:00 AM]
First Look Photo: Alexis Bledel in "The Handmaid's Tale" Season Two
"The Handmaid's Tale" will launch on Hulu on April 25 with two episodes.
---
[via press release from Hulu]
The official first look photo of Alexis Bledel in the colonies in season two of The Handmaid's Tale is now available!
The Handmaid's Tale will launch on Hulu on April 25th with two episodes, and continue thereafter with one episode a week for a total of thirteen episodes. Please see below for further information regarding the show.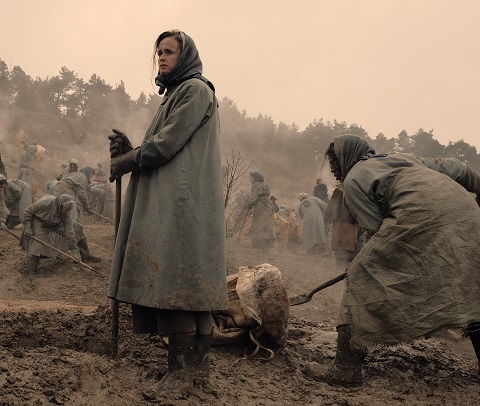 Alexis Bledel Character Description:
EMILY, a college professor who was a mother married to another woman before the war, has endured horrific punishment as Offred's Handmaid companion Ofglen. Cynical and hell-bent on revenge, she still treats the victims of Gilead with tenderness and compassion.
Season Two Synopsis:
The Emmy-winning drama series returns with a second season shaped by Offred's pregnancy and her ongoing fight to free her future child from the dystopian horrors of Gilead. "Gilead is within you" is a favorite saying of Aunt Lydia. In Season Two, Offred and all our characters will fight against - or succumb to - this dark truth.
The Handmaid's Tale stars Elisabeth Moss, Joseph Fiennes, Yvonne Strahovski, Samira Wiley, Alexis Bledel, Ann Dowd, Max Minghella, Madeline Brewer, O-T Fagbenle and Amanda Brugel.
The Handmaid's Tale comes to Hulu from MGM Television and is created, executive produced and written by Bruce Miller. Executive produced by Warren Littlefield, Elisabeth Moss, Daniel Wilson, Fran Sears, and Ilene Chaiken. MGM serves as the international distributor for the series.




[05/20/18 - 08:55 AM]
Saturday's Broadcast Ratings: NBC Keeps Demo Crown with NHL Playoffs
The Peacock wins the night among adults 18-49 while CBS is the most-watched broadcaster overall.


[05/20/18 - 08:43 AM]
Second-Highest Rated NBA Eastern Conference Finals Game 3 Ever on ESPN
ESPN spins the numbers for Saturday, May 19.


[05/19/18 - 08:36 AM]
Friday's Broadcast Ratings: FOX Tops Demo Race with "MasterChef Junior" Finale
The network takes home the adults 18-49 crown while CBS is the most-watched among the broadcasters.


[05/18/18 - 05:21 PM]
ABC News Announces Two-Hour Prime-Time Television Event, "The Last Days of Michael Jackson," Airing Thursday, May 24, on ABC
ABC News profiles one of the most influential artists of all time through interviews with the people he knew alongside never-before-seen video from interviews he did with ABC News anchors Barbara Walters and Diane Sawyer.


[05/18/18 - 03:06 PM]
Video: Showtime(R) Debuts Trailer for "Just Another Immigrant"
The 10-episode, half-hour series will air back-to-back episodes on Fridays beginning on June 8 at 9:00/8:00c.


[05/18/18 - 01:37 PM]
TV One to Premiere Season 13 of the Award-Winning Series "Unsung" on Sunday, May 20 at 9 P.M. ET/8C
Upcoming episodes focus on hip-hop artists Special Ed and Digable Planets, songstresses Cheryl Pepsii Riley, Regina Belle, 702 and Michel'le, blues pioneer B.B. King, and R&B crooner Will Downing.


[05/18/18 - 12:12 PM]
Video: Netflix Releases All New Trailer & Key Art for "The Break with Michelle Wolf," Every Sunday Beginning May 27th
Wolf shares a first look of what's to come each week with this trailer: sketches, guests, and jokes Michelle could only get away with on Netflix.


[05/18/18 - 12:08 PM]
Warner Bros. Animation Brings Back Iconic Characters in "ThunderCats Roar"
"ThunderCats Roar" boasts fresh and vibrant character designs along with a dynamic storytelling tone that promises to reignite the passionate fanbase of these iconic characters and introduce the legacy of Thundera to a whole new generation.


[05/18/18 - 10:51 AM]
DreamWorks Animation Television and Netflix Reveal Cast for All-New Original Series "She-Ra and the Princesses of Power"
Aimee Carrero, Karen Fukuhara, Marcus Scribner, AJ Michalka, Lorraine Toussaint, Reshma Shetty, Christine Woods, Jordan Fisher, Vella Lovell, Merit Leighton, Lauren Ash, Genesis Rodriguez and Sandra Oh are all on tap.


[05/18/18 - 10:38 AM]
Jason Aldean, James Bay, Big Sean, Florence + the Machine, Halsey, Dua Lipa, Season 13 Winner Chloe Kohanski and More to Perform on "Voice" Finale
Additionally, the season finale will feature special musical collaborations with the Top 4 finalists, which will be announced soon.


[05/18/18 - 10:02 AM]
FremantleMedia North America to Bring Michelangelo to Hulu with Award-Winning Writer Richard Mason
The series will detail the life of the brilliant and troubled artist, told through a modern lens that delves into the sexuality, relationships, alliances and betrayals in the volatile world of 16th Century Florence.


[05/18/18 - 09:11 AM]
Netflix Inaugurates Jennifer Aniston and Tig Notaro as "First Ladies"
Netflix announced a new film starring Jennifer Aniston as President of the United States and Tig Notaro as The First Lady.


[05/18/18 - 09:01 AM]
"Teen Choice 2018" Airs Live Sunday, August 12, on FOX
The annual event will return for its 20th consecutive year on the network.


[05/18/18 - 08:48 AM]
Khalid and Normani Team Up for the Pepsi(R) Generations Summer Performance of Their Hit Single "Love Lies" at the "2018 Billboard Music Awards" on NBC
They will join previously announced performances from BTS, Camila Cabello, Kelly Clarkson, Ariana Grande, John Legend, Dua Lipa, Jennifer Lopez, Shawn Mendes and Christina Aguilera, featuring Demi Lovato.


[05/18/18 - 08:24 AM]
Thursday's Broadcast Ratings: ABC, "Grey's Anatomy" Claim Demo Crown
The Alphabet's drama finales inch past CBS's mix of repeats and originals last night.