[04/26/18 - 08:39 AM]
Key Art Debut - Gillian Jacobs, Vanessa Bayer and Phoebe Robinson Are Your New Favorite Squad in the Netflix Film "Ibiza"
Meet Harper: She's a single thirtysomething New Yorker with awesome friends she loves and a dead-end job she hates.
---
[via press release from Netflix]
IBIZA
A NETFLIX FILM
Premieres Globally on Netflix on May 25, 2018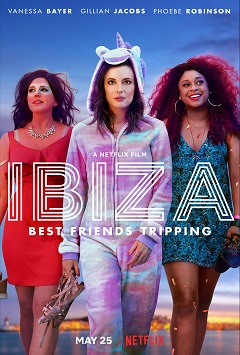 About IBIZA
Meet Harper: She's a single thirtysomething New Yorker with awesome friends she loves and a dead-end job she hates. So when her controlling, condescending, germophobic nightmare of a boss sends her on a business trip to Barcelona, Harper jumps at the chance to shake up her routine. Flanked by her two best pals, Harper lets loose in the land of Sangria, where a bit of surprising body graffiti leads to a flirty encounter with a famous DJ.
A Netflix film, IBIZA is a wild romantic-comedy adventure with female friendship as its beating heart. It stars Gillian Jacobs (Love, Community), Vanessa Bayer (SNL), Phoebe Robinson (2 Dope Queens), and Richard Madden (Game of Thrones), and is directed by Alex Richanbach (We Are Young) from a script by his fellow Funny or Die veteran Lauryn Kahn (making her feature screenwriting debut). Gary Sanchez Productions' Will Ferrell, Adam McKay, and Kevin Messick, along with Nathan Kahane and Erin Westerman of Good Universe, are producers. Good Universe's Kelli Konop and Kahn executive produce.
Visit netflix.com/ibiza




[02/19/19 - 08:10 AM]
Monday's Broadcast Ratings: NBC Finales Top Viewers; ABC Wins Demo Race
"The Bachelor" leads the night among adults 18-49 while "America's Got Talent: The Champions" is the most-watched program overall.


[02/19/19 - 07:01 AM]
Video: Netflix Debuts Trailer & Key Art for "The Dirt"
Based on the bestselling autobiography from Mötley Crüe, the film is an unflinching tale of success and excess as four misfits rise from the streets of Hollywood to the heights of international fame.


[02/19/19 - 06:39 AM]
Netflix's "Green Eggs and Ham" Announces Ensemble Cast for Fall Debut
Adam Devine, Michael Douglas, Ilana Glazer, Diane Keaton, Eddie Izzard, Tracy Morgan and Keegan-Michael Key are all on tap.


[02/19/19 - 06:03 AM]
Jonathan and Drew Scott to Create Lifetime Homes for Families in New HGTV Series "Property Brothers: Forever Home"
The series will premiere Wednesday, May 29 at 9:00/8:00c.


[02/19/19 - 06:02 AM]
Video: "Most Beautiful Thing" - Official Trailer - Netflix
The year is 1959, the first Bossa Nova chords are being played, and Rio de Janeiro is the place where everyone wants to be.


[02/19/19 - 06:01 AM]
Netflix Creates Production Hub in Toronto, Leasing Studio Space at Cinespace and Pinewood Toronto Studios, Extending Canadian Efforts
The new spaces add to Netflix's existing physical production footprint in Canada, which already includes a lease of British Columbia's Martini Film Studios, as well as production sites Netflix sets up across Canada on a production-by-production basis.


[02/18/19 - 08:46 AM]
A Letter to Marvel Television Fans from Jeph Loeb
The company confirms Netflix has "decided they no longer want to continue telling the tales of these great characters."


[02/18/19 - 08:28 AM]
Sunday's Broadcast Ratings: Daytona 500 Gives FOX a Demo Boost
The network takes home the adults 18-49 crown while CBS is the most-watched network.


[02/17/19 - 08:12 AM]
Saturday's Broadcast Ratings: ABC, NBC Share Top Honors on Modest Night
Only one-tenth of a ratings point separates the four major broadcast networks among adults 18-49.


[02/16/19 - 10:07 AM]
"The Order" Is Coming - March 7 on Netflix
It has secret societies, freshmen love stories, Philosophy 101, and sometimes shirtless men who want to fight for what's right.


[02/16/19 - 08:44 AM]
Friday's Broadcast Ratings: CBS, FOX Share Demo Crown on Competitive Night
FOX's "Last Man Standing" leads the evening among adults 18-49.


[02/15/19 - 11:53 PM]
Development Update: Friday, February 15
Updates include: Ken Jeong to lead "The Emperor of Malibu" at CBS; Chris Rock to helm "Saving Kenan" for NBC; and Jessica Garza, Johnathan Nieves cast in Showtime's "Penny Dreadful: City of Angels."


[02/15/19 - 09:34 PM]
RuPaul Crowns Season Four Winner of "RuPaul's Drag Race All Stars"
Plus: Miley Cyrus to join host RuPaul and judges Michelle Visage, Carson Kressley and Ross Mathews to kick off the season 11 premiere of "RuPaul's Drag Race" on Thursday, February 28 at 9:00/8:00c.


[02/15/19 - 02:54 PM]
Video: First Look at the New Season of TNT's "Animal Kingdom"
The infamous Cody crew is back in action as TNT releases a first look of "Animal Kingdom" season four.


[02/15/19 - 01:43 PM]
Netflix Acquires Gideon Raff's "The Red Sea Diving Resort" Starring Chris Evans, Haley Bennett, Alessandro Nivola and Sir Ben Kingsley from Bron Studios
The film is the incredible story of a group of Mossad agents and brave Ethiopians who in the early 80s used a deserted holiday retreat in Sudan as a front to smuggle thousands of refugees to Israel.