[04/26/18 - 08:39 AM]
Key Art Debut - Gillian Jacobs, Vanessa Bayer and Phoebe Robinson Are Your New Favorite Squad in the Netflix Film "Ibiza"
Meet Harper: She's a single thirtysomething New Yorker with awesome friends she loves and a dead-end job she hates.
---
[via press release from Netflix]
IBIZA
A NETFLIX FILM
Premieres Globally on Netflix on May 25, 2018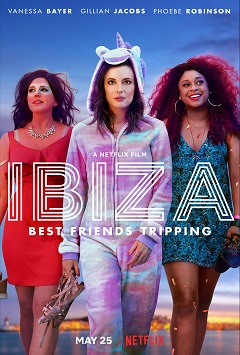 About IBIZA
Meet Harper: She's a single thirtysomething New Yorker with awesome friends she loves and a dead-end job she hates. So when her controlling, condescending, germophobic nightmare of a boss sends her on a business trip to Barcelona, Harper jumps at the chance to shake up her routine. Flanked by her two best pals, Harper lets loose in the land of Sangria, where a bit of surprising body graffiti leads to a flirty encounter with a famous DJ.
A Netflix film, IBIZA is a wild romantic-comedy adventure with female friendship as its beating heart. It stars Gillian Jacobs (Love, Community), Vanessa Bayer (SNL), Phoebe Robinson (2 Dope Queens), and Richard Madden (Game of Thrones), and is directed by Alex Richanbach (We Are Young) from a script by his fellow Funny or Die veteran Lauryn Kahn (making her feature screenwriting debut). Gary Sanchez Productions' Will Ferrell, Adam McKay, and Kevin Messick, along with Nathan Kahane and Erin Westerman of Good Universe, are producers. Good Universe's Kelli Konop and Kahn executive produce.
Visit netflix.com/ibiza




[09/24/18 - 12:02 PM]
Video: "Strange Times" - Stand Up Comedy Special Trailer - Netflix
Joe Rogan's new stand-up comedy special streams October 2 on Netflix.


[09/24/18 - 12:01 PM]
"The Sentence," A Searing Look at the Consequences of Mandatory-Minimum Sentencing for One Family, Debuts Oct. 15 on HBO
Rudy Valdez's directorial debut draws on hundreds of hours of footage to tell the story of a Michigan woman who was sentenced to 15 years for crimes committed by her late boyfriend, following a family in crisis as it struggles to obtain her release.


[09/24/18 - 12:01 PM]
FOX Teams Up with Kennedy Center's Turnaround Arts for #EmpireStarGivesBack Social Campaign
Turnaround Arts empowers struggling schools with innovative arts programs and arts-based learning across subject areas as a strategy to help address broader school challenges and close the opportunity gap.


[09/24/18 - 10:31 AM]
Video: "Wanderlust" - Official Trailer - Netflix
In an attempt to revive their dwindling sex lives, Joy and Alan, a married couple in a small English town mutually agree to sleep with other people.


[09/24/18 - 10:09 AM]
Tamron Hall Syndicated Daytime Talk Show Cleared on the ABC Owned Television Stations Group for Fall 2019
Last month the company announced that it is working with Hall to create and develop a daytime talk show for the syndication marketplace that will be hosted by the award-winning TV anchor and journalist.


[09/24/18 - 10:00 AM]
CBS All Access Announces New Straight-to-Series Order for "Why Women Kill" from Marc Cherry
The series details the lives of three women living in three different decades: a housewife in the '60s, a socialite in the '80s and a lawyer in 2018, each dealing with infidelity in their marriages.


[09/24/18 - 09:39 AM]
Hulu Renews "Harlots"
The streaming service has renewed "Harlots" for a third season of eight episodes.


[09/24/18 - 09:01 AM]
Lifetime Sleighs the Holidays "It's a Wonderful Lifetime" Programming Slate
Look for "'Tis the Season: A One Tree Hill Cast Reunion" on Thursday, November 22 featuring Hilarie Burton, Tyler Hilton, Danneel Ackles, Antwon Tanner and Stephen Colletti.


[09/24/18 - 09:01 AM]
Calling All Voters: Bravo Media Announces Fifth Annual "The Real Housewives Awards" on BravoTV.com
Starting today until October 28, fans can vote for their favorite housewives' style, shade-filled moments, most memorable wigs and more on BravoTV.com/RHAwards or the Bravo Now app.


[09/24/18 - 08:41 AM]
Comedy Central Signs Production Pact with Bill Burr and Al Madrigal Production Banner All Things Comedy, Encompassing Original TV Series and Three One-Hour Specials
The first one-hour special under the deal, "Bill Burr Presents Paul Virzi: I'll Say This," premieres November 2 on Comedy Central.


[09/24/18 - 08:35 AM]
Netflix's New Original Doc Series "ReMastered" Launches Globally October 12
Each of the eight tracks of "ReMastered" seeks to reveal answers about seminal events in the lives of artists such as Bob Marley, Johnny Cash, Jam Master Jay, Sam Cooke.


[09/24/18 - 08:10 AM]
Sunday's Broadcast Ratings: NBC Tops Charts with "Sunday Night Football"
The Peacock takes home top honors among total viewers and adults 18-49.


[09/24/18 - 08:04 AM]
Ovation TV Partners with the Actors Studio for New Episodes Of "Inside the Actors Studio" to Premiere in Fall 2019
James Lipton, the series' creator, original host and executive producer, will turn the microphone over to a number of rotating guest hosts, who are in consideration now by the network and The Actors Studio.


[09/24/18 - 07:31 AM]
Video: "They'll Love Me When I'm Dead" - Official Trailer - Netflix
Academy Award winner Morgan Neville tells the provocative story of legendary director Orson Welles during the final 15 years of his life, when he struggled to make a Hollywood comeback with one last radical gamble.


[09/24/18 - 07:15 AM]
The People Have Spoken! Top Five Finalists Announced for All Categories of "The E! People's Choice Awards," Chosen by the Fans
Finalist voting for the 43 categories across movies, television, music, and pop culture runs today through Friday, October 19 at 11:59pm ET.