FREEFORM GETS INTO 'GOOD TROUBLE' WITH 'THE FOSTERS' SPINOFF
JON M. CHU SET TO DIRECT THE FIRST EPISODE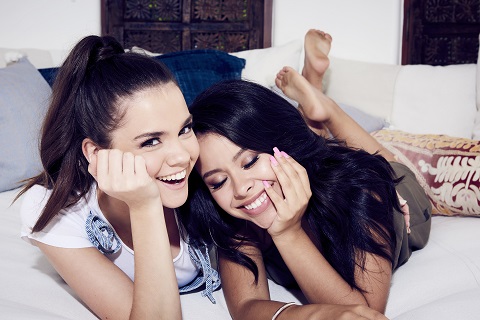 GOOD TROUBLE - "Good Trouble" will follow Callie (Maia Mitchell) and Mariana (Cierra Ramirez) as they embark on the next phase of their young adult lives in Los Angeles. (Freeform/Vu Ong)
Today, Freeform announced "Good Trouble" as the official title for the spinoff to the critically acclaimed drama "The Fosters." The series, which was announced earlier this year, will follow Callie (Maia Mitchell) and Mariana (Cierra Ramirez) as they embark on the next phase of their young adult lives in Los Angeles.
Jon M. Chu ("Crazy Rich Asians") is attached to direct and executive produce the first episode, which will begin production this summer. Joanna Johnson, Peter Paige and Bradley Bredeweg serve as creators and showrunners; while Gregory Gugliotta, Christine Sacani, Maia Mitchell, Cierra Ramirez, Jennifer Lopez, Elaine Goldsmith-Thomas and Benny Medina serve as executive producers. The series is produced by Nuyorican Productions, Inc. in association with Freeform.
"We're seeing millennials in this country doing extraordinary things, making noise, taking action. Stirring up 'Good Trouble' as they grow, strive and struggle to make the mess of their early twenties into the message," said Joanna Johnson, Peter Paige and Bradley Bredeweg in a joint statement. "As Callie and Mariana venture to Los Angeles to start their adult lives and embark on their separate but intertwined journeys to change the world, they're going to have all the 'Good Trouble' they can handle."
Chu most recently directed the highly anticipated adaptation of "Crazy Rich Asians," which will hit theaters on August 17. He is also set to direct the upcoming film adaptation of Lin-Manuel Miranda's Tony(R) Award-winning musical "In the Heights."
Freeform's growing slate of original scripted dramas includes the mermaid thriller "Siren"; breakout dramedy "The Bold Type"; supernatural drama "Shadowhunters"; fan-favorite "Famous in Love"; and the highly anticipated "Marvel's Cloak & Dagger."
Don't miss the three-night series finale event of "The Fosters" beginning Monday, June 4 at 8 p.m. EDT, through Wednesday, June 6.
About Freeform
Part of Disney|ABC Television, Freeform connects to audiences and goes beyond entertainment with bold, original programming and immersive social engagement. As Disney's young adult television and streaming network, it delivers a unique mix of quality original and acquired series, plus fan-favorite movies and the holiday events "31 Nights of Halloween," "Kick Off to Christmas" and "25 Days of Christmas." The Freeform app is a service that allows viewers with participating TV subscription services access to 24/7 live viewing of the network, as well as continued on-demand access via a wide array of devices.