[05/31/18 - 10:02 AM]
Brian Husky Returns as Mr. Neighbor in "Mr. Neighbor's House 2"
The latest half-hour special premieres Sunday, June 24 at Midnight ET/PT on Adult Swim.
---
[via press release from Adult Swim]
Brian Husky Returns as Mr. Neighbor in "Mr. Neighbor's House 2"
Premiering Sunday, June 24th at Midnight ET/PT on Adult Swim, Mr. Neighbor's House 2 comically blurs the innocence of Mr. Rogers with the dark surrealism of David Lynch in a half hour, live action kid's show that is too disturbing for kids. Mr. Neighbor (Huskey) learns the importance of telling the truth. But only when he tells the whole truth can he open the Secret Door and save Neighborton! Join him as he faces his personal demons, struggles to keep a grip on reality and hopefully uncovers a hidden truth. You never know what you'll discover at Mr. Neighbor's House!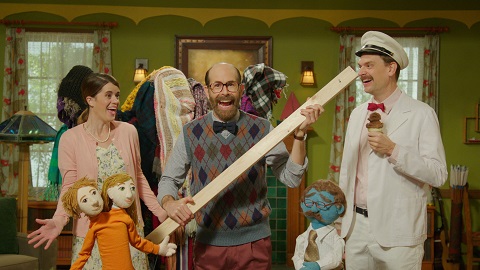 (L to R) Ms. Lady (Mary Holland), Mr. Neighbor (Brian Huskey) and Ice Cream Bruce (David Theune).
Mr. Neighbor's House was created by Huskey, Jason Mantzoukas, and Jesse Falcon, who also serve as executive producers with Rob Corddry. Starring Huskey with Mary Holland, Marc Evan Jackson, and Jerry Minor




[10/19/18 - 11:16 AM]
"Station 19" Comes in Hot with a Full-Season Order From ABC
In the Live + 3 Day ratings, "Station 19" built on its season premiere by 24% in Total Viewers and by 25% in Adults 18-49 to set new series highs.


[10/19/18 - 11:00 AM]
FOX Places Back-Nine Order of "The Cool Kids," Joining "Last Man Standing" for a Full Season
The network has picked up nine additional episodes of the new comedy.


[10/19/18 - 10:31 AM]
Video: Showtime(R) Drops the Trailer for New Comedy "Black Monday" on Anniversary of the Historic Stock Market Crash
Don Cheadle, Andrew Rannells and Regina Hall star in the series, premiering Sunday, January 20 at 10:00/9:00c.


[10/19/18 - 10:09 AM]
Kelsea Ballerini, Luke Bryan, Kenny Chesney, Dan + Shay, Old Dominion, Carrie Underwood, and Keith Urban Set to Perform at "The 52nd Annual CMA Awards"
Ballerini is a six-time career CMA Awards nominee, returning this year with her fourth consecutive Female Vocalist of the Year nomination.


[10/19/18 - 09:21 AM]
Paloma Faith Joins "Pennyworth" for Epix and Warner Horizon Scripted Television, Based on the Characters from DC
She'll play the series regular role of "Bet Sykes," a spirited, sadistic and sharp-tongued villain.


[10/19/18 - 08:53 AM]
Showtime(R) Releases Season Six Premiere of "Ray Donovan" Early to Subscribers
The episode is now available only to Showtime subscribers via Showtime streaming, Showtime Anytime and on demand.


[10/19/18 - 08:13 AM]
Thursday's Broadcast Ratings: FOX Holds Onto Demo Crown with "Thursday Night Football"
Despite a blowout Broncos-Cardinals game, the network once again takes home top honors among adults 18-49.


[10/19/18 - 08:02 AM]
Video: Sundance TV Releases "Jonestown: Terror in the Jungle" Trailer in Advance of Two-Night Special Event
Look for said event on Saturday, November 17 and Sunday, November 18 at 9:00/8:00c.


[10/19/18 - 07:58 AM]
WE tv's Groundbreaking Docuseries "Love After Lockup" Returns Friday, December 7 at 9PM ET/PT
WE tv's explosive docuseries is back for a second season, exploring new shocking and revealing stories of couples who fall in love despite the prison bars between them.


[10/19/18 - 06:30 AM]
New Kids on the Block Singer Jonathan Knight to Star in HGTV Pilot "Farmhouse Fixer"
"Old farmhouses are American treasures," said Jonathan. "Most have been in the same family for 200 years and have never been renovated. And they're disappearing fast. If we don't save them, they're going to be gone."


[10/19/18 - 06:00 AM]
National Geographic Taps Angela Bassett to Narrate Stunning Natural History Special "The Flood"
The two-hour wildlife documentary special premieres Sunday, November 25 at 8:00/7:00c.


[10/18/18 - 04:45 PM]
Bette Midler, Brooke Shields, John Larroquette, Katie Couric and Peter Gallagher to Guest Star in the CBS/Warner Bros. Television Comedy "Murphy Brown"
Midler reprises her role 20 years later as Caprice Morton, previously known as Caprice Feldman, Murphy's former secretary.


[10/18/18 - 01:15 PM]
David Nevins Named Chief Creative Officer, CBS Corporation
Nevins has also been promoted to Chairman of Showtime Networks Inc., and will remain as the business's Chief Executive Officer.


[10/18/18 - 12:03 PM]
"We Are Not Done Yet," Following U.S. Veterans Striving to Combat Military Trauma, Debuts Nov. 8 in Conjunction with Veterans Day, Exclusively on HBO
The film profiles a group of veterans and active-duty service members as they come together to combat past and current traumas through the written word, sharing their experiences in a USO writing workshop at Walter Reed National Military Medical Center.


[10/18/18 - 11:40 AM]
Bravo's "Top Chef" Races to Kentucky for Season 16 Beginning Thursday, December 6 at 9PM ET/PT
This season, 15 new talented chefs from cities big and small across the U.S. will compete for the sought-after title amid the unique culinary scenes in Louisville, Lexington and Lake Cumberland, before heading abroad for an epic finale showdown in Macau, China.